Last Updated on :
According to a survey by Google in 2018, most people research online when they want to buy or sell a vehicle. They also assess the value of another item they want to trade-in for the vehicle.
Looking for information online enables them to evaluate the value of their vehicle, find the market sale and resale price. And like a minivan or vehicle, camper owners usually turn to online help when they want to evaluate the value of their RV.
Therefore, if you are trying to sell or buy an RV, then you will want to know its resale value. This will ensure you get the best deal.
National Automobile Dealers Association (NADA) is the best site that enables you to calculate the value of your RV. Once you select model type and year, the site shows you suggested list price, average retail price and low retail price. This will help you determine approximate worth of your RV model.
The site gives consumers information about vehicles, boats, motorcycles, manufactured homes, and RV vehicles.
Ways to Determine the Worth of RV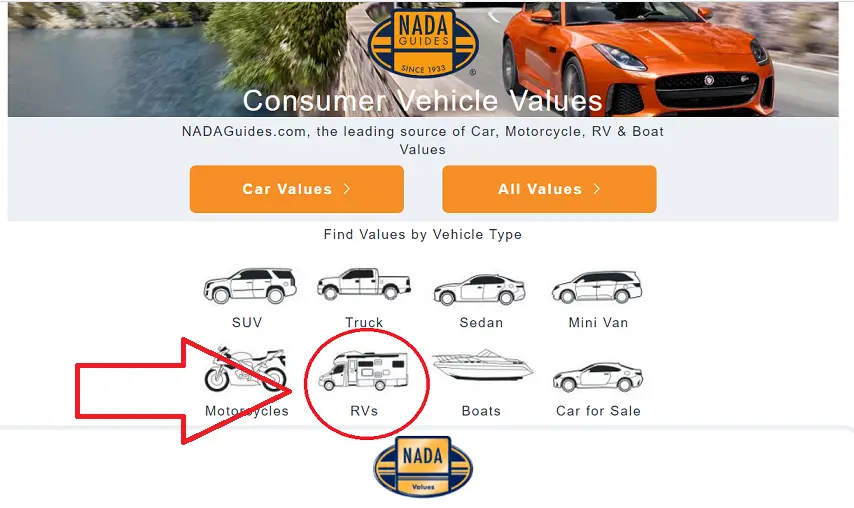 If you want to sell your RV, then knowing its value can be a daunting task. And since you need to know the price to ascertain whether it's worth it, you need to assess your RV value.
NADA (National Automobile Dealers Association) is a organization from whose website you can get the original list price (MSRP), average retail price and lower retail price for different RV types. You just need to select the RV brand, model year and the site pulls out all the price information from its analyzed data.
To determine its value, you need to assess its category based on the NADA guides:
Low Retail Value
If your RV is of low retail value, then it means that it has numerous wear and tears. For starters, the body parts may be dented, and therefore, you will have to do serious mechanical and cosmetic work to bring it back to life. However, it's still running, but the dealer lots don't accept these vehicles, and you cannot trade them for newer vehicles.
Average Retail Value
The average retail value vehicles refer to the clean RVs without major defects. Their glasses and tires are in perfect shape, and the painting and finishing still look elegant. Also, the seats and carpets are clean and the vehicle's power options are still working. The vehicle's mileage should also be within an acceptable range based on the vehicle's model and year.
Online Sales Information
There are many sites such as 'eBay" and other marketplaces where people buy and sell items. Look into the listings and search for similar campers and their sale information. Check their price and what people are willing to pay for it in your location.
Locations with few RVs and high demand will likely have higher selling prices for the RVs than locations with low demand. These RV sites will help you compare the features such as amenities, mileage, and other factors that affect the RV pricing.
Hiring a Professional RV Appraiser
This is another option you can use to gauge the value of your RV. You hire a professional individual or company to appraise your RV at a fee ranging from $200 to even $1000. But the local dealership or mechanic can also offer this service by testing your RV. Using their data, they will calculate the RV estimate cost.
Depending on the inspection, the company may charge higher prices for the services. The advantage of this option is that you get unbiased information, and the information is reliable.
Is there Kelley Book Value for RV?
Though there are many factors such as economic downturns, you will still need an estimated value of your camper or motorhome.
If you have sold or bought a vehicle before, then you may be familiar with Edmunds or Kelley Blue Book. The two sites help you to estimate your vehicle's net worth.
Kelly book value doesn't offer valuations for used RVs, and you will have to rely on NADA to determine the worth of your RV. Apart from NADA, you can also turn to other platforms, such as RV trader, which will help you approximate your motorhome price.
Just log onto their website, input the details of your RV, i.e., model, age, amenities, and more, to enable you to get a clue on what it will cost in the market.
Are NADA RV Values accurate?
NADA uses different consumer reports like the KBB guide, and therefore, if they have inaccuracies and discrepancies, it applies to both. Though many consider the NADA RV values as accurate, you should know how it works. Though it sounds simple, it can confuse most Americans.
And just like other guides, it's impossible to achieve absolute accuracy with the NADA RV values. This is because motorhomes are complicated, and also same models may have different features in good shape and others in bad shape. The best thing is to look at the RVs and make a good decision.
Reason why some people find NADA prices not so accurate is because NADA provides prices based on depreciation and do not take into account prices based on regions and popularity. Some RV models could be popular based on region and different other factors and while some may be unpopular reducing their selling price.
Also, note that NADA uses the dealership car prices in their algorithm. Therefore, if you intend to sell the RV to a dealership, you need to use their price models. But since dealers usually buy at a lower price, it will not be a handy guide when you want to sell to a private buyer.
How to use NADA when selling your RV?
When you want to sell your RV, then you will need the pricing guide by NADA. You enter the RV's details, and you will receive the suggested price for your RV , including its lowest resale value.
But if you sell to a dealership, then expect to get lower prices as they are brokers. They will need to make profits when reselling the RV, and therefore, their main consideration is the price point.
They will consider some of the factors the age of the RV, mileage, condition, amenities, and more. But the NADA pricing guide assumes that your RV is in good working condition.
How to sell your RV?
After getting the value of your motorhome, you may be now wondering where to sell it. Like your vehicle, you have numerous options such as a dealership or a private buyer. Each of them have their advantages and disadvantages.
A private buyer will offer you a better price than a dealer. But you may have to look for a private buyer for long as there might be no buyers in your area, or they are not looking for an RV of different make and model.
On the other hand, a dealer enables you to find a process quickly and hassle-free. However, they may offer you a lower price as they will have to resell it at a profit.
When selling your RV, accept cash, money order, or cashier's check. Avoid the personal checks as you are dealing with a product worth thousands of dollars, and you can't afford to risk it.
Also, it's important to prepare the paperwork to ensure you are compliant with the state and federal laws while making a sale. You will transfer the ownership documents to the new owner, and a title transfer and bill of sale will complete the transaction. But it's not wise to sell the RV at any season but only when it's in high demand.
Sell RV on your own
Selling anything on your own has 1 thing in common and that is, you need to spend time and deal with buyers. With RV's this can get more time consuming and you will have to deal with emails, calls, and messages.
Handling this may need a lot of patience and even then you may not get the deal done in time.
What are the ways to sell you RV on your own?
Well, there are multiple ways and its completely upto you to choose the best way or going ahead with multiple ways is also a best options.
1. Sell the RV on craigslist
Craigslist is an online selling-buying website that almost everyone knows. People list their stuff including cars and even RVs. The good thing is, it is less costly option and there is a huge user base that is searching for on the site.
Whether you will get the buyer or not totally depends on your luck. But, listing your RV on craigslist shouldn't be a bad option. The only thing is that you may have to deal and filter out potentials scammers.
There are also other sites like RVT.com or RVtradder.com
2. Sell the RV locally
Nothing beats this method as long as you have enough contacts and good network. If you are part of RV community or have been well connected with other RVers then this is a great way to sell your RV.
This is also a best way to acquire a used RV from a trusted owner and also at proper rate.
You can also display your RV at local campground or RV park. This will get you to potential buyers. You could also give an ad on a local magazine.
3. Online options
Internet boom, social media has brought us way closer than ever before. Online website, Facebook groups, reddit, RV forums are a great way to find potential buyers miles away from you. These are free options and have a high reach.
Forums, RV groups are particularly filled with people who are most interested in such used RV's. Facebook market place is also great for finding local interested buyers.
4. Sell through RV dealer.
This best and easiest option to sell your RV is to go through a RV dealer if you don't want to go through all the hassle of doing it on your own. RV dealers either charge flat 10-15% on the sales price or will collect commission after finalizing a fix price with seller.
With this method you will mostly find the buyer faster than any other method.
RV's are costly and finding buyer on your own is not only time consuming but also involves a lot of time. RV dealers can match you with a readily available buyer.
With this process you will completely avoid enquiries, messages and calls from buyers.
RV Depreciation – How much do RVs Depreciate year by year?
Just like cars, minivans, and trucks, the RV will begin to lose its value once it's sold. This depreciation will continue provided it's useful, and you should note this when selling the RV.
Here is average year by year depreciation on different RV types, this study was conducted by camperreport.
| Years old | Depreciation |
| --- | --- |
| 1 year | 18- 20% |
| 2 years | 22% |
| 3 years | 25-27% |
| 5 years | 34 -35.8% |
| 8 years | 42 – 43.5% |
| 10 years | 58 – 62% |
If you keep your RV clean and in good condition, it will be more presentable to potential buyers.
It's also important to ensure that the mechanics are working well, as this contributes to your RV's value. The region also determines the depreciation since an open-air camper will have less value in a winter region compared to a covered one.
Also, note that unlike other cars, your RV's depreciation is because of its age and not mileage. This is because most RVs' problems are due to other failures and not because of the distance travelled.
What factors reduce RV's worth and Resale value
If you maintain your RV value, then its value will remain constant for more years. But by neglecting it, the value will drop significantly. Some of the factors affecting the resale value are:
Model Age/ Newer Make
If you are selling a new RV or an old one, then this is the factor that will influence its price. New RVs are quite expensive when resold in the market, while older ones will cost less. This is because most new models are still in good condition and have a manufacturer warranty that appeals to buyers.
Exterior Condition
The condition of the exterior also determines the price of the car. If there is visible exterior damage such as dings, dents, and road debris, then the RV value will be lower.
These factors will contribute to the vehicle's depreciation cost, but you can renovate it before selling to increase the price. If there are any signs of discoloration, fading, or removed exterior paint, these will reduce the vehicle's overall cost.
Mileage
RVs are just like other cars when selling them, and if they have a higher mile, they will fetch a lower price. More mileage means more usage and, subsequently, tears and tears. But some vehicles are well-maintained, and they fetch a better price despite their mileage.
Cars with high odometer readings have a lower value, and if your RV is old but has few miles, it suggests that you have stored it for a significant time.
This can make many things go wrong in the car since parts start breaking down by nature when not in use. Therefore, it's better to get a motorhome with some action than the one which has been sitting idle for a long time.
Water Damage
Water is an important amenity in your RV, but it can also doom it. Water damage is prevalent in many RVs and leads to their untimely death, making it important to be vigilant. Though you can repair it, leaks can cause serious problems and reduce its value significantly.
Therefore, you should store your motorhome in areas protected from rainfall and cover it with a high-quality RV cover. If you protect the RV from rain and other weather elements, then it will protect it from rusting and ensure it remains in good condition for longer.
Upgrades
If you make upgrades to your RV while it's still in your possession, then you will have to factor them when calculating the total cost. For instance, it may have a TV, levelers, backup batteries, water heaters, and more.
Just like homes, amenities play a major role in your RV's value. However, you will need a customer interested in these amenities as some people might not desire them.
Condition of Interior Appliances
The condition of the interior appliances of the motorhome also plays a huge role in its overall value.
For instance, the stoves, microwaves, refrigerators, dishwashers, and other appliances should be in good working condition for you to fetch a high value. Otherwise, the customer will have to pay less as they may have to repair or replace these appliances.
Size
The size determines the number and type of amenities that can fit in the motorhome.
While a small RV only allows you to apply essentials such as a basic kitchen and a bedroom, a larger option enables you to install water heaters, fridges, water heaters, and more amenities. A bigger motorhome will therefore cost more than a small one.
How do dealers determine RV's value?
If you are looking to sell your RV through the dealership, note that you may not get the prices like those of private sellers.
Take your vehicle to the dealership and go through the process of monitoring and testing its performance. This enables you to know your vehicle's value and compare other models being sold on these platforms.
RV dealers look for your RV model on NADA guide to determine its current worth. NADA is similar to KBB for automobiles and campers.
This, as we already saw is a method even you can use to get the approximate worth of your RV.
Conclusion
After reading this article, you should now be familiar with what determines your recreational vehicle's value. This is important if you intend to sell the vehicle, and buyers also consider these factors. And if it is involved in an accident, then knowing the value will help you know if the insurance coverage is enough.
It should also enable you to take care of your RV and improve its value. Ensure you keep your RV clean, decluttered, and in good condition to retain a higher value. Also, make a few upgrades as some customers love the extra amenities.