Last Updated on :
Rving around campsites in US is an great adventure and a lot of people also do it full time. Among different types of RV's the broad categories are towables and non towables. Towable include travel trailers, fifth wheels and tent trailers. Where as engine attached RV's include motorhomes like class A,  class C RV, class B rv and also class super C RV.   In this article let's explore all the pros and cons of a travel trailer in comparison to a motorhome or even a fifth wheel.
Pros of Travel Trailer
1. They are less costly than other major RV types like motorhomes and fifth wheels
2. Towing vehicle can be used for other purposes as well
3. Insurance is less expensive
4. Less maintenance required
5. Lots of options to choose from
6. Economical way of RVing
Cons of Travel Trailer
1. Difficulties related to towing behind car
2. Cannot travel inside a travel trailer
3. Less amenities compared to other RV types
4. Traveling is restricted
5. space and comfort limitations
6. May not be great in winter due to insulation
7. Difficulties in parking
Lets check out pros of travel trailers first in detail.
1. Less costly
Rv's in general are known for their higher prices. They are bigger in length, they accommodate people for living inside them, they give you many amenities which enable you to live inside them. And thus they cost thousands of dollars.
Travel trailers cost less as compared to other big motorhomes like Class C or class A. On an average a travel trailer cost around 15000 to 30000 dollars. This if you compare with other motorhomes is pretty much less. And thus, if you want to go Rving lifestyle then travel trailers are a great option.
Travel trailers come in between a very basic popup camper and bigger motorhomes. With tent trailers or pop up campers you don't really get that kind of insulation and amenities but travel trailers are hard-sided and also give you decent amenities.
2. Dual use of towing car
Because you would be needing a car or truck to pull your travel trailer, you can make use of that car for other purposes as well. When you go camping at a Campsite or campground, you may not have certain facilities available near and during those times you will need a car to travel.
If you have a bigger motorhome then it may not be feasible for you to take that bigger RV everywhere. Also parking is very difficult with bigger motorhomes. So if you have a car with you, you can simply keep your trailer back and move on with that car.
You can also use your car to explore areas nearby. This is the same reason why people also tow car behind their motorhomes. So basically a car used to tow your trailer can serve dual purpose and you don't have to rent a car specially for that purpose.
3. Insurance is not very high
Bigger the vehicle, bigger is the insurance cost in general. Travel trailers insurance cost can be anything between $150 to $500 per year. This, if you compare with bigger motorhomes like class A or class C RV is much lesser. Many people who do full timing in RV's exactly know why it is important to get good rates on insurance.
$1,000 or more per year for insuring RV is definitely much of a cost. Travel trailers providing sufficient amenities are great if you also consider the other cost involved.
4. Maintenance easier as compared to motorhomes
Travel trailers don't really have an engine attached to them. You are left with only RV parts which needs maintenance. You will be pulling the trailer with car/truck and the real maintenance will be with your car which has the engine, which needs to be taken care of.
Motorhomes have their engine attached and you really have to take care of the engine. Bigger the vehicle bigger is the engine and higher is the maintenance needed. With travel trailers you will be doing maintenance of the engine of the car which will be a normal affair.
The cost involved in bigger motorhomes is also high. You take your motorhome to professional and you could be charged anything about $100 per hour or so. With travel trailer we have to do regular maintenance which will not cost much and you can also do it at home as per your convenience.
5. Abundance of availability
Travel trailers are no doubt one of the popular RV types around the United States. That's the same reason you will find so many options coming up. The abundance of availability also makes it possible that you can buy a travel trailer that exactly meets your needs.
The layout that fits your requirements, the amenities that you really need, the size, the length and the weight your car can easily tow. You will find plethora of models being launched every year.
There are several established brands that produce travel trailers of high quality and awesome layouts. Some of the top brands include airstream, Jayco, forest river, dutchmen, keystone, and many others.
6. Used travel trailer costs less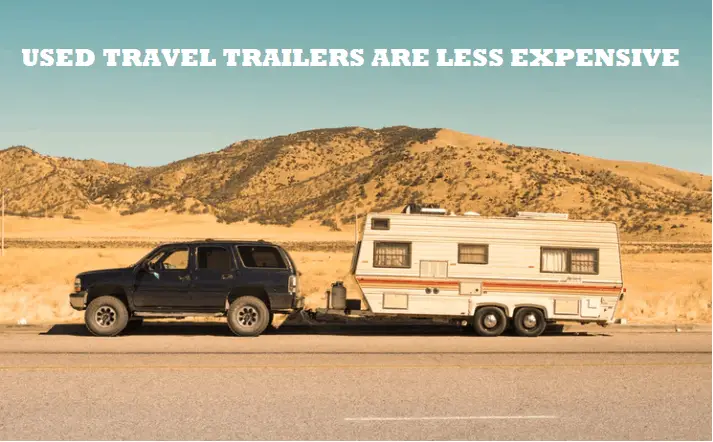 We already saw that travel trailers cost much less in comparison to other motorhomes. Used travel trailer market is also great, you can buy a travel trailer in $3000 or $5000 dollars as well. They do depreciate a lot and a new buyers can take advantage of this and buy a used travel trailer at much lesser cost.
Most people who start rving can look for used travel trailers as their first RV. With brand new RV costing you thousands of dollars one can try a used travel trailer as a first RV by investing much lesser amount.
7. Overall economically RVing style
Travel trailers overall are economical. Their insurance cost is less, initial cost is also less, the maintenance cost is also reduced. Even if you compare the gas spending its much less in comparison to what you would be spending on a bigger motorhome.
8. Great RVing experience
If this is going to be your first RV then rest assured that travel trailers will give you all the experience that a normal RV or motorhome would give you. On top of that you are also not spending a huge amount. RV is better if you compare with camping in tents or even if you are exploring areas by staying in hotels. Because of all the points that we discussed about travel trailers happens to be most peoples first RV.
Cons of travel trailers
Sure they do provide lot of advantages at the price at which they come but remember you also have to deal with lot of disadvantages that come with them. A person who is just starting rving can look up to travel trailer as the first RV but if you've already experienced a bigger motorhome then travel trailers can be a difficult thing for you.  So are travel trailers really worth it? Let's explore all the disadvantages of owning a travel trailer by an individual or  even married couples.
1. Towing difficulties
One of the things one need to be careful when owning a travel trailer is the towing capacity of the car. You may have difficulties in towing the travel trailer if the connection hitch between your car and travel trailer is not so great or if you overloaded your travel trailer. Not so capable car or truck can cause issues in pulling the trailer as well.
You need to pay special attention before you start pulling the trailer. Because you will be sitting in a car and the trailer will be a different entity altogether you will always have some doubts unless you are very much sure.
Overall it comes with this disadvantage that you need to be very sure and check the hitch every single time. If you overloaded your travel trailer then you may find that car will have difficulties in towing the trailer specially during steep slopes.
2. Cant travel inside it
Travelling inside travel trailer is not allowed in almost every state. Thus it restricts how many people can really go along. You will be sitting inside the car which again will have limited seats. On the other hand if you own motorhome, people can be inside it and thus a lot of people can travel along. Other towable RV's like fifth heel can be towed using a truck and this again restricts the number of people that can travel in them.
3. Amenities lesser as compared to bigger motorhomes
Travel trailers offer amenities that may not be great if you compare it with class A motorhome or a super class c motorhome. If you are looking for luxury RV then travel trailer may not be the one for you.
You will get a compact kitchen, a refrigerator, a living area,sleeping area which will be limited in space. You will get layouts that may include amenities that will exceed average travel trailer but then again the length of the travel trailer will be huge and that can be difficult for your car to tow.
More the amenities packed inside, larger will be the length and difficult it is going to be for you to tow it. If your requirements are of a luxurious RV on road then you may want to check full-fledged motorhome instead.
3. Restricted traveling
Travel trailers also restrict where you can go because you are towing a entity that's not really attached to your car. Thus, that really restricts the paths that you can take to access different regions. You really have to think about roads and where you are heading. The trailer which is not really connected to your car will always keep you on your toes.
4. Smaller space
Travel trailer obviously have less space inside and you are forced to make use of sleeping areas, living areas which are compact in size. Getting a bigger trailer again puts pressure on your car so that's really not a great option either. If you really want to have bigger space then motorhomes are better option. Space organization in rv is thus important.
5. Comfort : lesser in comparison to motorhomes
With travel trailers the comfort is not as good as in case of motorhomes. If you have experienced a class A motorhome or a bigger Class C motorhome you know how it feels like being there in your Living area or even in the kitchen space.
Travel trailers even though can be 30 feet or even lengthier provide you with comfort that is not so great. Its just enough to be able to RV around in campsites and enjoy moderate amenities. You do get travel trailer with layouts that will give you full kitchen, a king size bed and also give area that is much bigger but then again you are talking about a huge and heavier trailer that has to be towed by a normal car.
6. Insulation : less than motorhomes
If you have any plans of full timing in a travel trailer then you need to pay special attention towards the insulation specially during cold weather or winter time.  Travel trailer is definitely better than a Canvas pop-up Camper. But if you compare it with bigger motorhome it may not provide you great insulation. When the mercury is falling you know how difficult it is inside a RV. Travel trailers are hard-sided but even a small gap can make the temperature fall very rapidly inside the travel trailer.
8. Parking difficulties
Parking a travel trailer at a normal location can be challenging because you are talking about an overall length then that can be lengthier. You will have your car or truck in addition to a lengthy travel trailer so overall parking can be difficult not only at normal parking locations but also at Campsite locations. Most campground will have different parking length limitations. They also have different lengths for travel trailer and motorhomes. In most cases you will see travel trailer lengths limitations is less as compared to what they have for motorhomes.