Your RV battery is a crucial element of your rig's internal system. It is what gives power to everything electric in your coach. From your HVAC system to your overhead vent fan, among others.
It is not unusual for RV batteries to refuse charge. But, there are several reasons why your RV battery won't charge.
While enjoying all the RV has to offer, you have to be aware of all problems that may result when your RV battery won't charge.
Some of these issues may cost you your day; therefore; proper handling of these issues may be of great significance when it comes in charging your RV battery.
Below are some of the problem as to why your RV battery won't charge and how you can troubleshoot.
Battery Is Not Hooked Up Correctly
If your battery is not correctly hooked up, it will definitely not charge. Check the wires attached to the batteries. Verify whether there are any of them that are broken, burnt or frayed.
Also, check whether there are two bare wires that are touching each other. If there is, replace or repair as required.
Fuse : Is any of the wire coming to lose the batteries has a fuse able link or an inline fuse? Repair or replace these things.
Battery Terminal : Take a look at the battery terminals. Check whether there is any noticeable corrosion and to confirm that the battery cables are tightly attached to the battery posts. You are supposed to clean and tighten the battery cables and the posts as required.
Broken Wire
Another cause why your RV battery won't charge is that there might be a broken wire on an open conductor that is between the battery and the converter.
Corrosion : Any type of breakage in the system may cause the battery not to charge. This may be caused by corrosion or oxidation on the battery positive and negative posts.
Connection : It is necessary to make sure that the battery terminals are clean tight dry as well as checking the connection is done correctly. Any broken wire in the charging circuit may prevent the converter from charging the RV battery.
Dead Battery
A dead battery is a potential cause that may prevent the battery from charging. This can be prevented by charging the batteries, and this can be done using a carbon pile load because it can determine how healthy a battery is, and if it is working properly.
Problem With Your Converter
Go to your converter and check if all the wires that are coming from the converter are well fixed.
Check if all the wires are okay, if broken, or have any discoloration or if they got hot.
Bare or damaged Wire : Make sure there is not any bare wire that could be hanging or touching other bare wires. In case you find any damaged wire, make sure it is replaced as soon as possible and after replacing, check again to see if the battery is being charged. Never open the converter.
Blown Fuses
A blown fuse may prevent the battery from charging, thus it is significant to check if all the fuses are working well.
Change Fuse : Replace all the fuses that are blown, and you are supposed to replace the fuse with same amperes. Never replace with those that have higher amp as they can overheat and cause a fire
Issue With Breaker
Check all the breakers if they are blown. Do not only check their physical position but also touch them so that you make sure that they are working properly.
Most of the converter come with manuals that help you to get an idea of which breaker is not working properly. These breakers are 120 volts, and they are available in the market.
Fuses : When all the breakers are working well, check all the fuses. See whether they are working well and if they are blown. Once you have placed all the faulty fuses, plug in the camper battery to check if the battery is charging.
When the RV is plugged to 120 volts, and that all the wire have been plugged in the right positions, that is both positive and negative terminals. If the all the replacement and repairs have been made as required, make sure that the switch is not cut off that it is in the correct position. Tighten all the cables as required.
Faulty converter : When all these issues are solved, and the battery is still not charging, it means that the most probable thing is that the converter itself is faulty.
Technician Help : This calls for an RV technician. It is not recommended to open the converter at any given time unless you are a technician. In case of such a problem, it good to take it to an RV repair shop to have it repaired or checked
Check Often : On that note, you can check your RV batteries regularly to avoid issues that may arise. If you have to use your RV battery all the time, make sure you have a regular schedule for maintenance. Probably once a month. If you are frequency user, you can have it checked frequently.
How Does The RV Battery Charge
When the RV is connected to the electric outlet, the battery charges. An RV charger/converter that converts power from the grid to 12-volt DC and after that directs this to the adapter is usually fitted to every RV.
Batteries as well charge while you are

running the generator

or when the motor of your tow vehicle (or motorhome) is running. You will notice that your batteries are well charging if the rig is plugged in and also by checking the RV battery monitor!
You can always keep your RV plugged, but doing this might quickly exhaust the water levels of your wet-cell batteries. As a result, ensure that you are often checking them and especially if you go camping this way.
Keep Eye on Battery Charge Level : Remember that allowing your batteries to get to their lowest charge is not healthy for their general lifespan. Therefore, make an effort to keep the batteries charged regularly.
Does RV battery charge when plugged in?
Definitely yes, it charges. Every time your RV is plugged in, your house battery gets charged. Whereas it is just a trickle charge, it may deplete the electrolyte levels of your battery cells.
And so, you are supposed to maintain as well as check your battery on a monthly basis when your Travel trailer or camper is plugged in for instance while in storage.
Moreover, while your camper is connected to an outlet, the batteries are charging. The RV converter/ charger which is converting power from the grid to the 12V DC and after that directing the power to the adapter is integrated with your RV.
If you do not have a 3-stage charger, you may require having one since it is more efficient than a fixed charger and especially if you are using it during storage. Keep in mind that your battery requires to charge in three stages.
Shore power not charging house batteries: what can be the reason?
When plugged in shore power at the campsite, most probably, the converter of AC to DC will charge the backup battery bank.
All the fans, lamps, water pump, and the rest still function on the 12-volts DC, in just that DC electricity is supplied by the converter rather than the batteries when plugged in.
Reason Why Its Not Charging : If your converter charging unit (or the breaker of the converter), is switched off, or if you have several kinds of battery detach solenoid slot in, the batteries won't be able to get a charge.
RV converter draining the battery
You might live in comfort, presuming that your battery along with wiring is okay and up to the task; but, the RV converter draining battery power is a very common complaint.
While connecting the converter to the RV, you may detect a spark since when you connect your converter for the first time; it uses power from your battery. However, the power draw is low down to insignificant and definitely will have no impact on the performance of your battery.
This is very normal since the converter usually draws a little quantity of power and especially when it is initially connected.
The drain is usually very small, and it is not supposed to really be evident if your battery is correctly working; however, there is still a little drain.
If the battery is beginning to die, the drain then may be more evident than you imagine.
How do you charge a dead RV battery?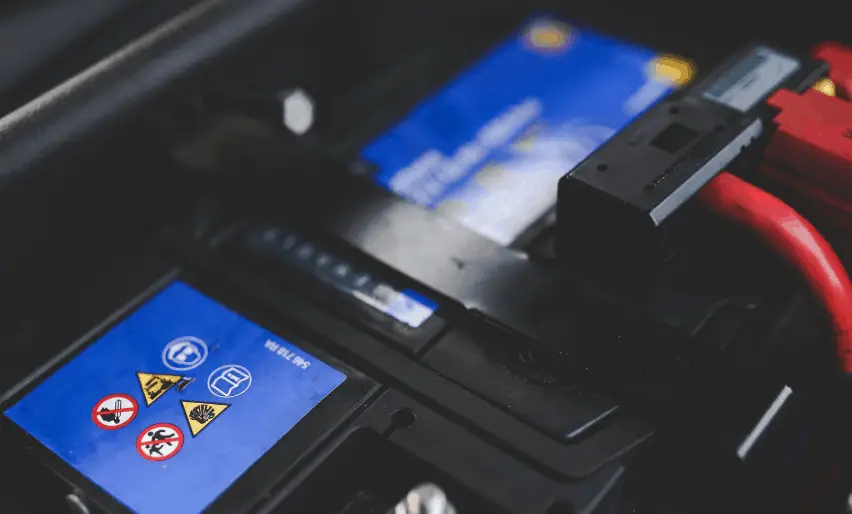 When you think of recharging a dead camper battery, it's very useful to first know how dead the battery is before you settle on how you are going to deal with the situation.
A good battery shows 12.4 to 12.7 voltage across both of the terminals when it is measured using a voltmeter, a very simple gadget that is very useful when identifying battery issues.
Low Voltage : If the voltmeter readings are below 12.4 volts, you will likely get into problems when you try to start your vehicle.
How low the voltage is will determine the method that you are supposed to use to charge your battery after jump-starting your vehicle and getting it to run again.
Methods : If your battery is reading between 12 and 12.4 volts, then it is very safe to recharge it using the alternator of your vehicle. You will do this by driving around with the lowest electrical draw as possible without stereo system, without lights (and never try doing this at night) and no cooling or heating functions running
Using the alternator to charge such an exhausted battery might actually cause a lot of harm to your alternator. It is because it requires working overtime so as to fill the battery while as well as managing the energy requirements of the vehicle itself, whilst your vehicle is running.
It is as well possible to harm your battery by undercharging through this method, making it less probable for your battery to stay with the charge that is put into it by the alternator.
How to know if the converter is charging the battery
It is first worth knowing that, you will just require an RV power converter only if you need to charge your RV batteries after you have plugged them to shore power or if you are using the generator.
In the places that are usually endowed with a lot of sunlight, when you are using solar power, you can discard your RV power converter, or really not require it at all.
However, with the climate conditions being dynamic in the majority of the places, you actually could be prepared with one.
Check on Voltage : To start with, determine if your RV power converter is the factor which has broken down in the system. After you have connected your RV power converter to your power supply, go on to check whether the voltage, at its entry point, is in ranging between 108 to 130 volts, since any reading that is in this range is okay.
After finding out the above, then you can take a look at the voltage at the place where power converter of the RV connects with the 12-volt DC tidal wave box. For common running, this is supposed to be in the range of 11 to 13 volts.
RV battery draining while plugged in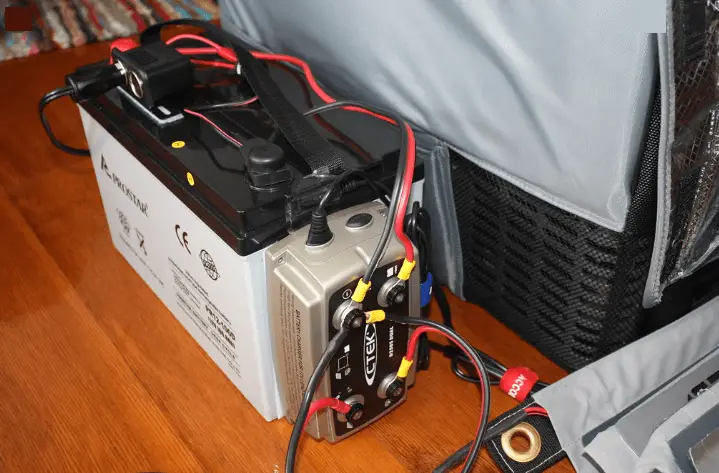 With your battery connected to your coach and your coach plugged in, first measure the voltage at the terminals of your battery.
Voltage While Charging : Anything below 13.2 volts means that your battery is not probably getting charged. After that, measure the voltage at your converter DC output wires. Once more, anything that is below 13.2 means that your converter is not properly working.
Then find the fuse or breaker that controls your converter and then check it. If they are checking out, check again the AC voltage plug that you are using to supply power to your converter. You are supposed to get about 115 AC volts, and if not, you then have an AC power wiring/plug issue.
Issue With Battery : If the whole thing is working out well, the issue is then with your battery. Disconnect the battery and measure the disconnected voltage. If you get anything below 11.5, this means that you have a dead battery. Anything below 12.4, it means that your battery is badly damaged.
Battery Types in RV
Your RV will have numerous appliances that will have varying watt requirements. An Air conditioner, refrigerator will need a generator to run.
A RV Battery can help you run other smaller appliances like lights, pump, furnace. A DC powered refrigerator can also be running off batteries but its not recommended as it will draw high amps from batteries.
You will normally find people using two types of batteies in RVs.
Deep Cycle Battery: They can be

AGM type

or gel types. These are basically lead acid batteries. Unlike car batteries these produce steady current over a period of time.
Lithium Battery : These are costly but can last much longer. Lithium batteries are also small and lighter in weight.
Maintenance Of RV Batteries
If you want to prolong your RV battery life, never allow it to be below 45 % of charge.
Therefore, you should recharge it as soon as possible. This is because if it falls below 20%, it will damage your battery. You can easily check your battery levels by checking the voltage it gives off. Recharging in timely manner will help prevent sulfation.
Clean the batteries to get rid of corrosion. Buy products that can help with these or you can even use baking soda for this. Cleaning the battery terminal will keep them in good shape.
Good maintenance, monitoring and testing will help avoid common issues with batteries in RV like below.
RV Battery drains way faster and will need charging too often
Battery goes bad way too earlier than expected 3-5 years or more.
Battery wont charge fully and keeps dying
RV battery wont run lights
Some of the common reasons why RV Batteries see issues include below :
Overcharging the batteries
Sulfation
Not Charging sufficiently
Unnoticed load on Battery draining the batteries
Testing the batteries and monitoring them regularly can do a great deal of help. RV batteries can last 4-5 years on an average if you do the maintenance properly.