Last Updated on :
Storing a costly RV is everyone's priority but not all can have that indoor storage or can rent out a space for RV.
With RV covers costing you less money, its a great idea to protect and cover the RV.
May it be rain or winter snow or summer scorching heat, rv covers can come handy in keeping the RV protected.
So, should you cover an RV?
Lets find out.
So, is it a good idea to cover the RV or travel trailer with cover? Well, it is worth it to cover, as it can save your RV from lots of issues.
Most Rvers avoid or stop using RV covers due to the efforts needed to put them on and off. And also, the covers tear after few times of use.
Having a proper quality cover can make it easier and also keep the RV safe.
Here is the summary of pros and cons of rv cover.
What works (Pros)
1. Protects roof against harmful UV radiations
2. Keeps dirt, dust and bird droppings away
3. Protection from snow
4. RV roof paint is protected
5. Overall RV resale value kept intact
6. RV interior remains cooler
7. Low cost way of protecting RV
What doesn't (Cons)
1. Covering large RV can be hard
2. Wear and tear can cause damage
3. Water may go inside and cause damage
4. Can cause mold
5. Low quality cover may not be helpful
6. RV cover with snow can be difficult to remove
Pros of using rv covers
Not all people may agree with this but yes you do need covers in all seasons. May it be winter, spring or summer, RV covers can be of great help.
This applies to Rvers who do not store the RV indoor or in a garage. Winter times are more harsh and if the state where you live has high snow then you better be prepared. Lets have a look at all the advantages RV covers provide.
1. Protects against UV radiations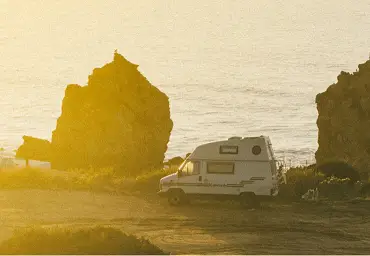 Summer times can make a lot of damage to an openly kept RV. The roof can get affected due to UV radiations from the high beating sun. Not all areas may have UV, but if you are in a region affected by UV then you know what i mean.
Its not only winter that needs the RV covered but also during summers.
Read : How to Protect RV Roof
Keeping your travel trailer or RV under that bright sun can also cause lot of heat in the interior of RV. A protective thick layer cover is all your rv needs during those times.
2. Keeps dirt and dust particle away
A better finished RV needs a few days of dust and dirt to get the paint spoiled. Having a cover keeps the rv away from such dirt and you don't have to clean the RV every week or so.
If you park your RV near a place that sees such dust then you should be more towards covering it.
While putting a cover on such a big vehicle could be little difficult, a long time parked RV definitely needs the cover.
3. Protection from roof damaging snow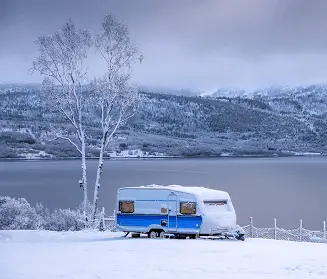 Nothing can be more harsh than falling snow for your RV. A thick layer of snow can get you running.
Keeping the RV indoor is the best solution but for any reason you cannot do that, then at-least get it covered fully.
If you are boondocking, covering the trailer can be a great solution to keep warm and protection from freezing pipes.
4. Keeps your RV safe from Bird droppings
Bird dropping can be so much irritating. Specially when you can't even see it immediately. A high RV cannot be cleaned everyday.
Its a big vehicle and you do the cleaning once in a while. Keeping the RV covered will protect all the damage that will happen due to bird droppings.
3. RV roof paint protection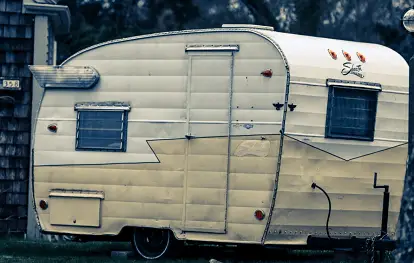 Roof is the most critical parts of your RV. Not covering can cause potential damage due various reason i mentioned above.
Replacing or repairing a rv roof can be annoying and costly as well. A roof that start leaking can quickly deteriorate and need replacement. Replacing the roof can be high costly affair as well.
4. Helps in keeping up RV Resale value
Protecting the RV using cover can prevent lots of damage. May it be roof leakage, paint fading or keeping the RV cool. All these things add up to keep the rv in good condition which otherwise can damage its value.
RV's or travel trailer in itself are high depreciating assets and not taking proper care can result in further sliding of value. Would you be okay that your costly fifth wheel loose its value double fast because of this?
5. RV interior is kept cooler
A RV kept in sun can quickly get hot. And imagine keeping the rv open for hours and days. Its definitely going to make it hotter and if you are going to use it in such conditions then you better have a high BTU air conditioner.
A RV or motorhome covered with a good quality cover can keep it cooler. Whether you have a class A rv or class c rv its better to make sure it remains cooler when not in use.
Read : 17 Tips to Keep RV cooler in summer without AC
6. Cheaper way of covering and protecting RV
Protecting the camper from all above issues is necessary. You either do it by storing the RV in garage or using the cover.
Having an indoor storage area of your own can help you save a lot. Renting an storage area for this can be high costly.
Thus, rv covers are a relatively easier option if you don't have your own storage and keeping the RV outside.
RV covers costs much lesser than a rented storage. Check price of this OverDrive PermaPRO Deluxe RV cover on amazon. They aren't really that costly if you compare with repair cost you may have to face.
Cons of using RV covers
While the rv covers do protect the RV from a lot of elements not all find them helpful. Lot of people complain as to how difficult and time wasting activity it is to cover an RV.
Lets go through all those disadvantages of using a RV cover.
1. Covering huge RV can be difficult
Imagine covering a 45 feet RV or motorhome with a cover. It is going to be difficult task obviously.
A class A motorhome can be as long as 45 to 50 feet, class C around 40 feet on an average. Even travel trailer or fifth wheel can be as long as 35 feet.
Read : Average RV length, Width and height.
A single person doing this job of covering such a massive vehicle will only be a herculean task. If you use your RV very often then covering it can be avoided.
During off season of winter times, it makes sense covering it. During spring or summer if you are not going to bring it out for weeks then covering should be considered.
A better way to do this is to take help from your family member.
One person on top of the RV on roof and other down can make it easier for you. Again, once you start using the cover you will figure out a quick method to do it.
Getting a good quality cover from known brands like Camco or other brands can be helpful. A god quality branded cover will be light in weight and perfect fitting.
Going for a cheap universal fit cover can make all this more difficult and time consuming. Some other popular rv cover makers include adco, coachmen, tyvek, carver, kingbird, etc
2. Can damage the RV due to wear and tear
A low quality RV cover not a properly fitting one can cause wear and tear.
A cover that isn't properly fitting and hanging loose can cause damage to the RV paints.
High wind can cause the cover to rub against the well finished walls and resulting in paint getting scratched and damaged.
Painting a RV can be costly and you cant do it often. Also, a RV with such conditions looses it value.
3. Water may seep in and damage paint
An RV cover which isn't waterproof will lead to absorbing water and droplets falling on the RV. Such water can cause lot of damage resulting in paint getting damaged.
Water can be more damaging as it continuously remains in touch with RV walls. Such trickle of water may not even come to your attention until you see the paint damaged.
4. Dark covered RV can cause humidity and molds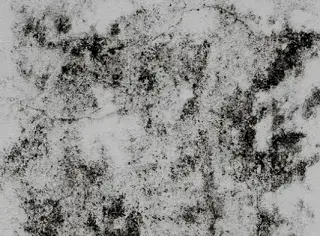 A covered RV will keep it cool. But, if it has been raining while it was covered then get ready for humidity and resulting molds.
A dark covered RV needs proper air circulation through vents else there can be molds which can be difficult to handle and repair.
If the cover or the trailer RV tarp is not breathing properly then molds may start inside the RV.
5. Cover may get damaged and teared up
Putting a RV cover may not be as simple as putting on a car. It obviously is larger and lots of parts will be coming out like antennas or roof top air conditioner part. You will have such elements that can potential poke into your cover and tear it apart.
So, its always going to a thing to do with more caution. Specially, if you have a low quality cover then you need to be more cautious about it. A quality double or multiple layer cover can come good in such conditions.
One can order custom made covers that fit exactly for your RV. Which can also consider the RV door and fitting the RV perfectly. A loose RV cover can also be causing wear and tears as discussed above.
6. Low quality Cover may not protect at all
While a good cover will protect the RV from UV rays and snow, a low quality cover can turn out to be just a cover and not protect at all.
A thin layered cover can allow passing of hot sunlight, snow and rain water. With such a cover one can even think "why did i put that at all" going for lower priced covers can result in you regretting.
Thus, make sure get a quality product that can come good. Normally, branded manufacturers give warranty that can be anything between 1 to 5 years.
7. Snow covered RV cover can be tough to remove
A RV covered in snow may result in lot of snow accumulation on covers. Removing such accumulated snow can get difficult.
Such removal of snow from covers can also result in tearing of the covers making them useless for next time use.
Installing the RV covers ON
Having a cover for your RV could be a good idea but one issue many face is it does not last too long. You put it on the first time and it tears off and is of no use later on.
This happens mostly when the cover isn't of great quality or is not of perfect size. Most people avoid putting the covers when they know that the would be camping soon. Getting the Rv covered at the end of season makes more sense.
Most people who talk against the covers are those who face issue covering it first time itself. Getting that massive vehicle covered isn't easy and if you happen to not do it properly then there will be issues for sure.
A tear into the cover and it becomes an item of no use for you. Or if you happen to get a cover fully covered in snow, getting the snow out of the cover almost makes very hard.
Another option people try is to clean the RV regularly, especially the roof and avoid using the cover. That can be a good idea but if its snow or rain then covers are the only option. Or you put the RV in proper indoor storage.
The reason why people stop using the RV cover after first uses is because they either didn't get the good rv cover or they had less patience in putting it properly.
Remember, it is going to be little tricky initially but as you use it multiple times it should be easy for you. Also, taking help from another family member is key. A single person trying this may make it more difficult.
Some Rvers also try covers for roof only. They however may not be fully effective as only the roof part will be covered. For short period of times that may work great though. But, getting the full RV covered is necessary. Making sure the windows and doors are covered properly is important.
Some Rvers also try DIY and try covering RV's. If you are good into such projects for your RV, then sure go ahead. A custom fit RV cover can be little more costly. So if you can get that loose RV cover to fitting it properly then sure go ahead.
When buying rv cover for you travel trailer or pop up camper make sure you read the review of other users. Or if you have any other friend or anyone in RV community who can help you out, then then would be better.
Proper use of cover
Like any other car cover, the RV cover too need to be handled with precaution. Most people end up poking holes into it due to sharp objects or elements coming out of RV. Even though a rv cover will keep the roof from water or snow, make sure you check the RV when its covered.
Water logging or puddling need to be avoided as that may cause molds. While you are taking off the rv cover make sure you fold it properly and keep it secured for next time use. When the RV is covered making sure the cover does not remain loose is another point to take care.
Conclusion
One has to decide how the RV is going to get protected when not in use. If you have a proper indoor storage then that's best. Using RV cover for your travel trailer or tent trailer can really protect it from external entities. To put on such big covers you need to have patience and learn the best way to get it on.
Looking at the advantages you get with covers its better to try them. A indoor renting storage is much more costly but one can try covers at less cost. But, make sure you get good quality covers so that you don't dump them after first use. So, whether you should cover your RV or travel trailer is an affirmative but make sure to get the right cover. And, have patience to learn the art of covering the RV the right way.