Last Updated on :
Generator in an RV is a very important item to have, especially when dry camping or boondocking.
Most campgrounds around the United States provide for electricity hookup. In absence of a hookup, or when dry camping or boondocking, an RV generator is a must.
In this post, i will cover the most important question a new travel trailer shopper (or the who wants to rent it) has; "do travel trailers have a built-in generator?".
Generally, travel trailers do not come with built-in generator but one can always use a portable generator with them. When buying or renting a used travel trailer, you may find that a portable generator is already installed by the owner.
Before you add a portable generator, do know these important things.
While camping in travel trailer make sure you place the generator far away from trailer with exhaust fumes facing away from you. Portable generator can produce CO and hence should not run the generator inside the trailer. Check all the safety precaution to take.
There are multiple options to carry a portable generator on travel trailer. You can place it inside a storage compartment, or mount it over the rack bumper or use a cargo carrier.
Some portable generators do make noise but mostly the levels are in between 48 db to 60 db which is categorized as soft noise. However, do check the decibel level of Nosie before buying.
Prices of portable generators vary based on watts, noise level and brand. On average you have to spend between $300 to $800.
Calculate exactly how many watts generator you need(more details below). Get a minimum of 3000 watts if you want to run an Air conditioner of 13,500 BTU.
If you live in California the generator should be CARB compliant.
Having Solar panels, bigger batteries, propane in addition to generator will enhance your power options.
Which RVs have built-in or factory generators?
Built-in generators are common in Motorhomes (Class A, C and B) and also in fifth wheels. Some select high end travel trailers are equipped with built-in generators as well.
check my linked article to know more on the real differences between onboard factory generator and portable generator.
Some travel trailer are given a generator prep which means you can get a built-in generator installed, if you wanted to.
If you want to rent a travel trailer that does not have a generator installed then you can rent it separately as well.
What about airstream? Do they have built-in generator? The answer is no, even airstream trailers do not come with built in generator.
Can you manage without generator?
Travel trailers get electricity from a electrical hookup. Other power sources can include battery, solar panels and generator. Propane is also used in some appliances like refrigerator and furnace.
If you do not have electrical hookup then you would need a generator to run the bigger appliances like Air conditioner, microwave, heater and refrigerator.
Having said this, it is possible to go RV camping without generator if you can skip using these bigger appliances. Among these appliances, AC would need a generator but other appliances like refrigerator, TV, lights, fan can still function using battery power, solar panels and propane.
Can't skip using an air conditioner? Then, its better you get a portable generator. Read on to find out more.
Travel trailers are great, they are just the perfect fit for those who just don't want to spend that $50K on big lavish motorhome. If you really need an on board generator then motorhome is a right choice for you. Otherwise, as we saw you can always go for a portable generator in a travel trailer.
Lets now check how you can use a portable generator, what kind of generator to get and what's the right generator size for your travel trailer.
Using portable generator with travel trailer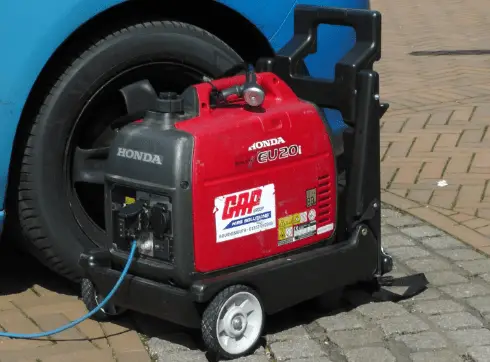 An external generator for your travel trailer can be a good fit if you didn't find a travel trailer with that built-in generator.
A portable RV generator is light weight and can come handy for a travel trailer. There are many brands that manufacture generators with RV in mind. That's a huge market for them too.
I have compelled a list of 10 best generators for RV or travel trailer.
A portable rv generator makes less noise and occupies minimum space. A 3500 to 5000 watts rv generator weighs around 50-70 pounds.
On a Side Note: You need to be careful with this weight because it can get tough even with smaller weights adding on and finally the car or truck may find it difficult to tow. Many of us have this habit of putting those extra things on trailer and resulting in overloading the RV.
How many watts generator
Figuring out how many watts you need on the generator is fairly easy.
To know how many watts you would need, you need to know the running/starting watts needed by the appliances you would use.
Add all the watts to get a value, that's the number of watts you would need in minimum. But, for a safe side go for 10-20% above that value.
Consider starting watts required by the appliances as well. Some appliances like AC have higher starting watts than running watts.
Here are some average watts consumption examples.
| Appliance | Starting Watts | Running watts |
| --- | --- | --- |
| Air conditioner 13,500 BTU | 2700 W | 1100 W |
| Refrigerator | 500 W | 150 W |
| Heater | 1200 W | 1200 W |
| Television | 200 W | 200 W |
Based on how many appliances you would run your watts requirement will vary. List out all the appliances and sum all the watts to get the number of watts you would need.
Every camper is different and our needs are different. Some people wouldn't just be okay with one AC and then would install the second one.
Some of us would even be okay without any AC at all. It all depends on the habits.
Point here is that, with appliances you need to figure out how many watts would be needed for you. And based on that, you could do the calculation and go for a particular watts generator.
With 2 AC's you need more than 5000 watts and where as with normal appliances plus a single AC you should be okay with 5000 watts.
Doing the basic calculations should give you an approximate number of watts needed and thus, you can plan accordingly. Deciding what size rv generator you need should not be a thing of confusion, if you know what all appliances you need to run in parallel.
Appliances like refrigerator or air conditioners also have higher starting watts requirements and thus, rather than considering the running watts you need to consider the higher running watts. The calculation is simple, count or do sum of all the watts required at any given point of time and thats the minimum watts you need from the generator.
Using 2 smaller generators in parallel

One also has the option of going for 2 parallel generators of lesser wattage. By doing this kind of combination, you get the freedom in terms of choosing how much watts you need at any time. Also, with smaller watt generators you get to save on space, easy to handle. And in travel trailer you can also place them on truck and thus save some space. Two smaller generators connected in such fashion would also produce less noise in comparison to a bigger one. A 7000 watts would produce more noise as compared to two 3000 watts would produce together.
Adding a new generator in my travel trailer – cost and considerations
As we already saw, why the manufacturer don't consider putting in that built-in generator within in travel trailer, its the overall cost.
Its just not the price of the generator but also modifying the design and having that built-in structure inside the travel trailer. Obviously, you need to arrange the generator for yourself if its not present built-in.
Adding this extra appliance will mean spending more money. New portable rv generators are not only smaller and light weight, they also tend to be cost effective. With many competitors, the prices aren't that high if you see overall benefits.
A portable generator can be added on travel trailer at multiple locations like below:
Using an A frame above Propane tank
Bumper mounting with a hitch
On a cargo carrier box
Behind propane tank
Check out all the options for placing a generator on a travel trailer.
Before you get a generator for the travel trailer make sure you are getting right watts with good features and low noise levels.
Here are some of the best portable generators for travel trailer.
Generac 7117 GP2200i 2200 : prices for this portable generator around $550
Briggs & Stratton 30651 P2200 : prices for this portable generator around $555
Honda 2200-Watt : prices for this portable generator around $1000, little bit on higher side
Champion 3800 : prices for this dual fuel rv generator around $520
DuroMax XP4400EH 3500 watts : priced at around $500
Analyzing various prices, a rv generator of 2200 watts comes in at around a price range of $500-$800 depending on the brand.
A Honda rv generator would be little bit costly but it has its own advantages. You could very well get a not so high branded one at a price almost half than this average.
But, its upto you whether you want good warranty and service or just want to save on initial cost.
Noise level with portable generators
With portable rv generators, you can be okay as far as weight is concerned. They also produce minimum noise and you should be okay with that too. Noise can be a bigger factor when it comes to generators. Specially, while at campsite you don't want your rv generator to annoy you as well as your camping neighbors. A good portable generator mostly will produce less noise as long as you go with a good brand like Honda, generac, yamaha or briggs & stratton or any other good one.
On an average these branded rv generators produce noise level which stays in the range of around 48-60 decibels. This level can be considered as moderate and you should be okay with that. This noise would be similar to what a table fan or a computer processor would produce, and that should be okay. Adding a generator for your travel trailer also need some basic understanding and mapping your requirements with the generator output. Considering all your requirements you should be able to select proper generator for your travel trailer.
Why Travel trailers don't have built-in generator
If you have been going shop after shop and do not find a good travel trailer with a built in generator in it, then you probably need to think again. You may have had the experience of using a motorhome previously and that thing which just kept the generator within it secure and came with it originally, was great. A motorhome will mostly have a generator built-in. That's very common and you will find it in motorhomes. What about travel trailer, why am i not seeing the built in generators?
As we saw built- in generators is not a thing of common when it comes to travel trailers. Most travel trailer won't have the luxury of built in rv generators. And thus, most people who own travel trailer or even fifth wheel, manage by having a portable generator. Well, that's the thing with travel trailers.
When you have been using that class A or class C motorhome, it kind of was normal for you to check if you could get similar set up when you wanted to switch to a travel trailer. Also, at times when you initially had bought a travel trailer it had that built-in generator and now when you go again shopping you have less options.
Perhaps, you had bought that luckily, or spent much more that time or just got a good deal on used one. But, now you don't want to spend much and thus the options aren't there. You will get travel trailer or fifth wheel with built in generators, but not always. Also, the prices will be higher. Unless you just don't care about how much is the price, you will find that travel trailer or you can order the one from dealer.
It may make sense for you to think that the trailer should have a built-in generator. But, not for the manufactures. Also, if you think a little bit deeper; you will come to know why exactly the built in generators are not so common in travel trailers ad fifth wheels. With no built-in generators, the other option is obviously to go with portable generators or skip the generators itself (if you think generator wont serve any purpose for you, like if you do not do dry camping at all or are always connected to electricity hookup).
Fuel Source or tank size issue
One reason why a travel trailer is not generally equipped with a built-in one is because of the fuel supply needed for generator. A propane run generator will need that kind of propane source and with travel trailer that may not be possible. You wouldn't have that much space for the propane tank, or you ideally don't see a manufacturer make that kind of options available. And thus, it makes sense for them to avoid installing a built-in generator in a travel trailer.
Even for a diesel run generator you would need that kind of supply from the tank. Also, it not only means have a small or normal sized fuel tank, you would need bigger tank and thats the problem. With a motorhome, you get bigger fuel tanks and that can be good enough to also provide for a generator.
Weight  Issue
A 5000 or 7500 watts generator will need much more fuel and that is possible with a tank sizes you get with motorhome and simply not possible for a travel trailer. A built in generator also needs compartment that is specially built. Overall, this thing of assembly can be putting extra weight on the trailer. One thing of importance with trailers you know, is the weight. You need to tow the trailer and thus keeping weight to minimum is always a priority. Understanding the travel trailer weight is key. And thus, manufacturers do try to keep the weight to minimum and avoiding a built in generator is also one of those things to work on weight.
Cost Considerations and design
A travel trailer is cost effective way for rving. Manufacturer are always looking for serving people that can afford them and thus they could make more sale. Thus, the market demand in this segment is different. People want to buy travel trailer that can fit in their budget. A built in generator will obviously add to the cost and this is apart from the cost of designing the compartment and fitting it in. Thus, the overall base price will go up ad result in beating the purpose of having a cost effective rv.
So, the manufactures focus on how they could reduce the price with minimum things packed inside a travel trailers. Fifth wheel do have generators, but not as often as motorhomes have. They too need to be towed and thus come similar to what trailers come with. Fifth wheel are however more of a luxury if you compare with travel trailers. And thus, you may find a fifth wheel with on-board generator easily as compared to a travel trailer.
Conclusion
A travel trailer with a built-in generator is hard to find and may be going above your expected price range. If you got one for you with all the things falling into your requirements then that's great. If not, just go ahead with a portable generator for your travel trailer. A good portable generator can be enough for you during camping. You can get one at price range that's good enough and will also produce minimum noise. Just make sure you map your requirements and decide on the brand, watts properly.