Last Updated on :
RV's or campers come in different sizes and weights. Their lengths and weights makes them intimidating to drive. Most people who are about to buy their first RV are concerned about whether they can drive the drive easily or not.
Especailly with towing RV's people are worried if they can do it or not. In this article lets explore whether it is difficult to drive an RV and also find out which RV or motorhome is easier to drive.
The type of RV that's easiest for someone to drive depends entirely on the vehicle usually driven by the individual and their driving experience.
The easiest RV to drive by far is Class B RV and this is because they are small, compact and almost drive like a normal regular size vehicle. They are less taxing and easier to park in parking slots or driveways.
Different types of RVs, their average size, length and weight
Campers and RVs have become extremely popular in recent years. With the wide variety available on the market, there is always the one that suits an individual's needs perfectly. For example:
Class A RV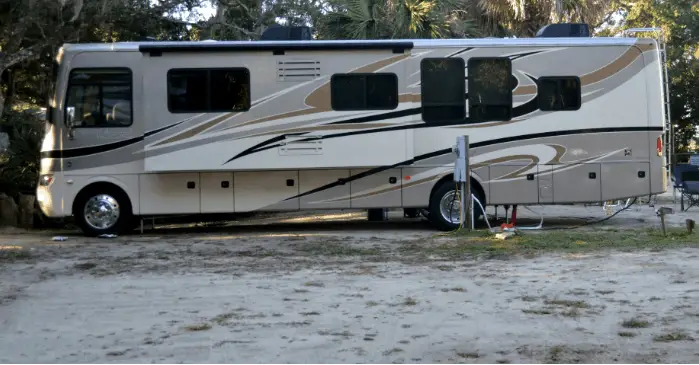 Weighing from 13,000 to 30,000 lbs, with a length anywhere from 26 to 45 feet, these are the largest motorized RVs available. While some are built relatively simply, others come with a wide range of bells and whistles.
They may include luxuries like king-size beds, washer/dryers, mobile garages large enough for a sports car, in fact, any type of luxury that the wealthy are accustomed to in their homes.
Class C RVs
These mid-size options are around 20 to 30 feet in length and weigh from 10,000 to 13,000 pounds. The size of a Class C RV is somewhere between the Class A and Class B, which some might find a bit confusing.
Read : Class A Motorhome Vs Class C Motorhome
The difference is that sleeping areas are frequently above the cab in a Class C, another area in the rear and in some models, slide outs similar to those found in Class As. Class Cs are normally built with a separate bathroom, while Class Bs may not.
Class Cs are ideal for those who feel that a camper van is too small for them, but are looking for a RV that is less expensive and a bit smaller than a Class A. Normally, a Class C RV is capable of towing another vehicle.
Class B RVs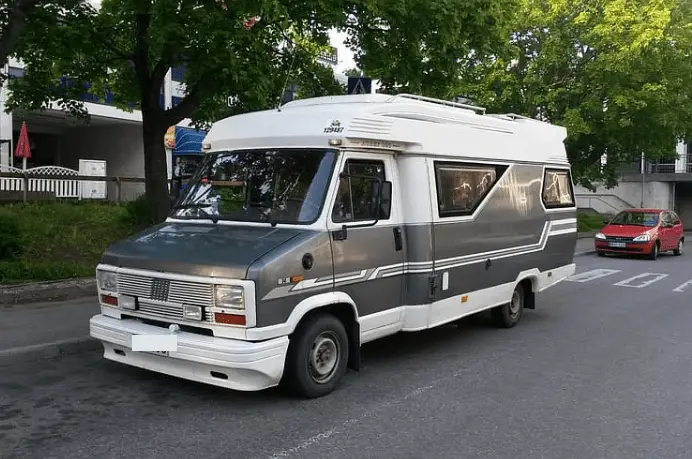 Weighing about 4,000 to 9,000 pounds and around 17 to 23 feet in length, the Class B is another mid-size option, often referred to as camper vans. Although small, these basic campers are spacious and together with storage and sufficient room to sleep six.
They can also include things like dining areas, bathrooms and plenty of other extras. They may not as spacious or have luxuries like the Class A and Class C RVs.
The benefits of the Class B motorhome is that they are available in a 4 x 4 option, have lower fuel consumption, can be used to stay off the grid, are easy to drive and can fit into numerous parking spots.
Travel trailer, Fifth wheel, and Pop up camper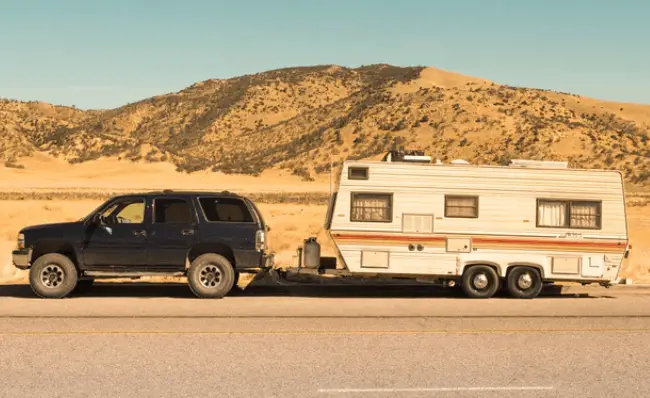 Among the towing RV's these are the three main categories. A travel trailer and pop up camper can be pulled using a car, SUV or truck. A fifth wheel on the other hand need a truck as its front end hangs over the bed of the truck.
Pop up campers or tent trailer are smallest among all. Their length can be as little as 10 feet. Travel trailer on an average is around 20 feet long. While a fifth wheel can be little bit longer like 30 feet or so. Travel trailers also come in shorter lengths but fifth wheels usually are lengthier most of the times.
Towing a RV of length more than 15-20 feet is always going to be difficult if you have not done that previously. So as far as difficulty of driving these towed RV's is concerned, its higher as compared to smaller motorhomes. With practice it's always going to become easier though.
If I were to be pick any one RV among all that is hard to drive then it would be a travel trailer that's very long like 40 feet or more. Even a class A RV exceeding 40-45 feet can be difficult to manuever.
Even a very long class C rv won't come easy for a first timer. Again it all depends on how long you have been driving or towing the RV. A newbie will always find things little difficult initially.
What makes RV driving difficult?
When taking that first drive in your RV, you realize very quickly that it's nothing like driving a passenger car or a truck! Following are some hints and tips that will help take the difficulty out of your first RV driving experience.
1. Practice, practice and practice some more!
As with most things in life, practice makes perfect when it comes to learning a new skill like driving a RV. Take a few hours a day to practice things like parallel parking, U-turns, perpendicular parking and any other driving maneuvers that are somewhat tricky.
If you really dedicate some of your time to learn the ins and outs of your RV, you'll gain confidence and feel like a pro in no time at all!
2. Keep an eye on the weather.
The weather won't be sunny and warm whenever you take on to the road, even more so if you're traveling to other states. Inclement weather can make RV driving difficult, so download a weather app and use it frequently.
As long as you're smart, light flurries or drizzle won't stop you from making your trip. If it's snowing or raining hard, if there are strong winds or lightning and thunder, then rather pull over somewhere and make a halt for a while. You should also avoid driving in hail, ice and fog.
3. Adjust your mirrors.
It's not easy to see the road behind you when driving your RV, but it is still important that you can see behind your vehicle all the time, so adjust your mirrors before pulling away. If they need readjusting during your drive, then pull over and do a bit more tweaking.
4. Don't drive when you're tired!
The distance you travel in your RV can involve hundreds of miles. If you have a schedule that you want to stick to, you might be tempted to ignore feelings of fatigue. This can be extremely dangerous, so be smart.
When you start feeling tired, pull into a truck stop for the night or, if you have an experienced RV driver with you, ask him/her to take over the wheel for a while.
5. Know where your RV will fit
When you're out on the road, you are bound to come across tunnels, toll roads and overpasses. It is essential that you know whether your RV will fit comfortably at these times, so measure the width and height of your RV while it's parked and keep these figures handy at all times.
To avoid the risk of getting stuck at an overpass or tunnel with insufficient clearance, use your GPS and find an alternative route.
6. Be extra courteous
You're going to be sharing the roads with hundreds of other motorists and the fact that you're driving a larger-than-normal vehicle might make some motorists a little jittery. Be as courteous as you can on the road, to show the other drivers that you're no threat to them at all .
7. Drive slowly
The whole point of being on the road in your RV, is that you are traveling somewhere for a while to enjoy some relaxation, so take your time in getting there. The drive to your destination is supposed to be a leisurely, pleasurable experience, so drive slowly.
According to a lot of RV experts, you should never exceed the 65mph speed limit and let other vehicle drivers pass you if they want to. Another benefit of driving slowly, is economical fuel usage.
8. Care to take when driving a motorhome
It is quite an accomplishment to own a RV, but driving one for the first time can be a bit of a nail-biting experience. There are certain things to consider when driving a motorhome that can help a lot to make your RV travels safe and enjoyable, such as:
9. Keep to the far right
On a highway, your RV is a slow, clumsy vehicle among the hundreds of cars speeding along the road. To keep out of the way of other drivers and stick to the speed limit mentioned above, simply keep to the far right.
This is not only important to avoid slowing the other drivers down, but sticking to the far right lane is also best in the event that you have mechanical problems along the way.
The most important aspect about keeping to the far right though, is that this lane is where there is the best visual access from the mirror on the driver's side.
10. Know when you should brake
Braking in a RV is not the same as braking in a truck or car. It's impossible to bring a 7,000 pound RV to a sudden stop,. So it's crucial that you stay conscientious and alert at all times.
Should you have to brake somewhere along the road, plan it out way in advance. Make sure that the road ahead is clear. It's going to take a bit of time before your RV comes to a complete stop.
11. Keep your distance
Tailgating is an absolute no-no when driving your RV. It makes other drivers nervous, not to mention the fact that it is extremely unsafe.
Make sure to always stay at least 400 feet from other drivers. This way, you will be able to brake on time if the need arises and there will be no danger of you causing an accident.
Which is easier to pull: Fifth Wheel or Travel Trailer?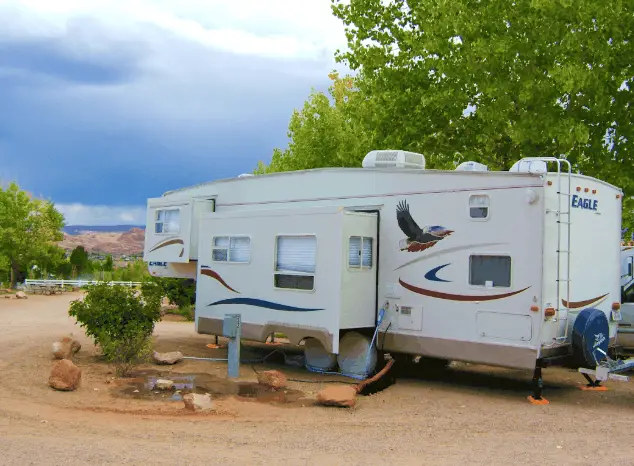 While a fifth wheel is attached to the bed of a truck by way of a hitch specially designed for this purpose, a travel trailer is attached to the rear bumper of a vehicle through a conventional ball hitch system purchased by the trailer owner.
Since fifth wheels are less complicated than a travel trailer to hitch, the majority of people find that fifth wheels are easier to pull than a travel trailer.
The ride in fifth wheel is also smooth. Also, fifth wheels give more luxury and thus tend to be more costlier than travel trailers.
License requirements for driving a motorhome/travel trailer
Provided that you are not going BIG, you do not need a special license for most RVs and campers. However, since each state has its own regulations, it is best to contact your local authority in the state where you live.
Find out the rules regarding licensing requirements for driving a motorhome/travel trailer.
Tow Travel Trailer or drive Motorhome? Which is easer?
Trailers are cheaper and more worthwhile if first time RV owners make the effort to learn how to tow. Motorhomes on the other hand, are for those who want to retire or invest in RV-ing full time.
Towing is not meant for everyone. So it's best to look at the options available, give both a try. Then decide on which is best and most comfortable for you. Here are some great tips fr towing a travel trailer.
As we already saw a class B motorhome is easier to drive. But a bigger motothome like class A can be intimidating to drive due to its sheer dimensions. Travel trailers or fifth wheel on the other need to be towed behind a car or truck. And that too comes with its own difficulties.
Quick tips for driving a RV or Tow Trailer/Fifth Wheel
Following are several quick tips to help you when driving a RV or tow trailer/fifth wheel:
Don't rush
Avoid the wind
Plan ahead of time
Check your tires
Know how much your vehicle weighs
Check your mirrors
Practice maneuvering
Use two-way radios for backing up
Check lug bolts regularly
Reroute your exhaust pipes to the side of your vehicle
Get rid of excess water to lighten your load
Avoid using overdrive
Watch your tailgate
Know your weight limit
Turn with caution
How to choose the right RV – Storage, towing capacity, space requirements and more
It is essential to choose the RV that suits your needs in the best possible way. Some important things to consider when choosing a RV include:
Budget
Space
Comfort
Safety
Floor plan
Storage
Driveability
Camping style
Who is going to drive?
Making the decision to buy your first RV is exciting and a bit nerve-wracking at the same time. However, armed with all of the above important information, you will learn just about everything there is to know about RV-ing and ensure that all your future camping trips are extremely enjoyable, memorable ones to carry with you for the rest of your life.
Conclusion
Having driven different kinds of RV's I can safely say that driving an RV is not too difficult if you practice. With experience towing or driving a motorhome or trailer can become less intimidating.
Choosing RV based on its driving difficulty may not be a great decision as with practice you can master the skills. Having said this, getting a long travel trailer or fifth wheel should be done after proper thought process.