Last Updated on :
Planning to buy a new RV is great and you can get lots of options. Sales people would be ready to sell you different models, layout and also provide you with plethora of benefits and rebates. 
Having an old Camper lying in your backyard or in  front of your home can be tough though, specially, if you are looking to sell it for money. And thus no doubt a lot of people have this question how do i get rid of old RV?
Best way to get rid of an old non functioning camper trailer is to sell it to a salvage yard. You can either tow it to them or take their help in taking it away. Other options include renting a dumpster or dumping it at a local dump station. An old but usable camper trailer can be sold online or can be donated for charity.
A very old camper which is no more working may not fetch you great amount unless you try different method to get it sold. And many times such campers can become liability you want to get rid of immediately.
Getting rid of an old camper trailer
Lets now check out these various ways in detail on how you can get rid of an old camper trailer.
1. Donate your camper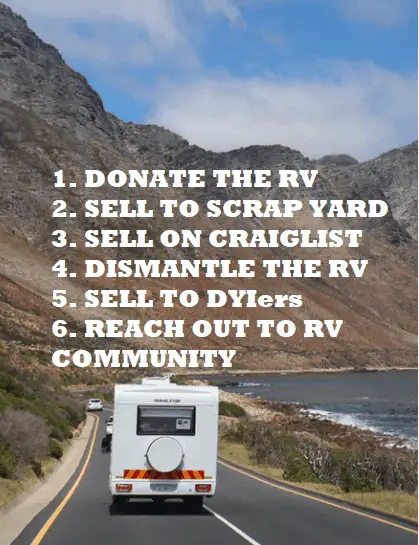 Donating the Rv or travel trailer can be a great option if you are not really looking to make any money out of it. There are lots of non profit organisations which deal with taking up such donated Rv's or campers. So you can find such organisations and try to see if they have facility to pick your Camper from your location.
Donating to non profit organisation can also help you in saving on tax. Such organisation also help in all the paperwork that is needed plus they can also tow away the Camper from your location themselves. So, you don't really have to be worried about how the Camper will go away from your location.
Donating the RV or camper to such non profit organization is also environment friendly thing and could be for different other causes. There are lots of online businesses that accept such donations for charity. You may have to fill out their forms and follow all the process. Some online portals that take RV, camper or trailer donations are below,
donateacar2charity.com
wheelsforwishes.org
cars2charities.org
kars4kids.org
In most cases it will start with you calling them or filling an online form. Then they will validate the location and ask you to give all the information through further forms. Tax forms, other details to be furnished to them.
In most cases they will pick up the trailer or camper from your location and you will receive the tax receipt for the transaction. You can try reaching out to different such donation organization and check if there are any other benefits available.
2. Sell it to scrap or salvage yard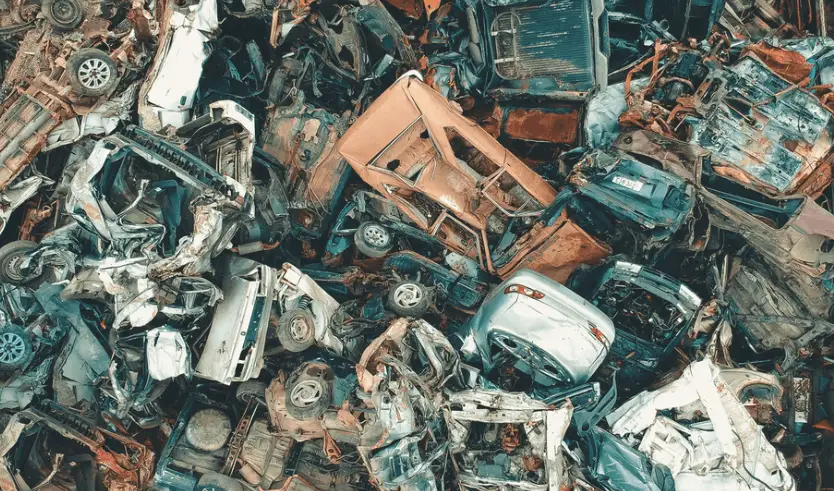 Another option, if you don't want to donate your Camper is to sell your trailer or Camper to a Salvage yard or scrap yard as junk. They will help you dispose off your old motorhome or camper. Such organisations can also be non profit organisations in which case you may also try to see if you can get tax benefits.
Remember, selling to a scrap yard or Salvage yard means you'll be making very less money as compared to what you would have made selling it to a real buyer. Here again, the point is you will sell it to scrap yard only if the RV is in no good condition and cannot be repaired in anyway.
Remember the Salvage yards buy such RV's because the RV parts have some value and if you can separate those parts and sell it to different buyers then it can make more money. Keeping this point in mind you can negotiate with Salvage yards and ask money depending on what parts you think are valuable inside the RV.
You can call junk yard or Salvage yard and ask them if they can take away your RV from your own location. They should be able to provide such a facility to take away the camper trailer from your location.
The biggest advantage with this is that you won't be putting in much efforts and they can simply take away the camper from your own location and pay you almost on the spot. You may have to go through some forms where they will ask your information about you, the Rv model, year and other information. Unless you are looking for tax benefits the whole transaction will be simple and time saving for you.
3. Sell it on craigslist
If you don't want to get a third party like a Salvage yard on scrap yard or even an non profit organization then you can try selling the Camper yourself on craigslist or eBay. If you think the RV is in okay condition then you may try to find a buyer who can take it away for cash. This should fetch you good amount.
One point here would be to sell an very old RV is going to be a little bit difficult thing because the buyer would be checking it thoroughly. Thus, if you really want to make some money out of it then you may have to spend some money yourself to make it better or may be repair if its not fully functioning.
Even if the RV is not in working condition you may find buyers who look for old campers which are not usable but maybe they want to try something themselves and make use of the RV or travel trailer in some other way. Selling an old vintage RV is a different market all together and you will find DIYers who do buy such campers.
So, if you have sufficient time before you get rid of that old motorhome or travel trailer then try putting an advertisement on craigslist or eBay and see if there is any interested buyer. But, make sure you give out all the information on the ad itself so that you don't have to deal with people explaining them what's there and whats not there in the RV.
4. Dismantle and sell the parts
This may not be possible for all. But, if you are one of those who have been rving all life and have adequate experience of handling RV's in-and-out then sure go ahead and dismantle it yourself.
This will obviously need your time and efforts. Dismantling the RV yourself can provide you advantages of selling for recycling the RV parts yourself or taking help from other professionals in such areas.
You can reach out to Metal Recycling scrappers who take metal for money. Doing this may fetch you more money because you will be selling it separately instead of RV as a whole. Having proper knowledge of different parts of the camper can help you reap benefits by selling different valuable parts to different parties.
Go for this method only if you have enough patience and enough knowledge about RV Parts or if you know anyone who can help you in dismantling it.
Dismantled parts can then be sold separately on sites like ebay, craigslist or even to salvage yards.
5. Sell it to DIYers
Try finding people who buy campers and work on them as DIYer projects. It may not be an easy option but if you can find such buyer then that can fetch you more money. This will work if you own any of those old vintage precious camper that isn't good enough to travel now but has a vintage value.
You never know how much your camper or trailer is worth unless you come across that vintage RV lover. A worthless camper lying idle in your backyard can actually be more worthy than you thought, just keep your eyes open to find that right buyer.
6. Reach out to RVers community for further advice or selling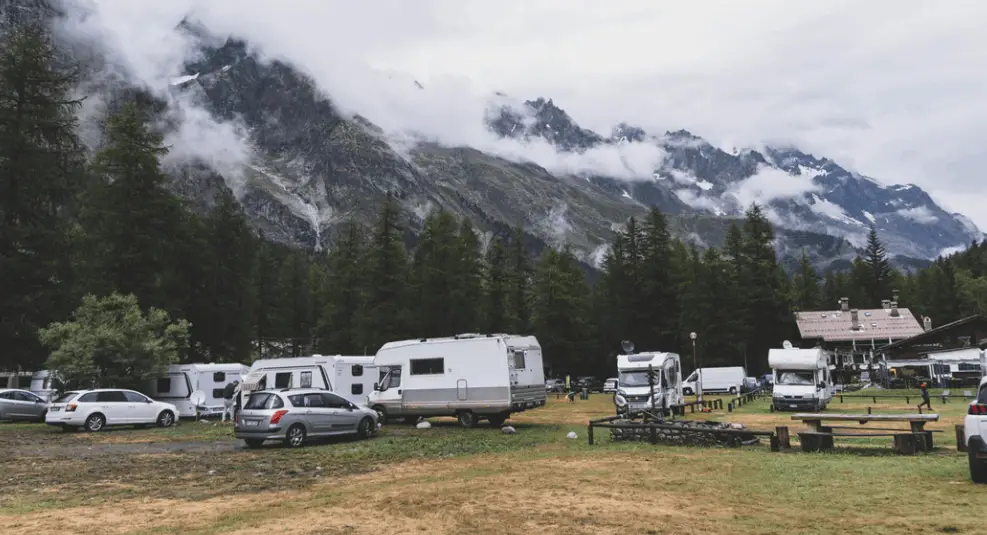 Being a member of Rv community provides various advantages. You get to talk to people, understand different things related to RV's, campsites and locations. One more advantage you can get is finding the right buyer for your travel trailer or motorhome. Getting a buyer for non working RV through RV community is also possible.
Try to spread the word about your old trailer in RV community and see if you can find anyone who can take it away for some cash. Or at-least you could find a right organization or scrap dealer who can give you better deal.
7. Rent a dumpster
If you cannot find a salvage yard that can buy the camper or if you are having tough time to deliver it to them then you can use paid options. Dumpsters can be rented on hourly basis to take away such campers. Just call a local dumpster and ask them to take away your camper.
This is a paid option though and be sure to check their rates. These services can be costly and if you can try other methods then do so before calling a dumpster.
8. Dump it at a local dump station
Check with the local authorities on dumping it at a dump station. You need to check if it will cost you to put it there. This also should be your last option as you would be paying some amount and you also need to tow it to the location.