Last Updated on :
In this article, we will see different TV mounting ideas in RV.
If you are going on a trip in your RV, having a TV in your vehicle adds some comforts to make it feel like home.
While some RVers still choose to leave their modern lifestyle behind, most of them cannot go without such pleasures, including a TV.
Having a TV mounted on your RV is a good way to pass the time when you are traveling with your RV for a couple of days.
Most of the older models of RV are not equipped with a solution for mounting a TV, especially those that were manufactured in the 90s.
Thankfully, there are TV mounts that offer a simple and affordable solution to enjoy your TV in the RV.
How to Mount TV in RV
To know how to mount your TV in your RV, you need to understand the different types of mounts. Each type of mount is installed differently.
Whether you want to install a flat screen tv in RV or get that new LED TV installed, this mounts can be used to fix the TV inside your RV. Just make sure you choose the right type of mount based on the type of TV you have.
Here are the different types of mounts.
1. Flat Wall Mount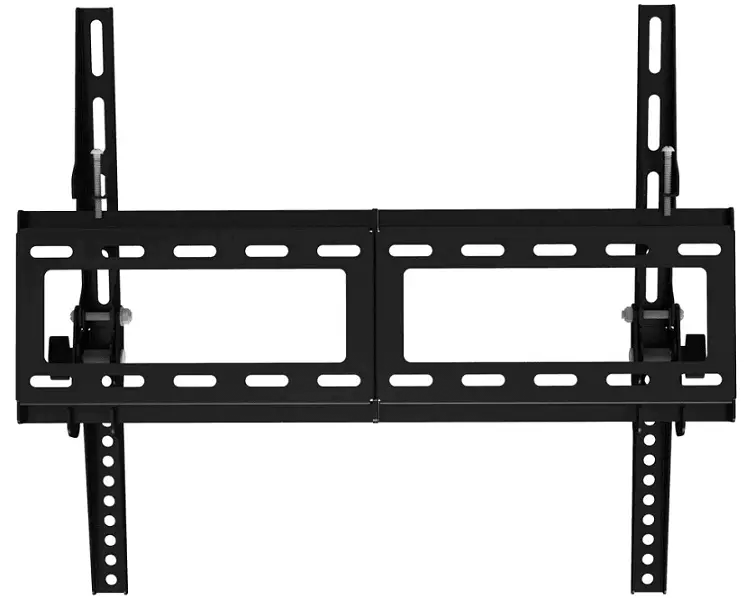 If you want to achieve a simple low profile and stylish look for your RV, then the flat wall TV mount is the best option.
These mounts allow you to hang a flat-screen TV on your RV wall just like a picture or a mirror. They are easy to install and comes with a stylish appearance.
The flat wall mount is ideal for smaller RVs because of the limited space available. It comes with a superb tilt function that allows you to face your TV in any direction in the RV.
Additionally, this TV mount leaves about two inches between the TV and the wall so that you can have an easy time uninstalling it.
2. Tilt Mount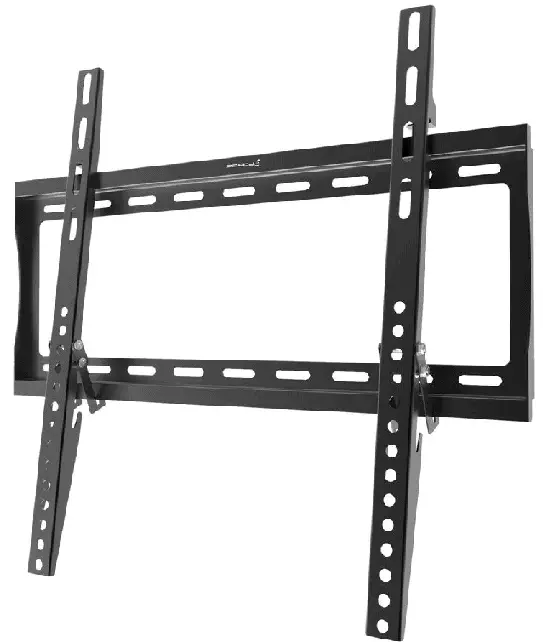 The tilt mounts are almost similar to the flat wall mounts. The only difference is that they allow you to tilt the TV in different directions once you mount it.
It allows you to mount your TV on surfaces above your eye level since you just need to tilt it downwards to get your optimal view. These TV mounts can tilt up to 20 degrees.
3. Articulating TV Wall Mount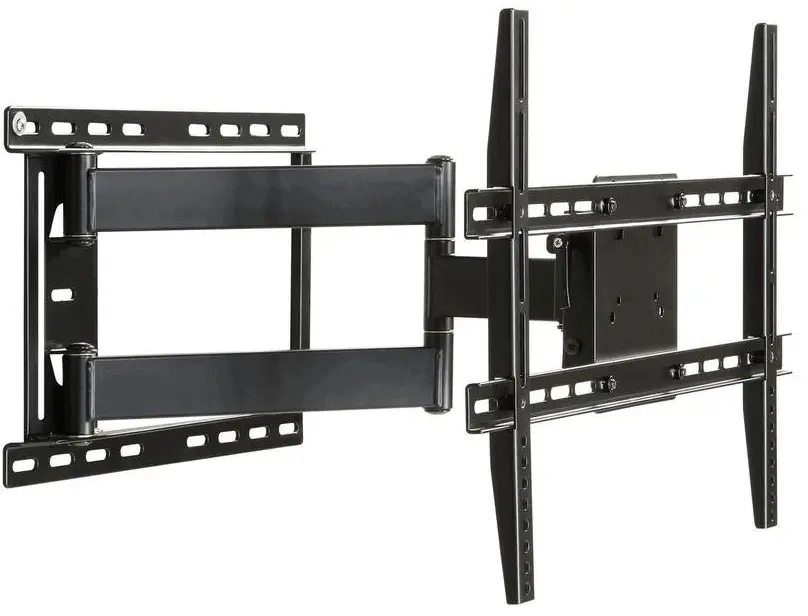 The Articulating TV wall mount is one of the most famous RV TV mounts among many RV owners. They can sit against the wall, and some models can extend up to 30 inches, shifting your TV from side to side.
One of the benefits of this TV mount allows you to tilt your TV either left or right. However, due to the tilt functions, this TV mount tends to be more expensive than others.
With this TV mount, the arm folds back easily and push the TV close to the wall when you are not using the TV.
This mount is popular because it is easy to install and requires very little space on the wall of your RV. Additionally, you can enjoy your television from different viewing angles inside your RV.
4. Full Motion RV TV Mount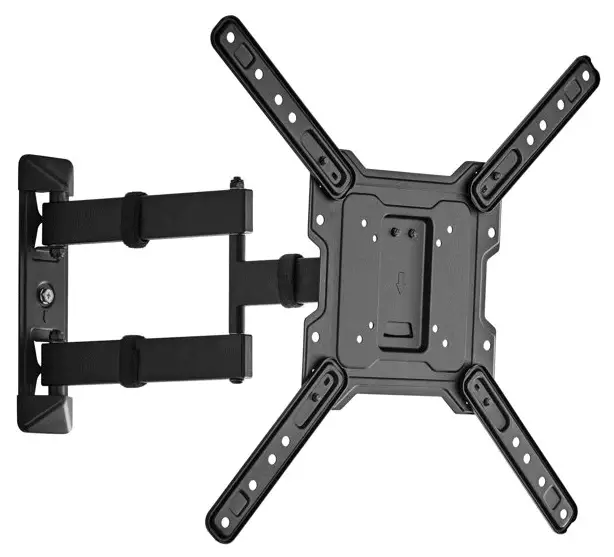 Another type of RV TV mount is the Full Motion, which is known for being flexible. With this mount, you can tilt the angle of your TV, move it left and right, and if you want, you can move your TV 360 degrees.
This means that you can watch your TV from different parts of the RV. However, these features make this TV mount to be expensive, but it's worth the cost.
Another feature of this TV mount is that you can extend your TV from the wall and tilt it either up and down or side to side.
This TV mount will not sit flush against the wall of your RV like other mounts. Therefore, when traveling on terrains, you will need to restrain it from avoiding your TV swinging and getting damaged.
This type of mount is best when you want to mount the TV in RV bedroom.
5. Under Cabinets Mounts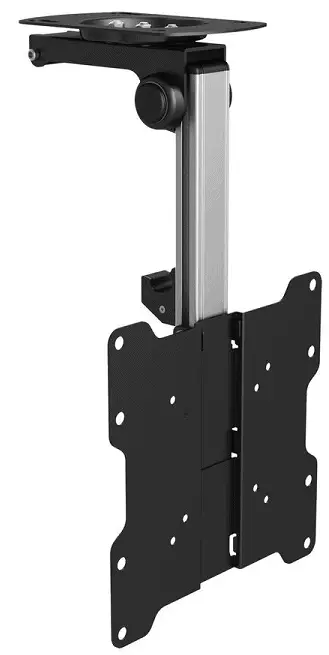 If you have a small television from 10 to 24 inches, this is a great mount for you. This mount is designed for televisions that can fit underneath the cabinet of your RV.
This can be under the cabinets of your kitchen, storage cabinets, or shelves. Moreover, this is a great TV mount for RVs that do not have much space. It keeps your TV well tucked away and comes with a fold-up design.
These TV mounts give you the flexibility to watch your TV as you relax on the bed or couch.
Handing the mount under the cabinets allows you to free up some space that you could use for storage. Some mounts models can be rotated or tilted, allowing you to watch the TV from different angles.
6. Pull Down Motion Mount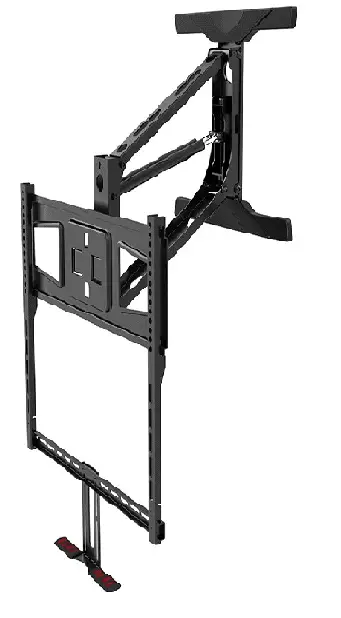 This is a new RV TV mount in the market. It allows you to mount your TV overhead and pack it when not in use. Furthermore, you can be able to pull down your TV down to 20 inches or more to your more comfortable angle without much effort.
This TV mount can be installed in almost every type of RV. This TV mount is designed with the latest technology that allows you to hang and unhung your TV and the comforts of watching the TV from different viewing angles.
Tips, Steps in Installing the TV on Mount
Hanging things on the RV wall without drilling holes can be hard if you don't have the right tools and items. RV walls are very thin and drilling holes can result in unnecessary damage. It can be hard to know where the plumbing is located, this makes it further hard to drill holes and put screws and nails.
Knowing where studs are can be a difficult task in RV. They may not be regularly spaced which makes it hard to guess.
TV mounts are however easy to install and therefore it should be easy to execute this task of hanging the TV on wall.
Here are tips and steps to follow when installing your TV on RV Mount
The first step is to choose your RV mount like the ones mentioned above.
Make sure you find the best that suits your TV and your RV.
If you had an existing TV, remove it from the wall.
If your RV already had some mounting equipment from the old TV, remove them so that your wall can be free.
From your TV mount, check the manual on how to install the TV mount. This is because each TV mount comes with different ways of installation.
Find the right place or position to install the TV mount on your RV wall. It is essential to find a more rigid location to secure your TV safely.
Fix the TV mount on the wall and fasten well enough to secure the mount. You can use nuts and bolts for easy installation.
Check the length of the cables to ensure they are long enough. This is especially if you are using an Articulating mount for your TV. If the cables are short, make sure you use an extension.
Your TV is now ready for use.
Want to watch TV outside of the camper?
You can use RV exterior tv mounting bracket for this purpose but you need to store the TV while traveling. There are also easily removable RV TV mounts that you can by on amazon. Such can be great for outdoor TV mounting.
There is one great idea that some people try where in you don't have to remove the TV while traveling. It is possible to mount tv outside the camper inside the storage compartment. This will be a DIY project that you can accomplish in less than 30 dollars.
Just get the cheapest mount and fix it on the plywood which will be fixed inside the storage box. Watch below video to see how it can be done.
Best RV TV Mounts
Here are some of the popular and best TV mounts you can buy for your camper or RV.
1. Mount-It RV TV Mount
This model has a powder-coated steel construction that ensures your TV gets enough support and remains safe throughout your camping period. One of the best features of this RV TV mount is that it is highly versatile.
It can work with different types of TV from 22 to 42 inches. It can support a TV weighing less than 33 lbs.
Moreover, this mount is easy to install and comes with all the needed hardware, accessories, and a directions guide on how to install it.
With this RV TV mount, you will fall in love with flexibility and full-motion ability. With this feature, it can tilt at all angles. You can also extend your TV from the wall to about 15.3 inches.
2. Mounting Dream Lockable RV TV Mount
This RV TV mount is ideal if your TV is between 17 to 39 inches and less than 44 lbs. it is designed with a robot welding technology that makes it sturdy and durable.
It is constructed from heavy-duty stainless steel and can work with any TV that meets the requirements.
This mount can tilt up and down, allowing you to watch the TV from different angles in the RV. Furthermore, it can swivel right or left, giving you a perfect view.
3. VideoSecu TV Wall Mount
This TV mount is ideal for larger TVs. It can support televisions ranging from 27 to 55 inches and up to 88 lbs. it comes with a huge steel design that ensures your TV is well secured.
This mount can tilt up to 15 degrees up and 5 degrees down. From side to side, it can swivel 180 degrees, which makes it more popular among campers.
It comes with an additional 10 foot HDMI cable that makes plugging your devices into the TV easy. This model can also retract from the wall to about 2.2 inches. This makes it easy to save space on the RV when you are not watching the TV.
4. PERLESMITH RV Lockable TV Wall Mount
This model comes with a lockable design, which is essential when driving to ensure your TV stays in position. It locks the TV with the swivel arm and protects it from the vibrations in your RV while on the road.
The locking process is simple, and to lock, you use the straps to either lock or release your TV.
Its flexibility allows it to tilt down 15 degrees and tilt up 5 degrees. It can swivel up to 90 degrees and extends 15.7 inches from the way when you need to change your viewing angle.
5. WALI RV TV Wall Mount Bracket
This is a heavy-duty design model that handles up to 44 lbs. it is fully adjustable with its full motion and till features. It can tilt 8 degrees upwards and 12 degrees downwards.
The swivel capabilities of this model are 180 degrees. The best thing about this RV TV mount is the ten-year warranty and affordable prices. The prices are lower than other models with the same features.
Thanks to technology, you can now mount televisions anywhere, even in your RV. With the right type of mount for your RV and installation process, you will be able to enjoy watching your favorite shows as you go camping.