Last Updated on :
One of the true joys of traveling around in an RV is that it feels as if it is a 'home away from home'.
Even if you are exploring the roads of this fabulous country, you are always going to be within arm's reach of those home comforts.
Of course, there are always things that you can do to make your RV seem a little bit more homely, and I hope that the tips in this article will give you an idea or two about how to go about this.
1. Get yourself a mattress topper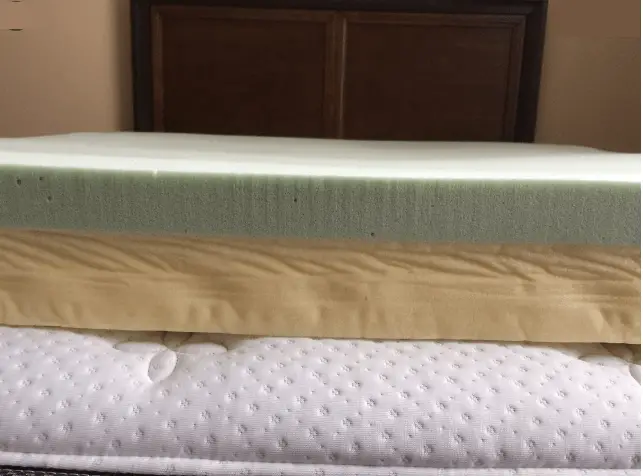 It is fair to say that mattresses on RV beds are hardly the most comfortable. If you want something to feel like a home, then you need to have a comfortable night of rest.
Purchase a mattress topper. Sleep on that. Obviously, one of the major benefits of a topper is that you should be able to wash it a whole lot easier too.
This means that you are less likely to get dirt and grime on your mattress, which will probably cause it to look a bit tacky after a few weeks out on the road.
If you want to improve your sleeping situation even more, then you may want to bring yourself a blanket or a pillow from home.
It just makes everything seem a lot more comfortable when you are out there on the road. You could even bring your favorite slippers or a dressing gown. It is so much more comfortable.
2. Decorate the RV
No. You are probably not going to be carrying out a complete renovating here. It is an RV, after all. However, add a few hints of home into your space.
This is especially important if you are bringing your kids along for the trip. Being able to put up some posters, or even a few photo frames, here, and there is going to work wonders.
Obviously, you will want to make sure that you do not decorate with 'loose' items such as ornaments. They are going to be flying about everywhere once you start to vehicle up, which is going to lead to a lot of breakages. Never a good thing!
3. Put Rug on the RV floor
The problem with most RVs is that they tend to have the most hideous of floors. Laminate just does not feel good under the feet.
Picking up a rug and putting it on the floor of your RV or travel trailer is going to go a long way towards making everything feel more comfortable.
You will also find that the rug traps heat in the RV a little bit better, which means that it is going to be warmer inside. Perfect if you are in the midst of nowhere on a cold night.
4. Paint the cabinets
Again, the cabinets in an RV or travel trailer never look that brilliant. They are often constructed from the cheapest wood imaginable. Unless offcorse, you own a luxurious Class A motorhome, which by the way can cost you thousands of dollars.
While some people are fine with not so good cabinets, if you want to give the RV a bit more of a 'home like' feel on a budget, then a lick of paint on the cabinets will work absolute wonders.
It will really make the interior of your RV nice and unique. You will get a smile on your face when you head into the back after a long day on the road.
5. Install Mirrors
These actually serve several purposes in your RV. The main is that they are going to make the place look better. They are going to serve a practical purpose too.
In addition to this, the mirrors can help bring more light into your RV, and they can even make the space that you are living in feel a lot bigger. This is great if you have a smaller RV. It does help ensure that you feel a lot less 'claustrophobic'.
Remember; if you are going to be installing mirrors into your RV, you need to make sure that they are fixed to the wall perfectly.
They shouldn't be able to budge. Flying pots and pans when you are driving is bad. Flying glass is even worse.
6. Use proper pots and pans
One thing that we can never understand is people who pick up an RV, but use cheap cooking equipment in it. It is not fuel efficient, and the food never tastes quite as good.
A good suggestion is to bring your favorite pans along with you. It will make cooking in a small room like this that much more pleasurable, and I bet you are going to end up liking the food you cook a whole lot more!
7. Bring some music
This is probably something that you already had in mind anyway. However, bring some music. It adds a bit of atmosphere to the RV at night, and it is going to help you get through your driving too.
DVDs will also help. If you have a 'portable' power supply that you can switch on while driving and you have some kids, putting on a DVD is going to keep them occupied.
This means less complaining about whether you are there yet, or whatever annoying things your kids end up saying when they get bored.
8. Make use of Oil Diffusers
With an RV or travel trailer, you typically have a lot of people forced into a small space for long periods of time.
No matter how often you lot shower, there is going to be a bit of a smell in there. So, pick yourself up an oil diffuser. This will deodorize the place.
It won't be able to completely get rid of the 'stale' smell, but that is why you should be leaving your windows open on occasion. Of course, the oil diffuser will also help the RV smell a bit more like home. Don't forget to regularly clean to ensure it looks like home too!
9. Use Awning and outdoor camping chairs
You shouldn't stay cooped up inside your RV at all times. When you park up, maybe you could try to extend your space outside?
Purchase an awning. Maybe a windbreaker.
You could also get some outdoor chairs that you can rest on. Even a BBQ wouldn't go amiss. Since you probably have a garden at home, stuff like this is really going to help when it comes to making things homely.
10. Get a Generator
Obviously, for many of us, our favorite thing about being at home is having access to electrical appliances. Being able to watch TV. Being able to use our laptop to access the internet.
Cooking foods at the stove. Refrigerating food. There is nothing that says you won't be able to do this on the road. You just need to have a generator 'in tow'.
Now, obviously, many of the sites that you end up camping at will have electrical hook-ups, which means you won't need to be using the generator all of the time.
However, having your own power supply will give you a great deal more leeway about where you end up camping.
You could take your RV out into the middle of nowhere. Not a person in sight. As long as you have a generator, you will still be able to enjoy what it is like to be at home.
11. Buy some plants
Originally, it was tough for me to recommend plants in an RV. This is because you are going to be putting them away whenever you head out on the road again.
However, I have seen countless other people share this tip, and in the grand scheme of things, it probably isn't going to take too long to put plants away.
You can purchase real or fake ones. I tend to prefer fake. There is less that can go wrong with them, plus the air in an RV is not always the fresh which probably isn't that good when it comes to the life of a plant. Purchasing real also means that you have another thing to look after on your trip.
12. Bring your pets
Seriously. Cat. Dog. Bring them. They are part of the family, so why shouldn't they be enjoying 'life on the road' just as much as you are?
13. Don't bring too much with you
Your RV is not as big as your home. Remember that. If you bring too much with you, then it isn't a good thing.
Your RV will appear cluttered. I am sure that your home doesn't look cluttered, so why would you want your RV to appear like that?
If you can, bring storage boxes and the like which you can place into the cupboards of your RV. It will help when it comes to organizing and ensure that everything stays looking neat and tidy.
14. Upgrade the RV interiors
An RV can be used for many years. It can stay usable for as many as 20 years or even more. But, that does not mean you continue with the same interior. Obviously the interiors wouldn't remain as good as they were during initial years.
Renovating the RV interiors can add a lot of life. It can make a lot more livable. Small things like changing curtains, painting, and getting some new appliances can make a lot of difference.
Its just like how you would treat your home. If you RV often then getting this done can be really worthy.
15. Replace lights
RV lights may not give you a home like feel. Try getting lights that are better and give you a home like feel. Lights can make a lot of difference, it can change your mood.
Just like how you would pay special attention to lights for your home bedroom, give it a try for your RV as well.
In-fact try to change things to personalize. Its all about you and your family. Getting or changing even minors things can make a lot of difference. I am sure you will have several such ideas that will personalize the experience for you.
16. Bring slipper and other comfort items
Try to get items like slipper or other cozy items that will make you feel like home. Especially when the weather is cool your feet will feel cold. Any type of slipper that you prefer to wear in the home will make it.
17. Get books
Reading a book or two during your RV trip shouldn't be considered boring. Especially when you love reading, it can give you a home like feeling. So, get a book or two that you wanted to finish. Its all about making things as normal as home and reading a book while resting can be a great thing for sure.
For me, getting to read can be super comfortable and home like. So, yes this can be great while camping in the campsite.
18. Prepare your favorite meals
One of the things that you can do to make it like home is to simply prepare the meal that you like the most. Good food can lighten anybody mood. Imagine about just the meal that you love most.
Having all the things in motorhome or camper can be difficult due to space problems. But, if you can do a thing like this it can really make it feel like home. In fact you can surprise your wife, or husband, or kids by preparing their favorite meal in the RV.
Some tips to decorate a new or used RV
Decoration as we saw above can really make it feel like home. After all doing what we do at home is all we need to do in RV to make it feel like home. Here are some tips to decorate the RV.
Paint the RV walls as per your personality. Getting it painted with some cool designs and patterns can change your mood.
Replace the curtain to match your lifestyle and mood.
Make use of artwork to decorate the interior. No need to go for a very high budget artwork. Find things that are within budget and do not take up extra space.
Change Bathroom accesories once in while to give a fresh look and feel
Make use of space-saver items.
Conclusion
Obviously, you will never be able to get your RV looking 100% like home. You probably don't want it like that. Heading out in an RV is going to be a little bit of a vacation, after all. However, follow the tips that I have mentioned in this article. Make your RV as comfortable as you possibly can. You will enjoy your trip along the road a whole lot better. I promise you.