Last Updated on :
RVing is an adventure and beautiful way to see places while having home like comfort in your motorhome. At times you may however miss one thing. That is having the luxury to go to places in your car.
Towing a car behind RV or motorhome is thus popular and lot of people pull their cars wherever they go with their motorhomes.
It may however not be possible with all kind of RVs. Bigger motorhomes like class A or class C can easily tow cars. A lot of people ask this about class c rv, whether it can tow or not. And for the same reason i did some research and had published a post on same.
So, planning to tow your favorite SUV behind your RV? Then continue reading this article. Will be walking you through all the things you need to tow and what methods you can use.
Heres what you will normally need to tow a car behind RV,
RV Bumper Hitch
RV Hitch Receiver
Ball Hitch
Trailer Coupler
Hitch Lock
Equipment You Need to Tow a Car Behind an RV
It may look a daunting task at the beginning but trust me its going to be much more fun and easier with time. A lot goes into towing a car and tips like in this my previous article will surely help you a lot. A lot of things here in you can buy from amazon or camping world or even from retail rv shops.
RV Bumper Hitch
An RV Bumper Hitch is a type of solid fixture that attaches to your RV. It will usually have a hitch receptor that you can use to mount a hitch ball.
The majority of RVs that are available on the market today would most probably have a hitch that included together. Just in case your RV does not come with a hitch then you will have to buy it for yourself. You can get from an online store like Amazon.com.
Different types of hitches are categorized based on their capability to pull a certain amount of weight. There are currently four classes of hitches that are available.
The first class of hitches can pull weight for up to 2000 lbs. Second class can pull up to 3500 lbs, the third class can pull up to 5000 lbs while the fourth class can pull up to 10000 lbs.
One of the best RV bumper hitch that you can find on the market currently would have a flexible design.
RV Hitch Receiver
An RV Hitch Receiver is a type of hitch that can usually be found at the rear side of a vehicle. Its bolted on the underside of a specific vehicle and in this case your RV.
The RV Hitch Receiver provides a tube that you can use to attach the ball mount as well as other hitch accessories that you might have.
An RV Hitch Receiver would usually have a specific design that is made specifically only for a certain type of vehicle so make sure that you buy the right one for your vehicle.
Apart from that, it would also have a standard receiver that has the standard size of a tube that falls in either one of the four classes mentioned previously.
A hitch receiver is most probably one of the most popular types of trailer hitch as it has been used by a lot of people for many years.
It has been so popular to the extent that these two terms have been regarded by a lot of people to be the same. The best type of hitch receiver is the one that doesn't need any drilling.
Ball Hitch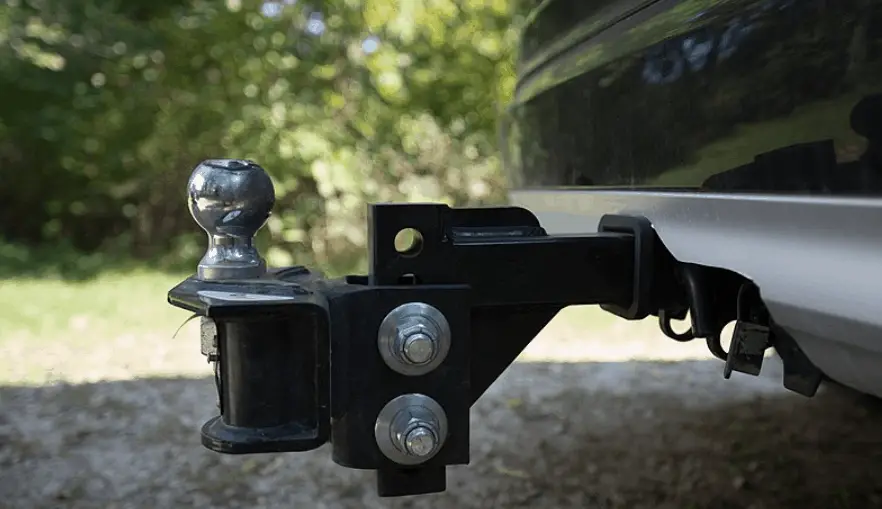 A ball hitch is a ball mount which is a type of receiver hitch accessories that consist of a trailer ball platform and a shank. The way it works is by connecting the shank to the tube of the hitch receiver discussed previously.
At the same time, the platform provides an excellent solid mounting point for the ball of the trailer. A ball hitch is considered to be one of the most popular trailer hitch parts that people would use to tow their car or truck behind their RV.
Apart from that, a ball hitch would usually come in a variety of styles, capacities, and sizes. You may find that some ball hitch is made up of one piece. Some can be adjusted according to your needs while others are fixed.
Every single ball hitch that you can find on the market currently should have at least one hole somewhere in the shank that you can use to accept a hitch lock or a hitch pin.
Another term for ball hitch is a ball mount. It is a receiver hitch accessories that give you a connection that you need to hook up another vehicle.
Trailer Coupler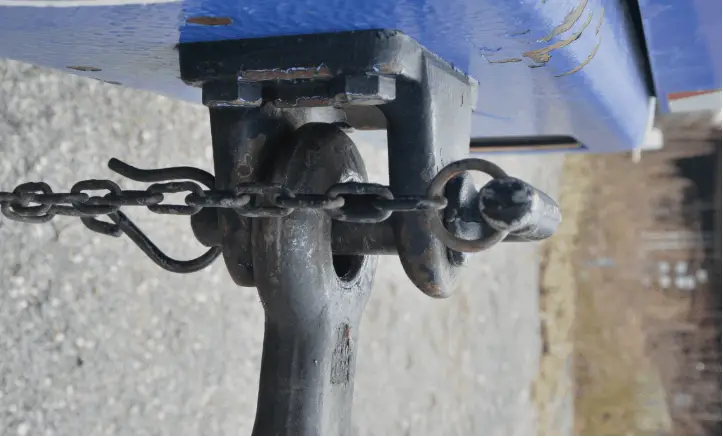 A trailer coupler connects your RV to your vehicle by connecting it to the trailer ball. You may also be wondering what is the front part of the trailer called?
Well the answer to that is that it is known as a trailer coupler. It has been designed in a way that you will need to latch it onto the ball of the trailer so that it can be articulated around it for a smooth towing experience.
Apart from that, trailers coupler come in many sizes. It can also be set to get a connection that is better and safer. For it to operate safely. You will need to make sure that the size of the trailer coupler is of the same size as the trailer ball.
Hitch Lock
A hitch lock is a type of hitch pin. It is operated by using a key to add some extra level of reassurance as well as security to the connection of your trailer hitch.
Just like a hitch pin, you can insert a hitch lock to the side part of the receiver tube. Pass it via a ball mount of other types of hitch accessories that you might have.
A hitch lock is also equipped with a type of padlock that is operated by using a key or a cap instead of a clip. This will help you to prevent any theft when you are not around your RV.
3 Different Methods of Towing Car Behind an RV
What items you need will depend on the method you are going to apply. There are 3 methods that most people use to pull their cars or trucks behind RVs. Lets check them out.
Four Down Method
The term "Four Down" refers to the number of tires that will be rolling on the road when you pull it behind your RV.
The majority of the vehicle transmissions would allow this method to be used, but just in case you are not sure, then you may refer to the towing guide which is a list of standard vehicles that you can "towed with four down" or "flat towed".
Once you have confirmed that your vehicle can be towed behind an RV, then there are several items that you will need if you decide to use the Four Down Method.
The things that you will need for this method are a tow bar, wiring kit, a base plate kit, supplemental braking system as well as a set of safety cables.
You will most probably need somewhere around $1500 to $2500 to buy these items if you want to use this method. The amount of money that you need varies due to the amount of work that you are willing to put by yourself and the amount of work that you want to outsource from the professionals.
Tow Dolly Method
The Tow Dolly Method is used mainly for the type of vehicles that has a front-wheel-drive transmission and you can even place a rear-wheel-drive vehicle in a tow dolly if and only if the transmissions are not connected.
This method requires less amount of equipment, however, the main reason as to why you should use the tow dolly method is in a case where your RV can no longer afford to pull the weight of your car and the weight of the car hauler that your car is loaded on with.
There are a total of only three equipment that you need to attach your vehicle to the tow dolly. They are one security chain, one ratchet straps, as well as one safety chain.
Usually, most of the tow dolly that you can buy in the market includes a ramp that is attached to it so you may load your vehicle on it.
Besides that, you will also need to keep in mind that you need to make sure that your RV is attached properly to the dolly at the ball hitch and the parking brake of the RV is always on during loading.
There are also some factors that you will need to consider. If you decide to use this method such as the license that you need for the tow dolly as most states will require you to have it.
Car Hauler Method
The Car Hauler Method is perfect for you if your toad is a four-wheel-drive or an all-wheel-drive vehicle. In most cases, you will most probably need to put your vehicle on a trailer so that you will be able to pull it behind your RV.
This method is typically known as the car hauler. The trailers would usually have low rails along the edges as well as two axles to ensure proper stability.
When you want to buy a trailer, try to find the car haulers that have enough length for your car. You also need to make sure that the axles that are available on the trailer to have a rating of at least 3500 lbs. A lot of trailers will have hidden ramps included and either one of the two braking systems.
They either have a surge brake system or an electric brake system. Also keep in mind that the surge brake system does not need any brake controller that you need to buy separately but as for the electric brake system. You will need to spend more money on the controller.
Other latest braking system enables you to control the brakes on the trailer in the comfort of your RV instead of depending on the pressure of the trailer.
The equipment that you will need for this method is ramps (if your trailer does not include any free ramps), brake controller (if your trailer has an electric brake) as well as some ratchet straps that you will need to fix your car on the trailer safely.
Conclusion :
So, ready to tow the car? Connecting the car to your RVs rear end and towing is the most fun thing you can do. But yes, initially it can be tough.
Should you tow or not is totally upto you but getting a car with you at the campsite can turn out to be savior at many times. At least for me it has been an amazing helper.
Good luck and enjoy the camping irrespective of whether you tow the car or not.