Last Updated on :
Teardrop trailers are small, lightweight, and easy to tow campers. These tiny campers mostly come with a price tag to fit most budgets. But, if you want those added amenities like toilet or indoor kitchen then the prices are higher.
Base price for most popular teardrop campers start between $8,000 to $15,000. Most basic teardrop campers can be bought in less than $8,000 though. Also, these campers can cost above $20,000 when they are packed with more luxuries like bathroom, higher storage, refrigerator and good headroom.
Teardrop trailers offer limited comforts and features of traditional travel trailers, but with a distinctive teardrop shape. Most teardrop trailers have a length of 10 to 15 feet and weigh between 600 lbs to 3500 lbs.
Generally, teardrop campers do not have toilet, this is because they are compact and made to be affordable. However, you will find those that have this facility but will cost significantly more.
Teardrop trailers are great for solo campers or couple who can adjust a bit and go for short trips that are adventurous. It can also be a minimalistic way of living. I love teardrop campers specially because of their less cost. But, they may not be suitable for all.
On a side note:
Some people will find them to be too small and I believe one shouldn't always compromise if there are better options available. Smaller travel trailers can also be bought in a little higher price range. If you don't want to buy a little more costlier travel trailer then you can always rent one at very less price.
You can try searching on RVshare for small travel trailers or class B motorhomes that are super cheap and easy to rent. In fact there are many options and offers that they keep running, I am sure you will find one that will suit your budget.
If that's not what interests you then read on to find the best options in teardrop trailers.
Here is a list of less expensive best teardrop camper trailers that you should consider.
1. Tiny Teardrop's Canned Spam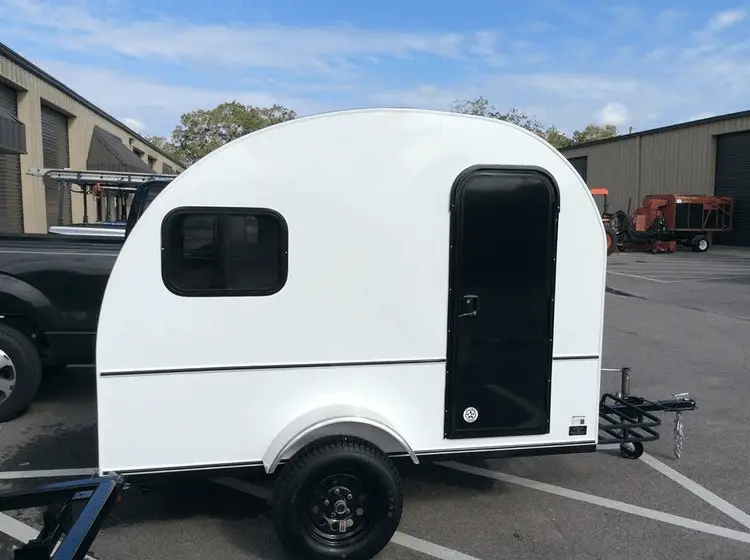 These are good looking teardrop trailers that are both affordable and sturdy. Despite their affordable prices, these trailers come with a variety of features. This is a modest camper that comes in under $5,000.
The cost of this micro camper trailer ranges from $3,400 to $5,000.
Features
The trailers are available in different models and sizes.
The trailers are available in different colors.
They can fit one occupant or a couple.
Pros
They are easy to set up.
You can choose your favorite color.
The trailers are easy to tow even with smaller vehicles.
Cons
Due to their small size, the storage space is minimal.
2. RetroRide Teardrop Trailers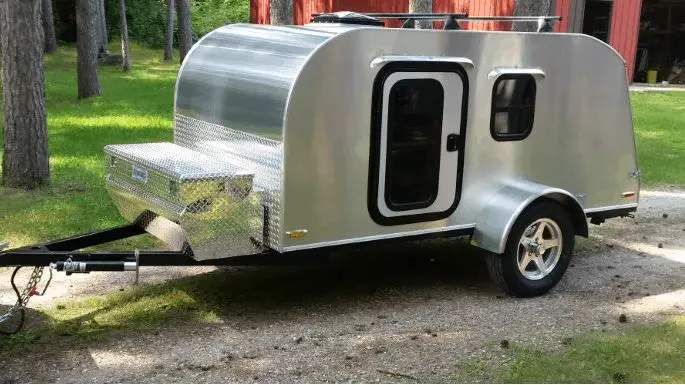 If you want a teardrop trailer with an elegant design and well-handcrafted one, the RetroRide trailer is the perfect option for you.
This is a strongly built camper that is well balanced and therefore can be sued for off road camping. Plastic sheeting is used for bottom part to protect the floor from road junk and bad weather. The camper remains stable when parked due to the two leveling jack used at the back of the trailer.
The trailer come in two models, and their costs are under $7,000.
Features
Custom-built frame to suit your needs.
Comes with mag wheels and radial tires.
The bottom of this trailer is covered with plastic sheeting.
Pros
The aluminum finish makes it durable
Comes with leveling jacks
Has two doors
Has LED lighting
Cons
It is difficult to make upgrades on the trailer.
3. Honey Badger Wood
Looking for a teardrop under $3000? This is one of your best options that is a bargain and a steal for sure.
It is very lightweight. This is a mini camper that costs very little. Even though cheap, it is definitely worth it for your next camping trip.
This is a unique and affordable teardrop trailer that costs from $2,500 to $3,000.
Features
This trailer weighs 450-500lbs.
It is coated with polyurethane for maximum protection.
Some parts of the exterior are made from wood.
Pros
It comes with two USB charging ports.
It has excellent ventilation.
Comes with many shelves and cabinets.
This is one of the cheapest teardrop camper trailer you can buy.
Cons
The trailer is hard to set up on the tow vehicle.
4. Peewee Small Fry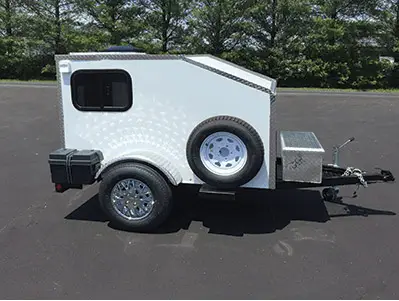 Lets face it, teardrop aren't for high comfort and you just get what is actually an upgraded version of a tent. You have good protection against the weather, wild animals while you are sleeping. And, that's exactly you get in this low cost teardrop camper.
A teardrop camper that is priced just under $5000. It is really a cost effective, worth the money option if you are looking for your first teardrop camper.
The cost of this trailer starts from $4,995.
Features
The trailer comes with a side door and rear doors.
It has pre-installed smoke detectors.
It comes with a fire extinguisher.
Pros
Comes with a battery.
Has a roof vent.
Has excellent ventilation.
Has a USB port.
Cons
The storage capacity should be improved.
5. Escapade Camper Base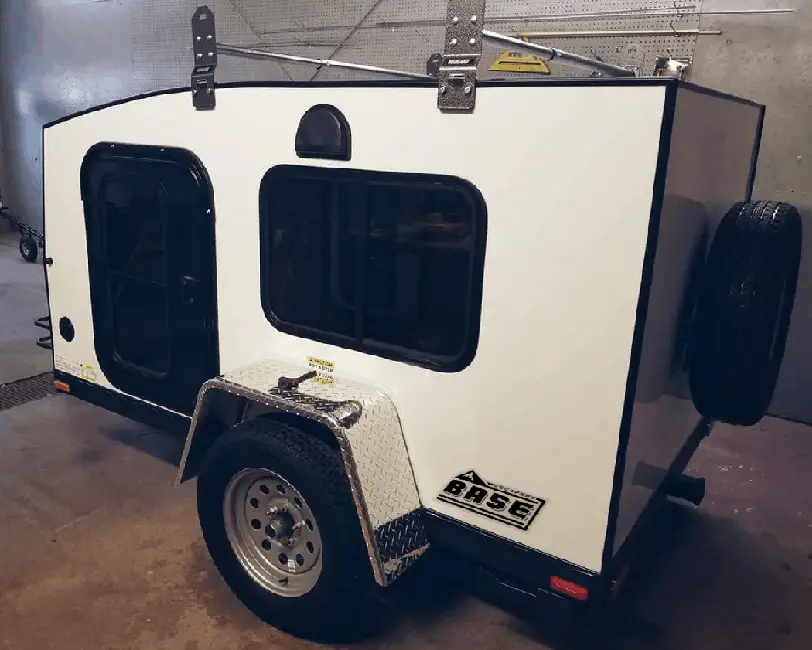 The Escapade Camper Base is professionally built using high quality and durable materials and superior craftsmanship. This teardrop trailer is perfect for both open road or when traveling off-grid. Its a low-priced budget camper weighing under 1000 lbs. Base weight is around 800 lbs to be precise.
The cost of this trailer is $4,850.
Features
It is a 5 x 8 feet trailer.
The teardrop trailer comes with two locking doors and windows. These are on both sides of the trailer.
The interior of the trailer has LED lighting.
The trailer is raised to 18 inches off the ground with the A/T package.
For more details and specification visit their site here.
Pros
It comes with storage shelves that can accommodate most of your camping gear.
The interior is well insulated.
It has axle-less suspension.
You can easily make upgrades on this trailer.
Cons
The storage space in the trailer should be increased.
6. Highland Expedition Outfitters (HEO) T3
The Highland Expedition Outfitters is an off-road trailer. It's one of the lightest trailers, weighing only 700lbs. The best thing about this type of teardrop trailer is excellent towability by different vehicles.
This is a very easy to set up trailer that can be towed by most vehicles.
The cost of purchasing it is about $7,500.
Features
Has a sleeping capacity of up to 3 people.
It is constructed from aluminum.
It has an extended sliding cargo tray.
Standard LED lighting.
Lockable tailgate lights
It allows campers to put up a large rooftop tent.
| | |
| --- | --- |
| Width | 6'8″ |
| Length | 10'2″ |
| Height | 6′ |
| Dry Weight | 600 lbs |
| Ground Clearance | 1'6″ |
| Storage | 32 cu ft. |
Pros
It is one of the lightest teardrop trailers in the market.
It is easy to set up.
Can accommodate up to three people.
Easy tow ability.
The trailer is highly durable.
Has enough room for all your camping gear.
Economical and fairly priced
Cons
The 16-inch ground clearance is not suitable for some off-grid sites.
7. BCT Moab Fort Trailer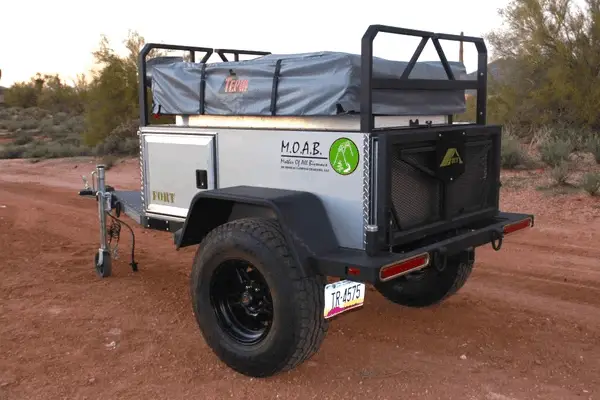 The BCT Moan fort Trailer offers not only an affordable camping experience but also a luxurious one. It comes with various features and everything you need for a comfortable trip. Costing just under $9,000, this is an awesome option in the mid segment.
The cost of purchasing this mini camper is $8,800.
Features
It comes with an interior sleeping area.
Has excellent storage arrangements.
It is easily towable even with smaller tow vehicles.
The trailer has wood storage cabinets.
You can easily pull out the kitchen outside when cooking
Pros
It comes with a sink and camp stove to enable you to make meals while camping.
It is equipped with off-road tires.
Has an electric brake system for your safety.
You can easily customize the trailer according to your needs.
Cons
The teardrop trailer is not suitable for rugged terrain.
8. Kakadu BushRanger 200 XT
This is an off-road trailer that is wider than most of the teardrop campers. It is made from solid steel that makes it sturdy and durable. The best thing about the BushRanger 200 XT is that you can get deep into the campsite without worrying.
This is one of the best options under $10,000.
This teardrop camper costs $9,295.
Features
It has enough room that fits a kitchen, luggage area, and a cooler.
It can accommodate up to five people.
It comes with a canvas tent.
The floor is made of PVC and weatherproof materials.
Pros
It comes with enough space for all your camping gear.
It is larger, yet lightweight.
Can accommodate more people.
You can tow this trailer with your small tow vehicle.
Cons
It's not easy to set up the trailer.
9. CTV Off-Road Trailer
Another less expensive off-road trailer is the CTV. This trailer is famous among many campers since it can fit a number of people. Therefore, you can go camping with your extended family and friends.
Cost of this teardrop trailer is $7,200.
Features
Has a rooftop tent that can fit a few people, especially when sleeping.
It is made from durable steel.
It comes with beefy tires that are suitable for off-road adventures.
Pros
The trailer comes with a trailer plug for powering your electronic devices.
You can easily customize or upgrade the trailer features to suit you.
The trailer can fit many people.
Cons
For off-grid camping, you will need to make several upgrades.
10. TC Teardrops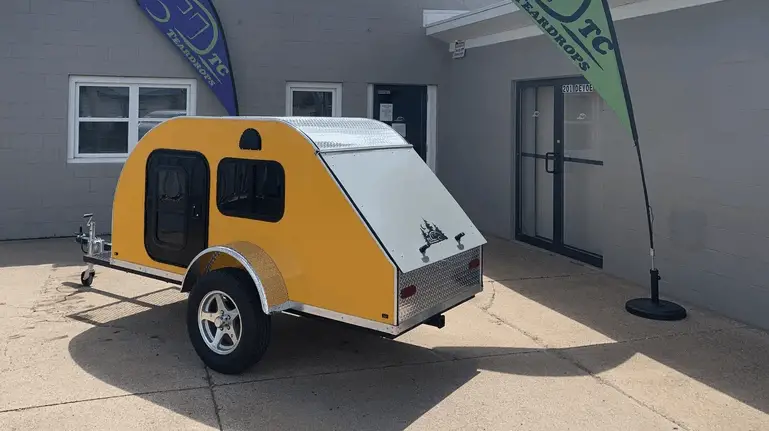 The TC Teardrops model comes in a range of five different trailers.
You can either use it as-it-is or can also ask for custom build which will increase the cost. You can visit their site and start to build the camper as per your needs. The base model has just the "basics". There are no cabinets or electricity, its for minimalist camping only.
The cost of these trailers range from $4,500 to $6,500
Additionally, you can get upgraded TC Teardrop models that are over $7,000.
Features
The size of the trailers range from 4 x 8 inches to 5 x 10 inches.
Comes with 12 Volt batteries, USB ports, and a voltmeter.
Both the interior and the exterior have LED lighting.
It comes with an aluminum plate roof.
Check all the specification of this camper here.
Pros
The trailer has tinted windows and doors for your privacy.
It has a unique and appealing design.
Comes with custom-built cabinets for storage.
You can slide the trailer table outside.
Cons
The powder coating on the sides may not last long.
11. Simple Sleeper by Trekker Trailers
This is an ultra, lightweight camper that is great for hunting. It can easily be pulled by small cars. It comes with the option of an outdoor kitchen. Moreover, it is designed with a drop-down floor that enlarges the interior and can be folded back into a bed or a couch.
This trailer comes at the cost of $7,000.
Features
The dimensions of the trailer are 7 x 4 x 4 feet.
It weighs about 750 to 850 lbs.
The frame is made from 2000GVRW steel.
Pros
It is a lightweight camper.
This camper can fit two people and additional items.
It is both comfortable and economical.
It comes with two doors and a mattress.
Cons
The additional outdoor kitchen and a roof rack come with extra costs.
12. Manley ORV Explore
This is you best options if you are looking for a camper under 10K. This teardrop trailer is known for its outstanding features that make it suitable for both open road and off-grid terrain. It is professionally designed with durable and sturdy materials that ensure it lasts for long. It provides you with comfort and everything you need for your camping adventures.
Its base price starts at $9,395.
Features
It comes with a removable aluminum lid.
The trailer has 31 inch A/T tires.
It weighs about 775lbs.
It has a 40 cubic storage that you can put all your items
Pros
It is lightweight.
You can easily tow with small tow vehicles.
Has a sturdy construction.
Comes with a standard toolbox.
Cons
The storage space should be increased.
13. Mirror Lake Basecamp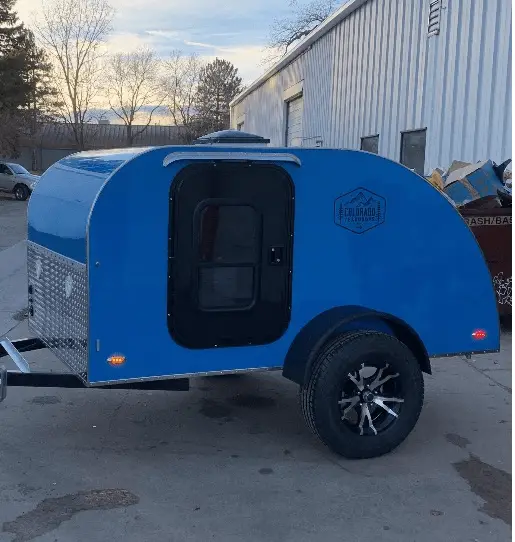 The Mirror Lake Basecamp is an off-road teardrop trailer that is famous among many campers. It comes with a unique, furnished build that is long-lasting. The interior of this trailer is almost 121 cubic feet, which provides enough space when camping.
Price for this teardrop is around $10,500
Features
It comes with a headboard that provides storage nook and cup holders.
Has a dual door.
The living area has a marine carpet on the walls and interior part of the roof.
The trailer is well insulated by fiberglass covers.
Pros
Has enough storage space.
Has a drop-down table that you can use when preparing meals.
Well insulated
Comes with R15 A/T tires.
Cons
The sleeping capacity should be increased to fit more people.
14. Schutt XV-1 Trailer
The Schutt XV-1 trailer is known as one of the most robust cargo trailers in the market. It is tough, and you can go camping with it, even on the terrain. It is constructed with aluminum materials that make it lightweight.
Features
The trailer comes with in-built electronics that include back up lights.
The entire trailer is built with aluminum.
It has electronic drum brakes.
The trailer comes with a roof rack.
Pros
It is incredibly lightweight.
You can tow the trailer using smaller vehicles.
There is additional space on the rooftop.
Cons
It is not easy to make additional upgrades on this trailer.
15. AT Chaser Trailer
This is a modern camper trailer that is excellent when it comes to off-road. If you are planning on camping around the harshest terrain, this is the perfect camper for you. You will be impressed by its strength and power.
This camper is priced at around $7,672.
Features
It comes with air suspension
The trailer has an in-built cooler where you can store your foodstuffs.
Has a camping tent.
The trailing arm air suspension can be adjusted to suit your requirements.
Pros
The teardrop trailer is easily customizable.
It has excellent ground clearance.
Comes with great storage areas.
Perfect for off-road.
Cons
It is not suitable if you want to go camping with a number of people.
16. The American Dream Trailer
The American Dream Trailer has a stylish design and elegant construction. However, this trailer is more suitable for open road camping since it's not an off-road trailer.
The cost of purchasing this trailer is $8,900.
Features
The trailer has a removable boat that allows you to explore while camping near a water body.
It comes with a custom-made mattress.
There is a mounted cooking space where you can prepare your meals.
Pros
Comes with a storage gallery.
Has excellent ventilation features.
It is equipped with pop-out windows.
Cons
The storage gallery should be increased.
17. Oregon Trailer Do Drop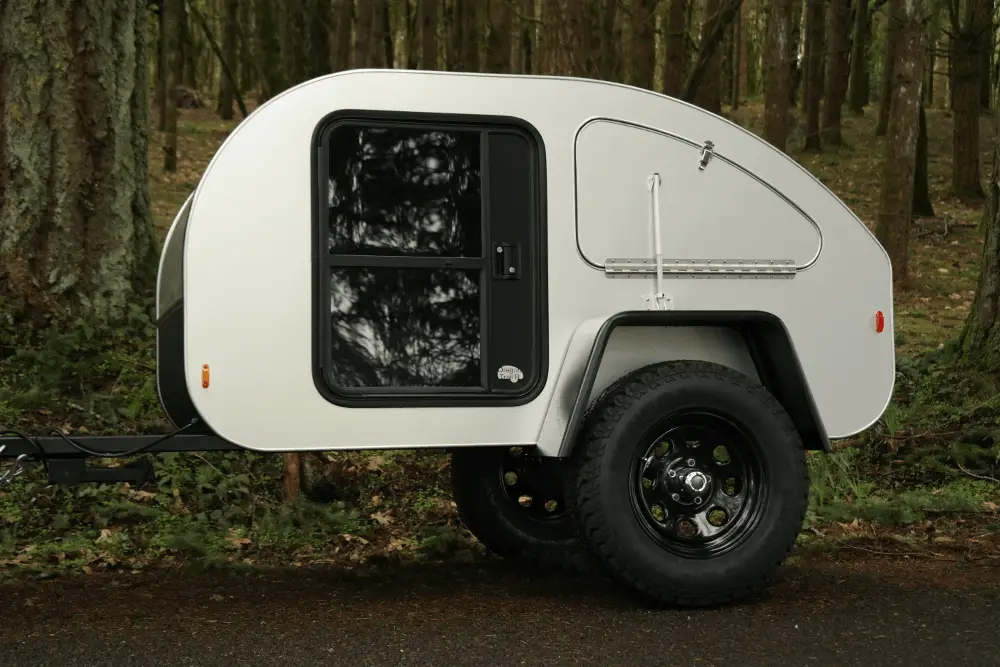 This is a simple, affordable, and lightweight teardrop trailer that cokes with everything you need for camping. You can easily customize it in a variety of ways to suit your needs. It is the perfect option to go out camping with a smaller tow vehicle.
The cost of the base model teardrop trailer is $6,150.
Features
The camper has a bed length of 78 inches
The interior width is 47 inches.
It is suitable for a single occupant or a couple.
Weighs between 550 to 700 lbs
Pros
The trailer is highly customizable
It is cheap
Comes in two different configurations. You can choose 3.5 or 4 feet wide.
Cons
The trailer is quite small and only suitable for one person or a couple.
18. Bivouac Camping Trailers Fort XL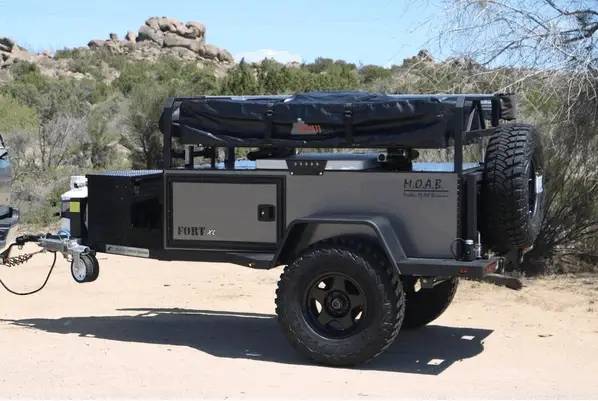 This is a heavy-duty teardrop trailer that weighs about 1300 lbs. It comes with a cargo basket that you can carry your hiking gear, canoes, and other items.
This is one of their best selling campers. Its perfect camper for a large family as it can sleep between 5-8 people. If you are looking for a camper for long trips then this is a good options for your family. With a good storage capacity and top mounted cargo you can really rely on this camper.
Base price for this camper starts at $9,995
Features
The storage of the trailer is 24.7 cubic feet.
It has a steel construction.
It has a fully enclosed locking storage.
The deck is diamond-plated.
Check all the specs here.
Pros
Has excellent ground clearance of 16 inches.
It has various storage spaces.
It is easy to set up
Cons
It is heavyweight, and this makes it difficult to tow with small vehicles.
Can you build a custom teardrop camper trailer?
One can also build a custom teardrop camper and the cost of such camper can be under $2000 or even under $1000 based on how and what you fit in. You can buy a teardrop camper kit and then build based on your requirements. The cost of teardrop kit can be around $500.
This is a perfect way to build a less expensive, low-cost teardrop as per your needs. If you love living frugal and also want that little space to sleep comfortably then this is a perfect and reasonable way to camp.
Is teardrop for you?
So, we saw some amazing options in teardrop that cost very little. But, some teardrop campers can be expensive. This is because of the more space, good headroom, extra amenities like toilet, refrigerator and quality of the interiors.
Most teardrop campers sleep 1 or 2 people only. Sometimes, higher end campers can sleep up to 4 people as well but their cost and weight will be higher.
If you are looking for more comforts like AC or heating, bigger storage, good headroom then teardrop camper may not be for you. A little bigger travel trailer is a good option for more amenities.
If you were to compare a hotel and teardrop, i would still go the teardrop camper way as it gives you freedom and you can enjoy the outdoors in a better way. Cost wise too, teardrop costs much lesser as compared to staying in a hotel.
Don't own an RV yet? You can rent one online or through local dealers. Also, owning a RV isn't that tough specially when you have options like teardrop campers.
This is why your first RV should be a teardrop camper:
They are very low cost.
Very little to no maintenance.
Storage is very easy. Car garage can be used to store them.
Very lightweight making it very easy to tow them.
Sleeping space for 2-4people based on the size.
Protection from wild animals, bad weather.
In Conclusion
If you love the outdoors, but you are on a budget, you can still enjoy moments with the above less expensive teardrop trailer options. Make sure you understand the features, pros, and cons before choosing the right one for you.