Last Updated on :
In this article, we will check out the best truck campers that can be safely hauled on a 3/4 ton trucks like GMC Sierra 2500HD, Chevy Silverado 2500, Nissan Titan, Ford F 250 and Ram 2500 pickup trucks.
Most 3/4 ton trucks can haul a weight of 3300 lbs. The stiff competition between the truck manufacturers has increased the hauling capacities to new highs.
This has benefited the truck camper manufacturers as hard sided campers can be made with extra features and better insulation.
Its important that the camper weight is less than the truck capacity and remains below the safety levels. When talking about safety, the weight is the single most important factor.
A 2000 lbs camper dry weight will ultimately increase further by 800 to 1500 lbs based on what all things you pack inside. Water, clothes, storage items and all other things will increase the weight to beyond 2800 lbs and you need to consider this weight increase.
We did a thorough research in listing these slide in campers for a 3/4 ton truck.
Here are the top 10 truck campers for 3/4 ton trucks that are available on the market.
| Truck Camper | Dry Weight | Price Starts At |
| --- | --- | --- |
| Big Foot 1500 Series | 2061 lbs | $30,000 |
| NorthStar 850SC | 1785 lbs | $22,670 |
| Alaskan 7 CabOver | 1560 lbs | $31,399 |
| NorthStar Laredo SC | 2090 lbs | $25,245 |
| Lance 825 | 1837 lbs | $25,795 |
| Bundutec BunduVry | 1900 lbs | $23,603 |
| Camplite 6.8 | 2026 lbs | $26,772 |
| nuCamp Cirrus 720 | 1875 lbs | $28,906 |
| Lance 650 | 1700 lbs | $24,867 |
| Artic Fox 840 Wolf Creek | 1992 lbs | $29,450 |
Lets now see each of these in detail.
1. BigFoot 1500 Series
There are multiple models in 1500 series and 15C8.2FR is their shortest one that is a prefect fit for 3/4 ton truck.
Base price for bigfoot 15C8.2FR starts at $30,000.
This is a top notch quality truck camper that weighs little and a perfect fit for your quarter ton truck. The finish and interior are really worth it. The standard features in this camper are sufficient enough but if you want to spend a little more then you can add a whole lot of additional amenities.
Check all its features and specifications here.
Key Features
Highest quality dual molded fiberglass construction
Battery, holding tank, and propane storage is phenomenal
Long-term durability
Porcelain toilet
BBQ hookup
Queen Size Bed
Solar Panel prep
Dimensions and Weight
| | |
| --- | --- |
| Length | 15'1″ |
| Height | 7'3″ |
| Width | 7'1″ |
| Headroom | 6'5″ |
| Dry Weight | 2061 |
| Fresh Water | 122 Gallons |
| Gray Tank | 42 Gallons |
| Black Tank | 53 Gallons |
| LPG | 18 Gallons |
| Water Heater | 23 Gallons |
| Furnace | 16,000 BTU |
| Refrigerator | 6 Gallons |
Pros
The 2-piece molded fiberglass construction is exceptional.
A 180-degree panoramic rearview for added enjoyment.
Huge dry bath for your convenience.
The kitchen design is highly functional and can cater to your cooking requirements.
Cons
Highly-priced and can be costly for some families who may want to own one.
After loading, the Center of Gravity stickers is somewhat hidden from view.
They do not label lights for the interior and exterior entryway.
Design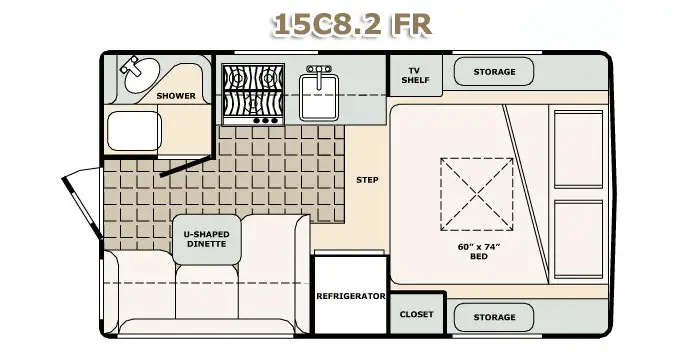 The Bigfoot truck camper will surely surprise enthusiasts of truck campers because of the way they manufacture this piece. From the construction materials used to the amenities, your family vacation will not be a disappointment.
They construct this in a superior manner that will surely tell you your money will be well spent.
They make each area with care, and the finishing used will keep you wanting more vacations to go to. This is a standard box truck camper suited for 6.5 foot box.
The functional living spaces inside plus the exterior aesthetic are something to admire.
2. NorthStar 850SC
This slide-in self contained truck camper is fitted with all the basic amenities that will allow you to go boondocking.
Price for Northstar 850SC camper starts at $22,670
Its a well built campers that is great from traveling with due to less wind resistance and low weight. The interiors are really sleek with all the basic amenities making it self contained.
Apart from standard features you get a whole lot of optional features that you can add at additional costs. This includes things like roof air conditioner, roof rack, TV antenna, steps, Electric jack to name a few.
Check its all the features and specifications here.
Key Features
26-inch wide entry door
Lagun swing away table
5-gallon Thetford cassette toilet
Excellent tank capacities
Large and spacious internal floor plan
cassette Toilet and shower
Insulated flooring
LPG, Smoke and CO detectors
LED lighting
Fiberglass siding
2 burner stove
Tinted dinette window
| | |
| --- | --- |
| Dry Weight | 1785 lbs |
| Interior Height | 6'8″ |
| Length | 15′ |
| Width | 7′ |
| Fresh Water Capacity | 30 Gallons |
| Gray Tank | 13 Gallons |
| Black tank | 5 Gallons |
| LPG | 20 lbs |
| Furnace | 12,000 BTU |
Pros
A classic feel for a truck camper inside and outside.
U-shaped dinette to accommodate more people at the same time.
Bigger wardrobe if you need extra space to hold your clothes in.
Cons
The oak interior may seem dated for some customers. It may need some facelift to attract new age clients.
This truck camper has a dry weight of 1,785 pounds with a floor-length of 8 by 6 inches and is best for 3/4 ton trucks. The floor plan is spacious, and there is a small wet bath, a vast wardrobe space, and they also add a queen-size bed to this unit.
The tank capacity has a 30-gallon fresh water holding tank, a 13-gallon gray water tank, plus a single 20-gallon propane tank.
There is also an option for a removable side storage boxes or a compressor fridge or a 160watt solar power system.
3. Alaskan 7 CabOver
It is packed with all the basic features that you would desire during dry camping.
Alaskan 7 truck camper is priced at $31,399.
This camper has excellent design and features unique interiors that are worth the money. It is very comforting and packed with all standard items needed for camping. The optional features are also amazing if you want that extra comfort. It weighs very less and that makes it a perfect fit for a 3/4 ton truck like GMC Sierra, Chevrolet Silverado or a Ram 2500.
Check all the specifications and features here.
Key Features
A combination of a hard-side and a pop-up truck camper
Swivel Cassette Toilet
Linoleum Flooring
Have a hydraulic mechanism to raise or lower the entire pop camper
A full standing room inside
Easy to set up
One Piece Roof
Spray foam insulation
One piece roof
| | |
| --- | --- |
| Dry Weight | 1560 lbs |
| Width | 7′ |
| Fresh Water Tank | 27 Gallons |
| LPG | 20 lbs |
| Furnace | 20,000 BTU |
| Air Conditioner (Optional) | 9200 BTU |
| Furnace | 20,000 BTU |
This slide in camper has a floor-length of 7 feet where each space is put to good use. The gorgeous leather dinette to make the diners feel that they are close to home and can still get to enjoy eating and dine in style.
The maple cabinets that are crafted to fit the interior elegance and the wood-paneled ceiling will make you think it is worth all the money after all.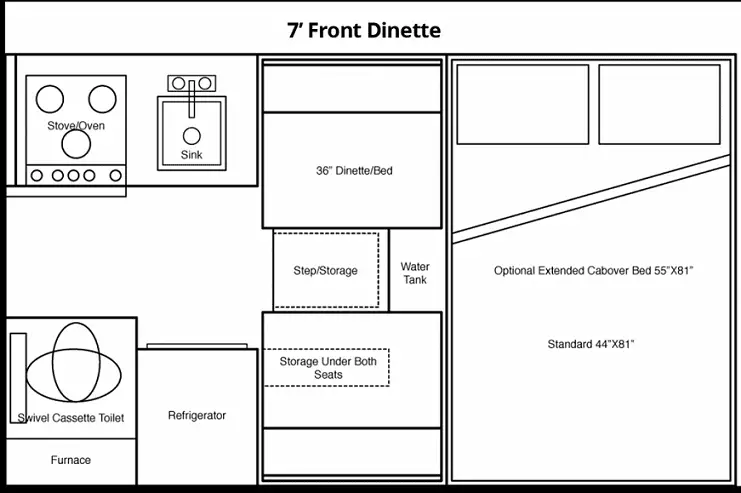 And if you think that you will have an issue with storing important items, then you need not worry because there is enough overhead storage and countertop storage included here.
It is also convenient to enter this camper since it has a full-length usable door where you need not stoop, bend, or (crawl) just to get in. And did we mention LED lighting to complete the effect?
Pros
Well-insulated interior
5-gallon propane tank
27-gallon fresh water tank
Some inclusions as you prefer to include:
Swivel cassette toilet
170-watt solar power system
4-gallon water heater
20K BTU furnace
Cons
It May not sit well for those who would like a modern feel in the interior design.
This is a truck camper that has a classic design.
4. NorthStar Laredo SC
This is a perfectly designed top truck camper that is best suited for families or couples. It is packed with standard features that sufficient but one can go for additional features at added costs.
A 41 gallon fresh water capacity is good enough for boondocking or dry camping.
NorthStar Laredo price starts at $25,245
Key Features
Low profile camper with a spacious floor plan
Less wind resistance
Better fuel mileage
3 Burner stove
Rubber roof
AC prewired
Fiberglass siding
Check out the detailed specifications here.
| | |
| --- | --- |
| Dry Weight | 2090 lbs |
| Interior Height | 6'4″ |
| Length | 15'11" |
| Width | 7′ |
| Fresh Water Capacity | 41 Gallons |
| Gray Tank Capacity | 13 Gallons |
| Black Tank Capacity | 5 Gallons |
Pros
Well insulated during cold winter months.
A wide bed that makes sleeping comfortable.
Big and a good deal of storage space.
Single-handle residential-style faucet.
Plenty of drawers to put all your kitchen essentials.
Cons
No bathroom sink.
The bathroom may be small for some families.
Bed foam may need an upgrade to be more comfortable during sleep.
The camper is good fit for trucks like Nissan Titan XD, Ford Super Duty F-250, GMC Sierra 1500 and other 3/4 ton trucks
With the spacious and roomy floor plan of the NorthStar Laredo SC, the bathroom can be tricky as it is not as big as other camper units, but it will do for a small family. The dinette can sit in four people at the same time, but it has an option to move it out of the way and create additional space for other activities. The position of the table is up to you.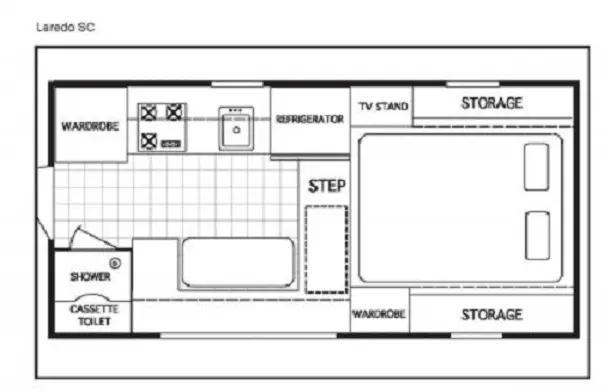 Storage space is also no issue with the Laredo as there is plenty for you to use. The flooring made of the vinyl wood grain is terrific to look at and compliment the look of the oak cabinet. The 3-burner cooktop plus range hood make sure you can cook any food you like. The bed is comfortable to sleep in, most especially for a couple.
There is also no issue with hot or cold weather because the Laredo can keep you comfortable any day.
5. Lance 825
This is one of the popular truck campers that can placed on trucks like Toyota tundra, ford F-150 or Nissan Titan. The design of this truck is really thoughtful with cab over queen size bed and convertible dinette.
Lance 825 truck camper is priced at $25,795
Key Features
Aluminum framed walls
3-way residential type 3 cubic foot fridge
2-burner stainless steel cooktop
Atwood 18K BTU propane furnace
Sleek and aerodynamic aesthetic
LED lighting
Insulated flooring
Foam Insulation
Sliding bath door
AC prewired
Check all the features and specs here.
Length

16'3″

Dry Weight

1837 lbs

Interior

Height

7'7″

Width

8'6″

Fresh Water Capacity

30 Gallons

Gray Tank Capacity

13 Gallons

Black Tank Capacity

14 Gallons

LPG

5 Gallons
This is your small family's chance to camp comfortably without the need to haul a bigger trailer. This will do for you as it has all the needed essentials to keep you comfortable while you are away from home.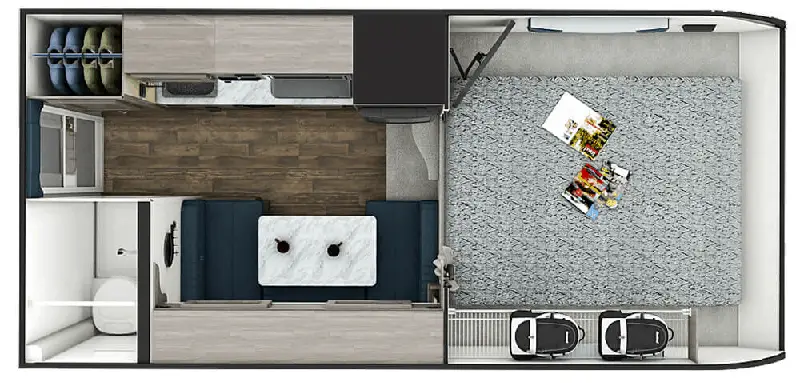 The dry weight is 1837 pounds with the interior layout as classy and luxurious to look at. The cabinets are cherry-stained while the queen-sized bed will surely be a comfort to sleep at night, there is also a dinette and a well-equipped kitchenette. If you have your clothes with you, there is enough space to place it all inside an extensive wardrobe. The bathroom is also easy to use and complete with amenities.
When it's time to prepare a meal for your family, you have the 2-burner stainless steel cooktop to use. Lance 825 is one of the best 4 season truck camper on the market.
Pros
Big floor length of 8 feet and 6 inches
The big tank of water that can hold up to 30 gallons of fresh water
There are many options to choose from, such as;
100-watt rooftop solar power system
Side and rear awnings
Carpeting
Roof rack system
Cons
Some users find the doors tend to not close correctly after some time.
6. Bundutec BunduVry
BunduTecUSA is a unique company manufacturing truck campers and pop up campers. They make custom campers as per your needs. The bundutec bunduvry is a nicely built camper that is great for a small family of 2-4. It is equipped with basic amenities that will be enough to go out camping.
The Bundutec BunduVry price starts at $ 23,603
Key Features
LED Lighting
2 Burner Stove
Queen Size mattress
Aluminum siding
Solar prewired
Wood Constrcuion with aluminum overlayed
Cassette Toilet
External Shower
Check all specifications here.
| | |
| --- | --- |
| Dry Weight | 1900 lbs |
| Length | 18'2″ |
| Interior Height | 7'9″ |
| Width | 8'4″ |
| Fresh Water Tank Capacity | 20 Gallons |
| Grey Tank Capacity | 7 Gallons |
| Black Tank Capacity | 4 Gallons |
Comparing with other campers on this list, this is definitely a cheap or affordable truck camper.
Layout and Design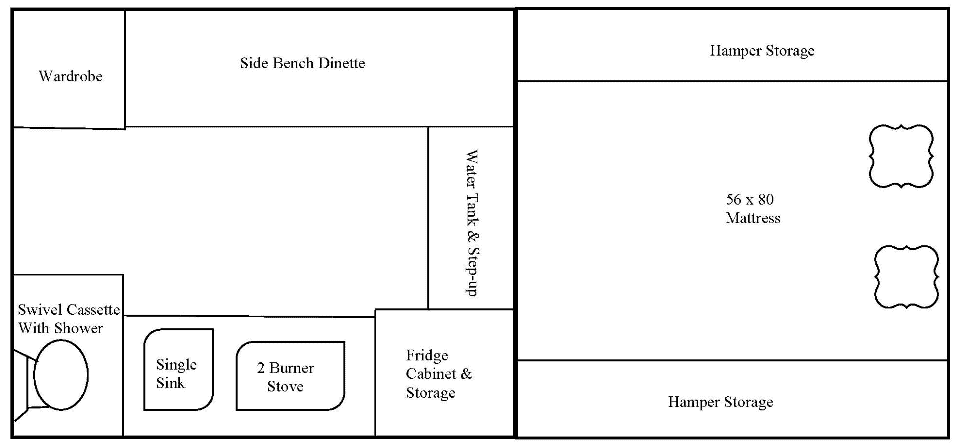 The layout of this camper features a big 56 by 80 mattress with hamper storage on either ends. On the front side is a large dinette and facing opposite is the kitchen stove burner.
Camper is really given a good storage near the fridge and also on the side of the dinette. It is a self contained camper with cassette toilet and an externally located shower.
The water capacity is a decent enough for boondocking for a small family. The holding and black tanks are a little smaller though. It is priced decently and you can add lot of optional features at additional price.
If you wish to add the accessories then you need to mention those while ordering it. You need to reach out to the company for making a custom fit design for you. If you wish to meet the company and take a tour then you can do so after fixing the meeting.
7. Camplite 6.8
This is a wood free camper made up of aluminum. It has a simple design that features a best kitchen, dinette cum bed and over the ca bed that really comforting. The camplite is a self contained camper for your next boondocking trip.
Key Features
Mostly made of aluminum
Stainless steel sink
European style range top
Highly functional kitchen
The floor plan is versatile and practical
| | |
| --- | --- |
| Length | 14'2″ |
| Dry Weight | 2026 lbs |
| Interior Height | 6'8″ |
| Sleeping Capacity | 3 |
| Fresh Water Capacity | 19 Gallons |
| Holding Tank | 27 Gallons |
This unit is just the right camping unit for those who would like to go for a weekend vacation or perhaps just a few days away from the city. They build it to last with the use of all alumni materials.
The bathroom can accommodate users perfectly with its big size. The overcab bedroom plus the Mach air conditioner can keep you sleeping soundly and comfortably.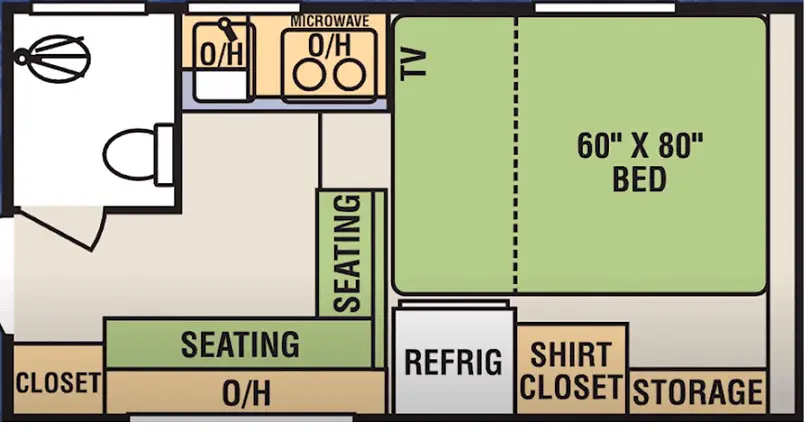 They make the kitchen to impress as well with its highly useful burners, sink plus the many cabinets. The dinette will not disappoint, and it looks to fit a larger unit, but it is also compatible with the Camplite unit. This will somehow make dining still a significant experience, even with just a portable table.
Pros
Aluminum material to ensure that this camper will last long.
Huge wet bath for you to comfortably shower in.
Cons
There are some complaints about the sharp aluminum edges. This needs to be addressed as this will surely turn off buyers.
8. nuCamp Cirrus 720
This is a modern looking camper that is self contained and a perfect for a small family. With its cab over bed, a fully functional kitchen and a dinette you can enjoy the outdoors even more. This is a perfect quarter ton truck camper that has all the basic amenities and features.
This is one of the best short bed truck camper.
Price for nuCamper Cirrus 720 starts at $28,906
Key Features
Highly improved cabinet designs
Best built-in generator option
2 to 6 volt AGM batteries
Convenient switches that are all accessible
Check all the specifications here.
| | |
| --- | --- |
| Dry Weight | 1875 lbs |
| Length | 14'9″" |
| Interior Height | 6'4″ |
| Width | 8'6″ |
| Fresh Water Tank | 20 Gallons |
| Gray Tank | 22 Gallons |
| Black Tank | NA |
| Propane | 20 lbs |
This model of a truck camper is a spin-off from its previous model Cirrus 800, but with a lot of improvement. The company listened to the users of the previous Cirrus, and it seems that they listened carefully as seen with the impressive additions to the current model.
Starting with the exterior of this camper, which is beautiful and which will make you the envy of those who see you using it. The interior is another design phenomenon with the kitchen architecture all at point.
Everything you need to make your vacation laudable is all in place, from the beautifully designed cabinets for storage to the kitchen equipment to make cooking easy for you is present. There is a laminate countertop space, a 2-burner Thetford cooktop, stainless steel and single basin sink, numerous drawers, and the fridge is just the right size.
The dinette can turn into a cushion bed to add space for sleeping, although there is a cabover that is already present. The cabover has cabinets and overhead storage to fit your things.
Pros
There is a good deal of storage spaces for you to use, from the living area to the kitchen, even to the cabover where storage is made sure to be available.
The inclusion of high-tech appliances will keep your lives easier wherever you are vacationing.
Fully laminated walls from floor to roof.
Wiring, plumbing, cabinetry is well thought out.
High-quality hardware and design.
Cons
Pricey and considered a luxury for some.
Not enough space for the dinette and may need an addition of a larger table.
All fold-down, wet bath sink, no countertop usable.
Hard to use the dinette cushion as a sleeping space.
9. Lance 650
This is a lightweight truck which can be carried by a half ton truck as well. It weighs just about 1700 lbs. Its a quality truck camper that is fitted with all the basic amenities. This is a low cost truck camper that has decent amenities.
Lance 650 truck camper price starts at $24,867
Key Features
Luxurious interior design
Spacious floor plan
Lightweight
All LED lightings
Insulated flooring
Power roof vent
1 Piece roof
Privacy curtains
Check all the specifications here.
| | |
| --- | --- |
| Dry Weight | 1700 lbs |
| Length | 15'6″ |
| Height | 8'1″ |
| Width | 8'6″ |
| Fresh Water Tank Capacity | 22 gallons |
| Grey Tank Capacity | 15 Gallons |
| Black Tank Capacity | 16 Gallons |
Considered the best truck camper by many users because of how it was manufactured. From the spacious and luxurious planning made for both interior and exterior of this unit. The price tag is also affordable, which is why many owners prefer it.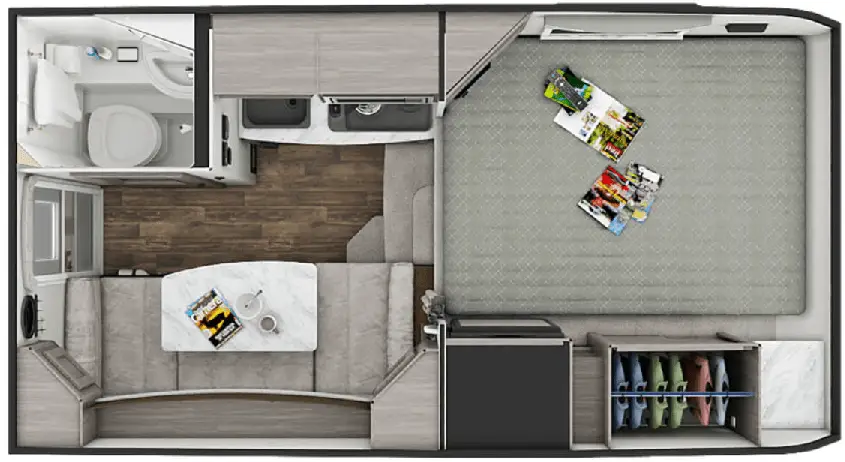 The queen-size bed can keep you comfortable at night, and there is no need for you to go crouching on the dinette area just to have a good night's sleep. There is also a large closet area, TV station, storage spaces with light and shelving. The sleeping area has a 12-volt power source. The kitchen area is impressive with its size where you can easily move around, and there are all the needed amenities to make living away from home a breeze.
Storage is also no issue with this model because everywhere you look, there is a space for all your things.
Pros
A freshwater tank that can hold 22 gallons.
Hot water tank included.
Large kitchen area.
Big bed to sleep in.
Beautifully designed.
Cons
Some users find the price still steep.
10. Artic Fox 840 Wolf Creek
This well built truck camper by Northwood is a perfect option for your Quarter ton truck. It is a fully welded camper with thick aluminum walls that are multi layered. It is packed with all the basic amenities you would need for camping at a campsite or even boondocking. Interiors are really sleek and well organized.
Check all the specifications and features here.
There are a whole lot of features available as optional like rear view camera, LED TV, solar panels, conventional oven to name few. Do check the list of features using the link above.
Key Features
Impressive exterior design
The overall construction is highly durable and steady
Arch ceilings to give you a more spacious feel
LED ambient lighting
Big, bright, open space
Drawers and cabinets for your storage needs
Frameless windows
Exterior Shower
4 season foam insulation
Built in Microwave
| | |
| --- | --- |
| Dry Weight | 1992 lbs |
| Length | 16′ |
| Width | 8′ |
| Interior Height | 6'6″ |
| Exterior Height | 7'7″ |
| LPG | 20 lbs |
| Fresh Water Capacity | 35 Gallons |
| Gray Tank Capacity | 27 Gallons |
| Black Tank Capacity | 20 Gallons |
| Air Conditioner | 11,000 BTU |
PROS
6-cubic foot fridge.
Many storage spaces.
Straight kitchen outline that makes cooking easier.
The interior design is exceptional.
CONS
The wide layout of the kitchen sink seems to waste counter space.
The entry step to the wet bath seems too high.
No dedicated kitchen trash container, which is very important to keep trash in place.
The cathedral arch roof ladder is challenging to climb.
Layout/Floor Plan
There are around 3 interior color scheme you can choose based on your liking. The 865 layout has front bedroom that is really wide and comfortable.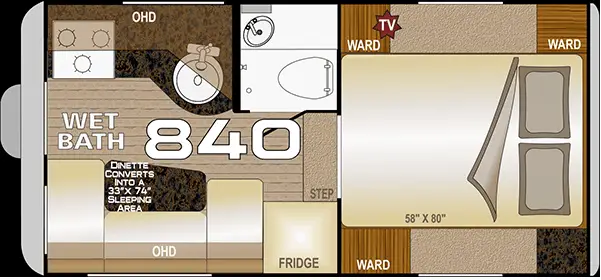 If you are looking for a truck camper to serve all your family's needs while on vacation, this is the unit for you.
The high-quality execution of each piece of this beauty is the best there is.
From the mid-bath floor plan, full booth dinette, the elegant straight kitchen, the addition of a large wet bath, plus the separated cabover bedroom makes the floor plan one of a kind.
The fit and finish is not something to ignore either because it is evident that class and elegance is what the manufacturers are after while building this unit.
Bonus: Palomino truck campers are also good and there are number of models that fit on a 3/4 ton truck. Check the models here.
So, now you definitely have an answer to this question : what camper for my 3/4 ton truck?
Truck camper cost and weight
Truck campers on average cost between $16000 to $45,000 and there is a reason why they are little costly as compared to other low profile RVs like travel trailers or pop up campers.
Truck campers are expensive because they are not produced in huge scale and also they are packed with features that makes their construction costly. The specially design to be able to fit on the truck bed and that too with low weight and yet provided the RV capabilities makes them costly.
Truck camper weight generally varies between 1000 lbs to upto 5000 lbs. To be able to carry that heavy camper you would definitely need heavy duty 1 ton truck.
Want a easy to carry, lower weight and low cost camper for your truck?
Pop up truck camper is what you need. They are lightweight and cost much less. A 1/2 ton truck will be enough to carry them.
Here are top 10 lightweight truck campers that weigh less than 2000 lbs.
Know your 3/4 Ton Truck
Getting a right camper based on bed box size is important. A small box truck bed length is around 5 feet 8 inch, a big bed length is at around 8 feet where as a standard bed length is 6 feet 5 inches.
How heavy camper can i put on a truck bed?
The best way to find out how much it can carry is to look at the truck's manual. Look out for critical weight rating like GVWR (Gross vehicle weight rating).
This will give you a total permissible weight of the truck along with the camper weight when fully loaded. You cannot exceed this limit. So, while choosing the camper make sure you consider not only the dry weight but also the wet weight.
Its always better to take professional advice on the weights as exceeding these limits is not only against the law but also not safe.
How much can a 3/4 ton truck carry? Normally, a quarter ton trucks are rated to carry between 3500 to 4000 lbs.
Once any of the camper the camper that we saw above is placed on the truck bed and loaded with the items like water, clothes and all other items the weight of the campers reaches to this level of 3000 lbs or so.
What about 1/2 ton and 1 ton trucks? 1/2 ton trucks in general are capable of carrying a weight of around 3000 lbs where as a 1 ton truck can carry 6000 lbs on its bed.
Conclusion
With each family member being busy with daily living activities, going out, and enjoying a vacation on truck camper can be really amazing. It can surely make the vacation memorable with the use of a truck camper.
It is not as high maintenance compared to other RVs, and as long as you keep your truck rolling, you will have no concerns about bringing your camper truck with you anywhere. The complete amenities and the accompanying luxury are just something that you and your family will surely enjoy.