Last Updated on :
Whenever luxury RV's are discussed its the class A motorhome that stands ahead of all the other RVs. But, in this article I will list out popular Luxury class B RV's. Even though class B motorhomes are much lesser in length they are made luxurious and there are quite a lot of them that exhibit the luxury.
With luxury, obviously the prices also increase. Nevertheless, these suit perfectly for those who want luxury and yet don't want to drive a massive 40 feet vehicle. They are normally lesser in length, around 20-25 feet long and yet, are packed with insightful luxury that one would crave for.
Here are the Top 10 luxury Class B RVs you can own.
1. Atlas Touring Coach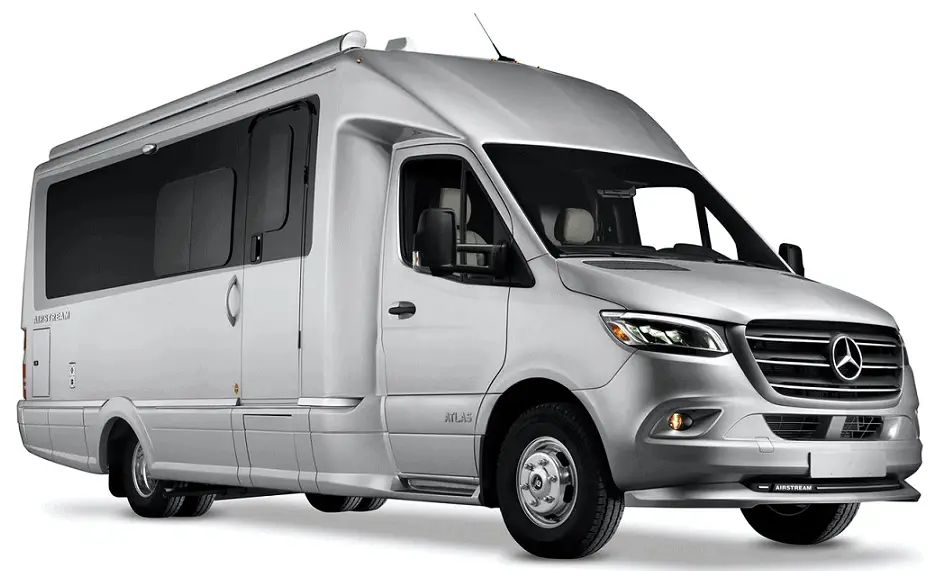 When you want luxury, you go to the RV company that started it all. Airstream knows what people want and they know what luxury is. They also have the expertise to combine the two and create a great Class B RV just for you.
To start, Airstream used the Sprint van chassis designed and built by Mercedes Benz to make sure you get the comfortable ride you expect in a luxury vehicle. The 3.0L V6 turbo diesel engine also gives a impressive fuel economy.
With the power slide out, you get even more space to relax and enjoy your location.
It is equipped with standard safety features like lane assist, rear plus side camera, airbags, collision prevention assist and lane guidance.
Atlas is also equipped with premium Air ride suspension that adjusts itself for bumpy rides, elevation changes and also wind resistance.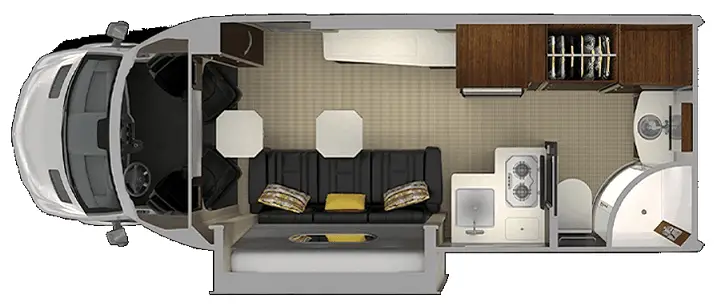 Inside, you will find a Murphy bed suite that sleeps two like they were a king and a queen. The HDTV slides out of its hiding spot to make sure your entertainment time is second to none. Plus, you get all the amenities that make camping feel like staying in a castle.
| | |
| --- | --- |
| Sleeps | 2 |
| Seats | 4 |
| Price | Start @ $2,39,000 |
| Chassis | Mercedes-Benz Sprinter 3500 Chassis |
| Transmission | 7 Speed Automatic |
| Miles Per Gallon | 16-18 MPG |
| GVWR | 11,030 lbs |
| Tow Capacity | Up to 5000 lbs |
| Length | 24'9″ |
| Width | 8'3″ |
| Air Conditioner | 15,000 BTU |
| Furnace | 16,000 BTU |
You can check the complete specifications here.
At the rear of this coach is your bathroom that is spacious and packs in residential look and style. It includes hanging closet storage and also drawers for folded clothes. A tankless water heater makes sure you never run out of water.
You will pay a price starting at just over $239,000 for this luxury vehicle.
It is equipped with a smart 40″ Samsung LED TV that will add the entertainment to this on road home. And guess what it remains tucked inside the cabinet when not in use making it a great space saver. You just have to push a button and the entertainment box opens itself up for you.
You get the luxury of choosing 5 different color themes this includes below:
Modern Griege
Tommy Bahama Special edition
Refined brown
Lux White
Formal Black
Some other features that you may not take a note of:
It Is powered with a Armless awning that can retract itself without your intervention. If there is high wind you will see it retracting on its own. Now, that you call luxury my friend! Isn't it? While others at the campground will be busy working on getting the awning back into the rig you will be nejoyign watching it retract itself.
Not only the awning but also the steps are auto retracting. One more less thing on your checklist. Awesome!
The Atlas also houses it own 3.2Kw Diesel Onan generator that provides clean and quite power for your appliances.
The ducted climate control air conditioning cools the motorhome rather quickly and also has the capability to pull the ambient heat from the air.
A over the top sun roof has a power shade and screen that gives you sunlight and fresh air if needed.
Another thing about this RV is it is dry camping friendly, one of the best options for boondocking.
2. Coach House Platinum III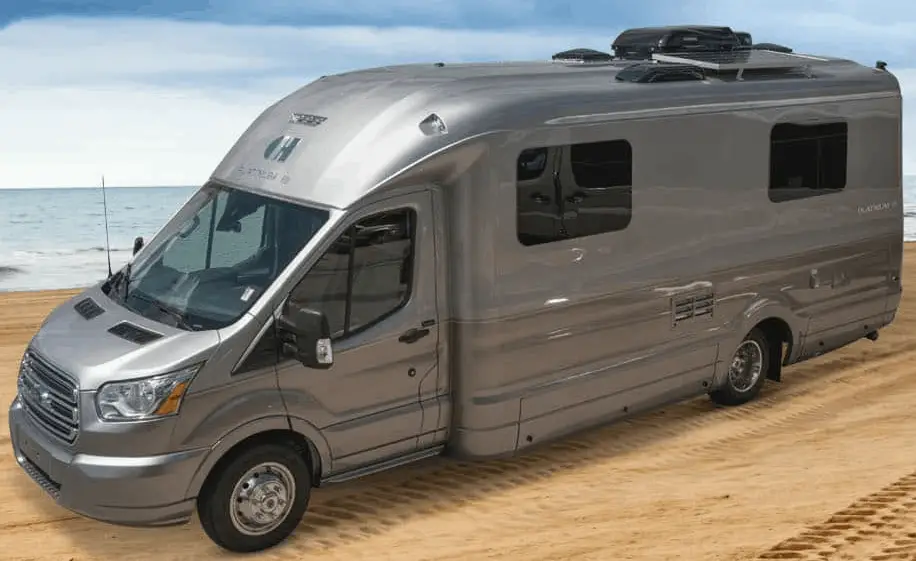 Where to begin with this luxury Class B vehicle. It is built with a Ford Transit chassis with a 3.5 V 6 gas engine that produces 3o6 horsepower using a 10 speed transmission. That is just the beginning.
Inside you will find a 4 G LTE wifi booster that keeps you connected,. Then the 15,000 BTU air conditioner keeps you cool in the summer and the 30,000 BTU furnace keeps you warm on those cold nights..
There is a 26" HDTV included as well as a day/night shade system to help keep the light away. Plus, you have a carbon monoxide, a propane and a smoke detector inside to keep you safe.
This is in fact a class B+ RV that packs in luxury that makes it a home like comfort.
| | |
| --- | --- |
| GVWR | 10,360 lbs |
| Interior Storage | 52 Cubic feet |
| Price | Need To Contact (Usually > $165,000) |
| Width | 8′ |
| Length | 25'6″ |
| Fuel Tank | 25 Gallons |
| Fresh Water Tank | 31 Gallons |
| Grey Water Tank | 28 Gallons |
| Black Water Tank | 19 Gallons |
| Propane Tank | 12 Gallons |
| Air Conditioner | 15,000 BTU |
| Furnace | 30,000 BTU |
Then you have soft comfortable seats and easy access fridge and other appliances. You need to call for a quote to get the purchase price because there are other optional features available.
This luxury motorhome has MCD day-night system that provides soft light during the day time where as at night you get the privacy.
It is also equipped with 1200 watts pure sine wave inverter that can provide power for all your sensitive electronics like laptop, TV.
Among the standard components include the back up camera, fire extinguisher, GPS System, carbon monoxide and LP detector.
This motorhome has excellent external storage and includes a concealed propane tank whose capacity stands at 68 lbs.
This RV is also given a legless awning just like out previous pick from airstream.
There are lots of optional features to choose from as well. Some of these includes below:
Auto leveling System
Sound bar for 24″ HD TV
Dish with automatic in-motion
Lithium ion batteries
GPS System
Solar battery charger
Woven Flooring
Construction
It is worth it to mention about the one piece patented hand laid fiberglass body used for this motorhome. This makes it unique in comparison to others on this list.
The whole construction quality makes it way more water leak proof. One less thing to worry about in your RV for you.
Most RVs are mostly build using pieces that can result in water leaks and other issue over time. This is what is avoided by this type of construction.
This type of construction is much more durable, stronger and is also aerodynamic this improves the fuel efficiency.
This RV comes with 3 years or 36,000 miles warranty. The items or appliances inside the motorhome are covered by manufacturers with their own terms and conditions. You can do the repairs at the nearest repair location f your choice or also at their coach house plat in Florida.
3. Winnebago Revel Class B RV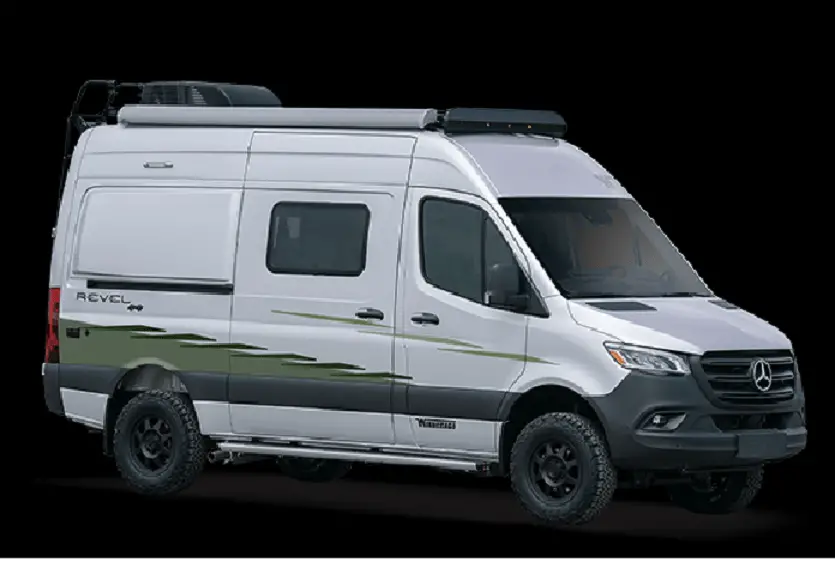 This top Class B RV has great maneuverability as it s length reaches just over 19 feet. That length allows this rig to sleep 3 people comfortably. Along with that there is a 3 liter turbo diesel engine also placed on a Mercedes Benz Sprint chassis. Its 4 wheel drive ability lets you get off road and really see nature.
Winnebago is one of the best manufacture of class B motorhomes and this one does prove it. The quality and the features make it one of the top 10 class B RV.
| | |
| --- | --- |
| Sleeps | 2 |
| Length | 19'7″ |
| GVWR | 9050 lbs |
| Width | 7'1″ |
| Fresh Water Tank | 21 Gallons |
| Holding Tank | 21 Gallons |
| Fuel Tank | 24.5 Gallons |
| Price | Starts @ $ 174,906 |
Inside, you will find LED ceiling lights, dual pane windows, a wet bath as well as air and heating systems. Then a power lift bed makes getting comfortable more convenient.
An induction stove top is included helping you to save on power use and a 3 cubic foot fridge to make sure your food stays nice and fresh. To purchase this luxury package you are looking at paying from $174,906 and up.
It is provided the awning that can extend upto 9'6″ an amazing addition to your overall living space. Awning do add the value and you don't want to miss that.
You can enjoy the lED ceiling lights that come with dimmer switch, delux powered ventilator fan with cover for rain. There are multiple USB points for charging mobiles and other such appliances.
The flooring is a heavy duty vinyl through the motorhome. This is definitely a motorhome many of us desire although the luxury as much as compared to our first two picks.
You can shell out more for upgrades or get optional features or can also go for other models from winnebago itself like BOLDT or ERA.
4. Leisure Vans Serenity Standard Class B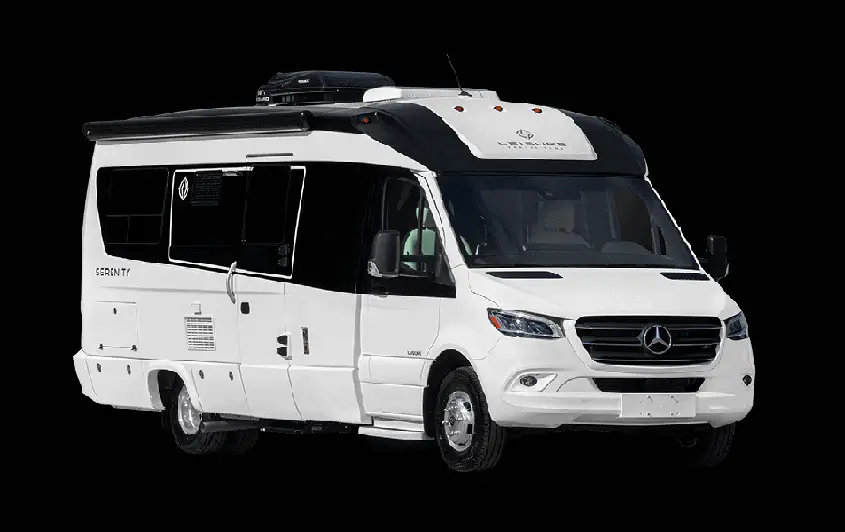 If you want to save a little money, this luxury Class B starts at just over $147,000 but you are not losing much when it comes to feeling like part of the elite class in society. With its 3L V6 Blue TEC diesel engine and Mercedes Benz Sprinter chassis you are still at the top of the elite list.
It comes with MBUX multimedia system that has 10.25″ awesome touch screen.
With this motorhome you get whole lot of features like cruise control, lane assist, traffic signal assist, active brake assistance to name a few from safety point of view.
Construction of this class B RV is aerodynamic friendly making it better at fuel economy. Its fiberglass body is molded and curved that has good strength and very much durable. This is one of the best class b rv for a family of 4.
| | |
| --- | --- |
| Price | Starts from $147,000 |
| Sleeps | Upto 4 People |
| Exterior Storage | Upto 40 Cubic Feet |
| Height | 10'3″ |
| Width | 8'1″ |
| Length | 24'6″ |
| GVWR | 11,030 lbs |
| Fresh Water Tank Capacity | 25 Gallons |
| Grey Tank Capacity | 37 Gallons |
| Black Tank Holding Capacity | 29 Gallons |
| Fuel Capacity | 24.5 Gallons |
| Propane Tank Capacity | 15 Gallons |
The fiberglass body cuts the weight so you save on fuel. Then when you pop inside you will see top craftsmanship in its cabinetry and the chairs you rest on. There is a dry bath with a stand up shower so you do not harm yourself getting clean.

Then the duct air conditioning system makes sure you and your family remain cool as you drive on a hot day. A bar b q connection and accent LED lighting round out the highlights of this luxury RV. Contact the dealer to get to know how expensive this vehicle is.
This motorhome is provided with a skylight with screen and privacy shade and has Dimmable LED Aisle Lighting. There is plenty of storage with full size closet, wardroom and drawers.
This motorhome too has power legless awning that enhances the living area outside the RV. The entry steps too are automatic that can retract on its own when you are ready to go.
5. Airstream Interstate 24GL
This company has you covered when you want luxury and comfort. Its 170" wheelbase helps you get 18 miles to the gallon, while riding on another Mercedes Benz Sprinter chassis. The 3.0 V6 turbo diesel engine provides 188 horsepower giving you the power to make it up steep grades.
| | |
| --- | --- |
| Sleep | 2 |
| Seating | 9 |
| Length | 24'6″ |
| Floor Plan Options | 1 |
| MPG | 18+ |
| GVWR | 11,030 lbs |
| Price | Starts @ $190,447 |
| Towing Capacity | Upto 5000 lbs |
| Height | 9'8″ |
| Fresh Water Tank Capacity | 26 Gallons |
| Grey Tank Capacity | 27 Gallons |
| Black Tank Capacity | 13 Gallons |
| LPG | 9.8 Gallons |
| Fuel Capacity | 24.5 Gallons |
| Air Conditioner | 13,500 BTU |
| Furnace | 16,000 BTU |
Once in your possession you can carry 9 passengers with ease. The interior has ultra leather seats with 2 wide screen tvs. Cup holders and all the luxury modern technology can provide keeps the driver comfortable over a long drive. A touchscreen computerized system gives you fingertip control over many of the built in features.
It is given a luxurious 9 seats that are ultraleather made. Once you step inside the initial visuals of the captain seats make it clear what luxury it is. Back sofa and side seats make for the entire count of seating.
It is equipped with 2 widescreen samsung HD TVs that will entertain all the passengers of this luxury motorhome.
The European style bathroom with sink, shower and toilet makes it easy for you to enjoy the travel with home like comfort. You can make out from the bathroom styling the kind of luxury it exhibits.
Then USB charging points help you stay connected t friends and loved ones who can't be with you on this trip. The galley comes with fold down tops for extra counter space when needed. All of this and more can yours for $190,000+. This is definitely one of the best class b rv for full time living as well.
6. Coach House Arriva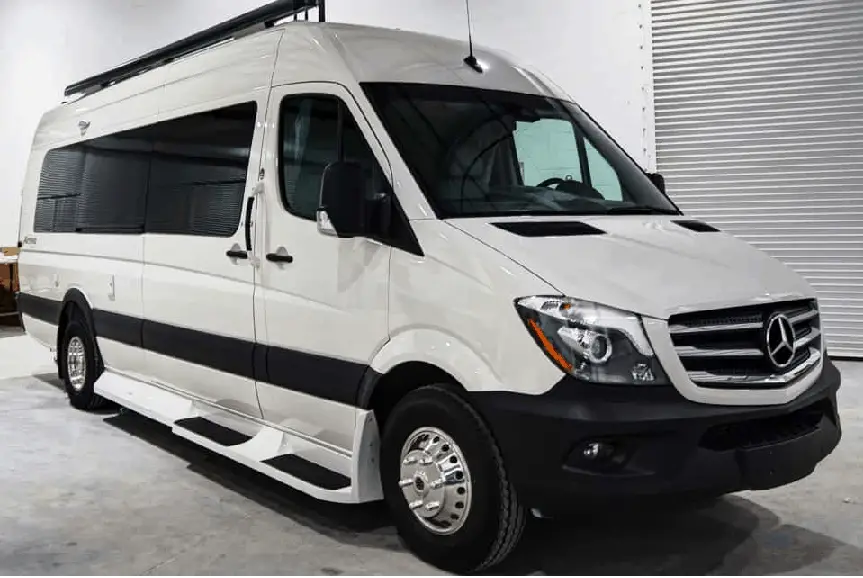 Luxury means extra comfort and this Class B RV has it. Not only do you get a separate shower and toilet, you get 2 twin beds that combine to form one King size bed. Then a convection/microwave oven, 6 cubic foot fridge and 2 HDTVs make sure you are entertained as well as well fed.
| | |
| --- | --- |
| Length | 24'2″ |
| Width | 6'6″ |
| Height | 9'8″ |
| GVWR | 11,030 lbs |
| Price | Need to Request A Quote |
| Air Conditioner | 15,000 BTU |
| Furnace | 19,000 BTU |
| Fuel Capacity | 26.4 Gallons |
| Fresh Water Tank Capacity | 31 Gallons |
| Grey Tank Capacity | 20 Gallons |
| Black Tank Capacity | 13 Gallons |
| Propane Tank Capacity | 12 Gallons |
Plus, you get your choice of cherry, teak or maple interiors that work with the 30,000 BTU furnace and 15,000 BTU air conditioner to keep your atmosphere just the way you like it. A power awning makes sure you get a break from the sun.

This is all built on a Mercedes Benz Sprinter chassis for a smooth easy ride that makes you feel like you are riding on a cloud. Again, you will have to contact Coach House to get the actual price. The price and the features you get with this makes it best option for the money.
7. Thor Motor Coach Gemini 24SX
Like all the rest of the luxury RVs on this list, this rig uses the Sprinter chassis from Mercedes Benz. It also is powered by a V6 Turbo diesel which creates 188 horsepower. The automatic 7 speed transmission makes driving this beauty easy and safe.
| | |
| --- | --- |
| Sleeps | 3 |
| Length | 26 feet |
| Price | Request a Quote |
| Slides | 2 |
| Width | 7'6″ |
| Height | 10'10" |
| Fresh Water Capacity | 30 Gallons |
| Grey Water Tank Capacity | 38 Gallons |
| Black Water Capacity | 24 Gallons |
| LP Tank Capacity | 68 lbs |
A little slide out provides room for the full size bed in the rear. In addition there is a separate shower and toilet as well as other appliances that make life on the road feel like home.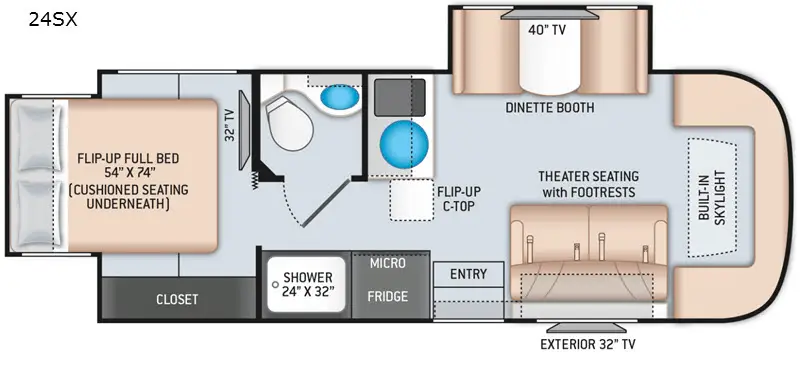 In the front, besides the two swiveling chairs, there are theater seats and a 32 inch tv. On the other side of the RV is a 40 inch television set so you have a choice in how you will view your favorite shows.
Finally, a built in skylight brings the romance as the stars shine through very clearly. The cost starts at $128,000+.
It is equipped with 3 way refrigerator and an onana generator to power when you don't have campground electricity connection.
8. Winnebago Era Class B 70A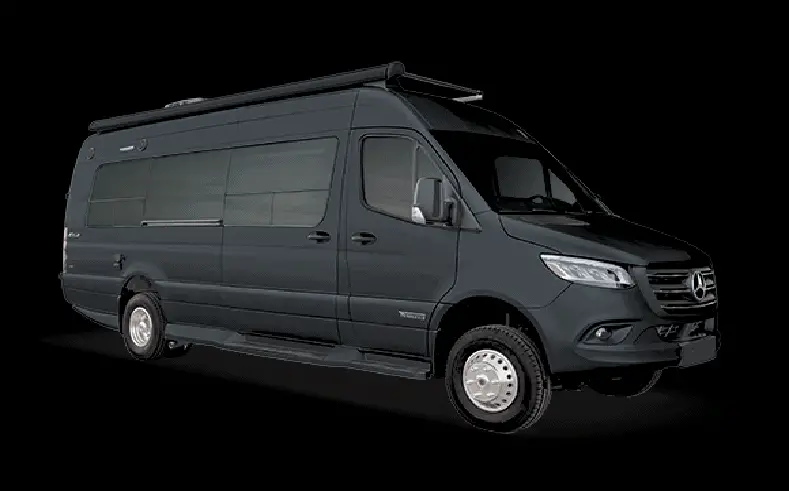 One thing this and other Class B RVs have besides the Mercedes Benz chassis and safety features, are windows. This rig has plenty for your children to see where they are going as well as giving you plenty of light.
Its approx. 24 by 6 1/2 foot dimensions provides you and your mate with lots of living space. In addition, there is a MBUX touchscreen multimedia infotainment center with wifi set up to make sure you stay in control of your vehicle.
Also, blackout window screens let you sleep late after a night of watching movies on your 24" tv. A sliding door makes entering and exiting this vehicle safe and easy.With a starting price of $173,000+ this is one luxury Class B RV you can afford.
9. Fleetwood Irok Class B RV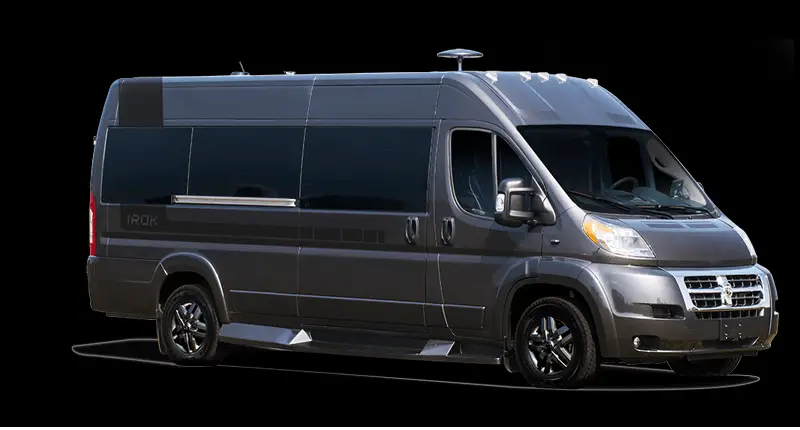 This is a smaller Class B and does not have all the bells and whistles as the others on this have but it still provides some luxury to your camping getaway. The RV is powered by a V6 Pentastar engine that produces 280 horses. Then the automatic transmission comes with 6 gears to get you down the road safely.
The the power awning, outdoor shower, window shades and other amenities provide you with the normal comforts of home. 2 sofas let you sleep 4 people with ease as well as let your passengers recline as you drive.

With a full bathroom including toilet, mirror and sink you can wash up for dinner quickly. With the cable and satellite pre wiring you can connect to some great entertainment options.
Heating and air conditioning are standard and all detectors you need are part of the standard equipment. The cost is still to be determined.
10. Coachmen Galleria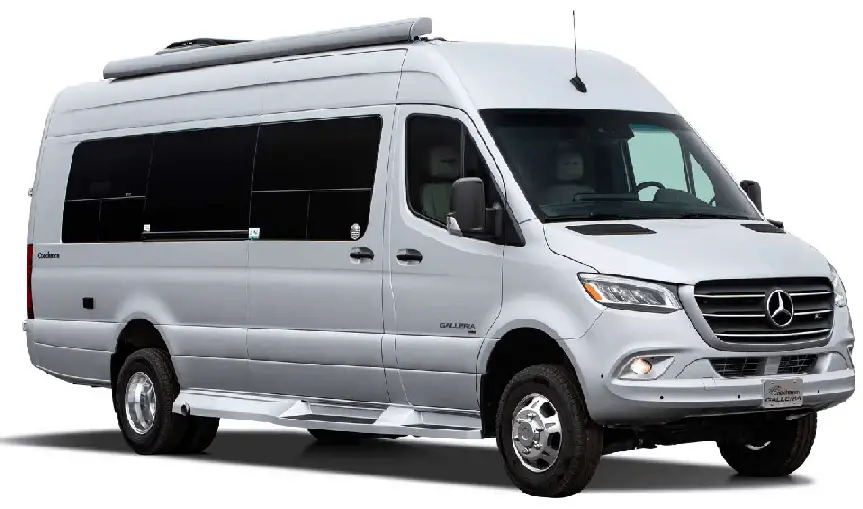 The final motorhome in our expensive and luxury motorhomes list is the coachmen galleria. It is built on 3500 Mercedes Sprinter extended platform that offers all the luxury you are looking for. Even though this is at 10th on this list it does not stand low.
It uses high end components in this motorhome. You get features that make your stay much more comfortable and you want miss you home at all. It is equipped with a Onan generator that can power your appliances when you are not connected to shore power making this a great option for dry camping or boondocking.
In storage you get handcrafted maple cabinetry cabinets, drawers and custom trim.
There are 4 floor plans that you can choose from 24A, 24FL, 24Q and 24T. Each of these floor plans come with a awning that can extend upto 13′ making a way more livable area for you.
It is gifted with all the standard feature that you may want in a class B RV. Wifi ranger, R-15 insulation, high rise kitchen faucet, reading lights, USB ports, reflective insulation for floor, carpet mat to name a few.
Apart from this features you can also add whole lot of features that are optional. The price would go up with this addition. Some of these optional features include 20,000 BTU AC, VB Air suspension, bike rack, side screen door.
Why choose class B RV
One of the common questions that people who want to own an RV for the first have is "why should i buy class B? why not class A or class C well it has many advantages as compared to these bigger motorhomes.
Easy to Drive : First, its small and that gives you that confidence to drive it if you are new to RVing world. A mammoth class A motorhome is way for difficult to drive if don't have experience during any motorhome.
Class A for sure are no match when it comes to luxury but it way more work to deal with them. Almost all the RVs that we have on this list are easiest to drive mostly because of their dimensions and also due to engine power.
Dry camping or Boondocking : Class B also have distinct advantages of being boondocking friendly. Also if you are a couple or a solo camper then class B makes a lot more sense then owning a huge class A that can be as long as 45 feet or even more sometime.
If you love boondocking then you should probably own class b rather than c or class A. Because they are compact its an easy drive through city or narrow roads. A couple wanting to own a RV for the first would rather have it then go for a 40 feet long motorhome.
Fuel Economy : They are much better for fuel economy. Because they weigh much less it an obvious one in comparison to their big RVs. Even though if you own a luxury class b you may not be much worried about this but still its a good point to note as the difference can be really big.
Cost : Sure if you are going to own a class B luxurious one then the cost wont be nay low but still if you compare with class A its still way more less.
The initial cost of these motorhomes is high, so in case if you want to own one of these then you can also go for used one. Since the depreciation is high in RV's you can get a used one at a much lower price.
Its best suited for those who want to own a small manageable and yet luxurious RV. A couple trying to get their first RV would definitely want to look at class B first.
Conclusion
When you want to get away from it all, you do not have to get away from it all. You can bring a lot of luxury and convenience with you by purchasing one of these top luxury Class B motorhomes. They make the outdoors a lot more fun.