Last Updated on :
RV camping has become a lot more popular. RV industry has matured a lot and there have been some great innovations in the way RVs are made.
Today, you can see a lot more travel trailers around. You can often spot compact Airstreams towed along highways, teardrop campers parked in the neighborhood driveways, and RVs set up in the campsites.
This makes sense; Rving and general camping are become increasingly popular over the past few years. However, not everyone wants to drive a heavy and hard to maneuver full-size RV.
For many camping enthusiasts, small-size travel trailers are easier to operate and offer all the comforts you require in life.
These days, you can even find small travel trailers with tiny bathrooms for single-person camping.
Here is a look at the 10 best RVs for a single person.
Considerations to Choose RV for A Single Person
Before we see the best RVs lets figure out some important factor to consider.
When you go out to choose an RV for one person, you should consider some factors depending on your needs.
First, you should consider the size of the RV. A large RV requires a lot of planning, such as when you need to pull over or park. Small trailers can easily be parked on the side of the road.
Also, you should consider whether to get a camper van or a trailer. With a trailer, you will have to stop and go over to the trailer, while a camper van is easy to move about without having to come out of the car.
Other factors to consider for 1 person RV include interior space, easy to drive and manage, traffic navigation, fuel economy, and parking lots.
You obviously have to consider price as well. There are motorhomes that can cost you in hundreds of thousands and then there are those that come at less than $10,000 s well. Class B RV's in this list will be costly but they also have distinct advantages. Small travel trailers are modest and cost way lesser then class B.
Next is amenities. As a single person you should consider what are the most important features you cant live without. Not all compact RVs have toilet, shower or bathroom. Whether you would RV in harsh winter or hot summer, you need to get the right set of features in the RV based on your priorities.
Best RV for single person
Among the different type of RV's; travel trailer, pop up campers, teardrop campers and class B Motorhomes can be used for solo camping. Other RVs like class A, class C motorhomes and fifth wheel are generally bigger and have higher sleeping capacity. You won't find smaller ones made in this category.
Class B Motorhomes normally have 2 to 4 sleeping capacity. They are more luxurious and can cost from $100,000 and upwards. Travel trailers and pop up campers also come as small towable RVs that can not only be small but also cost much less.
In our list, you will find mix of all these best suited RV's except for class C, A motorhomes, and fifth wheel RV.
We have excluded motorcycle campers and cycle campers as they tend to be very minimalistic and if someone wants to live in a RV full time then its not possible with them. Some teardrop trailers can still be used for long term travel.
This list is mostly for solo RV campers or even for couples who want to travel long time and may be live full-time as well.
1. The Happier Camper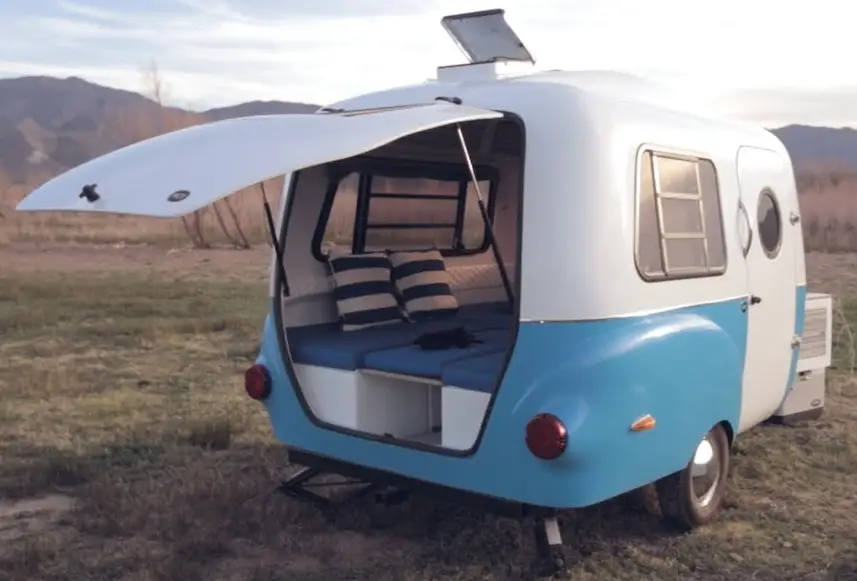 RV enthusiasts for single-person camping are searching for camper vans and trailers that are smaller and more affordable yet can pack in a kitchen and sleep a family.
Check all the specifications and features on their website.
These demands may seem nearly impossible to some manufacturers, but the new traveler HCT, the Happier Camper, has taken up the charge. The company has been providing its HC1, a travel trailer, a compact modular interior camper, and a new traveler.
The HCT combines the modular interior of the HC1 with a larger footprint which adds several missing creature comforts.
The new camper is easy to tow and weighs less than 1100 pounds dry, ensuring it can be towed by even small-sized vehicles. It is a 17 feet long camper that is four feet longer than the HC1.
The extra space will provide you with everything one would require for an off-the-grid camping experience. It comes with a complete bathroom that includes a sink, shower, dry-flush toilet, and fan. The more extended Happier Camper trailer enables the installation of a fully equipped kitchenette that includes; a sink, a dual-burner stove, and a DC-powered drawer fridge.
2. Winnebago revel
A Winnebago revel is a small camper that consists of a solid shell bottom and a pop-up top made of canvas, vinyl, or another strong fabric. These campers are usually roomy and large.
This is one of the best small RV for couple as well as for single person with good comfort and amenities.
Check its specifications and features here.
Their weight ranges between 700 to 3800 pounds. The Winnebago camper has storage cabinets, two sleeping bunks, a fold-down dinette, a basic kitchen, a water heater, a water tank, air and heating conditioning, gas, and electricity.
Essentially, the Winnebago revel camper provides most of the amenities a typical RV offers. However, they tend to be lightweight because most of the camper shell is made of fabric.
With the first actual Overlanding camper, Winnebago has produced a winner when it comes to single-person camping. The revel is an excellent rig for two people that, with a bit of customization, it could become a superb Overlanding for a small family.
3. Forest River r-pod
The Forest River r-pod is one model that provides you with affordable luxury at the lowest towing weight. If you are searching for a traveler with a large family that requires extra storage or wants a residential-style home, you should keep looking.
Check its features here on their website.
This is a tiny travel trailer with curb appeal worth looking for those looking forward to single-person camping. The Forest River r-pod is easy to tow as it is lightweight and is easy to pull by even the small SUVs and crossovers, even in twisting roads or tight spots.
According to customer reviews, most customers found the R-Pod to have excellent construction and stated that it cools and heats well, making for a great trailer even in extreme weather. Generally, Forest River r-pod is a decent travel trailer, especially for first-timers and those who want to go camping alone.
4. Forest River Flagstaff Pop-up camper
The Forest River Flagstaff Pop-up is a perfect camper with a roof-like design that makes us think of a small house. This model may not be the best camper for couples as it features two twin mattresses instead of a queen bed. However, this model will be perfect for single-person camping. It is one of the best single person camper for the money.
Most pop-up campers utilize tent-like, soft walls to maintain a low-profile design and a lightweight. While this is an ideal thing, it sacrifices some durability and sufficient weather protection with these tent-like walls.
The Flagstaff Pop-up is possibly the best of both worlds. This camper features rigid walls, which offer both durability and better weather protection with slight added weight.
Combining a travel trailer's solid exterior with a tent camper gives you the best of both worlds.
Additionally, it provides amenities such as a sink, stove, and a spacious dinette. With a dry weight of about 2000 pounds, the camper is easy to tow and the perfect blend for single-person camping.
5. Airstream Bambi
Everyone loves Airstream; They are popular for a reason. There are several airstream models and Bambi is a great smaller model that they have.
Bambi takes care of all the things you require so that you can get out there and have some solo camping adventures. Currently, the available models are the 16 and 20 feet versions. These are great versions for those who wish to travel and go camping alone.
The Airstream Bambi has all the bells and whistles, including a fridge, a gas stove, a bathroom with a standing shower, microwave, air conditioning, and heating. A dinette changes into a bed and a two-person bed with a memory foam mattress.
The airstream Bambi comes with four-floor plans with each option giving you dedicated sleeping space, a kitchen with all the fundamentals, and an on-board restroom. The bathroom provides you the freedom to get clean without the need to sacrifice space in the trailer.
Every inch of the Airstream Bambi has been thoughtfully created to meet all your requirements on the road. The model is also light enough to tow with an SUV, easy to fit into smaller campsites, and simple to maneuver. Plus, you will have all the comforts of the home following you everywhere you go.
6. Coachmen Galleria class b Motorhome
Mercedes and Coachmen RV combined their years of experience to introduce the Galleria Class B Motorhomes that provide the utmost luxury, quality, and value.
This 24 foot, 3-inch frame camping RV is one of the best for single-person camping.
The Galleria has been built on a 35000 Mercedes Sprinter extended platform with a V6 3.0L Turbo diesel engine. It provides 188HP and 325 ft-lb of torque while still offering excellent fuel economy. This will mean that you can drive assertively regardless of where you go.
Other features that make the camper suitable for single-person camping include the 100W solar panel, 2000 W Pure Sine Wave Inverter, and 330 AMP hour AGM battery.
This system powers the microwave and all outlets. It also features a Shower miser system that conserves gray and fresh water tank capacities using a simple flip switch. This makes the Galleria an excellent camper for single-person camping and boondocking.
For additional safety, the Galleria includes lane assist, blind-spot monitoring, and collision avoidance sensors. Heated side-view mirrors and a backup camera increase your visibility when in motion.
This RV is also popular among couples for full-time living.
7. Scamp trailer
If you love the idea of solo camping and lightweight trailer without the inconvenient setup, the Scamp travel trailers are a great option. Scamp travel trailers come in three different sizes, including 13, 16, and 19 feet.
Every size is lightweight and manufactured for maximum aerodynamic effectiveness. Although the three Scamp RVs are small and sparsely outfitted, you can choose from several interior décor and floor plans. Each model features fiberglass cabinets and melamine countertops with doors made from oak or birch. There are also several carpeting and upholstery options.
The smallest 13' Scamp model is popular with individuals and couples who want to enjoy camping fun without the struggle of towing a large RV. It comes with plenty of space. Inside, it measures 6 feet high, 3 inches tall and about 6.5' feet wide.
This camper can sleep two to three comfortably. So if you want a small RV for single-person camping that offers a combination of ease of towing and quality artistry, a Scamp trailer might be the best choice for you.
8. Little guy max Teardrop camper
The little guy max is another perfect choice for one person RVs. The travel trailer has a small footprint, but it is excellent on an adventure.
Taking several elements from its bigger model, the larger Max, this trailer comes with the same high-quality materials, thoughtful designs, and superior craftsmanship as the bigger Max. The Mini Max weight begins at about 2,000 lbs, which makes it a suitable companion for smaller vehicles and well-equipped crossovers.
The Little guy max, although small, is spacious on the inside. It comes with an interior height of 6' that makes it very roomy. Other teardrops trailers struggle to attain a height of over 5.8'.
Featuring a dinette that converts to a dual twin bed or a queen and a residential-style wet bath, the Mini Max makes the most out of every inch. Here you can have all the comfort and space by yourself when you go for a lone person camping. The interior is an adventure, from plenty of storage and charging outlets to pioneering entertainment features and LED lighting.
9. Pleasure-Way Lexor Class B Motorhome
When you think about heading for single-person camping, this Lexor Class B Motorhome will offer a genuinely first-class camping experience. These are first-class coaches made with high-end facilities that provide reliable, innovative, and stylish features. Each facet of the camper has been engineered to give excellent reliability and quality to all occupants.
The camping coach also comes with climate control, diagnostics, a 12-volt net gain/loss amperage meter, and LED lighting controls.
The interior is impressive with a private wet bath, a laminate interior that offers a waterproof, scratch-resistant, and durable interior and ultra-leather fabric. With this first-class coach, you will get stress-free driving, accessible and easy parking, and the ability to explore your path in single-person camping.
10. Cricket camper
Cricket camper is the single-person adventure trailer you have been waiting for. It has everything under one pop-top roof. This NASA-inspired trailer comes with a cool-angled roof and the overall shape of an astronaut-minded design.
TAXA has done its best to ensure the Cricket Camper trailer is lightweight with a dry weight of 1450 lbs. For single-person camping, you can take the camper anywhere you want without having to ask for a round of help from the neighbors to attach it. You will not require a big truck to pull it, and it will also not consume excess fuel consumption.
When it comes to the camper interior, you want something to enable you to stand straight up to relax in the great camping outdoors truly, and this is one of the cheapest and easiest ways to make it happen.
It has superior ventilation keeping your camper fresh and pleasant. Although the Cricket camper is a little brand, it comes with a fully functional living space, fitted with everything you require for an off-grid adventure. With queen size bed that leaves you with pretty of space to relax and lots of storage solutions, this camper has about everything you require for your solo camping adventures.
Should I rent instead of buying?
RV renting has become very popular in united states. There are several online platforms like RVshare, outdoorsy from where you can get a RV for weekend or even for months. Its an easy way to get access to whatever type of camper or motorhome you want.
So, how about just renting an RV rather then actually buying it? As a single person it can work out but a lot depends on you as a person and what plans you have with the travel. Here is a detailed guide on small RV renting.
Length of RV camping
A lot will depend on how long you want to RV. If you have plans of living full time or traveling for a long duration then owning a RV is the best approach. Renting an RV is great if you are going to use the RV only once in many months.
Owning an RV comes with all sorts of additional things like storage, maintenance, towing vehicle and so on.
Cost
Renting an RV can cost you anything from $50 to $900 per night based on type of RV you choose. Therefore, in terms of cost, it is not cheap unless you get a trailer that's on lower end of the cost spectrum.
Cost of owning an RV will also depend on the type and features you are looking for. Travel trailers can cost you between $12,000 to $80,000 on average. Small pop up campers can be bought between $6000 to $38000. Class B Motorhomes on the other hand are costly between $90,000 to $210,000 on average.
Conclusion
Today, trailer and camping life is becoming a large movement globally, with lots of road enthusiasts ditching their big trailers for small travel trailers. These are the ten best RVs for single-person camping that you should consider for your next solo adventure. Bigger does not necessarily mean better. It only means bigger, challenging to park, more maintenance cost, and harder to park.