Last Updated on :
Trailers are becoming widely popular and there is a wide variety of these trailers available in the market. With options like destination trailers, travel trailers and pop up campers, it can be confusing for you to choose the right one. Different trailers are for different purposes.
In this article I will cover all details about destination trailers comparing them with travel trailers as well.
Differences Between Destination Trailer And Travel Trailer
Destination trailers are quite heavy and are specifically designed to be at one location for a long period of time. Though not meant for much travelling and moving, they can still be moved when needed. Travel trailers on the other hand are meant for extensive traveling and camping adventures.
Moving destination trailers needs special towing vehicle with high capability. As the name suggests, they are meant to be at a destination for living there.
Travel Trailers
On the other hand, the travel trailer is meant for travelling more and is used for camping and adventures too. It is perfect for people who are always on the go as these travel trailers are more comfortable and safer than that of the tents.
They can also be towed quite easily across the road. They are also available in different sizes ranging from very small to large ones.
Main Difference
So, the actual differences between the destination trailers and travel trailers are – their weight, purpose and also the interior of the trailers. The destination trailers tend to have better and more luxurious amenities than that of the travel trailers.
They are also more self-contained than the travel trailers whereas the travel trailers are more convenient to move from one location to another much more easily.
But, both of them provide security with solid walls and doors with locks.
Who Should Buy Destination Trailer?
As mentioned above, the destination trailers are quite heavy and they are meant to be at one place for long period of time. These trailers are considered as tiny homes that can be moved when required but too often.
Most people live in destination trailer because of reasons like,
They do not want to own a home or cannot afford a home.
People who want to travel at a slow pace and see places.
People who want to save money over renting or owning a house.
Those who want to have a stable yet RV adventure lifestyle
Whatever could be the reason, its a great way to live and you don't ever think about what other's are thinking. Its your life and you get to decide how you live it. Its a great way to save money and travel at the same time.
For Long Term Stay
With all the amenities and features present like that of a home, it can be a perfect home for the long-term campers or even people who are looking for buying a home or renting one. It can be a cheaper alternative for buying or even renting a home.
Destination trailer is perfect for people or families who want to stay in one place or area for many weeks or months or even years. This trailer can be used as one permanent home as well as for seasonal homes too.
You can find a spot for your trailer and settle down for some weeks or months or seasons before you decide to hit the road again.
Be aware of below pros and cons of destination trailers.
They are meant to be stationary and go for it you plan living at places at least 3 months or more.
You will need a higher capacity truck to tow them or else need to take help from towing services
They cost a lot more than travel trailers and ordering one may take time.
You need to spend on campground for living with good amenities
Ordering custom built trailer could be a better choice but that costs a lot higher and takes time to build.
You get bigger RV like a home and yet you can travel if needed.
More luxurious specially when custom built.
Where to park your destination trailer for long term stay?
It all depends on where you want o stay. You need to have a space that you can occupy for long term.
You can park at a private land or a parking lot. But, its always going to be good to park at a place where you have all the basic amenities. The best place will always be a campground or campsite that has all facilities.
Obviously, you will need water and power hookup, sewer dumping and other basic facilities. RV campground memberships like thousand trails or boondockers welcome are great for finding campground for long term stays at lower costs.
Destination trailers are self contained and do have holding tanks for collecting the bathroom, sink and shower waste.
Who Should Buy Travel Trailer?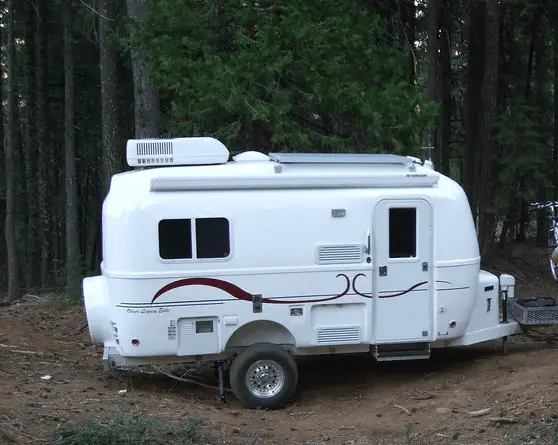 Travel trailers, as the name suggests, are meant for traveling from one place to another. Hence, this is ideal for campers and for people who are always on the go.
Depending on the size and other features, these trailers can have different amenities and benefits.
If you are someone who loves to explore countryside and city, then these travel trailers are ideal for you. You can take this to travel from one location to another or one city to another and park it somewhere to rest.
You can also stay there for few days before you hit the road again for the next destination.
Things to look for in a Destination Trailer
These trailers are a big investment and you need to be careful while choosing them. Here are some key aspects to look for.
Construction
When you are buying a trailer, you need to ensure that they are long lasting and can withstand almost all types of season efficiently.
Look for the trailers constructed with the best quality materials. Look at the floor, frames and walls. This also includes the wheels. You need to make sure that they are sturdy and enough powerful to carry the whole weight of the trailer.
Floor Plan
Different trailers come with different floor planning i.e. the placement of kitchen, bathroom and other rooms. You need to pick the right floor plan according to your needs and essentialities.
Each company provides different floor plans for a particular model. So, you can pick your favorite model with the right floor plan.
Security and Safety
The two most essential things to look for when you are looking for a destination trailer are the safety and security. For the security, you have to look for the doors and windows provided.
Are they strong enough? Do they have proper locking system? Make sure that you have some safety features too i.e. fire extinguishers, LP detectors and smoke detectors etc.
Amenities
When you are planning to buy a destination model trailer, it means you are planning to stay there for a long time. Hence, you need all the essential amenities and appliances that you will need in a house.
The bathroom should have a washbasin, shower area and toilet while the kitchen must have counters, gas oven and other kitchen appliances.
The bedroom and living room too should have all the essential amenities that you will need.
Capacity Or Accommodations
Not all trailers come in same size or capacity. The accommodation capacity can depend from on trailer to another. When buying one, look for the sleeping capacity in total. Will it be perfect for your family or friends?
Mechanical Aspects
After all these, you have to look deeper into the mechanical aspects of the trailer too.
You have to consider some of the important things like electricity, wiring, water heater, pump and air conditioning system. These are important for you to ensure that you can live in the trailer for a long period of time.
Top Rated Destination Trailers To Buy
If you are looking for the best destination trailer to buy for your needs and requirements, then you need to pick the best.
There is no doubt that this can involve a lot of money as the destination trailers are more expensive than any other types of trailers.
Hence, you need to ensure that you are investing your money in the right way and in the right place. Before you step ahead and buy one, you need to know who makes the best destination trailers and what factors you need to look for when buying one.
Where to Buy
The best place to buy a destination trailer is through a RV dealer located nearby based on which brand you are looking for. You can search online and order a custom trailer as well. Online website like RV trader, RVusa are great for searching used trailers.
Are you wondering who make the best destination trailers? Some of the best trailers are manufactured by Palomino, Forest River and KeyStone RV Company. Here are the best stationary RV picks for you:
Puma Destination Trailer By Palomino
This trailer offers you to enjoy your vacations and stays in a comfortable way. Whether you choose to spend a week or even months, this trailer can be a perfect option for you to choose by the lakes or in the mountains.
Check all the specifications and features here.
GVWR : 13413 lbs
Cargo capacity : 2704 lbs
Length : 42'1″
Height : 11'9″
Width : 9'6″
Fresh Water Capacity : 43 Gallons
Gray Tan Capacity : 99 gallons
Blank Tank Capacity : 69 gallons
With myriad of floor plans to choose from, this trailer offers the best leisure living to accommodate your family. It comes with residential-styled furnishing to make your getaway a perfect and most relaxing of all.
Forest River Cherokee
This is another option for destination trailers by Forest River Inc. with some amazing amenities and specifications.
If you are looking for a compact trailer that can serve you as a convenient option for staying as if you are at your home, then this is the one.
Check all specifications and features here.
GVWR : 11680 lbs
Cargo capacity : 1655 lbs
Length : 39'2″
Height : 12'10"
Width : 9'7″
Fresh Water Capacity : 46 Gallons
Gray Tan Capacity : 38 gallons
Blank Tank Capacity : 38 gallons
You can get the most of it and enjoy every bit of your day away from the everyday hustle and bustle of the city life. It comes with 8 different floor plans.
Keystone Retreat
This trailer is exclusively designed for utmost comfort and extended stays. With large living space and all the residential features, it can offer you a home-like stay away from your home.
Check all specifications and features here.
GVWR : 13059 lbs
Cargo capacity : 941 lbs
Length : 40'11"
Height : 13'5″
Width : 9'6″
Fresh Water Capacity : 53 Gallons
Gray Tan Capacity : 39 gallons
Blank Tank Capacity : 39 gallons
This destination trailer is loaded with all the essential features and some luxurious amenities that make your living completely stress and worry free. You can explore their floor plans and choose the one that perfectly fit into your needs.
Full-time living in a Destination Trailer
Many people ask whether or not the destination trailer is suitable for living throughout the year.
The answer is yes!
You can live full-time in a destination trailer but there are certain drawbacks. The space crunch and the limited resources are the two drawbacks.
Though these drawbacks are there, you can still manage to live throughout the year in a stationary trailer without any major issues.
Moreover, the trailers that are now available in the market come with some really advanced and amazing features. All these make your stay perfect and hassle-free.
Whether you love exploring cities and don't want to settle in one place or you want a cheaper alternative to stay, the destination trailer can be a great option. To live in a trailer throughout the year, you have to keep in mind certain things.
Stay Minimalistic
First of all, you cannot accumulate too many things in the trailer. Since there is a limited space, clutters can make it look even messier. This can also reduce the space to a great extent. You have to learn to live with minimal things that are essential.
Prepare for seasons
Secondly, you need to prepare yourself for each and every season. The destination trailers are constructed in a much sturdier way as opposed to travel trailers. As they weigh a lot and are made up of great quality strong materials, these trailers can resist almost all types of storms and calamities.
Though there are some perks of living in a destination trailer, you will have to ensure that you have the right way to protect you and your family as well as the trailer from different situations. These include storms, winds, hurricane, snow, rain and many more other natural disasters. You have to keep all the emergency tools handy.
For the summer season, make sure that your air conditioning system is working fine before the season approaches. If you are in a city where the summer is too hot, make sure to keep you water tanks full.
For the winter season, make sure your water heater is running properly. You also have to take care of the snow.
Most destination trailers are 4 seasons and are built keeping in mind all the seasons. However, it depends on the brand and model you choose. Sometimes the trailer may not be good enough if the quality of insulation isn't great.
Have right tools
Having a shovel or other essential tools for cutting or removing snow accumulations is important. You need to keep emergency LED lights, flash lights and lighter with you in case of any power-cut or electricity problems.
If you are well-prepared for facing each and every situation strongly and well-equipped, then you can surely stay in a destination trailer throughout the year without any issue.
Comparison Between Destination Trailer & Travel Trailer
Lets see the difference between the 2 in details. This will make things very clear for you. Knowing what you want from a trailer is utmost important before going ahead and purchasing it.
Price
While the destination trailers are made for more comfort and convenience, the travel trailers are made for camping and traveling around.
The destination trailers costs more than that of the travel trailers because of all the amenities and facilities it offers.
A destination trailer can cost you around $50,000 and above where as a travel trailer can cost between $20,000 to $35,000 based on amenities and features.
Weight
The weight of the travel trailers can range from as low as 3000 lbs. to a maximum of 6000 lbs. But the weight of the destination trailer will start from 10,000 lbs. and can go up to 13,000 lbs.
Layout
The destination trailers can come with different floor plans or layouts with master bedrooms, open spacious kitchens, living room, bathroom and a smaller bedroom too.
They are equipped with all the essential appliances like oven, fridge, sofa, TV, washing machine, dishwasher and many more.
But, in case of travel trailer, the space is quite crunched. They generally come with a TV, sofa, small open kitchen and one bed to sleep.
Dimensions
Destination trailers are normally lengthier at around 38 to 42 feet with a height of around 12 to 14 feet. They are more wider than travel trailers at around 8-10 feet.
They are generally bigger and people prefer them that way as they are stationary RV meant for less travel. This advantage of having a bigger size RV is great for full timing.
In case of travel trailer, the width ranges from 6 to 8 feet, height ranges from 7 to 8 feet and the length varies from 20 to 30 feet.
Amenities
Though the amenities differ from one destination trailer to another, these trailers are equipped with all the essential amenities.
These include the refrigerator, TV, sofa, microwave oven, dishwasher, king-size bed, air conditioner, water heater and many more. But the travel trailers only have the basics like bed, sofa, gas stove and toilet.
A lot of people go for custom built option where in they can include features like bunkbed, washer and dryer, outdoor kitchen and spacious bedrooms.
Since the trailer is going to be stationary for long period of time, a good thing would be to go for a big length trailer. Buying a big 2 bedroom trailer for a family would be a good thing to do.
Lifespan
The average lifespan of a travel trailer is about 10 years while the average lifespan of a destination trailer can range from 20 to even 25 years. Basic maintenance and occasional repairs will increase the overall life of a trailer.
Regular maintenance includes similar things like winterization, inflating tires, covering for snow, checking for water damage and redoing seals on the roof.
Just like other RVs, destination trailers do have high deprecation. They loose around 10-12% in first year and in subsequent years lose about 2-4 % per year. Comparatively speaking, they do hold their value better as they are stationary most of the times.
Towing Differences
As the destination trailers are quite heavy and bulkier than the travel trailers, it needs special towing service.
These trailers are designed in such a way that it offers your all the comfort or home and not much for mobility. They, generally, weight around 10,000 lbs. You may need a dually truck or a one-ton truck to tow or move the destination trailer from one place to another.
Destination trailers are meant and built for less mobility but even then they can be moved easily with most 1 ton trucks using proper towing equipment. They weigh 10,000 lbs or more but even then they may not require commercial towing vehicle.
On the other hand, the travel trailers are lighter than the destination trailers. They can easily be towed by a pick-up truck of any size with ample towing capacity. The average weight of the travel trailers range from 4000 to 6000 lbs. Hence, it doesn't need a special towing service like that of the destination trailers.
Vs Fifth wheel and motorhome
Comparing destination trailer with fifth wheel and motorhome is more like comparing with travel trailers. With 5th wheel or motorhomes you can travel a lot and also you get good space to live.
Park model RVs are more of a permanent homes with much more square feet area of around 400 or more. They are not meant for traveling and are to be deployed at a location for much longer stays.
Regula traveling with destination trailers
Even though these trailers can be towed easily, its always better to travel with them less frequently. They are originally meant for longer stays and travel only when necessary. Therefore, regular traveling with destination trailers should be avoided.
One can also go for a towing service to pull them. Such towing services charge less amount and its a better way rather than purchasing a high cost tow truck.
Setting it up at the campsite
Since you would be parked at the location for longer, you need to select a good space and avoid uneven ground. Level the RV as perfect as possible. Just like other RVs this is an important part of setup.
Conclusion
This is all about the destination trailer and travel trailers. Firstly, you have to determine the purpose for which you are buying a trailer. Is it for traveling and camping or is it for staying at a place for a longer time or even permanently? This will help you to take the right decision and pick the right trailer for your requirements.