Last Updated on :
This is a complete guide to help you on all things you need to know before buying a vintage camper.
Many people are becoming interested in purchasing vintage campers. Whether for the summer road trips or weekend camping, vintage campers provide you the greatest memories in your adventures.
However, before you buy a vintage camper, you need to ensure you have made a good investment. In this post, I will share with you the most important things to look for when buying a vintage camper.
What exactly is a Vintage Camper?
A vintage camper is a type of a travel trailer that has been around for a long time. Most campers are considered to be vintage if they are 25 years or older.
RVs in general can last a certain years and need restoration later on if you still want to use them. Travel trailers do not have engine and therefore, if you can renovate them, you can still continue to use them.
Vintage camper trailers weigh between 2500 to 3200 lbs on average
Is It a Good Idea to Buy a Vintage Camper?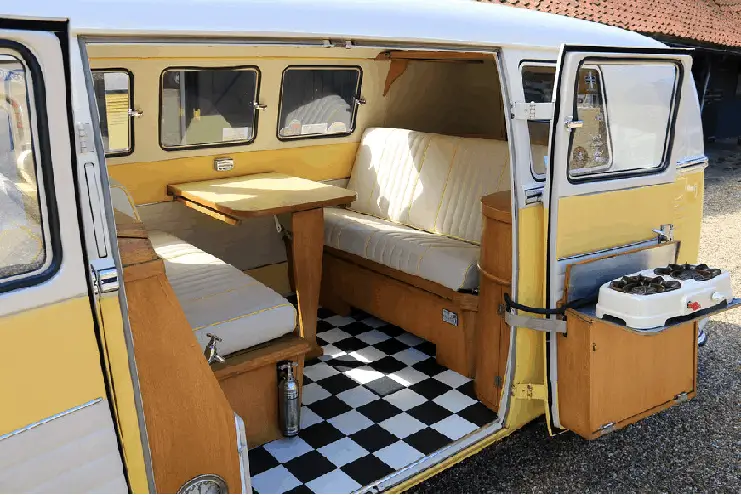 If you love adventures and seeing all the beautiful sights, you should buy a vintage camper.
Modern RVs are packed with high-tech and luxurious features for people to enjoy.
But, for vintage campers, they may not have all these features, but they still look great and will offer you all the fun you need while traveling.
Here are reasons why you should buy a vintage camper
1. You save money
If you want an affordable way to reach your camping destination, you should consider a vintage camper.
They are less expensive compared to buying new trailers. Once the camper has been renovated, there are no additional costs involved.
Vintage camper van or trailer can be bought in at a very less price unless its in high demand and thoroughly renovated.
2. They are charming
Everything about vintage campers is charming and cute. This is why they are so popular. They make the best photo backgrounds. Additionally, they look great when they are parked.
3. Easy to tow
Vintage campers are mostly smaller in size. This makes it easy for you to tow as you travel to your destination. In fact, they are so light, and you may not even realize if it's still there.
4. Easy to set up
If you don't have a lot of experience with RVs, you should buy a vintage camper. They are easy to set up due to their small size and design. Vintage campers are fully equipped with everything you need for your camping.
5. Different camping options
A vintage camper allows you to camp anywhere, anytime. This is most ideal when going on road trips. You will be able to park the camper anywhere, whether on the road or in a park.
6. They are comfortable
To make the best memories from your adventures, you should buy a vintage tracker. They are designed to offer you the comfort you need while you are away from your home.
Inspecting a vintage camper
Today, there are many vintage campers available. How do you know the right vintage camper for you? If you are planning to purchase a vintage camper, you need first to inspect it. Here are things to look out for.
Determine the Usage
Before you buy a vintage camper, you should determine how you will use it. This will help you decide on the right size, quality, and features that suit your needs.
In this case, you need to decide whether you need a vintage camper for weekend trips only or full-time camping. Also, decide if you want a vintage camper for yourself only or with your friends and family.
Moreover, if you plan to use your vintage camper on particular campgrounds, you should check out if there are any restrictions.
Have a Budget
When buying a vintage camper, you should have a budget. This will help you find one that you can easily afford. The cost of vintage campers varies depending on various things.
If you want a fully renovated camper, it will be expensive. However, this could reduce the costs of future repairs.
Once you decide to go for vintage camper remodel, make sure you plan it and have a budget before starting.
On the other hand, older models are more costly since they are in high demand. If you plan on renovating the camper yourself, you should be ready to take care of the costs that come with it.
To get a camper that is within your budget, compare different models, and find the best one. When buying a camper, you should not be in a hurry but take time to research and compare.
Look Out For Water Damage
One of the worst things you will get when it comes to a camper is water damage. Firstly, you should inspect the vintage camper carefully.
This is because, with most vintage models, it will be difficult to notice any water damage. If the camper has signs of water damage, it will first need a complete renovation before using it on your next trip.
The cost of repairing water damage can be costly, and you need to avoid such campers. Thus be careful when checking every inch of the vintage camper you want to buy for water damage.
Most vintage RV owners understand that water damage is a serious thing when it comes to selling, and they will try to hide the water damage by giving it a new painting.
Therefore, you need to look out for:
Water stains in the interior of the camper
Repainted walls
Leaking on the floor
Leaking in the ceiling and the walls
Ripples on the interior walls
Rotting in the cupboards
Inspect the corners where the walls meet
Check the vents for proper functioning
Inspecting the Floor
When buying a vintage camper, the floor is one of the key things to inspect. The floor should be solid enough without any soft spots. A good floor should last you for long and provide support for all your adventures.
Moreover, replacing the floor of a vintage camper is not easy, can be costly and time-consuming.
If you buy a camper with a weak floor, you will be forced to replace it before you go camping. Replacing the floor involves removing the seats, beds, and all pieces build on the floor.
Check for Electrical Damages
Electrical damage can be serious when it comes to a vintage camper. When inspecting the camper, ensure the electrical system is working and everything is in order before you buy it.
It is good to verify all the electrical appliances are fully functional. When camping, you will need a vintage camper with a properly installed electrical system for your comfort.
Dealing with electrical damage in a camper can be challenging. Firstly, you will need to remove the interior walls to know the root cause of the problem.
Secondly, you will need to call a professional electrician for the work, which will cost you more.
Inspect the Exterior of the Vintage Camper
When buying a vintage camper, you do not only inspect the interior part but also on the outside.
You should take a good look at all the exterior parts to see if it's in proper shape. Check if there are cracks, dents, and leaks.
Though vintage campers are quite old, you should ensure you find one that is stylish and attractive even on the exterior.
Check Appliances and Propane Lines
Next, you need to check if all the appliances in the vintage camper are functional. You can start by inspecting if the fridge and stove are working. With this inspection, you will have an easy time during your trip.
If they are not working properly, you will need to make expensive repairs.
If the fridge and stove are working, then the propane lines are in good condition. If the propane lines are faulty, then your safety will be at risk.
Other things to check include water lines, bathrooms, and holding tanks. You can test all these things to confirm they are in good condition.
Look Out for the Tires
Your safety and that of your vehicle depend on the tires of the vintage camper. You should inspect the tires to verify they are in good condition and that they are not popping out with wires poking out. You should also check if they have a good tread.
Vintage campers' tires can be very expensive to buy. You should avoid campers that you will need to change the tires.
Instead, buy a camper that has well-maintained tires that are meant for campers. Additionally, the tires should have all the necessary accessories and make sure the lug nuts are tight.
Original Windows and Glass
It is best to ensure that the vintage camper you choose has original windows and hardware. For vintage campers, it can be difficult to find windows that match well with the trailer.
To get replacement windows and hardware, you should visit a vintage trailer store. However, you will need to incur additional charges for the windows, removing the existing windows and installing new ones.
On the other hand, you should check if all the glass is intact. Moreover, you should check carefully if the original glass has been replaced with cheaper alternatives.
Replacing vintage glass is expensive and even hard to find. Test the windows by checking if they can open or close easily.
Axle
For vintage campers, always check the axle. The axle, bolts, and springs should be in good shape. This ensures you have a safe and smooth ride and that the camper does not break down in the middle of the road.
Look for Signs of Mold
Even though the vintage camper does not have any signs of water damage, molds indicate water problems and leaks in the camper.
Therefore, you start by checking spots such as the ceilings, floors, walls, and corners if there are any signs of molds. Furthermore, you should inspect the bathroom, cabinets, and closets and see if there is mold.
Another way to know if there are molds is bad smells. If the vintage camper has a bad odor, it can be a sign of mold, wet wood, wet fabric, and urine from rodents.
If there is mold in the camper, it means that there is water damage, and you should not buy that camper. It can be difficult to get rid of the mold in the camper, and they can cause respiratory problems.
Title
Lastly, a title is a basic thing when buying a vintage camper. You should ask the camper owner if they have a title for the camper.
To have an easy time with the title, you should consider a camper with a title in the name of the seller. This is because the paperwork will be minimal.
However, in some states, it is easy to get the title while, in some, it can be a total nightmare. So as you shop for a vintage trailer, always keep in mind about the title.
Do you need to Renovated the camper?
When buying a vintage camper, you should consider about renovations before purchasing it. Vintage campers are quite old, and most of them will require repairs and maintenance.
Even if the camper is in good shape, some parts will break down, and you will need upgrades and repairs. These renovations are expensive, and you should set a budget to take care of the upgrades.
You may need upgraded and repairs on things like,
Rewiring the lighting
Changes lights
Brake light replacements
Storage door latch replacements
Floor cleaning and removing stains
Roof vent replacements
Tire replacements
Trailers hitch repairs
Trailer brakes replacements
Door rework
Working on the furniture like couch, dinette
Replace or repair kitchen items
Shower head replacement or cleaning
Faucets cleaning
Awning repairs
Replacing carbon detectors, fire extinguishers
Sanitizing tanks, hose
Additionally, you need to consider if you will get professional repairs or DIY. With Do It Yourself, you will need knowledge and expertise in electrical, welding, woodwork, plumbing, and welding.
The renovations need time for the camper to be in perfect shape. They include buying the parts and installing them, which may take more time than expected. With this, you will need to be patient enough before you can start using the camper.
You cannot consider vintage camper renovations without a budget. To know how much you will spend on the renovations, you should inspect it and find out what needs repairs and replaced.
Water Damage Repairs
Most of the vintage campers will have water damage, that's the sad truth. The important thins is you should know about it and it could be harder to find the water damage itself.
Most people who jump to buying a vintage RV have no idea about this and they do not realize that painted walls can actually have these damage underneath.
In such a situation, the renovation or repair can be tough job depending on how much is the damage. Some times you may end up building the camper fully. So, be aware of this fact that water damage is far more common in old vintage trailers.
Inspect and look for water damage at all the possible places like,
Door
Windows
Roof vents
Cabinet gaps
Ceiling
The stains of such a damage could be hidden behind jobs that were done to look it good. Inspect every corner in the interior of the camper.
Dealing with Asbestos
Asbestos were used in building vintage trailer prior to 1987 after which they were banned in the US. Asbestos are harmful when you inhale it and can cause health issues.
Asbestos can be present in loose insulation or adhesive or vinyl tiles. So, be careful while working on restoration of hard floor. Wear PPE while dealing with such restoration and assume asbestos are present.
Best Vintage Camper Brands you can buy
If you are looking to buy a vintage camper and don't know which one to buy, check out the list of options that are already popular among other RVers.
Airstream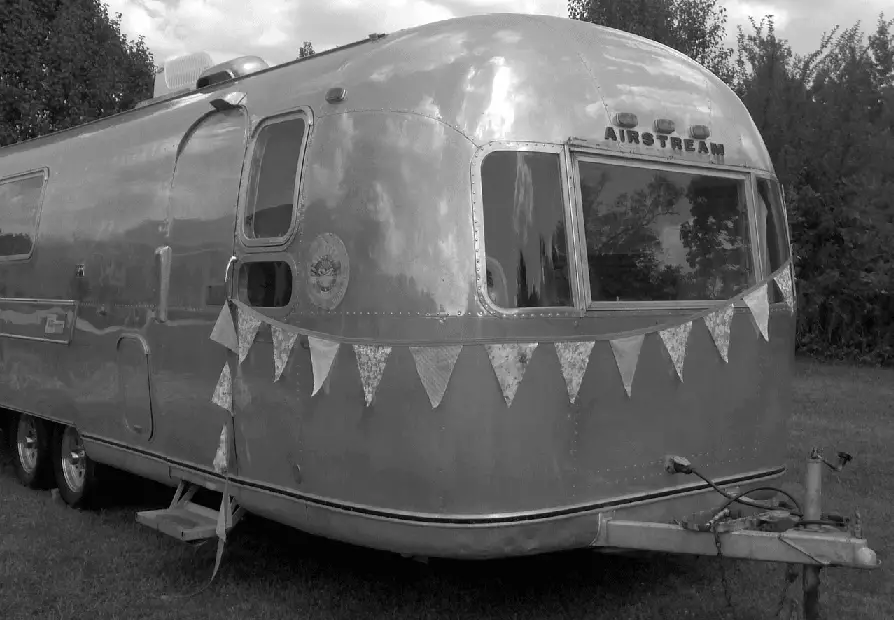 This is by far the best vintage camper you can buy. Airstream are a very old company dating back to world war II. The most exciting thing about vintage airstream is, they last very long.
Their body is made up of aluminum and that makes them easily recognizable. A good thing about owning an airstream vintage trailer is, you will be better off renovating it.
Their parts are easy to find because of their popularity and they are still in business making new models.
An old airstream will be in good shape and sometime you may have to work on its floor. There is a huge community of airstream and there are people who can help you on forums as well.
Scotty trailers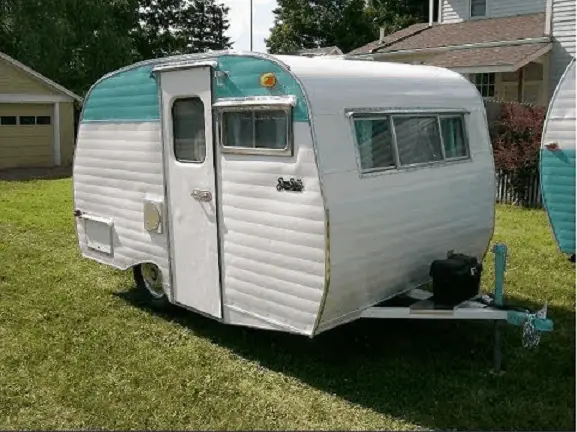 This trailer making company was started in 1956 by John Serro in irwin, PA. Once you acquire one of these you may have to work little harder in getting it to life again.
The walls, roof and interior will generally be rotted. It does lasts long but you will need renovation for sure. The exterior will need polishing and repainting.
Burro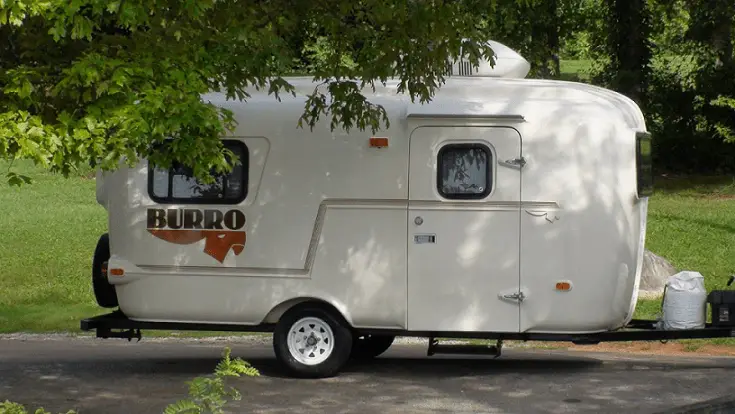 I see listing of these campers too often on vintage sites. These fiberglass campers are good for renovating. Their fiberglass body can last very long. They are small and very popular among vintage camper lovers.
They were manufactured in late 70's and early 80's. Their good construction has tested time and now, as a vintage camper you can own and renovate it. There is good demand for these and after renovating, may be you can sell it for higher price after you are done using it.
Spartan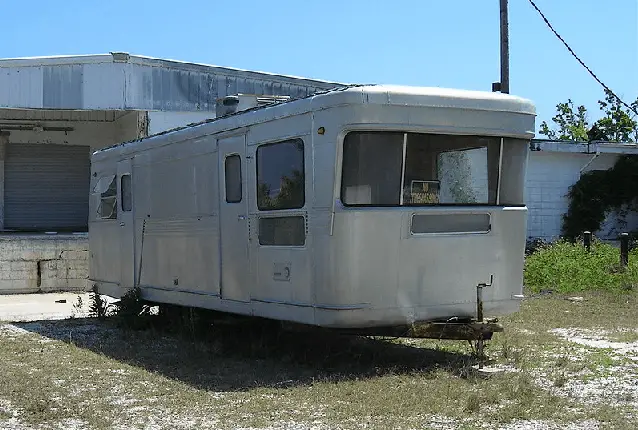 These are similar to airstream, made up of aluminum. One thing that distinguished them is their large size. They made some of the largest trailers in RV industry. They shut down in 1959 and hence their parts can be hard to find. Airstream parts can be used as substitution while renovating them.
Vintage Shasta StarFlyte Camper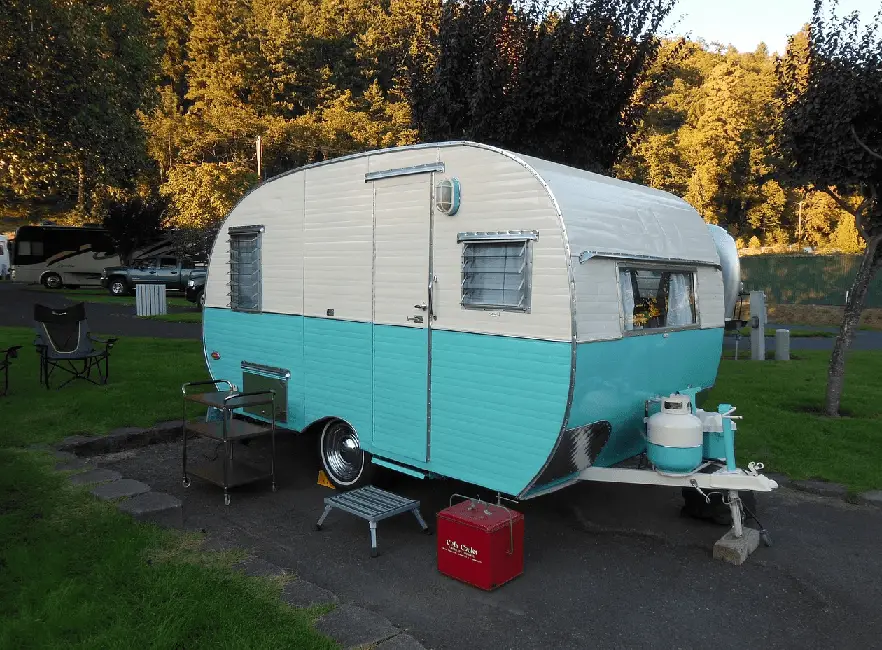 This is another vintage camper that you can consider. Its a classic 1950's camper trailer that people want to buy. Do check out for this brand on sites and forum. You will need good restoration before you start using it. I see ads stating "vintage shasta camper for sale" a lot of times of sites.
Vintage Style Campers that are Actually New
Do not want to buy an old real vintage camper and renovate it? But, still want to have that classic vintage look and feel in your camper?
If yes, then below are your best options. These RVs have vintage camper look and feel but are actually new.
Happier Camper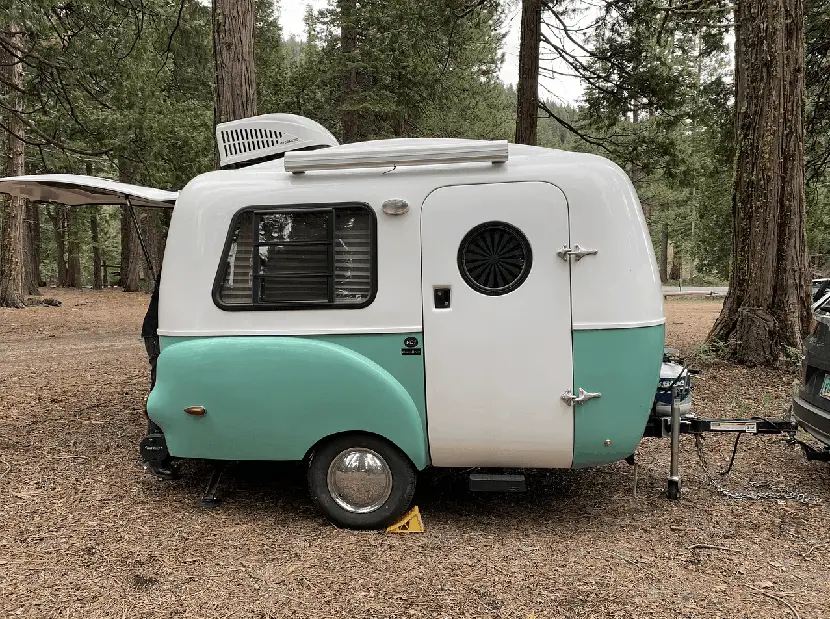 These are cute little campers that have awesome looks. They are adorable and if you love owning a small low weight trailer with vintage looks then this is the one for you. They are costly but are a perfect option if you want something special.
Scamp Trailer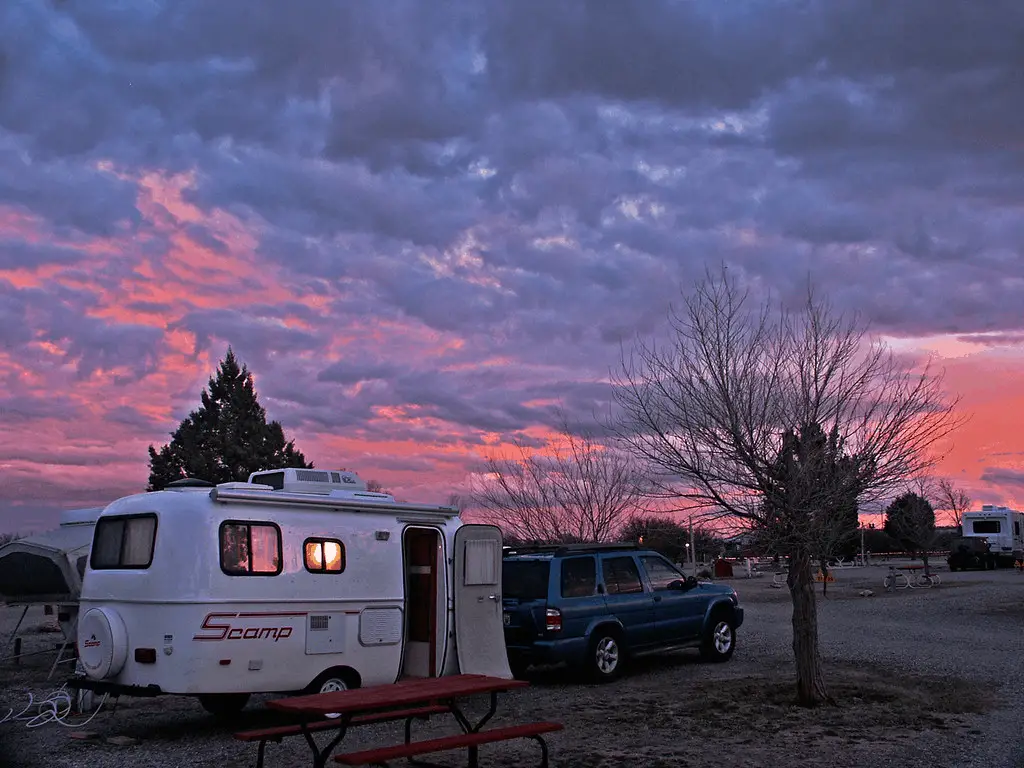 This fiberglass light weight trailer is very popular and a lot of people prefer these due to their good features. You can trust these trailers as they have been making Rvs since early 1970's. They know exactly what it was like in that era. Who else would you trust then the ones who actually did it.
River Side Retro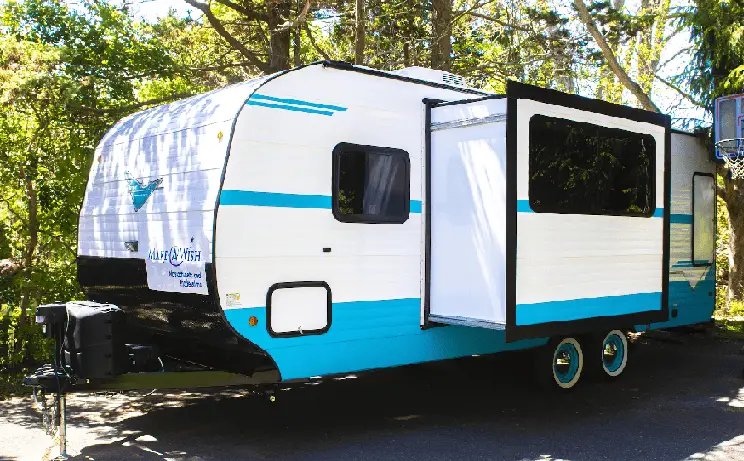 They make vintage style campers that look like classic old RVs. Their design are really cool and makes you feel amazing. The color schemes and interior are really cool.
Gulf Stream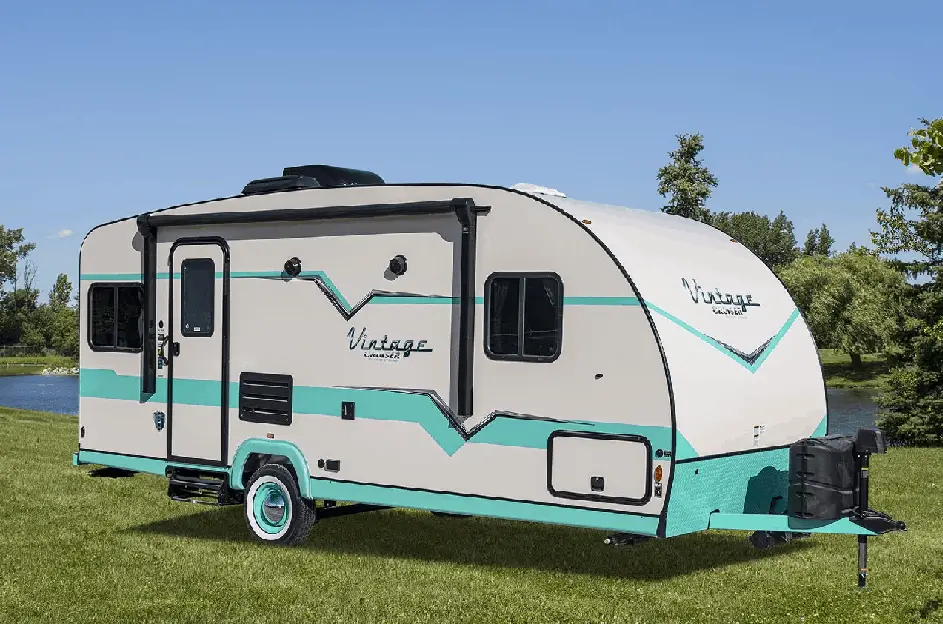 The vintage camper made by gulf stream is a replica of styles in 1950's. Its a perfect camper for those who don't want a renovating job on real old campers and yet have that style of living. Go for it.
Now lets look into details on how to find a vintage camper.
Where Can You Buy a Vintage Camper?
You can easily find a vintage camper without much hassle. One of the fastest ways to buy a camper is online. You will be able to see a variety of sellers, their photos, location, and prices.
You can also buy a vintage camper through referrals from your friends and family members. You should compare deals from various sellers to find a reputable one. When looking for a vintage camper, you need to have patience and be flexible.
Lets check out some of the online website where you ca start your hunt for a vintage camper.
They have big listings of vintage campers and a perfect place to find one for your next trip. You don't have to login as a member to do the search. just go to their website and search based on your zip code.
You can find details like contact details of the owner and camper details. Best part is you can directly contact the owner and carry on with the deal.
Owners generally post several pictures but if you still need more details then you can reach out to the owner directly.
They have it in their name, don't they. This is not only the place to find you next vintage caper but also a place to get your camper restored and renovated. You can also post ads for wanting a vintage camper and people will get back to you with their deals.
You can buy vintage camper appliances, parts here. Do contact them if you want help in restoring the camper as well.
This, as the name suggests an airstream buy/sell place. Its not necessarily for vintage campers but as you know airstream is a very old company. You get airstream trailers that were built several years still running nicely on roads and hence an airstream is a great vintage camper you can buy.
One of the great things about airstream is its body. Its made up of high grade aluminum that really keeps it in great shape over a very long period of time. On an average airstream lasts for more than 30 years and yet they will be as good as new.
As far as this site is concerned they have forum and classified ads where you can find people listing their airstream. Definitely a great place to find your next vintage airstream trailer.
Want modern luxury fitted inside a classic 50 year old designed RV? If yes, then flyte camp is a perfect RV maker for you. They specialize in making those campers that have look and feel of 1950's and 1960.
In early years of RV in 60's and 50's natural materials were used in making RVs which later shifted to more synthetic materials taking away that feel. Flyte camp makes an effort in you giving you that back.
Their team puts work in making RV the way it looked those many years ago. They help you in restoring and renovating old RVs to restore their glory. They are definitely putting work in keeping the American history alive.
This is another great site for searching old vintage trailers. People post the campers that they want to sell. They also organize rally's or events where you can reach out to other sellers.
The site itself has a look and feel of vintage and that's what interested me. Do check out this site as you may find a real deal here. Although the site doesn't has many listings a once in a while listed camper can still be yours.
This is a place where all sorts of things are put for selling and auction. I am sure this was on your mind even before coming here.
Ebay is surely a place for getting some awesome old stuff but you need to be careful as scams do take place on this platform. Its not the platforms fault, you need to be carful enough in choosing the listing.
Be sure to check out here but more importantly be sure to figure any scam.
Just like ebay, this is another platform where everyone comes too often to buy used stuff. People list their vintage camper van and trailers here and you can find your next dream camper here. Check out the details, pics before you contact the owner.
Its a very simple to use site where in you filter based on your location. It is also an art to find exactly what you want.
Sometimes you may spend whole lot of time and yet don't find anything as per your need. There are tools that can help you getting notifications as well.
Look out for vintage camper for sale ads and reach out the owner for further details.
Facebook is a hangout place for all sorts of people. RVers do have groups and this a perfect place to get real good deals.
Join such vintage camper or general RV group and you are bound to find something very special.
Yes, it will take time until you see that post that's exactly for you. Your search time may go on for weeks and months until you come across a good deal near your location.
Forums
There are several RV forums where RVers discuss and share things relating to RVs. You need to have patience until you see someone throw that camper availability as a comment or post somewhere.
There wont be ads of vintage campervan's but you can definitely get someone showing interest in selling their vintage camper.
You yourself can start a thread letting people know that you are interested in buying a vintage camper. Believe me these are real people talking real thing and you are bound to find good leads.
You also get to connect with people in the community and there will be someone somewhere who will have idea on this.
Buying directly from owner is always a good idea as you get good deals without any middle man.
Before you finally decide to buy a particular vintage camper, make sure the seller is reliable. This is especially if it's your first time buying a camper. With a reliable seller, you will avoid scams and enjoy the best deals.
Cost and Best Options
The cost of vintage campers depends on the models and the condition of the trailer. If the trailer is already renovated by the owner, the cost will be high, but for those without any renovations, they are cheaper.
For renovated vintage campers, their prices range from $8,000 to $70,000. For vintage campers without renovations, their prices range from $1,000 to $15,000.
However, even if it is cheaper to buy a non-renovated camper, you will spend a lot of money to renovate it to a fully restored vintage camper.
The cost of renovating a vintage camper ranges from $1,000 to about $10,000. The best options for vintage campers will depend on your budget and your camping needs.
You can use NADA guide to know the actual worth or price of the camper
Mistakes to avoid while buying/renovating a vintage camper
Buying and renovating a old vintage style camper can lead to frustration and waste of energy if things don't fall in place properly. Here are few mistakes you need to avoid.
1. Buying without proper inspection
This happens to almost every buyer. Unable to figure out and locate water damage will lead to extra spending on getting it fixed.
Do not buy the camper unless you are sure about all the problems it has. If you are buying for a project like DIY renovation then sure go ahead, at least you know how much it will cost you.
2. Do not underestimate the renovating cost
Renovating a camper will depend on many factors. If you are new at this then be sure you talk to a professional on how much it will cost you. There are professional services who deal with this.
A simple fix inside a trailer may ultimately cost you a lot. So, be sure to have a near correct estimate. Not knowing what all problems the camper has can lead to underestimating.
3. Renovate all at once
This is good practice as it will reduce the overall costs. If you keep doing small-small project then the overall cost and efforts will be much higher. Just take out some time and get it done once and for all.
Sometime such projects can take a whole lot longer and therefore you need to plan for it. If its going to be a months time then be it. Just plan the renovation and get it done.
4. Take professional help
If you are not comfortable doing it yourself or has no idea on how to get it done reach out do people who can do a better job.
Its no good to destroy it without proper knowledge. Just reach out to people who can help you at a reasonable price. There are lot of DIY RV restoration services out there.
In Conclusion
Buying a vintage camper involves planning, inspecting, and budgeting. Once you consider all the above guidelines, you will be a proud owner of a vintage camper.