Last Updated on :
When it comes to adventures, camping and kayaking go hand in hand. Kayaks are a good way to make your camping exciting and memorable.
However, as a new RVers you may have this question, "how to carry the Kayak on RV".
It is possible to carry kayak on an RV. However, you need to check if your camper is capable of carrying that extra weight. Since a kayak would be placed on the exterior of the RV, it is essential that it is secured properly and wont pose any risk while traveling.
Fortunately, there are different options designed to help you carry a kayak safely on your travel trailer. These options offer convenient carrying, loading, and unloading of your kayak.
Carrying Kayak On RV
Normally, kayaks aren't that heavy. On average they weigh around 20-100 pounds. Fishing kayaks are heavier with more than 120 lbs. What method you will use depends on the weight as well.
There are multiple ways to carry a kayak on an RV. The best and popular options include strapping the kayak on the ladder at the back side of the RV, on the roof using a roof rack or on a kayak trailer behind the RV.
Lets check these options in detail.
1. Transport using a Kayak Rack
Best way to easily carry your kayak on your motorhome or RV is by using racks. There are kayak racks that are specially designed to hold the kayak in the right position on your RV.
When buying kayak racks, ensure that they fit well on your trailer hitch. The advantage of using kayak racks is that they are easy to install and take off. You can use these racks to carry your kayak either at the back or on the roof of your RV.
To use kayak racks, you will need to have a hitch on your RV. For those RVs that do not have a hitch, you will need to first install the hitch to use the kayak racks. However, the biggest drawback of kayak racks is that they are expensive, but once you buy one, you can use it for a lifetime.
2. Get a Roof Mounted Rack for your RV
The third option for transporting your kayak on your RV when you go camping is to get a roof-mounted rack for your RV. Getting a rack mounted on your travel trailer or camper is easy, and you can do it yourself.
However, you should be careful to ensure you fasten it correctly. This is to ensure that your kayak stays in position even when you are traveling at high speeds.
The good thing about an RV roof rack is that you can transport other things apart from your kayak. Furthermore, the roof racks allow you to carry large items such as water containers and large luggage.
You can easily find an RV roof rack online. Most of them come with guides on how to install them based on your RV.
3. Use Kayak Trailers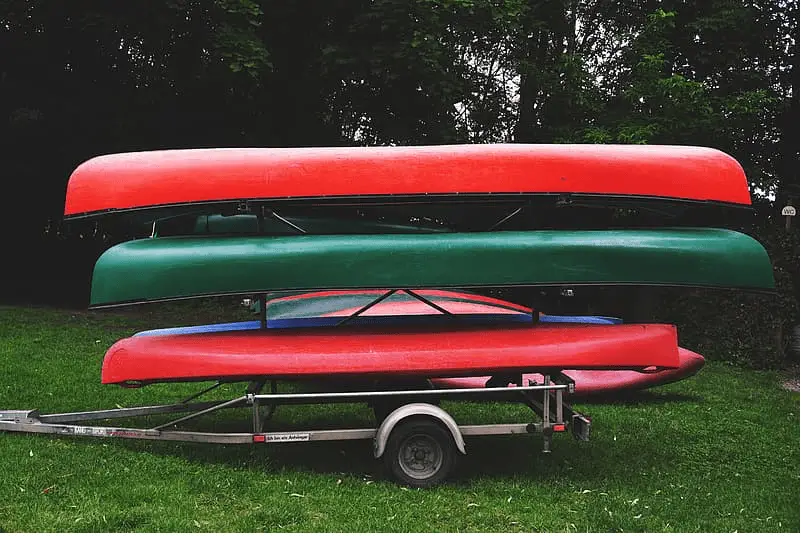 If you enjoy kayaking much often, then you should consider getting a kayak trailer. Though they are a bit pricey, kayak trailers allow you to carry more than two kayaks.
Kayak trailers are convenient in terms of loading and offloading the kayak on top of your camper. Kayak trailers are ideal for people with experience in kayaking. This is because there are varieties of kayak trailers available in the market, and you should know the best option for you.
With kayak trailers, you can carry any type of kayak as you travel to your campground.
The good thing about kayak trailers is that you can buy a ready on in the market, or you can get a custom made that suits your kayak. With custom made kayak trailers, you will get the right weight, capabilities, and size that suits your kayak.
4. Carry Kayaks on the Roof of Your RV
While it is recommended that you get a roof rack to carry the kayak, you can still carry it on the roof of your vehicle. This is an affordable way since you do not need to purchase racks.
The only things you need are pool noodles to secure the kayak and protect your RV from damages.
To get started with this option, you will need to measure the length of your kayak against your RV roof. Then put the pool noodles on all the ends of the roof. The pool noodles are used in place of a regular rack.
Therefore you should position them where the rack would be placed. Then place your kayak on the pool noodles correctly and fasten the ratchet straps on each end.
To secure your kayak against falling off due to wind and speed, use as many pool noodles as possible. Also, ensure the straps are well tied.
Its easy to bring a kayak when you are traveling in a fifth wheel. One can carry a kayak on fifth wheel by placing it on the roof of the towing truck or by placing it at the back or at the top of the 5th wheel.
Although a truck can be used to carry multiple kayaks by tying them in the bed, same is not possible with fifth wheel as the bed is used by 5th wheel's front hanging part. If you are using truck to tow a travel trailer then it is possible to use the truck bed for carrying the kayak in the truck bed. For 5th wheel you can use the top part to place the kayaks there.
Bigger class A motorhomes have big storage ad thus one may keep kayaks inside them.
Carrying kayak on a pop up camper
Most outdoor enthusiasts who go boondocking with pop up camper often carry their kayaks as well. But, it could be little difficult to do this with your small pop up.
The best way to carry a kayak on pop up camper is to place it on the roof of the camper when it is folded down. Then you have to secure the stern and bow. Its not a good idea to drill holes on the roof as it may lead to leakage even though you seal them.
For truck campers, the best place to transport canoe or kayak is roof. You can install a kayak roller/saddle and a roof bar for bringing longer kayak or canoe.
5. Carry the Kayak on the Back of Your RV
Most RVers carry their kayaks by strapping them to the ladder located at the back of the RV. This is one of the easiest options for carrying kayaks on a motorhome. You can use straps or cords and hook the kayak on the ladder.
With this option, you do not need to tie knots on the ropes, making it easier to take off the kayak from the ladder. However, you need to ensure the straps are tight to prevent the kayak from slipping off on the road.
The straps are also used to keep the kayaks in place to avoid scratching the RV. With this method, you will only be able to carry one kayak on your RV. If your RV does not have a ladder at the back, this method will not work for you.
This method of transporting kayak is best suited for class B, class C motorhomes and even towable RVs.
6. Carry Inflatable Kayaks
One of the easiest ways to carry a kayak in your RV is when it's inflated. This is a good option for smaller RVs that do not have enough space for a kayak.
Additionally, these inflatable kayaks are lightweight, which makes them easy to transport on your RV. You can easily pack an inflatable kayak into a bag and store them in the storage space in your RV.
The best thing about inflatable kayaks is that there are various brands and models available in the market.
Best Kayak Racks for RV
Here are some of the top kayak rack brands that you can consider.
1. Thule Compass Kayak Rack
This is one of the best kayak racks that you can get. They are highly versatile, and you can carry more than two kayaks at the same time. You can carry one kayak in J-style or two kayaks in stacker mode.
This kayak rack is made of durable stainless steel materials thick rubber saddles for maximum protection.
It comes with straps that help you to load and unload the kayak easily and faster. You do not need special tools when installing this rack on your RV.
It can accommodate kayaks with a maximum weight of 130lbs and a width of 36 inches. This kayak rack has to fold down features so that you can store it easily when not in use.
2. VertiYak Kayak Rack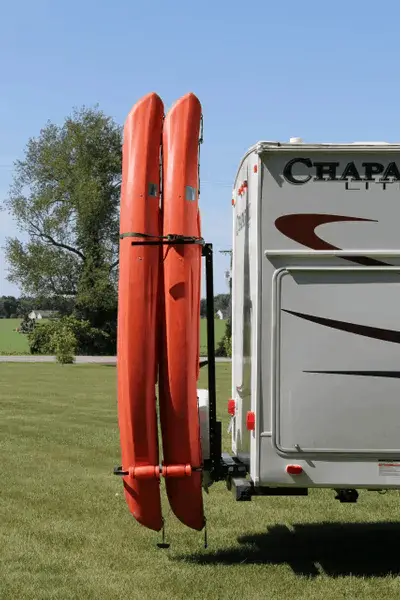 If you want a budget-friendly kayak rack, you should consider this rack. With this rack, you will need a hitch on your RV to carry a kayak. This is because it carries kayaks using a hitch mount vertically. With this rack, you will be able to carry up to two full-sized kayaks on your RV.
It comes with a solid metal construction that ensures that your kayak remains in position. To use this rack, ensure that there is a clearance between the ground and the kayak.
This is because it does not come with a protective cradle for the bottom of the kayak, which may cause scarping the ground and causing damages to your kayak. The advantages of this rack are that they are lightweight, cheap, and easily folds up when not in use.
This rack can be used to transport 2 kayaks.
3. Thule 830 Stacker Kayak Rack
This is a simply designed kayak rack that you can easily load and unload from your RV. It is ideal for RVs that have a rooftop rack and crossbars. This is because you will need to tie the kayak down to the crossbars of the roof rack for support.
The best thing about this kayak rack is that it can carry up to four kayaks with 75 lbs and a width of 36 inches.
This rack is made with a scratch-resistant outer coating. It comes with fold-down features so that you can easily collapse it when you are not traveling with your kayak.
It has a very sturdy build to ensure it lasts for long and that your kayak is well secured when traveling. It does not occupy much space on your RV roof so that you have more space to carry other roof-mounted items on your RV.
4. Yakups RV Kayak Rack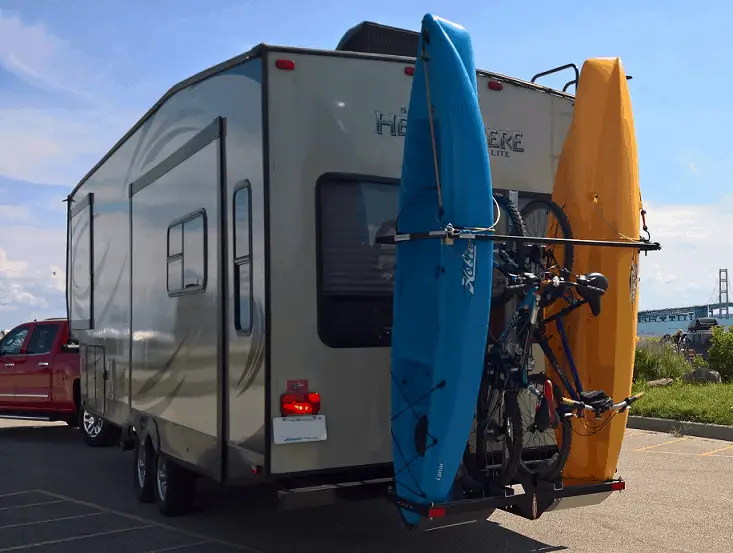 This is one of the best hitch mount kayak racks for your RV. It allows you to carry your kayaks vertically at the back of your RV. It can carry up to 4 kayaks, each with a width of 32 inches.
It is ideal for lightweight kayaks since its lightweight and cannot be able to accommodate a lot of weight. The rack weighs about 108 lbs and has the option of a bike rack.
It gives your kayaks a snug and tight fit to ensure they remain in position as you travel. They are also compatible with most of the hitch receiver swing arms.
The swing arms maximum load should be less than the weight of the rack. Lastly, with this rack, you will easily have access to your kayak, and loading and unloading are much easy. The downside of this rack is that it is expensive compared to other racks.
Can You Carry Two Kayaks on RV
It is possible to carry two kayaks on an RV. All you need is to buy a rack that can accommodate two or more kayaks easily and conveniently. Moreover, if you want to carry more than two kayaks on your RV, ensure they are lightweight and smaller in size to be able to fit well. You can also find a kayak trailer that can accommodate two or more kayaks.
Some people also transport their kayaks inside the camper. A 10 foot kayak can easily fit inside one of your motorhome or travel trailer room. Just strap them with ratchet strap and you are good to go.
Since most kayak don't weigh much its easy to decide on where to place them. If you are one of those who like to go kayaking every now and then, then its better to have permanent solution like at the back side or on the roof of the camper.
Having a toy hauler RV can make it very easy for you to carry a kayak or a small paddle boat. Bigger fifth wheel toy hauler or travel trailers are capable of carrying such special toys.
Some DIYers also make their own kayak racks. This is a project for only those who have hands on knowledge on building such racks.