Last Updated on :
Having internet in your RV is needed more than ever before. Streaming videos, browsing, connecting on social media needs a very good speed internet.
Thus, RV owners require essential services internet and Wi-Fi at campgrounds. In current times, more and more RV Parks owners are installing WIFI in their sites to cater to this group.
A reliable internet connection enables RV owners to work while at the park and also keep in touch with their loved ones.
When you get your RV for the first time, its obvious you have below questions.
How do i get internet in the RV?
What internet options are better when moving in the RV?
Do RV parks have Wi-fi internet options?
Do RV Parks have Wi-Fi and the Internet?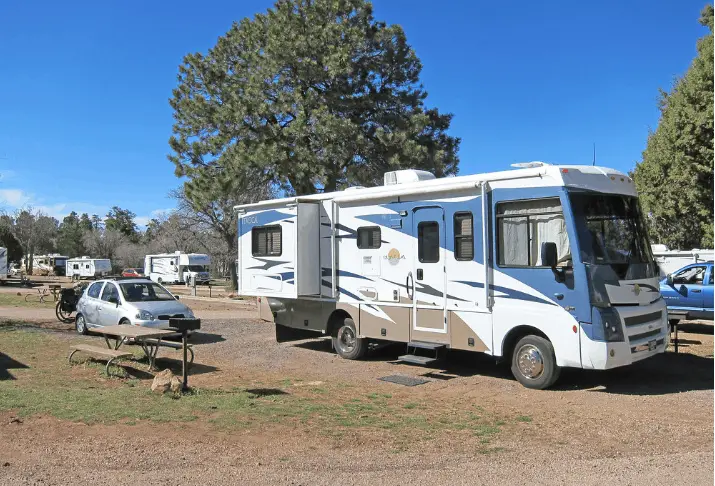 Yes, RV Parks have Wi-Fi and internet. The park owners install Wi-Fi in their parks and provide the service to visiting RV owners.
Having said this, all RV parks may not have internet facility, so do check before planning. Also, the internet speed may not be what you want or generally use.
Charges : Instead of charging it separately, most people include Wi-Fi charges in the overall costs of camping at the RV Park.
If you depend a lot on internet and do work while in RV, then its better to have your own internet connection. Relying on RV Camprground for internet may not be great if you need high speed internet too.
Especially, you are Full Time RVing then having your good speed internet is a must.
Read : What Amenities do RV parks provide
Lets find out your various Internet options as an RVer and also what type of internet you get at a campground.
Types of Internet Connection for RV and RV campground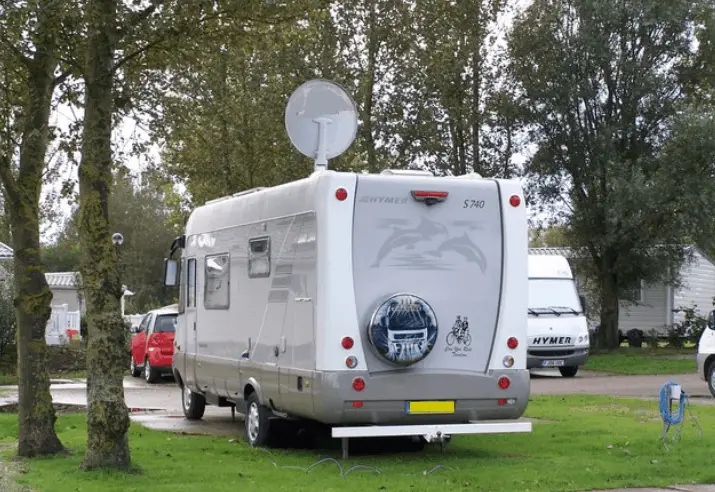 There are several internet options to bring internet services in an RV and RV Campground. One can stream videos on Netflix or also watch TV.
Satellite
This is a costly option for internet connection, but it works best in remote areas. Satellites work even in areas without a conventional internet connection, such as in the wild. The park owners mount a satellite dish at an elevated level for better connectivity.
The RV owner can have a similar satellite dish in their vehicle, but can become tiring as they have to mount it on top of the RV whenever they need the internet.
If you do not spend a lot of time in one location, there is no need to bring a satellite with you since you will not be able to use it unless you are camping.
Expensive : Acquiring a satellite and dish is expensive to most people; also, you incur an extra cost in the form of a monthly subscription. However, for an RV park owner, he shares the cost of a subscription with campers who reside at their sites.
Public Wi-Fi
This is the most common type of internet that is available. A lot of coffee shops, truck stops, and RV Parks have this option.
The speed and connection quality depends on the subscription package of the RV Park owners. Once an RV owner checks into the park, they are supplied with the Wi-Fi password to use the internet while at the camp.
Good Option for Low Use : Public Wi-Fi is a good internet option in an RV Park for campers who want to check or send some emails. It keeps the RV owner updated as they can communicate with people in the office or their family back at home.
Cell Phone Tethering
While at an RV Park, you can use the service on your mobile phone to get an internet connection. Most phone carriers and providers have the option of internet hotspots on phones.
The cell phone creates a Wi-Fi network that enables you to use other devices such as a laptop or a tablet.
The phone uses a data connection to access the internet. What this means is that the link is dependent on having a good connection wherever you are camping. For you to obtain cell phone hotspot ability on your cell phone, you will need to pay extra for the service.
Coverage Issue : Other than being expensive, using your cell phone for internet connectivity may not work in rural areas with limited service; also, a mobile phone hotspot quickly drains the battery on the phone.
Dial-up or DSL Internet
Some RV Parks provide DSL or dial-up internet connectivity. They provide phone or cable connections to access the internet to campers.
This option provides fast connectivity at high speed, which means that you can download your files and stream videos without interruptions or lag.
However, most campgrounds do not have this option for an internet connection. Some use a dial-up modem, which runs slowly. It is also restrictive as only one person can use it at a time. This makes it difficult for several people traveling in a recreational vehicle to work efficiently.
Lets compare each of the options:
Cellular Internet
Satellite Internet
Public Wifi/Campground Wifi
Good Speed.
Less Maintenance.
Coverage Issues.
Costs modest.

Very High cost.
High Maintenance.
Good coverage.
Limited Options.

Not Reliable.
Speed Issue.
Can be free or low cost.

Is the Wi-Fi Free at RV Parks? How much does it Costs?
The answer to this question is yes and no. when paying to camp at an RV Park, and you are not out rightly asked to pay for Wi-Fi.
Hence, you may think that the service is free. But, the Wi-Fi charges are included in the entire fee of staying at the park.
RV Park owners have to subscribe to an internet connection from a service provider. Therefore, they have to pass the cost to the customers, though indirectly.
Getting Internet in the RV
The first and most reliable option is the mobile phone that they can use to hotspot other devices. However, when camping or traveling in areas with low connectivity, it is wise to purchase a Wi-Fi extender to get better connectivity from RV Park connections.
Satellite Internet Connection
If you are an ardent RV traveler and your budget allows it, satellite internet is the best option for you. As long as you can see the sky, you have the guarantee of fast internet connection in any location, even in the remotest areas.
RV boondocking in a remote area may not give you mobile coverage and that's when the satellite internet will come good. If you good boondocking too often then satellite is a better option.
Ensure that you set it up correctly and be in a place without obstacles such as trees to avoid experiencing latency. Wireless internet providers include sprint, T-Mobile, Verizon, At&T and others.
Should be Mobile Friendly : Before you purchase a satellite for your RV, inquire about one that is mobile-friendly as satellites are made for different purposes.
Bulky and Costly : Also, note that the whole satellite package is bulky, which can significantly add to the overall weight of your RV. The monthly satellite connection subscription is too costly in comparison to other internet service providers.
For those who spend most of their time in an RV, a stable and reliable internet connection is essential. Example for Satellite include Dish, Starband, etc
Combination : Apart from this, a combination of satellite connection, cellular service, and public Wi-Fi works well for most people when they are in remote areas.
The connectivity is essential for travelers who work during their travels or those who wish to access their digital banking subscriptions. It is also possible to stream your favorite television shows as well as keep abreast of social media.
Wi-Fi in the RV
You can have Wi-Fi in the RV just like you would at home.
If your RV travels are centered in urban areas that have relatively functional internet connectivity, you can survive with a cellular phone hotspot.
All you have to do is purchase a mobile phone that has the option of a hotspot. You can also buy a Wi-Fi extender to boost the internet reception, especially while camping in an RV Park that usually has many internet users.
However, with this option, it would be good to know that it will cost you more as you have to subscribe to the internet service. Also, a regular mobile phone hotspot quickly drains the phone's battery and also reduces its lifespan.
Getting a high end smart phone can extend the time you can using the internet this way.
High Speed Internet for RV
With work from anywhere jobs the need for high speed internet in RV is much sort after thing. A lot of people do both, work and camp. In fact that's great. Full Time RV living means you should have a good reliable internet connection.
A lot of people however do complain of not having that high speed connectivity in campground. A low speed internet can hamper your productivity while working.
Mobile service provider do provide high speed plans for better streaming and accessing internet. One can buy unlimited streaming plans, but yes the cost will be higher. You can check with your service provider on more details.
The top mobile network providers in the US are below:
I really feel Unlimited data plans is the best option.
Cellular data services companies have devices that can be used to access unlimited internet access. Some of the best options below:
1. Verizon Jetpack 4G LTE Mobile Hotspot MiFi 4510L
2. Winegard WF-4000 White ODU Extender
Has nationwide coverage and provides uninterrupted coverage. Has good wi-fi range. It is costly and comes with 2 year warranty.
3. Skyroam Solis: Mobile WiFi Hotspot
4. GlocalMe G4 Pro 4G LTE Mobile Hotspot: High Speed WiFi Hotspot
A stable connection while moving can be tough thing too but there are apps like spedify which can help stabilize the connection. Spedify which is available for mac, ios and android claims to stabilize the connection using channel bonding technology.
There are many other apps as well that help in improving the internet connection. Some of them are below:
Spedify : It works on the channel bonding technology. This internet booster app gives great internet connection while traveling.
Internet speed booster : This helps is stopping background apps running. Can help improve the internet connectivity by more than 40%. It boosts speed using parallel connection.
Internet booster and optimizer : This is another app for android that can help clear cache and thus improve the speed. It helps in optimizing the way your device connects over internet.
Network master : This app can boost the internet as well as help test your internet speed.
Getting the Satellite Connection
Apart from mobile phone internet connectivity, satellite internet connection is the most reliable option, although it is more costly than all the other options.
Purchase a satellite and its dish and mount it on top of the RV when you need to use the internet.
The primary advantage of a satellite is its ability to provide internet services in the most remote places.
A disadvantage of the satellite is that you can only use it efficiently while you are stationary. Moving with a satellite dish mounted on top of the RV can be dangerous as it can slip and fall.
Also, the connectivity may be worse if you are traveling in an area with tall trees.
Satellite internet options:
1. RVDataSat 840/960
This is an Automatic satellite Internet antenna system that can give good internet access while traveling in RV.
It comes with Satellite internet antenna, wireless router, cable and rf cabling and iDirect Modem.
You can choose from their monthly plans which an cost less than hundred to fee hundred dollars per month.
You will have to commit for a year with them while buying this plans.
This can be great if you want stable and fast internet connection for streaming Netflix or any other video watching platform.
Gives download speeds of as high as 4MBPS. The antenna will be installed on the

RV roof

. Be sure to know their prices, which are high!
2. Iridium GO
This enables satellite connectivity to your mobile devices. You can create wi-fi hotspot with this device for a radius of around 100 foot.
Its a small device that weighs around 2.2 pounds and hence can be great for carrying. You need to flip the antenna and then the device connect to the satellite.
It is battery powered. It may not be truly a wifi, so be sure to know its limitations.
With what i can understand, it sure is not fully wi-fi like system but works great within limits. And you don't have to have that antenna mounted on your RV.
It really fits into your pocket, so internet on the go for sure.
3. Inmarsat iSavi IsatHub Satellite Wi-Fi Hotspot
Bit more costly but is more reliable and lightweight. Can connect to multiple devices with the hotspot which can have range of 30 meters. It weighs a little bit more around 4 pounds.
4. Hughes 9450TW C11
This comes with a compact antenna and has integrated wi-fi connectivity. Again this is costly as compared to your hotspot options but it comes with integrated wi-fi. A good option for internet on the go.
Best Internet Option for RV Living
The best internet option for RV living in the US is cellular, although it is not the cheapest. Most of the mobile phones available in the market are Wi-Fi hotspot enabled.
You only have to push some buttons on the phone, and it will share its connection with your laptop or tablet. It is an option that had the least hassle, and it connects to a variety of devices.
Additional Tips
Preparation – while on the road, obtain enough information on the route you are taking to better plan around it. Plan to use the internet to the maximum when your cell phone has a good internet connection. Try and perform all your internet activities at once when the internet coverage is reliable as you do not know how the connectivity will be in the next place you visit.
Apps – it is essential to download apps that show you your cell phone's internet coverage for a particular region. This will significantly be helpful is you are using your cell phone as your only internet source.
Boost your signal – innovation has made it possible to have gadgets that boost internet connectivity. You do not need a signal booster if you use the internet casually; however, if you work through the internet, a signal booster is a valuable investment.
Understand Overage and GB – If you have a monthly data subscription, it will help to keep track of your data usage. This is due to the reason that there are overage charges once you surpass your subscription. It is better to have data left over at the end of a subscription instead of exhausting it and even using more beyond the subscription as it will cost you.
In conclusion
While living in an RV, you can still enjoy the internet as usual. Make use of the various internet connection options to keep up to date with the world even while out in the wild or upcountry. It is still possible to work from your RV as long as you have a good internet connection.