Last Updated on :
Over the years, many makers in the RV industry have been asked the question of what the foolproof practice is when it comes to maintaining the roof of an RV.
The answer is not as easy as most people think. It all depends on the make of your RV roof.
Regardless of the material used, regular maintenance has a huge determination on the amount of larger maintenance you will need to do in the future.
General RV Roof maintenance guidelines
Try to follow below simple steps on an annual, if not bi-annual basis to ensure that your RV's roof lasts for a long time.
1. Keep It clean and debri free
Being prepared is the first and foremost important thing you can do to make your RV roof maintenance as minimal as possible.
Always ensure that the roof of your RV is clear of debris, such as leaves or twigs that may have fallen from a nearby tree.
RV Rubber roof cleaner like this one from decor makes the job much easier and it works really well. A single bottle can be used for cleaning a 20 feet rv roof almost 3 to 4 times.
By keeping your it clear of debris at all times, if you ever find that you need to get on top of the roof of your RV to do maintenance of a more serious nature, it is one less thing to have to do when time is of importance.
Note if you ever need to climb up and remove debris, the typical weight the roof of your RV can take is 300 lbs.
2. Understand the Roof Material and Use Right Products
Before choosing the products with which you will clean, seal or patch the roof of your RV, you should be sure of the material your camper roof is composed of.
Applying the correct types of products is a critical factor, especially for roofing made of EPDM and TPO (rubber roofing).
If you do not use the correct type of products, it can turn out to be a costly mistake and a timely one as well.
3. Follow Manufacturer recommended procedure
Read and follow all directions for applications of sealants, cleaners, and materials. Ensure to give them the correct amount of time required to cure, dry, or set depending on what type of application and roofing you might have.
4. Inspect Near Vent, Air conditioner, Skylight edges
One more important task on your regular maintenance list is one most often overlooked by most RV owners. There is more to an RV roof than just the RV roof itself.
Skylights, vents, and ladders are found within your roof, and all of them come with edges and seals. All of these should be checked regularly for signs of erosion, cracks, and leaks.
It is important, however, to not forget that ac units are best left unsealed. Sealing can mess with the drainage of the water from condensation. And you would end up with a pool of water in your RV, which could be a costly mess over time.
Know your RV roof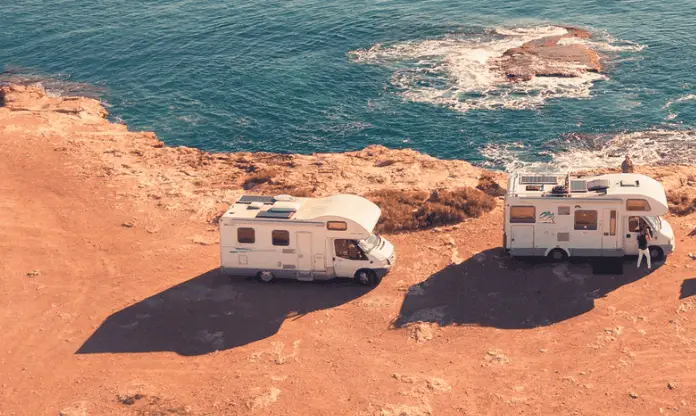 Regardless of whether the maintenance and care is perfect, there will eventually come a time when one must face the challenge of having to patch or reseal their roof.
For many, this is a daunting task. They really do not know where they should begin.
With so many questions and few answers, putting it off until next year always seems the better option until next year arrives.
Many of these questions cannot be answered without knowing what type of roof is on your RV.
Primarily there are four distinct types of roofing most found in RVs today. Here you will find those four types as well as some benefits in terms of repair. Check out my detailed article on how to identify RV roof type.
EPDM Roof
The RV roofs composed of EPDM tend to be on the low-end of the scale in terms of cost per square foot to repair.
The average life span of an EPDM(rubber) roof is in the range of 20-25 years. This kind of RV roofing is mechanically attached or welded together.
One other thing to consider is that they are also good at retaining heat, which is great in the winter but complete misery during warmer months.
TPO Roof
This RV roofing material has a more varied life span of 15-25 years. It is installed with a chemical bonding agent and has seams that are welded with a hot air gun.
This material reflects sunlight all year round.
Fiberglass Roof
A fiberglass roof has the potential to last as long as 40 years, but if it develops any thermal cracks, it will need immediate repairs, and they come at a price that is a bit higher than EPDM or TPO type roofing.
Aluminum Roof
This material is more expensive to purchase and install than the other types. It also needs a lot more maintenance and attention is given to it and at a more regular interval.
It is, however, a much more lightweight option and is also durable. A tree limb falling on your roof with another type of material will likely puncture it while the aluminum roof will suffer a scratch and or small dent.
Sealing an RV Roof
In regard to sealing your RV roof, what and how this is done is going to depend on your overall preference on cost and the make of your RV roof.
Even though an EPDM and TPO are both made from rubber, they require slightly different maintenance.
How Often to check Roof Coating : It is recommended that no matter the type of RV you own, you should check the coating of your roof and at least once or twice a year apply roof sealant to reinforce the seams.
There is one type of sealant that works well for repair for all sorts of RV roof materials at the cost of around $10 dollars a tube on average. It is labeled as a caulking sealant and is made by a company called Dicor.
Why Use Sealant: The reason why the roof sealant is put on the RV roof is to stop water from entering your RV.
Around roof ventilators, skylights, and in areas where something needs to be attached to the roof, make sure to use a caulking material particularly made for RV roofs.
Dicor : Though this brand works on all types of material, you should make sure to go through your owner's manual or consult the manufacturer of your RV to consider what kind of roof caulk they recommend for the roof of your RV.
Below is a Dicor 4 pack sealant from Amazon that is very effective and is popular among RVers.
The climate you live in will play a factor in the type of RV sealant you use and how you apply it.
Coating your RV Roof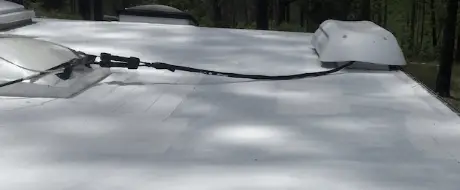 Coating an RV roof is different than sealing it.
If you own an RV with a rubber roof (EPDM or TPO) you will inevitably face a time when you need to re-coat it.
This Heng's rubber roof coating is designed specially for RV roof and can be used at seams, tears, to seal air conditioner and vents as well. Its highly rated probably because of the fact that its UV resistant and contacts/expands with roof.
When you are applying the sealant on the seams of your RV once a year, a good practice would be covering the roof of your RV with coating. This will help to waterproof and weatherproof your roof.
Among the common varieties of coating used, RV Liquid Roof is a famous one.
One of the benefits to this coating is that it gives your RV's roof a new shine and at the same time, protects your roof from changing weather elements.
Liquid roof coating is a recommended EPDM coating. You can apply it by painting it onto the canopy of your RV.
The liquid roof creates a protective shield from the sun's damaging UV rays as well as from rain and falling leaves and other remnants.
Keeping your roof safe from these various potential damage-causing agents will not only prolong its longevity but will also increase the overall durability of your RV by stopping any kind of damage caused by water.
Check out on why do RV roofs leak.
Repairing Leaks and Minor impairments on the roof of your RV
In regards to repairing your RV roof due to leaks or minor damage, there are the option available to the regular individual, and you do not have to be a professional to accomplish these repairs.
RV Roof Tape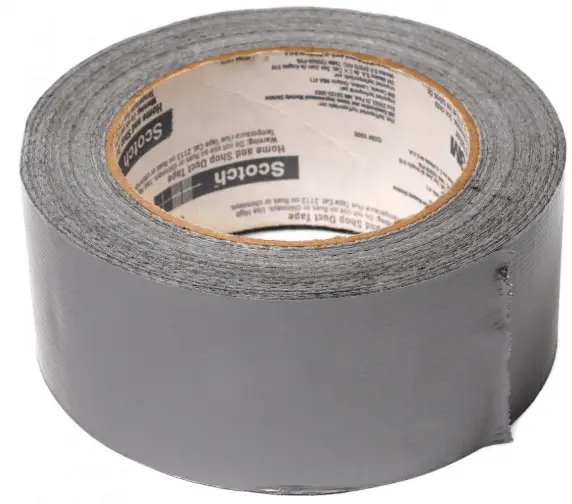 Patches designed to be used on RV roofs, commonly called travel trailer tape, is something that every RV owner should have in their RV toolkit.
If you ever had an incident that caused a rip or a split in the roof of your RV and you were out in the middle of who knows where to trust me when I say, you will be thanking everyone under the sun for having this wonderful tape on-hand.
Using RV Roof Tape
Tapes designed to be used on the RV roofs are really simple to use, even for a first-timer.
It is quite literally a super-sticky water-resistant tape that sticks to the roof of your RV and mends the rip or small puncture.
When it is required to fix a rip or puncture on the RV roof, these patches or roof tape can act as the permanent solution, and it is pliable and stays so for a long duration, so it will not come off unexpectedly in the next rain shower.
Popular Product : One of the more popular brands of this RV roof tape or roof patch is called Eternabond.
Being a well-known brand, it is widely available at home repair stores like Home Depot or Ace Hardware, at RV stores, and even on Amazon.
It varies in width and length to suit a variety of possible RV roof repairs, and the price varies as well. Expect to spend 50 dollars on a roll. It is well worth the cost.
Finding the RV Roof leaks
Leaking water can lead to costly repairs in RV. Hence, its wise and clever to prevent the leaks in first place. Problem with such leaks is that they may go un-noticed. Check out my complete guide on how to protect rv roof.
The water may cripple down the roof to ceiling and walls. This will cause damage that be very costly. The best bet here is to inspect the roof often, But, even that may not be enough.
Check for signs on wall : Inspect slide-outs, doors and windows for any signs like discoloration or soft spots. This are clear signs of something wrong with the roof.
Check inside storage : Check if there are any signs of water damage inside storage. Visual inspection or odors can give alerts on water leaks.
Inspect inlets : Water damage and leak signs can be found at water inlets and shower.
Check corners : Inspect various corners inside the RV. Ceiling, cupboard corners need to be inspected.
Checking from outside : A visual inspection from outside can also give indications. Check for irregularities in RV shape at edges.
Cleaning your Camper Roof
Among the things you can do to help the longevity the roof in your RV, the most important one is to keep it as clean as possible and maintain the finishing for the longest time.
Over time the build-up of dust can cause your roof to become vulnerable to water increases your chances of getting leaks and facing water damage.
How Often To Clean An RV : RV manufacturers recommend giving your RV a full top to bottom thorough cleaning after every trip. This will increase the lifespan of not just the roof but the entire RV as well.
What To Use For Cleaning : If it is posed of fiberglass or aluminum, it is perfectly fine to use a mild detergent, same as the one you use to wash the rest of the RV exterior.
If you have an EPDM or TPO (rubber) roof, it would be wise to buy a rubber-friendly RV roof cleaner.
When you do clean your roof, you can use the ladder present at the back of your RV to get up on the roof and remove any dirt or debris present on it, thereafter make sure that you have rinsed all cleaner off thoroughly after you have washed it.
How Long do RV Rubber Roofs Last?
Many manufacturers provide roof warranties than can be 15 years to 20 years. But, that does not mean the roof will last that long. It totally depends on how you have done the maintenance and regular cleaning.
Considering all things done as recommended by manufacturer, on an average RV rubber roofs should last around 15-20 years.
Most people would experience an rv rubber roof at around 10-12 years start to expose its inner black underlying layer. This is a major change as it wont be protected against UV radiations now.
That's the time it start to crumble down and starts to age. Later on, how you handle the repair will decide the age of the rubber roof.
Read : How long do travel trailers last
Having said about ideal number of years, its totally on the maintenance done. If the roof has gone through harsh washing, cleaning then that can act as damaging agent.
Does insurance covers RV roof leaks
When it comes to dealing with insurance and roof repair costs, you are on back-foot.
Most insurance companies will not pay for insurance claims related to rv roof leaks. It is basically considered as maintenance.
Read : What do RV insurance normally cover
When you claim for costs related to caulking joints the insurance companies normally rejects it saying its neglected maintenance.
There can be leaks around caulking joints, skylights, AC, many of this situations wont be paid by insurance.
Having said this, do check with insurance company before making a decision as it depends on company the kind of policy you have paid for.
Roof Replacement and Insurance : What happens when the roof needs replacement due to collision or other damage like tree falling etc?
Well, in that case the insurance company will pay for replacement. A punctured roof due to storm, collision will also be paid for replacement.
You need to check with the insurance company when you see the roof has been affected by any of this causes. After the roof is replaces the company will not be liable in most cases.
When Is It Time to Replace Your RV Roof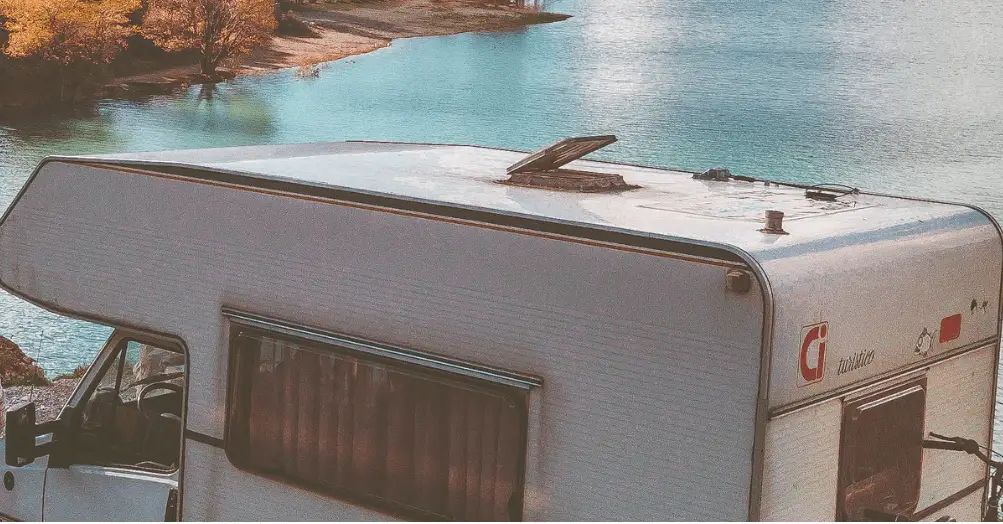 As with all things, your camper roof must also meet its end. When that time comes, you must decide to either replace it, retire, or even sell the RV.
By this time, most people are making their decision based on sentimental value versus the actual cost of replacing the roof. Either way, you should be aware of what you are getting yourself into ahead of time.
Replacement Cost
Today, the average cost to replace an RV roof ranges from $300 to $350 per linear foot. That means that if you own a 36ft long RV, the cost to replace your RV roof would be somewhere in between $7000-$12000.
RV repair facilities say that this is due to the labor-intensive requirements to replace the RV roof and so much as the cost of the actual materials.
You should always try to check with at least two or three local area RV repair facilities with your area to ensure you are receiving the most competitive pricing available.
Being an RV owner myself for the past several years, I can attest to the cost difference of an RV that is maintained regularly to that of one that is not given the maintenance it should receive.
Let me tell you, do yourself a favor and prevent a few sleepless nights and do the maintenance.
What to Know While Replacing Roof
A few other things to keep in consideration when researching your replacement camp trailer's roof are to ask what kind of warranty is in effect with the vendor's product and always make sure the repairmen are certified technicians.
Most insurance companies are not going to cover or insure any roof not installed by a certified, registered, licensed, RV roof repairman.
You would be surprised at the number of shops without a certified technician on hand to complete projects needing this type of expertise.
Think about if you want to go with the same type of material that was originally on the RV. Maybe you had an RV roof made out of rubber, and you are now leaning towards fiberglass or aluminum.
And once again, check with your insurance provider to ensure this is something that they will allow under your policy.
In Conslusion :
Roof maintenance is by far the most important part of your RVs overall well being. Replacing it can be costly affair if its not being covered by insurance. A scheduled maintenance and cleaning will enhance its durability.
Using right product as recommended by manufacturer is also critical.