Last Updated on :
Slide out became popular in mid 90's and have been around. Almost all RVs nowadays come with slide outs. Manufacturers like lippert build slide outs that are easy to operate and light weight, yet sturdy and stable.
There are two types of slide out operations that you get with the RVs. Hydraulic operated and electrical operated. Plus, you can find variety of slide outs. Slide outs that go little down when extended, and those that remain at the same level.
In some RVs, you can also get slide out within slide out. Bigger RV dealers will be able to show you more variations, but with such variations the cost will also be high.
So, before you decide on the type of slide out to get, decide whether your really need the slide out itself or not. Just because every RV out there has a slide out does not mean you too should go ahead and get that type of RV.
Here are their pros and cons.
1. Extend much-needed space in your RV
This is the most obvious advantage of having an RV slide-out as the needed space is beneficial, especially if you have a big family. The extra room space will make you feel less cramped inside and you have an extra elbow room to do an activity or do other tasks.
2. Adds a feeling of luxury and comfort
With the RV slide-out, the extra space brings needed comfort while traveling. The feel of luxury also gives a sense of being at home. Best for full-time campers.
If you are a full-time camper and you relish in the extra space the RV slide-out can give you, then the RV slide-out is for you and should be on the top of your list. It is like living life away from home. Makes your RV look more like home.
With the slide-out, there is an extra space for a dining area or the space for the kitchen. It can also be the much-needed space for a living room, it creates such a homey feel.
3. Gives more options on layout
With Slide outs you get a whole lot of options in layouts. Because the space is now increased, it gives manufacturer to build better.
If you are going without slide then your layout options will be limited. Also, operating slide out is easy, you press the button and you get the slide extended to make the room.
4. More windows, more outside light and ventilation
With slide out you will have better ventilation that will bring-in more natural light and air. Number of windows make a lot of difference in the way you live inside the RV.
With slide, you are adding a room to your compact camper. Imagine how it would feel, if you were to add a new room to your apartment. Its just similar to that.
Ready to get an RV with slide? Do check this list of popular small campers with slide out.
Why you should avoid an RV with slide out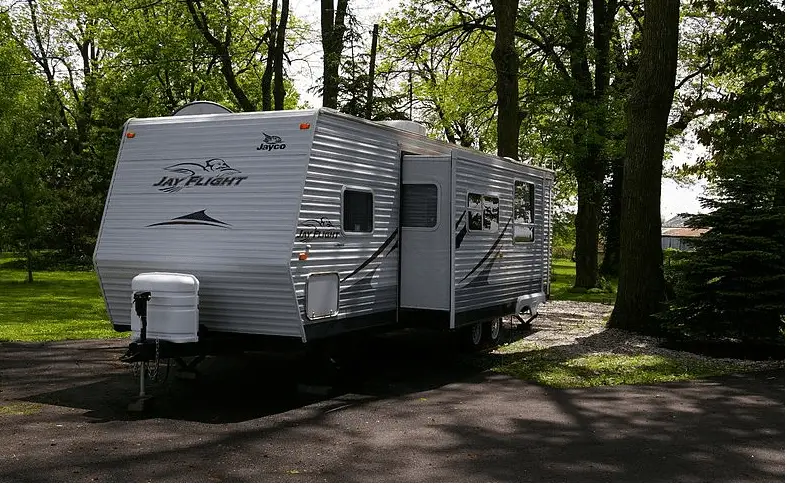 Slide outs in RV are great for increasing the overall space. Its nice to have a little dinette on the sideways for more people. But, before you fancy the slide out, have a look at what the slide outs also bring with them (cons).
1. Adds up to the overall weight of the RV
The weight of the RV is heavy, plus add the weight of the slide-out will give you an extra 600 lbs. or more in the total weight, one should make sure that the tires can also bear the weight of your RV otherwise, it is an accident waiting to happen on the road.
This is where tire maintenance comes in. Price usually increases. Raises to as much as $15000 and up to the total selling price of the RV.
With the extra space, there will also be extra fees that go with it. You may need to shell out the extra cash for that extra amenities.Extra expenses in warranties.
Since there is warranty inclusion for every sale of RVs there is an added percentage in RVs with slide-out which makes the insurance more expensive than the usual RV with no slide-out. Limits storage space.
If you are planning to travel with a closed slide-out, the movement inside may become awkward because of the cramped space.
2. Going to and fro will be difficult
It also negates comfort every time you travel with a closed slide-out. The high cost of maintenance.
You need to have a frequent check-up for your RV, most especially those with slide-out because there are incidents of misalignment occurring in the gasket and piping, which may be due to frequent also.
3. Maintenance is a must
The high cost of repair. With the frequent usage of the slide-out, there is a tendency that things will also take its toll. With mechanical structure and sliding operation you will need lubrication and other maintenance. It also need sealing the gaps and clearing it when retracting
There will be occurrences, your slide-out will fail, or the slide will get stuck and will have difficulty closing. You need this repaired the soonest time because you can't afford an RV slide-out that doesn't work properly.
Immediate repair is important most especially if you are using your RV for camping with your family most of the time and your slide-out won't close properly, this may cause you difficulty while on the camping grounds.
If the slide-out malfunctions while you are camping, it will cause you a headache to maneuver the RV and leave.
4. Not able to access most of the camping grounds
Old camping grounds have only a certain space allowed for RVs, but if you have the huge RV with slide-out, you may need to find another camping area that can accommodate your RV. It costs more to park them in campgrounds because of the extra size. Although there are newer camping grounds where you can bring your RV with slide-out, it will also cost you extra to camp there because of the size of your vehicle.
5. Tends to leak
There are incidents where the slide room will leak for no reason, and you cannot locate where they are coming from.
This will leave you in a dilemma and force you to find someone who can repair the leaks before it gets out of control and become too extensive.
Every spot will be checked because once the leaks and moisture get inside the other focal parts of your RV, this will add cost to repair and thereby making you shell out more.
6. Insulation Problems
In comparison to your whole rv, this part will be less insulated and that can result in heating and cooling issue. This will reduce the efficiency of the RV.
7. Can't drive with slides out
This is something that new RVers want to know. You can not drive with slide out extended. Its only logical, your RV width will be double and that is something you can simply cant do.
You have this nice little room with extra space and amenities but you cant keep it that way all time. So, you are talking about packing and managing things when its time to drive back. You really have to keep this in mind that its a temporary space that has to be packed back.
Also, with slide out or in you may face difficulties in operating appliances like refrigerator or heat ducts or any other items that may get blocked.
8. With slide out you are more susceptible to weather
You rally have to be cognizant of the weather when slides are out. Otherwise, you may have to deal with its effect on the RV.
Heavy rain or snow can cause leaks through slide gap if they are not sealed properly. High winds too can effect the RV's with slide out. So, you are talking about additional care, and awareness. You cant just extend the slide and relax inside the RV
9. Costly
Obviously, the RV's that come with slide out are much more costlier than the ones that don't have them. Its obvious why they are costly. With RVs space is gold. You need that extra space within that limited width. You get RVs that are lengthier but you cant have higher width. With slide out you get extra width and that adds to real nice living room and other areas.
Whether to get a RV with or without slide out is completely an individual choice. But, looking at the advantage that it gives it totally drills down to how many people would be occupying the RV and what kind of comfort you are looking for.
Now that you have clear idea on what you will getting with slide out, lets see few other things that you may want to know about slide outs in RV.
Even though it may seem like a lot of disadvantages than advantages, there is lot to ponder on before deciding. Space is much a big factor to ignore and to go against, when you talk about RV camping.
Its not just their pros and cons that you take into consideration. Understand their operation, other basics before you decide.
Number of Slides and how far it extends
I have seen RVs having 6 slide outs. That's like huge. It will be massive, more than 40 feet RV. It will be costly too. Its upto you, how much space you want and how much you are willing to spend. You will find many RVs that will have 2-3 slide outs at normal price range.
Lets talk about their depth. The slide outs can extend around 7-8 feet outside the RV but the space that you will get inside for living will be around 2-3 feet.
Most type of RVs have options of slide outs. Travel trailers also come with slide outs. Even class B motorhome come with slide outs. Most airstream trailers don't have slide outs. Smaller RVs like truck camper or pop up campers also do not come with slide out rooms.
Storing RVs with slide
While you will be keeping the slide out extended while camping, you have to store the RV with slides in (retracted). Keeping the slide out extend while in storage will lead to corrosion, and other issues. Debris,snow and dirt will accumulate and the overall functioning and life of slide will be affected.
Maintenance and Weight capacity
RV slide out add great space, but they have maintenance and you need to protect them. Some things that people use include slide out topper and some people also use slide out support.
Slide out support or stabilizer may not be recommended always as they can cause damage if not used properly. Always check with the manufacturer recommendation for this as otherwise you may not claim the insurance in case of damage.
Slide out Topper kind-of helps in keeping it clean and relives you from cleaning it while retracting. Debris like tree leaves, branches if left while retracting will get the slide stuck.
Slide out wight handling capacity will vary with design and model. On an average, the slide outs are capable of handling between 600 lbs to 1400 lbs. It also depends on where the slide is located (rear or front end). Bigger, high end RVs will have high capacity slide outs.
Its basic maintenance will include below,
Cleaning it before leaving the camping spot. Also, cleaning it once a month or so when the RV is not in use.
Lubricating the slide out as per manufacturer recommendations. You may start hearing noises if its not upto the mark with lubrication.
Doing seals to make sure gaps are closed.
Remember the top of the slide out is not exactly like your roof. Even though it may be capable to hold your weight at the top, avoid standing on it. Use a ladder to access the top of the slide and broom with handle for cleaning purposes.
In Conclusion :
Slide out in RV are amazing innovation that has made them more popular. They add an extra space into your compact camper but they do have cons. You need additional maintenance and have to protect them.
Basic awareness is a must while using slide-out in RV. You decision to go for RV with or without slide out will have to be mostly based on 2 things. One, number of people who will camp. The second, comfort level you are looking for.