Last Updated on :
If you are here it most probably means you are having issues with your rv water pump.
You could have any of these commonplace issues "rv water pump is running but no water is coming out of it" or your rv water pump runs intermittently.
RV water pump issues are very common and resolving them is painless if you follow step by step procedure in identifying the root cause.
One can resolve rv water pump issue on own without any skillful person to resolve it. A RV water pump operates on the same principle as your home or well water pump.
Apart from the fact that it would normally run on a 12V dc battery rather than 120 V electricity in your RV.
Before you start troubleshooting a RV water pump you need to locate it. Water pumps in RV do not have a fixed place; its location depends on model, brand of manufacture, the floor plan of the RV and also the type of your RV.
Initially when your RV is new you may find it difficult to figure out the location. And that could in fact be the harder step in troubleshooting the water pump in rv.
Next hurdle is the access to the water pump in your RV so that you can troubleshoot it.
Access to the water pump again will bank on the manufacturing of your RV. This is something that you can pre-check before buying the RV.
RV Water pump runs but no water – troubleshooting steps
It may seem elementary but troubleshooting a water pump issue can be sometimes annoying specially if you don't have much technical background around electrical.
Water pump in your rv works on a similar principle as a normal water pump. There is not much difference in it. One common issue many people face is that the water pump runs but it does not give out water.
There could be many silly reasons why the water pump is running and still no water is coming out of the pipe or the water pump runs intermittently.
If an RV water pump runs but there is no water, its most likely that the pump has sucked in air. This can be resolved by filling in water and restarting the pump. Other reasons could be, low water level in tank, cracked pipeline between tank and pump, or mechanical issues with the pump like closed shutoff valve, punctured diaphragm or worn out impeller.
Mechanical issue will need professional repair where as other issues like sucked in air, low water level or clogged pipeline can be easily fixed.
Follow below steps to resolve the water pump issue. Or else call an expert electrical guy for troubleshooting.
Many a times issue with water pumps can be resolved easily. But if you should have a basic idea of what could be the possible causes. An rv owner should try to diagnose the simple water pump issues before making any repairs or replacements.
1.No water in Fresh Tank
First and foremost reason could be there is not water in the fresh water tank. How can you get water from the water pump when the source of water itself is devoid or even near to empty.
The water pump will pump air instead of water. Sometimes your water tank may show full reading, but do cross check whether its really full or not.
Read : How do RVs get water
Water tank level readers could be misreading.  Just cross check twice before moving any further in troubleshooting the water pump.
2. Breakage in Pipeline
If your water tank is really full and still the problem persists then the next step would be to check for any breakage in the pipeline that are running to and from the water pump.
Although this could be a rare scenario just check for the sake. You will not miss a water leakage that leads to no water at the end point, if there are any pipe joints then check for those.
3. Air sucked in Pump
If the pipeline is all good and there are no cracks, no loosened joints then the next step would be to see if you are getting any water near the water pump through the line that connect between the fresh water tank and the suction of the water pump.
Try to open the pipe and see if water comes out from the opening.
If you can see water coming out that means the water is flowing from the water tank to water pump. And you may need to put some water in the water pump manually.
If you see no water coming out of the pipeline that means the pump has sucked in air and you will have to fill the pipe with water so that water comes out at the faucets. Start the pump again after filling in the water and you should get the water within a minute or two.
4. Electrical Issue with pump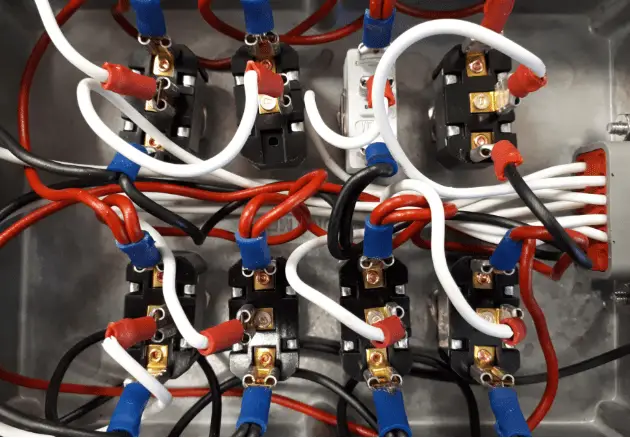 If the pump still does not give water then move to next step to troubleshoot. At this point of time you can be almost sure that something is wrong within the motor itself. And this may need repairing or may be something that has gone out of place.
Motor runs on a principle if anything goes out of order it wouldn't function as it is supposed to be. There are many reasons why it could stop giving water which will need someone with electrical background to identify and fix. Some possible reasons could be :
Pump is stuck: check for valve to resolve this.
Diaphragm of the pump is ruptured or punctured:The diaphragm has to be replaced.
Impeller is worn out: Hydraulic capacity of the pump depends on the impeller and if it is worn out water may not come out of pump. This has to be replaced if it is worn out. Impeller could also have debris in it which again may cause water flow to stop.
Common RV Water pump issues
Water pump does not work after winterizing
Check if shut-off valves are open also check if you left the drain open.
Water pump cycles on and off
A leak in the water pump or piping can lead to this issue wherein it will cycle on and off again and again.
RV Water pump makes lot of noise
This will be mostly due to weak or loose connections. Try to check for loose screws and tighten them. The vibrations cause the noise.
Pump leaks a lot of water
For this inspect the check valve for any cracks or breakage.
Read : Common RV Water Pump problems and how to troubleshoot them
Conclusion
Troubleshooting a rv water pump is easy. But for repairs its best to take opinion from a electrical guy or a motor mechanic. Any repair that goes wrong could make your water pump useless and cause a permanent irreversible damage.
Water pumps for RV ordinarily comes with about 50 gallon or more which can be up to 200 gallons. Water pumps are necessary when not connected to hookup.
Your RV will have different tanks like fresh water tank, grey tank and water from these tanks flows because of your water pumps. Thus RV water system is totally dependent on water pump.
RV water pump is pretty important and you need to not only take good care of it but also make sure you have the right one installed in first place as per your needs. Troubleshooting rv water pump is easy but for repairs its better to call a good technician.