Last Updated on :
RV Camping is a favorite hobby in North America specially in the US and Canada. RVs are also popular in countries like Iceland, France, Germany, Australia, New Zealand, Norway, Mexico and few other countries.
Other than these countries not many around the world are familiar with this culture and when someone refers to RV, they may not really know what it means.
In European countries, RVs are more commonly known as campervans or motorhomes. Lets start by understanding what RV abbreviation really means.
RV is an acronym for "Recreation Vehicle", this in general is a broad term and may refer to any vehicle (with its own engine or a towable trailer) that provides basic necessities for living while traveling on road.
RVs are also referred to as campers, or trailers and therefore it can get confusing to those who aren't into this type of lifestyle.
There are 3 broad type of RVs that people use.
Motororhomes : Those that have their own engine and can be driven on its own.
Towables : Those that need to be towed behind a car, SUV or a truck.
Truck camper : These are neither towed nor they have their own engine. Truck campers are placed on the pick up truck bed.
In each of these categories, there are several sub types to choose from. We will see each of these type of RVs a little bit later but before that lets see some basic questions one may have about RVs.
What do RVs have?
As we saw, a RV is generally a vehicle with basic living needs.
Most RVs come with sleeping bed, kitchen, dinette, bathroom/shower, storage space, and a living area.
They also have fresh water tank and holding tanks for collecting waste from bathroom/shower and kitchen sink.
Most type of RVs fulfil these needs and are equipped with appliances and features to make it as comforting as possible.
The more features or amenities a RV has, more will be the cost and size of the RV.
Most regular size RVs include below things or at least given an option to add these.
Dinette converting to bed
Sofa cum bed
Kitchen sink and stove
Water pump
Water Heater
Air conditioner
Furnace
Microwave, Oven, grill
What about power needs?
While camping at a campsite, RVs can be hooked up to their electricity outlet.
RVs also have 12V DC batteries, propane tank and portable or built-in generator for power when not connected to a campground hookup.
In addition to these, they can also have solar panels or solar kit for generating power. Many RVs come with prewired connection for using solar.
How much do RVs cost?
RVs are known to cost huge amount of money but that is not always true. Lets see.
RV cost varies based on the type and amenities it is equipped with. Brand new towable RV cost starts from around $12,000 and can be as high as $70,000 and even more. Motorhomes on the other hand cost from $25,000 to more than $150,000. Truck campers cost anything between $18,000 to $45,000.
The cost increase as you customize and include additional features or appliances. Due to high depreciation, used RVs can be bought at considerably low price.
Where do people camp with their RVs?
The best and most popular way of camping in RVs is at the campground. Throughout the US you will find campgrounds that have basic amenities where people can park their RVs and camp.
Campgrounds
A campground is basically a area or place where many people can camp overnight with their RVs. Most campgrounds charge fee and in return provide basic facilities like parking space, electricity, water, dumping station for sewer and others.
Boondocking
People can also camp at free camping sites without hookup and that is called as boondocking or dry camping. You will find such spots throughout the US where you can reserve a place and camp without any fee.
Now lets see different types of RVs before jumping on to other basic questions and RV acronyms.
RV Types
We already saw the basic type of RVs, now lets see different types/Sub types. I have included big pictures for each of these, this will give you better idea on what they really look like.
Travel trailer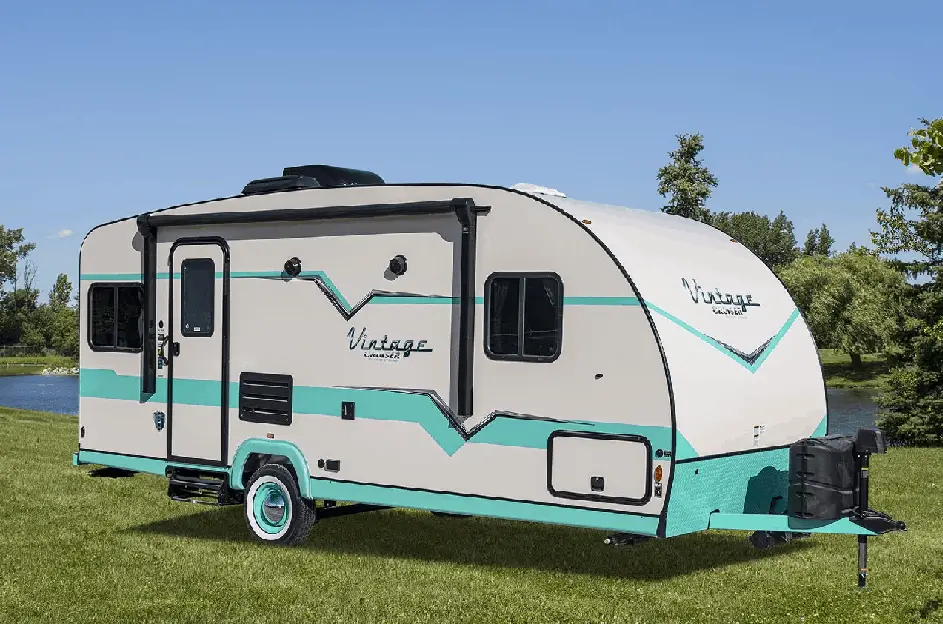 These are non motorized RVs that need to be pulled behind a car or truck. They are also referred to as bumper pull. Travel trailers are connected safely to your towing vehicle through a hitch and a special hardware meant for towing. They come in different sizes and based on amenities, size and design they are sub divided, we will see those below.
Travel trailers generally do not come equipped with built in generators. Therefore, for power you may have to get portable generator or depend on batteries or solar. Propane tanks are usually included with them.
Depreciation in RVs is normally high and that applies to this type as well. Weight of travel trailers or other towable RVs is critical as your car or truck need to be capable of towing them.
Travel trailers weight can vary based on what features are packed in. On average the weight varies between 2200 lbs to 6000 lbs. The smaller trailers would be called teardrop trailer, which we we will see below.
Fifth wheel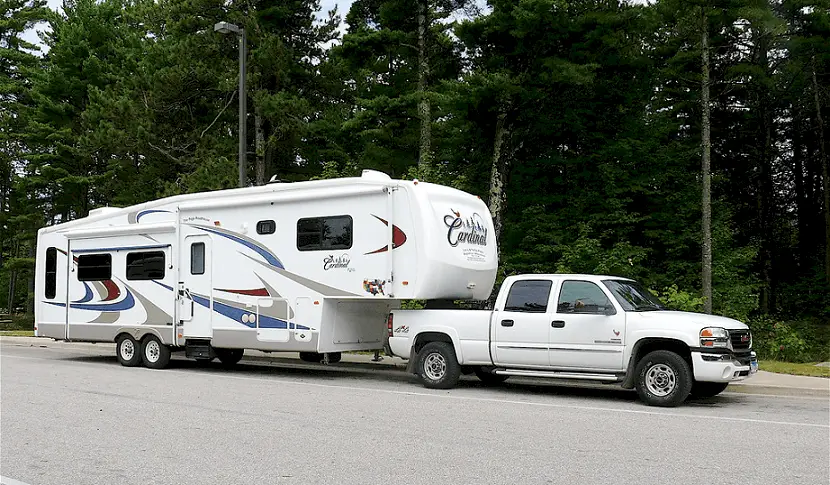 Fifth wheel are similar to travel trailers in almost all things except that they have raised front part that goes above the towing truck. Also, there is a big difference in how they are hitched to the towing vehicle.
The raised front part gives them the ability to have spacious two level floor plan. Fifth wheels need truck to pull them and they are generally heavier as well.
Fifth wheel may not be for everyone. These can be intimidating as they are heavy and long. A specially need of truck puts them in special category and you need to think twice before getting a 5th wheel RV.
Though they have much better interiors and features, their cost is also high. Overall mpg of your your tow vehicle would come down due to heavy towing weight.
You can get all the amenities in advanced models like washer dryer, shower, toilet, dinette, internal and external storage, TV, water heater, big kitchen, sofa, couch. Same applies to travel trailers as well, but the length would be big.
Class A Motorhome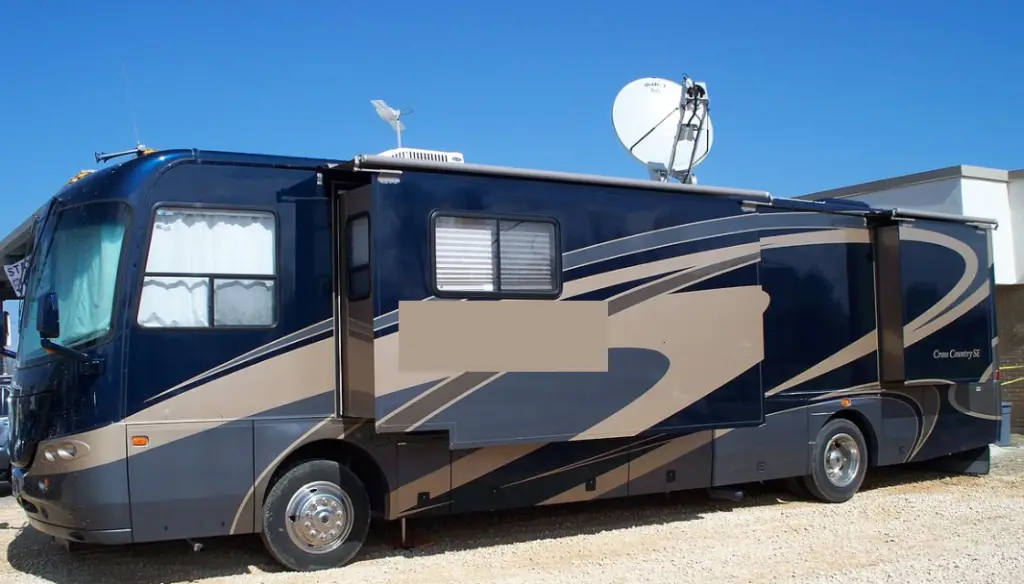 Class A RVs are the most luxurious RVs, they are built on either bus chassis or truck chassis. They are strong and use heavy duty material frames. If you want luxury in an RV then these are the ones to go for. No doubt they are also the costliest ones. They can sleep 5-10 and sometimes even more.
What amenities you get with class A? Alost everything you would have in your home! Washer dryer, big kitchen, Air conditioner, Furnace, Sofa set, King size bed, big windows, you name it and it will be there in the class A.
They are luxury on road.
The mpg can be really bad at 5-8 miles per gallons.. But, if you own a class A you don't really have to look at the mpg. Want to pull a car or suv or a jeep? Don't have to worry! The class A are upto that too. Most class A RVs can pull any cars or trucks. Some can even carry them inside it. Now we are talking!
Class C Motorhome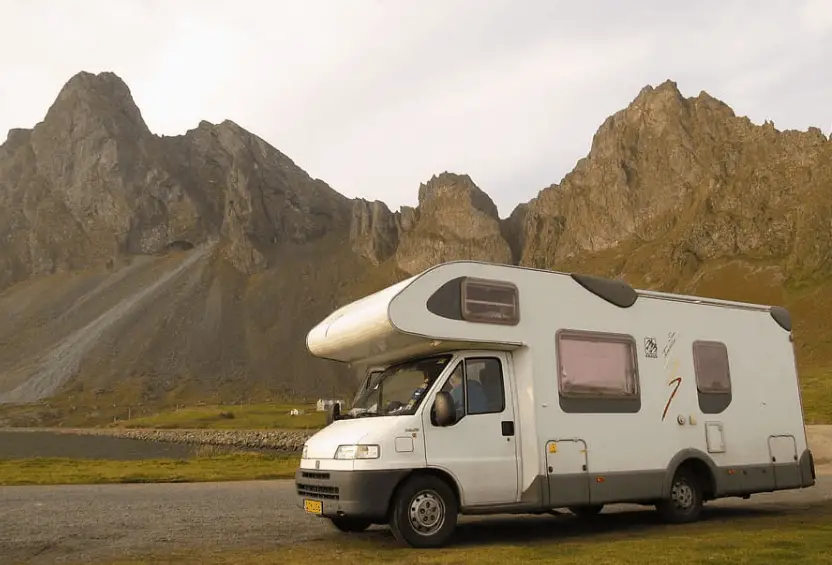 Class C motorhomes are a compromise between a class A and a class B RV. They have cabover sleeping area. They are generally built on truck or a van chassis. Class C just like class A can tow another vehicle behind it.
A class C RV is usually equipped with all the basic amenities like bathroom, toilet, shower, kitchen, sofa, etc.
Class B Motorhome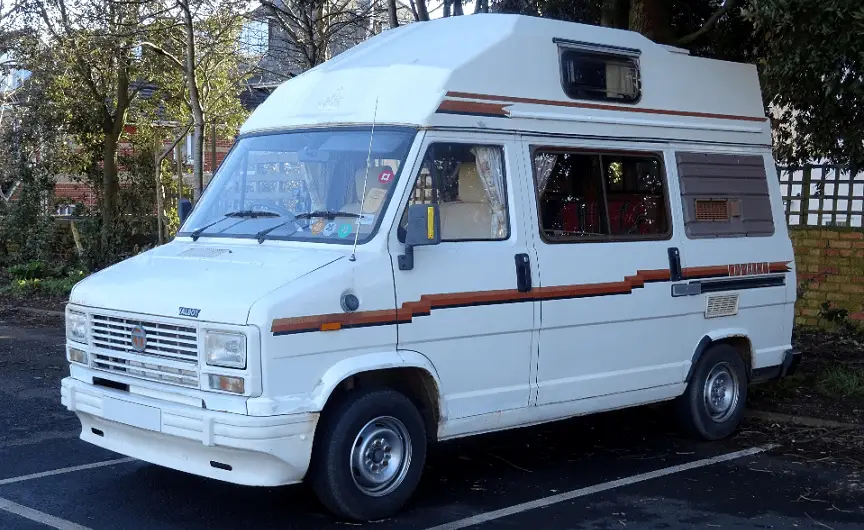 Class B are also referred to as camper vans. They are the smallest motorhomes and provide lesser amenities. They are built on panels trucks and due to their compactness and size, they are easy to drive. Even though small and compact these can cost a lot based on how luxurious they are made.
Smaller van can also be converted or fitted with all interiors to make it like an RV. A conversion van is similar to a class B RV except that you send a van to customize it as per your needs or DIY.
Pop up camper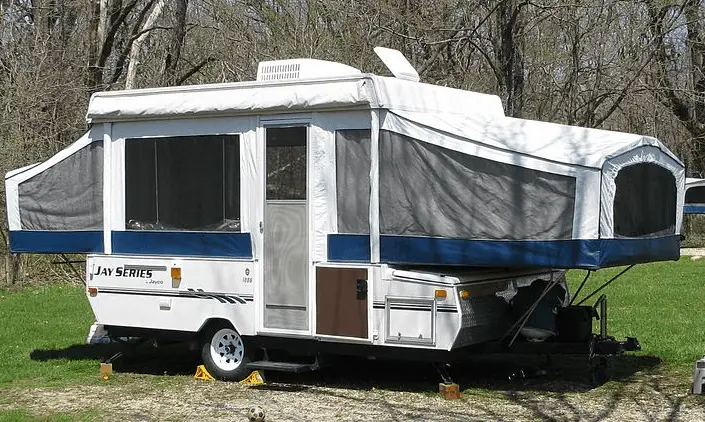 Pop up camper is a towable RV that can be collapse for easy storage and towing. Once expanded they provide good space for sleeping and living. These are modest forms of RVs that weigh between 700 lbs to 3000 lbs and therefore can be easily towed by almost any car.
Their walls and roof are thin made up of canvas, this makes them less insulated and not great for harsh weather. There are also versions of hard sided pop up campers like A-liner that pop up and collapse within minutes.
Truck camper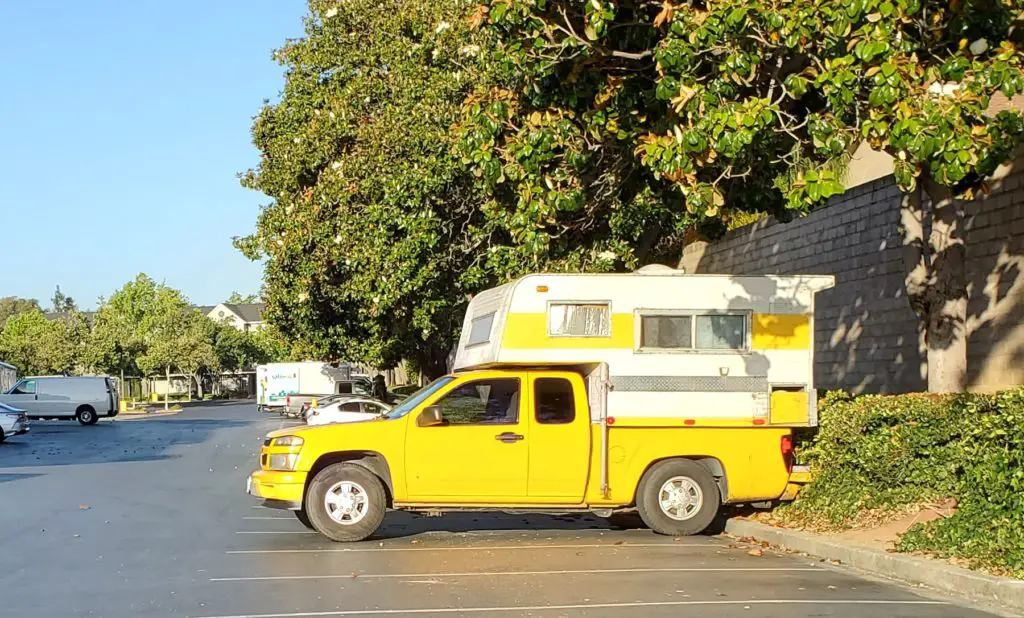 A truck camper is an RV that can be carried over the bed of the pick up truck. It is also referred to as TC, slide in or cab over. These are hard sided campers that can also be used off the truck.
For storage or at the campground one can take them off and use the truck separately. Since, they are fastened to a pickup, that makes this RV very versatile and it can go to all the places your truck can go. With advances in manufacturing, it is actually easy to dismount the camper from truck within few minutes.
Tear Drop camper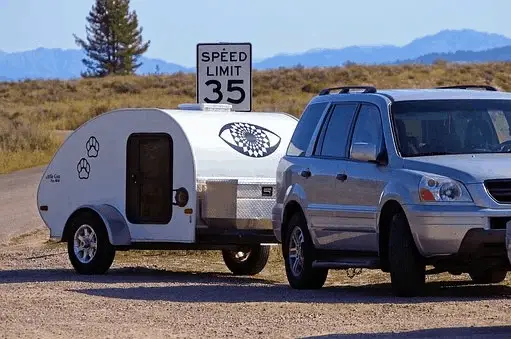 Teardrop camper trailers are the smallest travel trailers that are very compact with sleeping space for max 2 people and kitchen in the rear side. They are lightweight and very easy to tow.
These are for suitable short adventure trips without much hassle of towing. Most teardrop trailer will not have bathroom and toilet facility although some manufacturers sometimes make it possible. They will have very limited storage just needed for that minimalistic lifestyle.
Pop up truck camper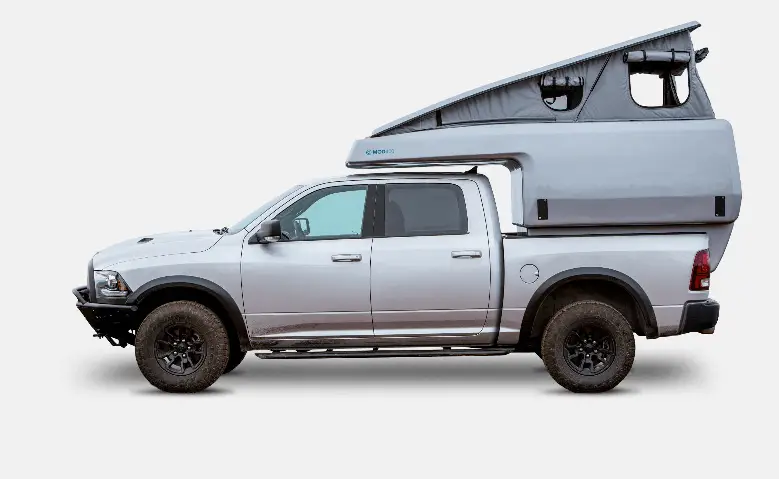 A pop up truck camper as the name suggest is a combination of both, truck camper and pop up camper. Its a camper that goes on the bed of the pickup truck or at the top of the SUV.
These are not hard sided like normal truck campers. You can pop up or expand it once at the campground. This campers can also be used on SUV's.
The reason why these are popular is because of their weight and cost. This a great invention in truck campers as its easy to transport and use without much hassle.
Hybrid camper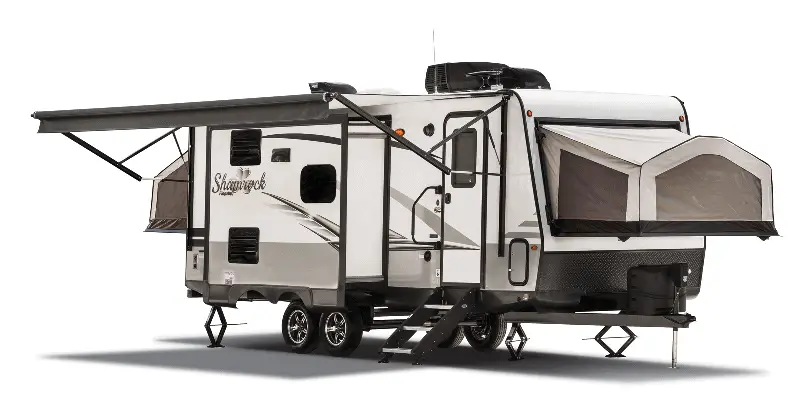 Hybrid campers are travel trailers that are a combination of hard sided travel trailers and a tent, that general pulls out for sleeping area. These are great for warm climate and also lighter as compared to fully hard sided campers. These are easy to setup and provide a mix of both home like comfort and camping adventure.
They are also know as expandable travel trailers. The pop-out on these campers provide for additional sleeping space in addition to its original sleeping area.
Toy Hauler Camper RV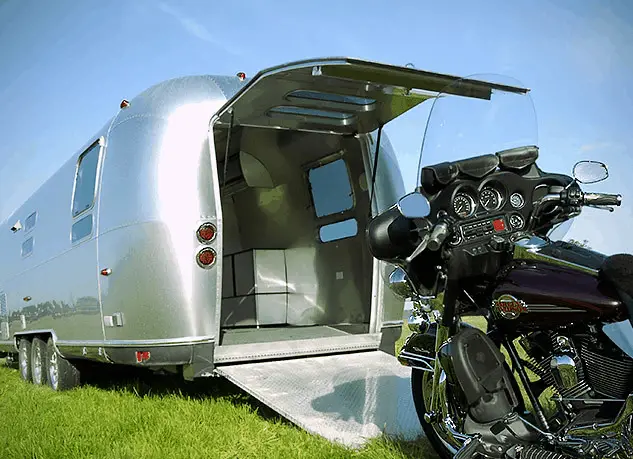 A toy hauler is a an RV type that has space or compartment usually at the rear end to store and transport your toys like ATV, UTV or a bike or motorcycle or other adventure toys. It will also a ramp so as to load and unload the toy into the RV.
The toy haulers therefore are built sturdier and much heavier than normal travel trailers.
So, when I say toy hauler its basically any kind of RV that has such a space to carry the toys. It could be a travel trailer or even a motorhome.
Because the significant area of the RV s taken by this special storing the usually living space is therefore compromised to some extent. Therefore this type of RV should be chosen wisely if you cant go camping without the toys.
Motorcycle camper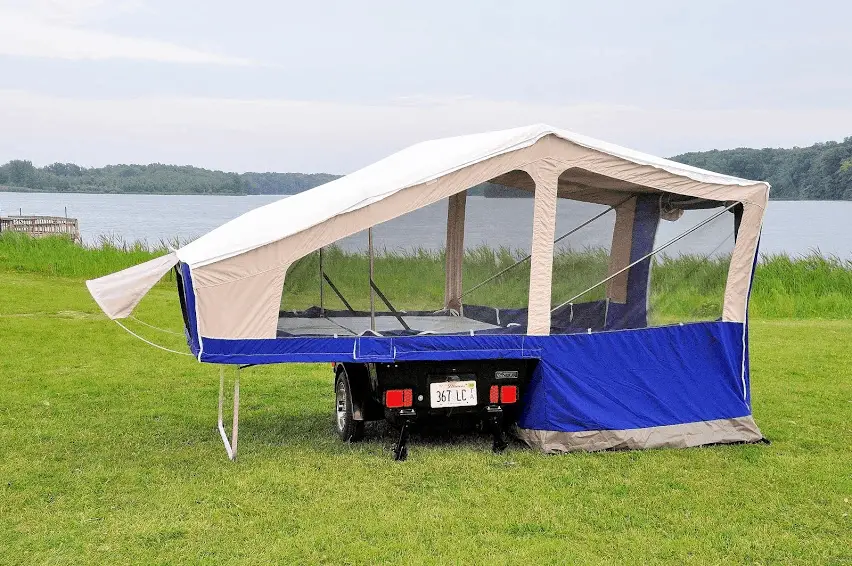 Motorcycle campers, as the name suggests are pulled by motorcycles. They are similar to pop up campers that can be collapsed while transporting and then pop out at the camping site.
They are tiny and more compact than the normal pop up campers. Well, they have to be, don't they? After all you will be pulling it by a motorcycle. Its tiny design gives you space for sleeping and may be place to change the clothes.
Its a basic facility you get while traveling on a motorcycle. So, if you love traveling on 2 wheels then this setup can give you shade to rest and sleep but don't expect more from it. Their weight can be anything around 250 lbs to 320 lbs.
Destination trailer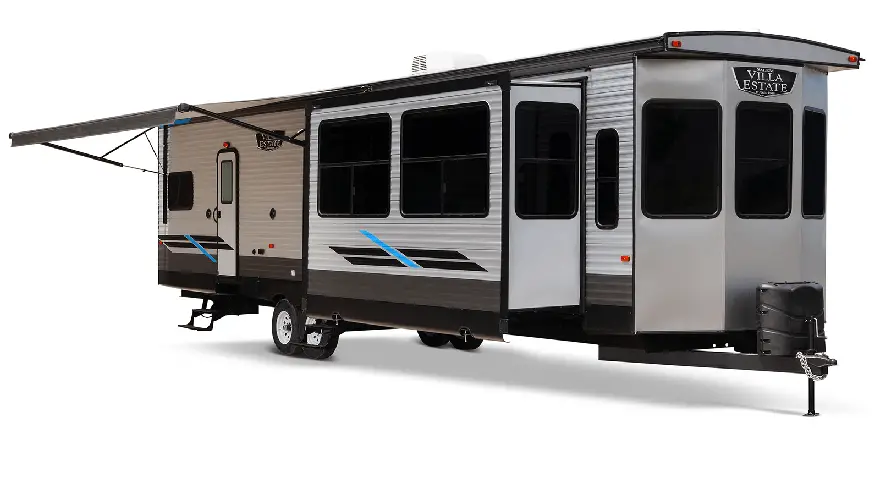 Destination trailers are just like travel trailers except that they are heavy and meant to be stationary. You can move them when necessary but because they are heavy and lengthy, its best you camp in them at a place longer than usual. That's their main purpose.
So, these trailers for those who want a stable lifestyle and yet have an option of moving once in a while. Destination trailers are the best choice when you want to stay at a location for more than 3-5 months or years. The other difference is, you can have a lot of space in a destination trailer.
Also, you would need a bigger truck like a 1 ton to pull a normal destination trailer. The average size of such trailers is around 38-40 feet. Its actually good to have larger trailer as you would be staying at a location longer like 3 months or more.
Tiny home on trailer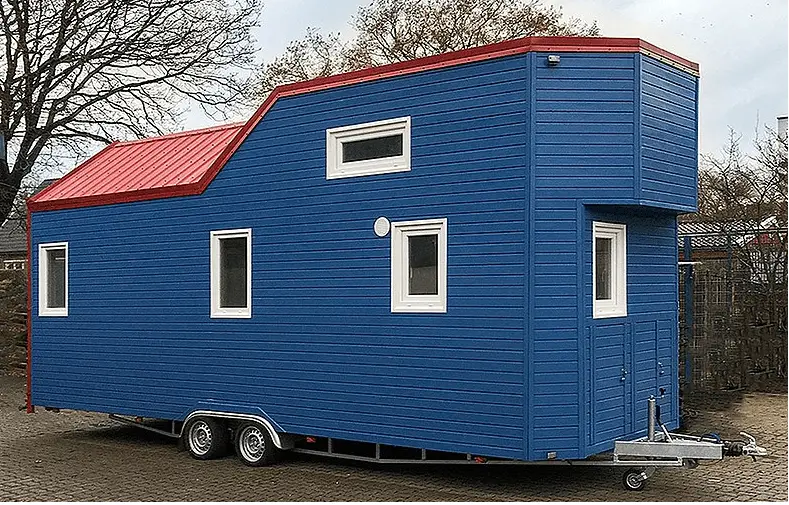 These, as the name suggests are tiny houses built on Axem tandem trailers. Its basically a house that sits on a trailer so that you can move it when needed. Consider this as advanced version of destination trailer.
One thing with this is that you can built them custom and therefore you get the chance to built it as per your needs and requirements. A tiny house on trailer is very heavy and not meant for travel at all. You can tow them when needed but should be done only when necessary. Basically, you need to be stationary as long as possible and move only when you are resettling to a different place.
One reason why people opt for this is, it saves money, they are energy efficient and also affordable.
speaking of costs, they aren't generally less costly when it comes to building a new one. You would spend a lot as compared to a small travel trailer or smaller RV.
Park Model RV
Park Model RVs are more like permanent homes but on wheels and can be moved only when needed. They need to be hooked up to electricity and water just like any other RV
RV slangs and Common words in RV world
Full timing : This means living full time in RV.
Rig : It means RV. Many people refer to their travel trailers as rig. A big rig meaning a big RV.
RVer : A one who goes camping in their RV is referred to as RVer.
Bus conversion : This is nothing but a bus converted into an RV.
Bunk House : A RV floor plan with a bunk bed inside it.
Black Tank : This a holding tank for collecting waste from a toilet.
Gray tank : This is a holding tank for collecting waste from shower/sink.
Fresh water tank : This stores fresh water needed for drinking or washing cloths, dishes.
Sanitize the tank : Means cleaning the tank to freshen up.
Hook up : This means connecting the RV to either electricity o water connection.
Shore power : This is nothing but the electricity connection.
10 Year Rule : this is the rule campground and resorts follow that do not allow RVs that are older than 10 years.
COE : It means Army Corp of engineers. They have campgrounds through out the US that RVers can use for camping.
Airstream : This is a old and popular company that makes travel trailers. Their unique silver looking aluminum trailers are very popular.
Part Timer : Those who go camping in their RVs occasionally.
Pop-up : referred to a pop up camper trailer RV that can be collapsed and expanded when needed.
RV mod : This refers to the modifications one does to a RV internally or externally.
Boondocking or dry camping : This refers to camping in RV without basic amenities like water or electricity hookup.
Vintage camper : This refers to old travel trailers or RVs that are generally 25 years or more old.
Hitching : Connecting aa trailer or fifth wheel to a car or truck
Skirting : A way to protect the lower part travel trailer or camper from outside during very high cold weather.
3 Way or 2 Way Refrigerator : RV refrigerator running on 3 or 2 sources like propane, DC battery and 110V electricity.
Water Damage : Damage caused to the RV specially to the floor or roof due to rain water leaking in.
Lemon : Buying an RV that has turned out to be a bad deal due to hidden issues like water damage or leaking.
Winterizing : Preparing your RV and its components like water plumbing system for winter cold.
Leveling : It means leveling the RV to make sure all sides are at the same level. This is done at the campsite to avoid malfunctioning of appliances and to make sure you don't roll down while walking.
Slide out : Part of the RV that can extend on a button press to give extra space usually fitted with sofa, couch, dinette or bed.
Dry weight : Weight of the RV without any extra items fitted usually when the RV is bought new.
GVWR : Gross vehicle weight ratting, the max weight the RV can go with all the items and RVers inside it.
RV Covers : big covers to protect RV when stored outside.
Tire covers : Covers that are used to protect the RV tires when stored or parked.
Rooftop AC : Air conditioner mounted at the top of the RV
Roof vent : Fitted on the ceiling of the RV to keep air fresh and clean.
Floorplan : The layout or the design of the RV interior.
Suburban, Dometic, Narcold, Camco, CURT, Atwood, Airxcel : Common RV accessories making companies
Newmar, Winnebago, Tiffin, Forest River, Keystone, Thor, K-Z : Top and common RV manufacturers
Important things for newbie RV enthusiast
If you have any plans of owning an RV then be sure to know below things. RVing is not only about enjoying and having fun, it takes some efforts to get to that point specially when you are new to this world
Dealing with holding tanks is not for everyone. Black and gray tanks draining can be a very hard job.
Parking problems. With such a huge vehicle you will not be welcomed at normal places like malls, or shopping center.
Setup at the campground may test your patience at the beginning and it may seem like all hard work and no joy. With time, this will not be much effort though.
RVs need regular maintenance specially seasonal maintenance like winterization of plumbing components
They need bigger garage and storage is critical to prevent them from damage.
Campground costs and overall living with RV isn't really that cheap. Miles per gallons are low therefore traveling costs are on higher side.
You may end up with Upgrade costs as brand new RVs or used RVs may still need changes
They have high depreciation and buying brand new RV will quickly loose its value.
You can face different issues with RV like water damage, leaking, bad insulation, leveling issue. So, need to remain prepared for this.
How to Start
So, you are excited after all this how, why and what about RVs and now you want to start RVing! Here are your best options for getting started.
Rent an RV. That's the best and easiest way to getting started. There are many RV rental companies where you can rent any type of RV you want and simply go on a camping vacation. RV rentals like RVshare, outdoorsy, cruise America are some of the well known players in this space.
Buy Small Travel Trailer : If you want to own an RV then buying a used RV can also be a good deal or you can buy a brand new travel trailer or class B motorhome based on your budget. A small pop up camper or teardrop trailer can also be great for individuals to start with.
Conclusion
RV and RVing is definitely a unique lifestyle and you are lucky if you are part of this. No hotel or beach resort can give you this type of freedom. Its a smart way of traveling and experiencing different places.