Last Updated on :
In this article, we will see key things to check in a used pop up camper. This will educate you on how to inspect a pop up camper.
Pop up campers are low cost and good value for money. A lot of people start their RVing journey with such tent trailers. Since their initial investment is so low there is less risk and you wouldn't be much worried about buying a lemon. Their cost really makes them worth it, but a lot depends on you as RVer.
Sure, they are low priced but still you need to check few things to avoid bad buy. In this post, lets explore all things you need to look before buying a used pop up camper.
Most important aspects to look for in a used pop up camper includes water damage, worn out canvas, soft spots on floor and non working lift system. Avoid Buying a used pop up camper with bent frame, leaking or rotted roof and damaged exterior hard surfaces as these are major issues that will cost substantially to fix.
Lets explore the checklist in detail and in fact, there are more points to inspect. This checklist can help you buy a used pop up camper that wont disappoint you.
1. Check lift system
Check if the pop up camper lift system is working properly or not. In most cases, components which have moving parts are the ones that break early. Make sure the roof is lifted and stays up fixed.
Try using the lift system so that you are sure about its operation. Most people neglect pop up camper (because they cost so less) and this leads to issues later on.
Fixing a pop-up camper lift system is possible but make sure you don't end up buying such as it would definitely cost you significant amount.
2. Pop up camper walls
Most pop up campers are built using walls that are thin. This leads to not having great insulation and even the inside isn't much insulted from noise. That also results in pop up campers not so warm.
No doubt the tent trailer wont have thick walls as compared to travel trailer or fifth wheels, but at least make sure you get decent thickness.
Try to figure out how thick the walls are. Go inside and see if you are able to hear noise. Pop ups may not be great for winters due to their walls but having thin walls may also make it difficult during normal weather times.
Inside temperature may rise very much due to thin walls even during normal times. So, just make sure you aren't buying that ultra thin wall camper.
3. Tires and suspension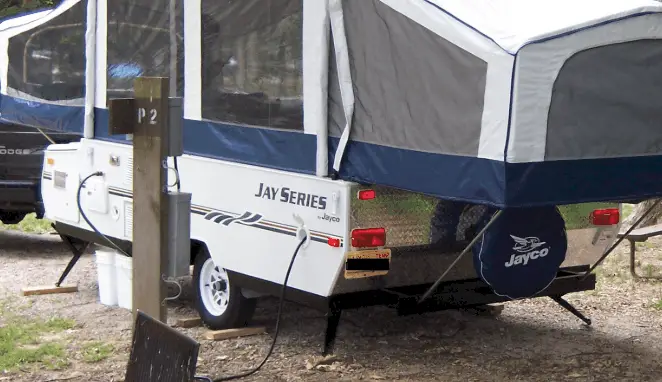 Pop up camper tires last for 3-4 years and thus make sure the used pop up camper trailer you are going to buy have tires not old enough. Thread on tires should be able to tell you how old the tires are.
Also, on the side wall you should see their manufacturing date. One point to note here is that the date printed on the tires is the manufacturing date and the life also is from when it was manufactured.
You also need to check wheel, axles on the pop up camper. If you are not sure about these things then take help from a professional RV inspector.
4. Look for cracks and damage
Small crack and holes on the pop up camper can aggravate over time and that can lead to water leakage. Also, if you plan to use the camper in winter then such a damage can be very bad.
Even small cracks make the interior of the camper go very cold. Most people don't prefer camping in winter in tent trailer though. Not having hard sided walls make it very difficult to camp. It depends on the weather you are in though.
Identifying small cracks, openings can be tough but you need to observe properly. Most of the times these damages are hidden behind appliances or furniture and thus you need to be clever in identifying those.
5.Check for mildew or mold
Mold can start growing due to moisture. RVs are prone to such algae growth or mildew if proper care is not taken. Since people tend to keep the campers closed, it leads to condensation and results in molds.
Keeping the interior air circulation can prevent such molds. Check for any such mold present on walls, interior roof or hidden places.
Getting the mold removed can be easy if detected earlier else you may have to spend lot of time and energy to get it removed.
Getting rid of mold or mildew from camper can be tough if its been there for long. Its always best to prevent it by using different techniques like using dehumidifier or keeping better air circulation
6. Verify overall age of tent trailer
Most RV's tend to remain usable for years. A travel trailer for example can last for 20 years or more on an average. But, those are hard sided. Pop up campers too can last long but not as long as hard sided trailers.
Thus, make sure you know how old the camper is before finalizing the deal. Many times people end up buying RVs that are owned by multiple owners and in that case the actually age remains hidden from them.
Ask the owner if it was owned previously by someone else or not. Knowing the actual age kind-of gives you far idea as to what to expect in coming months. A RV is high depreciating and high maintenance vehicle and therefore be sure to know in and outs about it.
Doing proper maintenance can also help in increasing the life of the camper. Simple things like using cover for pop up camper, painting the walls when needed, inspecting lift system helps a lot.
7. Inspect Canvas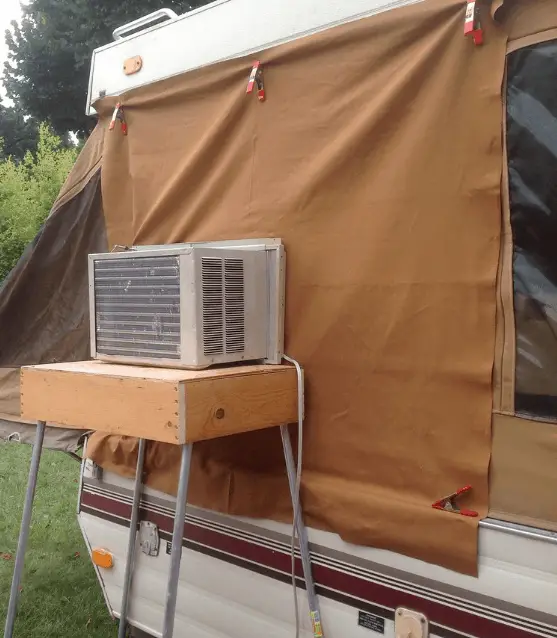 Canvas on the pop up trailer can be damaged, leaky and may have mildew or mold on it.
Canvas gets all these issue when it is not stored properly. A wet canvas when stored, results in molds. A soft, leaking canvas will give you irritating camping experience and for sure you don't want it to happen. Check the canvas inside out and check thoroughly for any such damages.
Many times when the owner stores the pop up camper, rodents, mice chew and damage the canvas. Patching can help in fixing those issues but over long time the damages can affect it.
Therefore, see if the canvas was patched previously for such holes. Also check for water damage, new pop ups are waterproof but they loose waterproof quality with time.
8. Weight of the pop up camper
Traveling in a pop up camper or RVing in them is a complete different experience and it feels more basic. A pop up camper need to be towed and thus its weight is obviously an important factor.
Even though most pop up campers can be easily towed by any car, its important to know what your car will be towing. Check out my super detailed article on whether your car can pull the pop up or not.
A pop up camper trailer weighs much less as compared to travel trailer or motorhomes. When towing a RV you need to know few parameters about RV weight like GCWR, GAWR, NCC etc. Get these details from the owner, those should be present on the manual or stickers inside the RV.
9. Towing system and components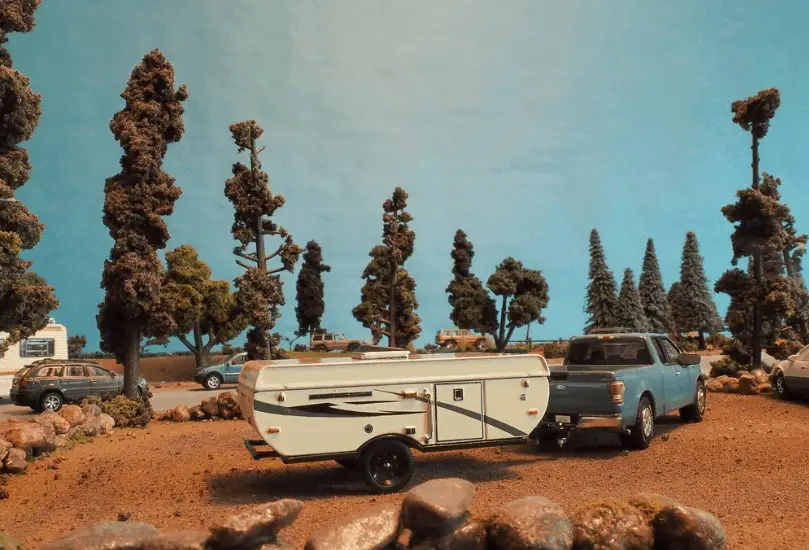 Pop up camping is an adventure for sure, it gives you amazing experience but you need to follow some checks when camping. Check hitch of the camper that connects to the car.
Make sure you aren't getting something that has been damaged or weak. Towing any kind of RV isn't easy specially when you are new.
You need to check the connected hitch every time you start the journey. Any compromise on the hitch and connection isn't good and therefore be sure to check out this point. The hitch also need to be good enough for the weight you are towing.
10. Mock setup
Setting up a pop up camper is easy specially after you have done it many times. As a newbie however you may find it little bit difficult and time consuming.
Even with best pop up campers the set up do need some time. Thus, just to get the feel of it and to make sure you aren't missing anything, ask for a mock set up. See if everything works fine or not.
11. Pop up camper documents/ paperwork
If you have finalized the buy then make sure all the paper work happens as per the law and rules.
Remember each state have their own laws for towing RV's. Therefore get all documents, paperwork before making the transaction. Ask for manuals and other important documents for the tent trailer.
12. Check appliances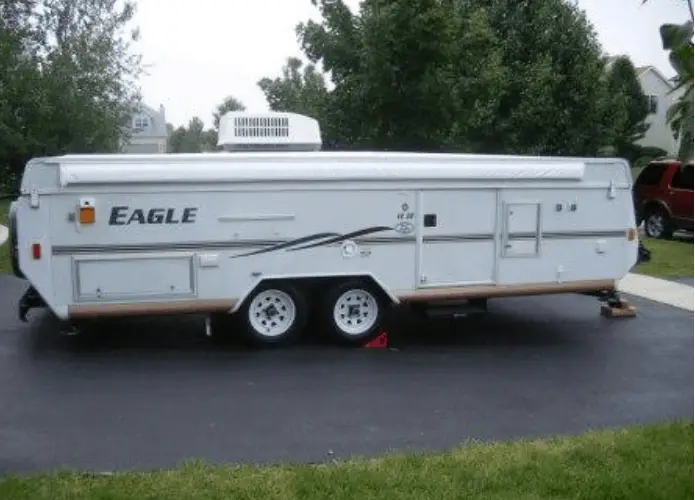 A tent trailer camper may not have many amenities but check for working of all that are available. Make sure the refrigerator is in good conditioner and isn't having mold or mildews.
Try operating all other appliances and see if they are in working conditions. Many a times the owners switch to new bigger RV's and the tent trailer remains neglected along with the amenities present inside. Not storing it properly also leads to many issues. You also need to check for all other pop up camper necessities.
13. Air conditioner installed or not
AC in a pop up camper is not common. Pop up campers are small and do not include air conditioner all the time. But, one can install the ac on their own. Check if the owner has installed the AC or not. A lot of times first time pop-up campers don't understand the importance of AC, its only when they RV in summer that they realize how hot it gets.
If its installed then well and good. But, if it has not been installed then check why it was not. Verify whether you can get it installed or not. Sometimes the pop-up campers are so small that getting the AC on them could be difficult. Thus, if you plan on getting one installed then make sure the pop up is in proper position to get it accommodated.
One can also use portable AC that can be placed anywhere inside or mounted on the windows as well.
14. Is storage good enough
Pop up campers do not come with big storage. In fact this one of the prime reasons why one should not buy a pop up camper.
And therefore, you need to be innovative in utilizing whatever you have. Check if the existing owner has created such spaces inside the pop up camper. You need to use storage cabbies or create shelves on walls or on floors to make room for items.
Also, you need to get items that are fold-able and do not take much space. Like foldable chairs or collapsible tables, seats and even beds that can function as couch as well. You get lot of such items that can save space.
So, check if the owner has incorporated such items or is it just normal ones. This makes a lot of difference as you are able to save on space and don't have to compromise.
You can always improvise on things later-on but if its already done then that will be relief for you. Yes, the pop up campers cost so much less but still you are going to use it at-least for some time so making proper use of space with such items makes sense.
15. How many can sleep inside
Even the best Tent trailers aren't for big sized family. They are moderate and compact RV's that may not sleep more than 5 people. It will depend on size of the camper but on an average this is what you can expect.
On top of it some may not even sleep 4 people so get the feel of the camper and check out how many people it can accommodate for sleeping. A low cost pop up is a great buy for couple or 3 people.
16. Make sure you aren't paying more
One of the prime reasons why one should first try pop up camper is that, its every less costly. You can buy a used pop up camper in less than $2000. Now, that's super cheap if you compare with moderate sized travel trailer or fifth wheel.
Bigger motorhomes like class C RV or class C RV come at thousands of dollar and more. So, in comparison to that tent trailers are super cheap.
Having said this, don't be surprised if you see pop up campers coming at higher prices. There are pop up campers that include great facilities and are compact, loaded with great value amenities. And thus they obviously cost more.
But, a used pop up camper should cost you minimal price. So, when making the deal make sure you aren't paying higher prices.
To know exact value of the RV you can make sue of NADA guides website. You also need to know how much a RV depreciates, it depreciates a lot and therefore more older the RV less is the price. Just keep this in mind. Also there is no point in spending more on pop up camper if you have plan of upgrading to bigger one later.
17. Inspect floor carefully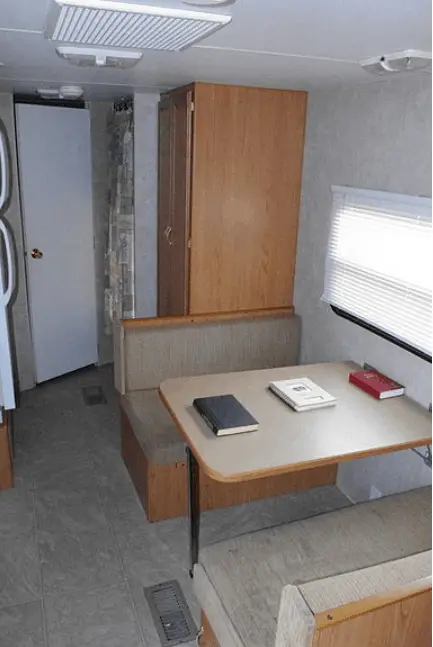 RV floor needs proper maintenance else it can develop issues. Soft spots can grow, even mold and mildew will start if it remains wet. Make sure there is no dryrot on the floor. You need to check everything carefully as it can turn out to be a very bad deal if the floor has issue in it.
Changing the floor will mean the investment will be a bad one as it will cost lots of money. The overall deal is cheap then you can compromise on few things like holes in canvas or malfunctioning appliances but with floor you need to be absolutely sure.
Water damage in floor can lead to many issues and thus you need to be sure that the roof does not remain wet. It can take weeks to dry out a floor if it gets flooded.
18. Check water tanks and piping systems
Check how big water tanks are present in the camper. Normally, RV's come with 2 holding tanks (black tank and grey tank). And one big tank for fresh water. Check how big each of these tanks are.
Everyone has different water usage need and thus check if the water tank size will be okay for you or not. Check if the sensors in the holding tanks are working or not.
Many a times sensor stop working if they are not cleaned. Also, check if the piping system inside the camper is working fine and there aren't any leaks. Such water leakage can cause molds if it remains unattended.
19. Check if bathroom and shower is present or not
Pop up camper may or may not include bathroom and shower. They are small RVs and a lot of times manufactures skip building bathroom/shower. You will find good pop up camper brands that include bathroom, but they will cost higher.
Many people make use of pop up camper for boondocking and not having bathroom inside doesn't make sense then. Therefore, if you are going to use the camper for dry camping or boondokcing then make sure you get one that has shower and bathroom build inside.
How much should you pay
Used pop up camper cost can vary based on factors like time of the year, condition of the camper and the original cost of that model.
Best time to buy is time after camping season is over that is in winter or fall.
You can buy them in as low as less than $1000 to more than 20K. However, on average most used pop up campers are bought in between $6000 to $12,000.
To know the exact worth of the camper go to NADA guideline website. However, many people find it worth-it to check costs on sites like craigslist, this can give you area specific cost in better way if you do the research properly.
Before you finalize the buy, make sure to check multiple campers, as in most cases the first one you checked isn't the best you get.
Where to buy used pop up camper?
The best and easiest way to start is by looking online on sites like rvtrader, rvuniverse, craigslist, camping world and eBay to name a few. You can check local dealers and also individual owners through Facebook groups, reddit or RV forums.
Best used pop up camper on sale
While buying a used camper, you may not have an proper option as to which model/brand to go for. You start the search and come across a deal that looks best. Even then, if you can keep an eye on below brands that are regarded as the best pop up campers in RV industry. They have better resale value and depreciate a little less.
Starcraft Comet
Forest River Flagstaff
Coachmen Clipper Express 9.0
Jayco Jay sport
SylvanSport
Livin Lite Quicksilver