Last Updated on :
In this post, we will check out 5 Top pop up truck campers for half ton truck "Toyota Tundra".
The whole idea of integrating a tent in the bed topper of trucks isn't new. Nowadays, camping fanatics are witnessing a sprouting up of brand-new campers for Toyota tundra. These go-anywhere trucks offer a solid platform to store all your adventure equipment.
Here are the top 5 campers.
1. Go Fast Campers XL Platform
If you're looking for a small-sized bling for your toyota tundra, Go Fast Camper XL Platform is what you need.
Base Price : $6,950
Immense strength and low weight are the main ideas behind this invention.
It is a go-fast camping system suitable for large camping trucks. So, going for a camping adventure in remote environments needn't be a hustle.
Check all the specification here.
Ordering
Due to high demand you have to first place the order with a deposit of around $575. Delivery may take few months to an year or so. You need to check the delivery timeline before going ahead with this buy.
The platform is affordable and will suit the needs of your budgets; you can get it from as low as $7K.
Besides this affordability, the platform also features game-changing qualities. These include an elegant camper, an excellent base color, side panels, and a queen, HD foam mattress. It also comes with an install kit that is specially designed to fit your truck's model.
The base model has a custom coloring, windows, and a side door.
With its sleek design, you may fail to notice that it is a camper on the first look. The lockable panels have a hinge, making the panels waterproof.
Popping the top gives a luxurious height of four feet at the truck's back. With this, you can comfortably sit or stand on in the truck bed.
Here's more good news: the mattress and flooring are movable. Therefore, you can arrange the truck camper well enough to accommodate two sleepers.
Next is the cross rack and bar accessories that are includable on the camper will enable you to utilize the truck for work-related purposes.
You don't have to open the roof to accommodate loads. Even with closed roofs, you can carry loads weighing approximately 500 pounds.
Pros
Lightweight
High-quality tent material
Best for large trucks
Easy setup
Cons
Not best for waterproof – needs sealing where the camper and the bed meet.
2. Hallmark Milner 6.5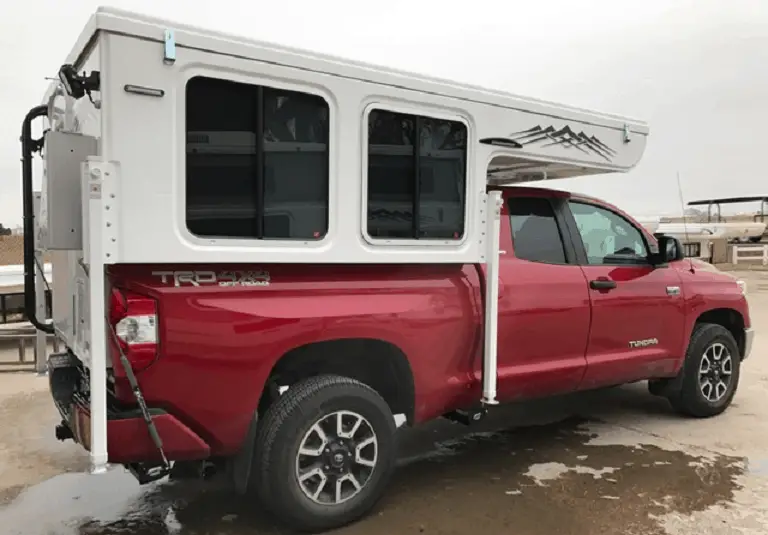 This hard sided camper is made up of fiberglass and has a one piece roof that makes it less maintenance. The hallmark has long history that dates back to 1965 and they have delivered nicely over the years.
Check all the specifications here.
Base Price : $27,900
Even though this camper is made tougher it still weighs just around 1212 lbs. That is pretty impressive and makes a perfect fit for toyota tundra and also other half ton trucks like Ram 1500, Ford F-150, GMC Sierra 1500, Nissan Titan and Chevrolet Silverado.
The interiors of this little wonder are amazing. Its given large windows that makes it awesome too.
A 3.8 cu.ft refrigerator and 30 gallons fresh water tank will be enough for you while dry camping.
Its given a Queen size bed and also a dinette that can turn itself into a smaller bed.
This truck camper is priced little above $26,000 and on addition of optional features it will go higher. Here are the key features :
Dry weight of 1212 lbs
Fresh water tank of 30 gallons
Gray holding tank of 12 gallons (optional)
Black tank 5.3 gallons (Optional)
Propane tank of 5 gallons
2 batteries with a compartment to fit them in
LED interior lightning
Insulated walls
Comes with a 5 year warranty
3 stove cooktop
Standard packages do not include tie downs or steps and including those will increase the price.
3. EarthCruiser MOD 400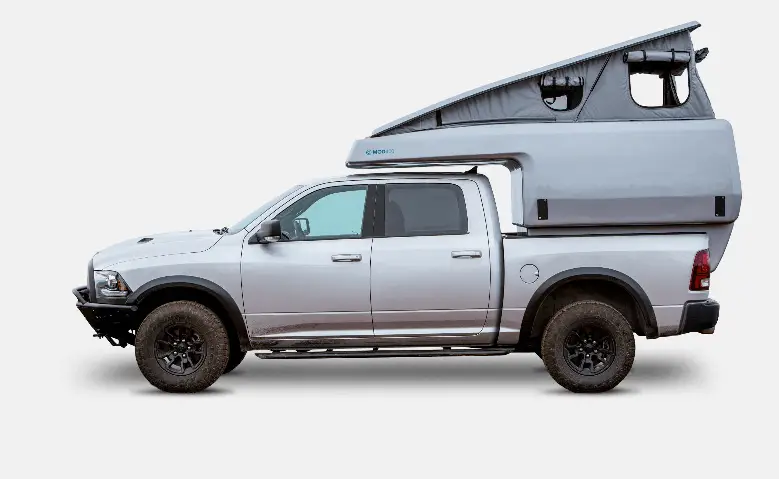 EarthCruiser MOD 400 is a large-bodied camper ideal for half-ton Toyota Tundra pick up truck.
Unlike the previous models, this EarthCruiser comes with grown rigs, albeit slightly. It can carry weights of up to 363-kg, but this still depends on the specific equipment.
Check all the specifications here.
Price Starts at : $22,000
Being a modern camper for Toyota tundra, the platform boasts excellent features. As a matter of fact, the MOD is the acronym of "My Own Design".
The design in focus is the lovely modular interior which is customizable using pre-made kits. This camper best fits a Toyota Tundra that weighs approximately 800 lbs, which is within the payload limit.
Here's more to celebrate: the truck camper is a unique one-size-fits-all composite shell.
Its base plan accommodates a cabover bed, ceiling lights, a kitchen corner unit, a storage unit, and some twelve-volt accessories.
There's another fun stuff, you can choose your preferred overland PAKs that will best suit your off-road adventure. The camper allows easy customization for all adventure needs.
Good job on the kitchen layout that slides over to the corner. Here, you'll meet an L-shaped unit kitchen with a sink, a propane stove, and a fridge-freezer. The design lines shower drain with the sink, hence giving a pulled out faucet that serves as a showerhead.
The model allows 3-4 sleepers when combining the convertible dinette and the cabover bed. Besides offering seats, the dinette also contains storage compartments beneath.
The upper bed support platforms that allow folding out during the daytime to open up the dinette's headroom.
Pros
Best for easy customization and flexibility
Easy installation
Large storage bay
Cons
4. Four Wheel Camper – Hawk
The Four Wheel Camper models have all it takes to be included in the list of best campers for Toyota tundra.
Check all specifications here.
Shell Model Price Starts at : $13,295
Full Camper Model Price Starts at : $19,995
They are rugged and lightweight. The campers are functional and very useful for vibrant on-road and off-road camping fanatics.
FWC models strike a healthy balance in functionality, affordability, and lightweight. They are all available in shell models.
These models have similar construction features. Additionally, the campers allow interior customization and personalization.
It has a top-pop roof, side walls, a cabover bed, and windows. The floor, interior cabinetry, and lower end walls are removable.
The FWCs offer multiple hitch, side, and top racks. With these racks, the camper can carry skis, bikes, kayaks, and many more.
When it comes to bed length, the three FWC models that can best fit a Toyota Tundra include: Raven model for a short bed, Hawk model for a standard bed, and Grandby model for long bed.
Hawk model is the best for a small family camping adventure. It is lightweight and promotes easy towing of camp trailers. Raven is smaller than the Hawk.
The camper is best for easy towing of camp trailers. On the other hand, Grandby is the best camper for a large family. It can fit an 8-foot camping bed and allows easy towing of camp trailers.
Pros
Multiple models to choose from
Allows easy towing of camp trailers
Excellent functionality
Affordable
Lightweight
5. Lance 650 Camper
This is an all-round camper for Toyota Tundra. Lance features revolutionized designs that heavily rely on modern materials, computer-related mechanisms, and CNC equipment.
Check all the specifications here.
Base Price : $29,296
The modern materials include LitePly plywood and Azdel composite. The Lance 650 camper accommodates a short-bed. The self-contained camper is a payload with a great ace on its sleeve.
It is successfully designed and built to match a 5′ and 6′ short bed.
Additionally, 650 is made for active lifestyle who appreciate the Lance DNA!
It has a 1700-pound dry weight that includes top-notch features like ducted heat, PVC roof, Bluetooth-app audio system, cabinets, wet bath, water heater, and euro windows.
The wet bath sits at the driver's rear side and has an ABS thermoplastic construction.
When properly implemented, the ABS construction gives the camper more strength to hold the camper bathroom.
This lightweight bathroom design is a borrowed design from Lance 815, which was Lance's best-performing model when it knocked the market with a competitive advantage in the recent past.
With this proven design, 650 is considered as the best refined Lance camper that allows the largest fully-featured bathroom.
The appeal of this camper is not worth forgetting, thanks to the cabover design that gives it an elegant finish.
At a 17-lbs dry weight, you're good to go since that is the nearest payload limit of a Toyota Tundra. Therefore, you'll need to be creative on how to place your suspension.
Unlike most bed campers, 650 gives camping fanatics an easy-to-remove floor.
This floor section is where your feet will rest, beneath the camper's dinette. You will agree that this is an intelligent design as it gives sufficient space for an optimized table. Other trailers can only allow tables to play their role of bed-support.
Pros
Multiple clever storage options
CNC materials give a high quality interior
The cabover steps give a comfortable exit and entry
Cons
Cabover gives minimal storage
The ABS construction isn't durable
Why get a pop up camper for your Truck
Campers for Toyota Tundra have all unique amenities that will make your truck home away from home.
If you enjoy lying on the bed and enjoying the beautiful breeze on the road, the campers will make life even more comfortable for you.
They are your best partners for a custom-made off-the-road trip. 2020 presents campers with excellent adjustments; they cope up with some extra load and provides sufficient storage space.
The top-pops provide even better additional space, thus accommodating 2-3 beds.
Whether you own a toyota tundra or a toyota tacamo or a nissan frontier or a ram150, a pop up truck camper is all you need to enjoy the outdoors.
Many of us cannot get a brand new RV mostly because of the work it takes to keep up the RV and also the prices
Bigger motorhomes need special attention like storage, maintenance and other expenses.
Winterization, insurance and so many things will keep you busy with a motorhome. A small pop up truck camper is a perfect RV camping partner when its for 1 or 2 people.
You get very basic amenities like sleeping space, a small cooking space and you are good to go.
Set up : The setup is absolutely nothing. Its a pop up and you hardly need 10-15 minutes to do the setup at the campsite.
Driving/Weight : They weigh much much lesser and your truck will hardly feel the heat. This will result in not much reduced truck mileage. Overall, making it a very low cost option.
Maintenance : Storage and maintenance will be almost negligible. You will need a small storage to keep it when you want to use the truck without camper. Maintenance will be minimal.
Off-roading : If you own a big motorhome like calss C or class A then it is very hard to go off-roading with them but with a truck pop up camper that is very much possible.
Cost : Now, that's the main factor. Most RV types are costly and if you want something at a much lower price then pop up truck camper is the way to go.
What's the Best Camper for My Toyota Tundra?
The answer to this is subjective; it will be dependent on your needs and preferences.
Additionally, each camper is designed to meet specific needs. Others are best for a small family setting, while others can accommodate a large family unit.
If you're tight on budgets, the market is ready to accommodate your pockets; you'll find one in your price range. However, be sure not to compromise quality for the price.
Factors to Consider when Purchasing a Toyota Tundra Camper?
Another critical factor to consider is the amenities inside the camper. Take a look at the appliances and storage options that a camper features. With this, you will determine whether or not the Toyota Tundra camper will fit all your equipment.
Weight : The above options are best suited for toyota tundra but not all pop up camper are designed for this truck. Be sure to check their weight and the dimensions.
Know your truck
Toyota tundra is a very capable truck that can pull a travel trailer as well as carry a camper on its bed. This is a impressively designed truck and is a great half ton, short bed truck that can be used for camping experience just like other similar trucks like F-150 or Nissan Titan.
2020 Toyota tundra is capable of carrying upto 1730 lbs when it is properly equipped. Its towing capacity stands at 10,300 lbs.
It can also be used to tow popular trailers like Airstream that weigh within Toyota tundra's towing limits.
If you don't own a tundra yet then check out its key features below.
Seats 5 to 6 people
Fuel tank capacity of 38 gallons
curb weight of upto 5380 lbs
Toyota tundra is definitely one of the most capable truck and you can definitely use a good pop up truck camper on it or can also tow a travel trailer or fifth wheel behind it.
Conclusion
Ultimately, getting the nest camper for your Toyota Tundra creates the difference between having an enjoyable adventure or not. The above campers are the best if you're considering durability, lightweight, and versatility. They carry reasonable price tags and therefore, worth considering for your forth-coming outdoor adventure.
All the best!