Last Updated on :
Looking for best travel trailers under 5000 lbs that can be easily towed by your car? If yes, then continue reading this article.
Travel trailers normally weigh anything from 1000 lbs to more than 10,000 lbs. The demand for the mid range travel trailers from 3500 lbs to 8000 lbs is high because they are perfect for a small family of 4 to 6 people.
Also, the most popular and easy to tow trailers are in this range. You get all the standard features and amenities that you would need for spending days in these trailers. Even full time traveling is possible in these RVs.
10 Best travel trailers weighing less than 5000 lbs
So, lets get started and see some of the top travel trailers that weigh just under 5000 lbs. Each of these brands have multiple models and floor plans where in the weight can vary a little above 5000 lbs as well. But, overall you will find best options in these brands.
Below are the best and top rated travel trailers under 5000 lbs weight.
| Travel Trailer | Dry Weight |
| --- | --- |
| KZ Sportsmen Classic | 2860 lbs |
| Airstream Sport | 3634 lbs |
| Jayco Hummingbird | 3010 lbs |
| Keystone Passport | 3421 lbs |
| Coleman Lantern LT | 4383 lbs |
| Winnebago Micro Minnie | 2980 lbs |
| Forrest River R-Pod | 2756 lbs |
| Dutchmen Aspen Trail LE | 3815 lbs |
| Coachmen Freedom Express | 4572 lbs |
| Braxton Creek | 4460 lbs |
Lets now see each of these options in detail.
1. KZ Sportsmen Classic Ultra Lightweight Travel Trailer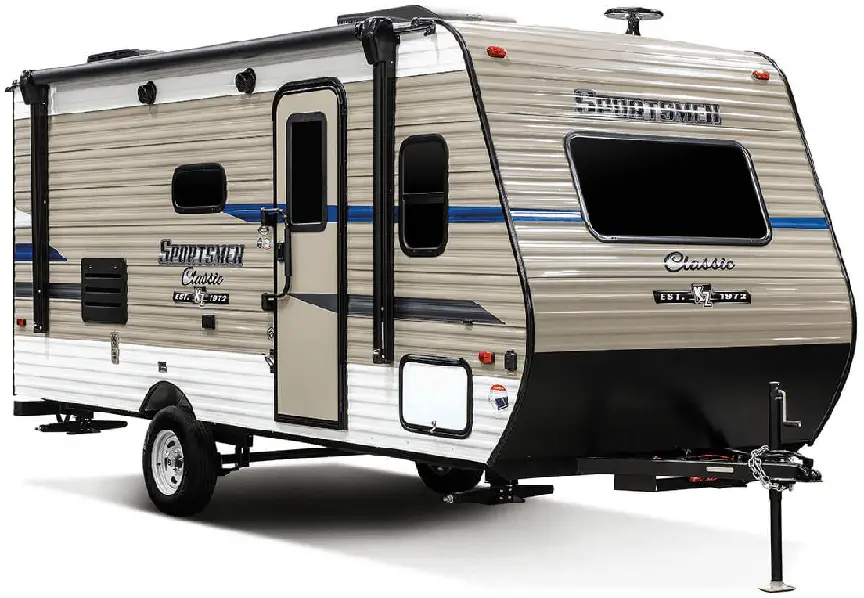 Don't allow the weight or length to fool you. This KZ Sportsmen Classic is a full package!
The travel trailer comes with seven different floorplans to select from, enabling you to customize your trailer in the best way possible. One of the floor plans offers a bunk bed option perfect for families.
Key features :
Pre-wired back up cameras. This is much necessary for travel trailer specially if you are new to RVing.
Entry steps that can flip. Easy to deploy and are solid for footing
Powered awning that can extend and retract very fast. Awning also has LED lights.
12 year warranty on a roof that is a 1 piece.
More secure locking system
Multiple floorplans giving different sleeping options of queen bed to tent bed
dinette with good benching seating
2 burner cook top in a kitchen that has deep sink
Insulated floor and roof
Spacious bathroom/shower
Most of the travel trailers under 5000 pounds do not offer this kind of bed system, but this one makes it seamless.
There are 9 different models/floor plans to choose from. The most light weight being 160QB and the one at higher end is 190TH.
The unloaded vehicle weights starts from 2860 lbs and goes upto 3400 lbs.
Depending on your needs you can choose from any of these models. Most specifications vary slightly and some items remain same throughout.
Like, for example furnace in all of these models is 20,000 BTU. Fresh water tank capacity is 20 gallons in almost all except for 2 higher end models where in it is at 38 gallons.
Awning length is approximately 10-14′ in these models, that's a great added living space during the setup at the campground.
Again each of these floorplans have varying sleeping capacity that goes from 3 to 8 people. 180RBT can sleep 8 people that has tent beds on either ends and also one more on the sideways.
When it comes to getting off the grid, this trailer features a perfect off-road package and a ready solar prep making it one of the best options. It has lots of available upgrade options, but the standard trailer set up is itself excellent.
It features multiple bed sizes to select from enough for up to five people, a kitchen with an ideal deep sink, and a dining table big enough for a family.
All these features make the trailer feel like home when camping with your family. Other excellent features of the travel trailer include an electronically controlled heated holding tank and aluminum rims with 15-inches mud tires.
2. Airstream Sport Travel Trailer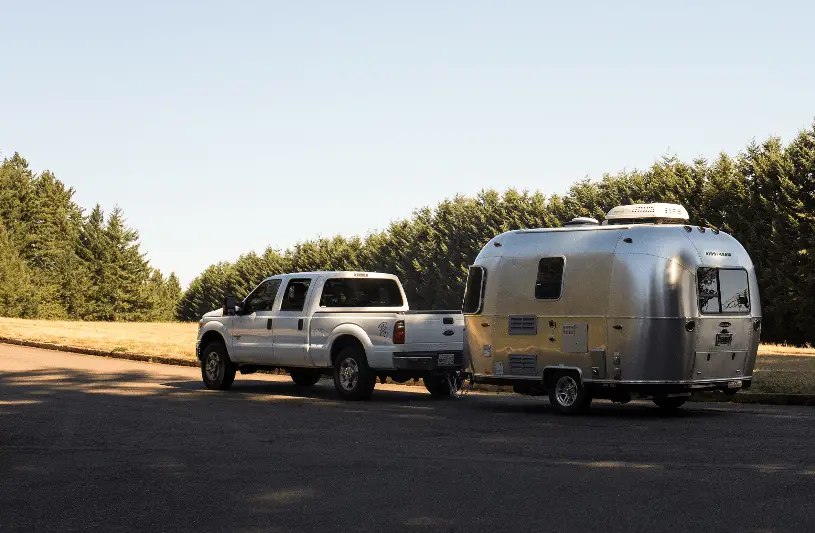 The whole RV community respects Airstream and their satisfied userbase is huge. Airstream Sport is among the most sought after and unique travel trailer weighing under 5000 pounds.
This awesome trailer by Airstream weighs around 3634 lbs dry and the overall GVWR stands at 4500 lbs.
One of the reasons why this trailer is so light is the identifiable aluminum exterior.
Although the sleek exterior design looks similar to the models that Airstream has had for some past decades, the interior design, layout, and appliances are up to date. Its simple design makes it feel cozy, functional, and roomy.
Price of this Airstream trailer starts at $57,400
Key Features :
Comfortable sleeping bed for 2
Dinette for 4 people that can also turn into bed for 2 more people.
Heat strip to keep the trailer warm
Air conditioner and fan to keep the interior cool and fresh air circulation
Awesome interior textures and color schemes that makes it home like.
2 stove burner, microwave and conventional oven makes the cooking a breeze
Back side large bathroom with wooden door, window
Has exterior shower that can be used to clean camping gears.
grate outdoor storage for all your gears, camping items and accessories
Comfortable foam mattress for a good night sleep
Retractable awning to keep things cool outside the trailer.
Tank capacity in this Airstream is as below:
Fresh water tank capacity : 20 gallons
Gray Tank capacity : 24 gallons
Black tank capacity : 18 gallons
Although the Airstream Sport is a compact trailer, it makes the most of its space and manages to pack a punch. This elegant and lightweight travel trailer has two floorplans to select from, which gives you some room for customization.
Both the floorplans feature a well thought out layout to optimize storage and space. Each floor plan has a complete kitchen with a microwave, fridge, gas stove, and sufficient storage space.
There is also an amazingly full dining room, a roomy bathroom setup, and a large bedroom to accommodate up to four people.
It also includes an auxiliary heat strip, an air conditioner, and a Solar Pre-wire kit for the ultimate comfortability. This will always be a reliable and classic travel trailer option for campers.
This fresh water capacity may seem little low but this is a small trailer and is best suited for 2 to 4 people only. At this accommodation capacity, i think this is a great travel trailer.
The only thing with this RV is that its on the higher end spectrum of cost. If you are a fan of Airstream then you shouldn't be much worried about the cots.
Also, Airstream are very well known for their quality and longevity. Their resale value is also very high. If you own it, you may probably own it for 10-30 years straight unless you want to upgrade to higher accommodation capacity RV.
3. Jayco Hummingbird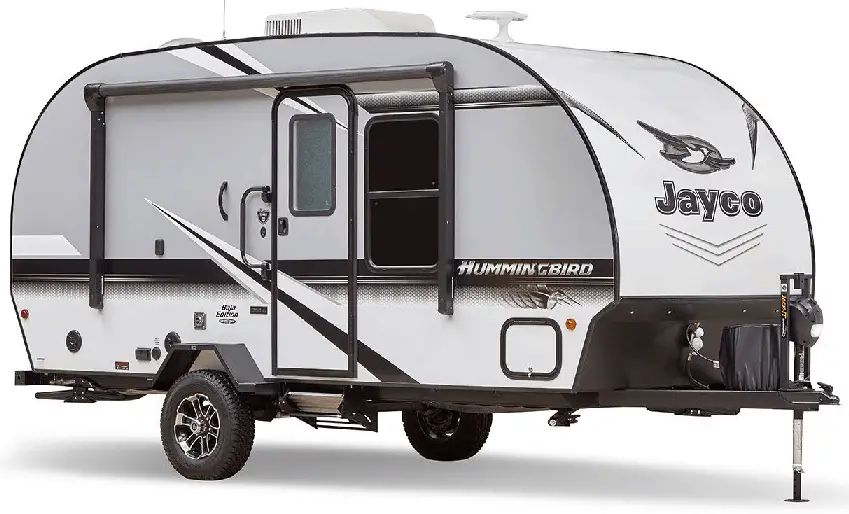 Third on this list "Jayco", is a famous company that has been a leader in the RV and travel trailer world for a long time.
Their Hummingbird 17RB is an astral trailer with floor designs that maximize space that proves their innovative capabilities. Special features included in this great camper include; USB ports, LED lighting, keyed-alike entry, exterior speakers, and a power awning.
With a length of 19'9", and unload weight of 3010 pounds, this is a spacious and lightweight travel trailer, excellent for your camping expenditures.
This trailer features a large dinette in the living room ideal for relaxing after a tiring day of exploring.
The dinette can also convert into additional sleeping space for two with the overhead storage above the dinette being perfect for flashlights, games, and other stuff. The sleeping area features an expedient queen-sized bed, framed with two windows to let in cool breezes as you relax and overhead storage to keep your belongings.
Key Features :
Spacious bathroom with ample shower area
Astro foil insulation
2 burner cook top in the kitchen
20 lbs of propane tank capacity
60 by 70 comfortable bed that is the front
Overall sleeping capacity of 3 to 4 people
centrally located kitchen and dinette that is spacious.
2 storage compartment on the outer side of the RV
Vinyl flooring
Tank Capacities :
Fresh water tank capacity : 25.6 Gallons
Gray Tank Capacity : 25.4 Gallons
Black Tank Capacity : 25.4 gallons
The tank capacity is better than the Airstream trailer that we saw.
This travel trailer is around 19 feet long that is also on average length we will see in our list of trailer in this category. The trailer is provided with an awning of 9 feet that is great at this length of trailer.
Lets see the weight capacities of this trailer.
Cargo Capacity : 840 lbs
Dry hitch weight : 3095 lbs
Unloaded weight : 3010 lbs
GVWR : 3850 lbs
So, you can see that this falls well udner 5000 lbs and you own a car or truck that pulling capacity under 5000 lbs then you can be sure that it will do the job.
Another thing i like about this travel trailer is the look. Its tiny yet good spacious look makes it great. The vacuum binded floor and wall are much better for protection.
Its properly insulated making it great for winter seasons as well. Jayco RVs in general have better construction, the superiors making process makes these trailer much better for living.
The kitchen comes with everything you require to prepare a yummy meal while you hit the road.
It is well equipped with a two-burner stove, microwave, fridge, and storage ready for cooking. Also, it has a bathroom covering all the bases, including a toilet, a shower, a sink, and an underneath storage.
A large linen closet in the bathroom is another of its unique features that are rare to find in other travel trailers.
The large tanks make it an excellent camper for weekend gateways or extended camping tours, not to forget it also comes wired for a rear backup camera, which is excellent particularly to camping newbies.
You need to contact the dealer for price of this model. The base price for the model starts at around $15,000. This will increase as you add optional items to the RV.
4. Keystone Passport Travel Trailer
Keystone Passport is one of the most customizable travel trailers featuring 31 floorplans, making it one of the best travel trailers. All the plans are slightly different, ensuring you get the layout that suits your family needs best.
This trailer is not only recommendable for its numerous floor plans but also because of how pleasant it is for outdoor use. It comes standard with patio entrance light, exterior speakers, USB charging ports, and LED awning lights to give you a gratifying camping experience.
Key Features :
Is equipped with a outdoor shower that can be sued for cleaning gears and outdoor items.
Solar pre package that is great for boondocking
External storage at the rear end that is great for storage items
Water resistant flooring that is stronger and much more resilient. Its lighter and yet stronger.
Electric stabilizer jacks.
larger and comfortable dinette seating that also converts to sofa.
Power awning that can retract on a push button. It also has tilt feature that is great in keeping direct sunlight and rain.
Sleeping capacity of 4 to 5 people
13,500 BTU Air conditioner is great for cooling
30,000 BTU furnace for heating during the winter
Vinyl flooring
LED flat television
6 cu. feet refrigerator
60 by 80 dimension queen sized bed
Keystone passport is a low in weight and yet provides features and comforts. Its a stylish little trailer that is great for a small family.
There are 5 floor plans that you can choose from. Each of these floor plans have wight less than 5000 lbs. The dry weight of these travel trailers is between 3421 lbs to 4430 lbs.
Fresh water tank capacity : 43 gallons
Gray tank capacity : 30 gallons
Black tank capacity : 30 gallons
LPG Tank capacity : 40 lbs
The higher end floor plan has a little higher gray and black tanks. A 40 lbs propane tank is great and is higher as compared to others in this category.
Inside, the camper has residential style furniture that makes it fell like a home away from home. During the cold climate, a 30,000 BTU furnace offers sufficient heating power, while a 13,500 BTU air conditioner will help you keep cool during the summer.
With optimized storage solutions inside and under the trailer, you will comfortably carry everything you require for camping with you. Keystone provides lots of expansions to perfect your design if the standard features are not sufficient for your needs.
5. Coleman Lantern LT
Most people are conversant with the Coleman name for their great camping accessories. They offer great and reliable gold standard products for outdoor camping.
Their travel trailer models incorporate the quality manufacturing Coleman is famous for. This LT 18FQ is a top travel trailer that features a large sleeping capacity to accommodate six adults courtesy of the single over double bunk beds in the rear.
In the front of the trailer, you have a dinette that folds for sleeping and a queen RV bed.
The Coleman Lantern LT 18FQ also comes with excellent standard features and design made with your camping needs in mind.
It consists of a 6-gallon water heater, tinted safety glass, backup camera prep single 20# LP bottle, and solar charging connected.
This trailer also features a power front tongue jack as well as a power stabilizer jack. It's furniture, features and appliances mimic home furnishings. Along with the highly durable residential grade vinyl flooring, this RV has many deep drawers to store everything you need.
Key Features :
Back up camera prep
2 burner cook top in the spacious kitchen
A very large awning of 11 feet long
cargo carrying capacity of 860 lbs
power awing with LED lights
Equipped with standard sized appliances like AC, refrigerator, furnace
Bathroom skylights
Fiberglass insulation
Better roof with 3/8 inch decking
Multiple decor to choose from and build the RV based on your liking.
Powered stabilizing jacks for the trailer
Sleeping capacity of 4 to 6 people
7 cub ft. sized refrigerator
You can also go optional 3 cooktop burner and otehr addiional features than will increase the overall pricing.
Fresh water tank capacity : 27 gallons
Gray tank capacity : 28 gallons
Black tank capacity : 28 gallons
Its length stands at around 21 feet.
The camper comes with a decent-sized bathroom but does not have a sink because of the larger bunk sizes. The kitchen features a two-burner stove, a smaller 3.3 cubic foot refrigerator, and an overhead microwave. The unit has an AC unit hanging off the side and doesn't have an enclosed underbelly.
When it comes to size dimensions, this is one of the shortest trailers in our list, so if you have a garage that you want to fit a trailer in, this camper is only 8.8-inches.
This travel trailer is relatively cheaper than the most model, so it is an ideal option if you are searching for a basic unit that can be purchased for less.
6. Winnebago Micro Minnie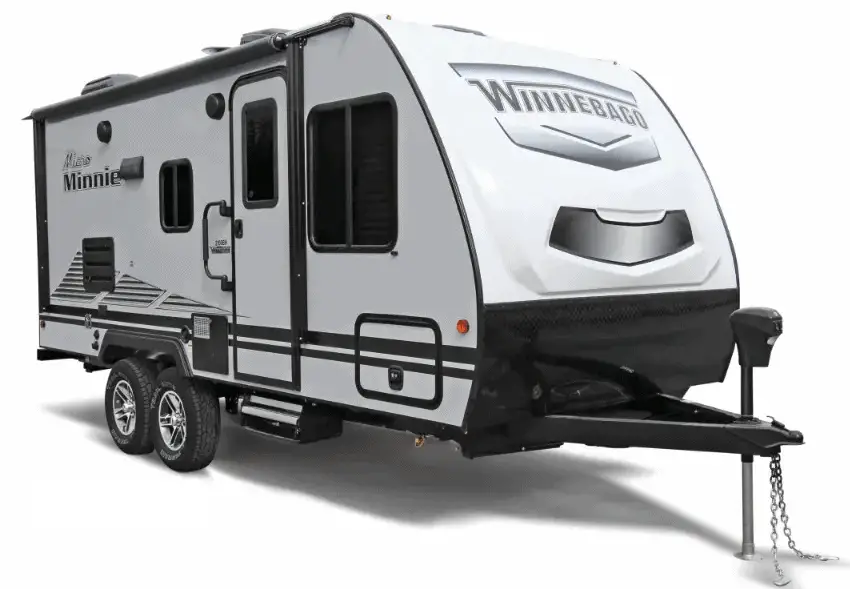 When it comes to RVs, one name that always comes into mind is Winnebago. Their Winnebago Micro Minnie travel trailer is the benchmark that the other manufacturers assess themselves against.
The unit comes with twelve different floor plans and three different exterior colors to choose from. Eight of the twelve layout plans place the dinette on a slide-out to upsurge the interior space.
The Micro Minnie sounds small, but that's only in name.
Its various models have lengths ranging between 19.2 to 25.5 feet and 2980 to 4260 dry weight. This makes it one of the most massive cargo in terms of capacity.
Its seven-foot width enables you to tow the travel unit without the need to use side mirror extensions. Even more, this camper comes with an entertainment package that rivals the one at home.
It has interior and exterior speakers, a large LED, and a stereo system with USB, FM, and AM, DVD, CD, and Bluetooth capabilities to keep the camping lively.
This is light weight an compact camper and yet the features aren't compromised. The space is utilized nicely and its a great travel trailer for a small family and even retired couple. Price for this travel trailer starts at $21,800.
There are 11 floor plans to choose from. Since people have different needs its awesome and you can make the trailer as per your requirements.
Key Feature:.
Awning length between 10′ to 13′
Spacious kitchen with sink, microwave and cooktop
Wide mattress with good ventilation windows
Choose storage accordingly to you needs in 11 different floorplans
7 feet wide trailer that is great for kids.
Great technology features like USB charging, wifi prep, wireless mobile charging
Sleeping capacity is 3 to 5 people
Fresh and holding Tank Capacity
Fresh water tank capacity : 31 gallons
Gray tank capacity: 25 gallons
Black tank capacity : 25 gallons
A very good fresh water capacity makes it easier for boondocking with this travel trailer.
Winnebago incorporated this camper with every electronic convenience you will ever need.
It is already pre wired for the rear camera, solar and satellite. They have also included a power tongue jack to help with leveling and detaching. The efficient heating system prevents the water from freezing during cold weather tours.
When it comes to interior design, this Micro Minnie is modern, stylish, and sturdy to endure the weather elements.
It has a wood laminate above plywood flooring and single surface, rounded edges countertops. The cabinetry is strong enough to withstand the weight of your belongings, and the drawers easily extend out for complete usage.
7. Forrest River R-Pod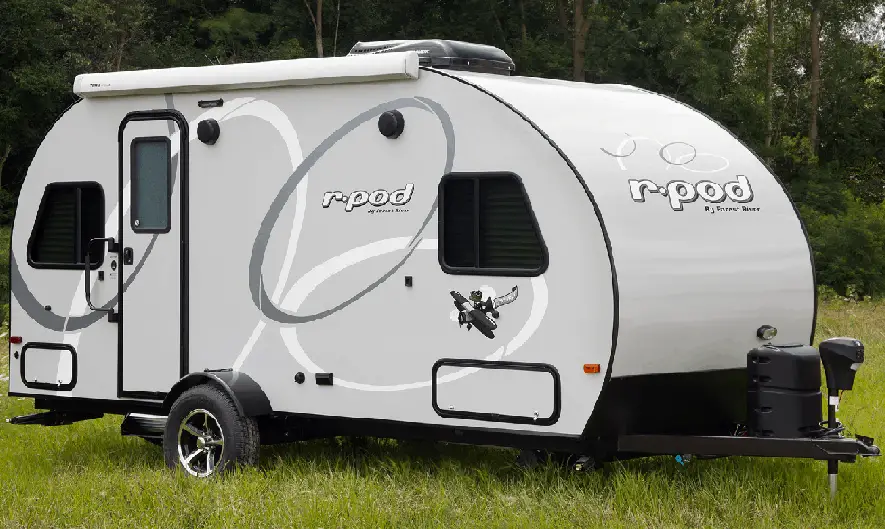 Forrest River R-Pod is one of the well-known travel trailers manufacturers which became famous for its incredibly lightweight trailer build. It is one of the best quality lightweight travel trailer under 5000 lbs
With a weight of 2756 lbs, those looking for a versatile and lightweight trailer will want to look into this Forrest River R-Pod Hood River 179m model.
Its small and lightweight design means that it is easy to tow with an SUV or truck. While this travel trailer has a length of 20 inches, it sleeps up to four and has a great design. It has everything you require for a camping excursion.
There are multiple models under this brand that weigh less than 5000 lbs. Slide out in this trailer makes it bigger and is a perfect RV for a family of 3-4.
Key Features :
It is equipped with a 3 Way refrigerator
2 burner cook top in the kitchen
USB porting charge points
vent fan maxAir for better air circulation
Insulation of R-9 fr floor and roof. Sidewalls has R-7 insulation
Bathroom, bedroom are given god features like collapsible hangers, shower with curtain
LED taillights
is provided with 4 stabilizing jacks
20,000 BTU furnace
Sleeping capacity of 4 people
Fresh water and holding tank capacity
Fresh water capacity : 28 gallons
Gray tank capacity : 30 gallons
Black tank capacity : 30 gallons
Apart from the features and amenities we saw above there all the standard items you would expect. Its a perfect small travel trailer for anyone looking for at a reasonable price.
Also, several floorpan makes it easier for you too choose the right RV and you won't have to make any further changes to it.
R-pod is suitable for small family and if you are a large group of people then its not the one.
This RV has an open floor plan that includes a kitchen, a sitting area, a dining area, and a sleeping area. As with most travel trailer models, the Hood River dining area can quickly transform into a sleeping area if necessary for larger families or extra visitors.
The kitchen features a two-burner stovetop, a sink, a refrigerator, and a microwave. A 20,000 BTU furnace keeps you warm in the winter.
The sleeping area has a queen bed that can accommodate two. One of the shortcomings of this travel trailer is the wet bathroom. The shower is very close to everything to save space meaning everything within the restroom will get wet.
As compared to other stated companies, Forrest River began its manufacturing later in 1996, and they have already produced one of the best RVs that many use today.
8. Dutchmen RV Aspen Trail LE
If you are looking for a travel trailer for an all-round season use in particularly harsh climatic conditions, the Dutchmen Aspen Trail LE 1950BH is a perfect choice.
This trailer provides all the great features of Aspen Trail models but in a compact and smaller package that is easier to tow on your vehicle with a weight of as little as 3815 pounds.
The unique layout plan that features a queen-sized bed at the front and two bunk beds at the rear make the 1950BH an excellent choice for families and small camping groups.
With a length of 23'5", this trailer features one of the biggest bathrooms and a comfortable dry shower available for a trailer of this size.
There are multiple models/floorplans under this brand that are below 5000 lbs.
Key Features :
Grate insulation for floor/roof
Much better cooling
back campers prep
Solar installation prep
LED lighting
Equipped with Stabilizer jacks
Power awning with LED lighting
TPO roof with 3/8″ decking
Awning length : 10 feet
Refrigerator size : 7 cu. ft
Water capacity
Fresh water tank capacity : 27 gallons
Holding tank capacity : 28 gallons
When it comes to dining and cooking, the Aspen Trail LE 1950BH has everything you require to prepare a delicious meal on the road.
Its Kitchenette is outfitted with a galley sink, a six cubic foot refrigerator, a microwave, and a two-burner cooktop. More so, its dinette is sufficiently spacious, providing a great place to relax and hang out at the end of the day.
As far as the winter season is concerned, you don't have to be worried about this trailer. It comes with an 18,000 BTU furnace, a water heater plus underbelly heating to keep you warm throughout the night.
During the summer, a small outdoor kitchen system allows you to grill and relax outdoors in the sun. In general, this trailer is one of the best lightweight trailers out there about everything you need for your camping escalades.
9. Coachmen Freedom Express Ultra Lite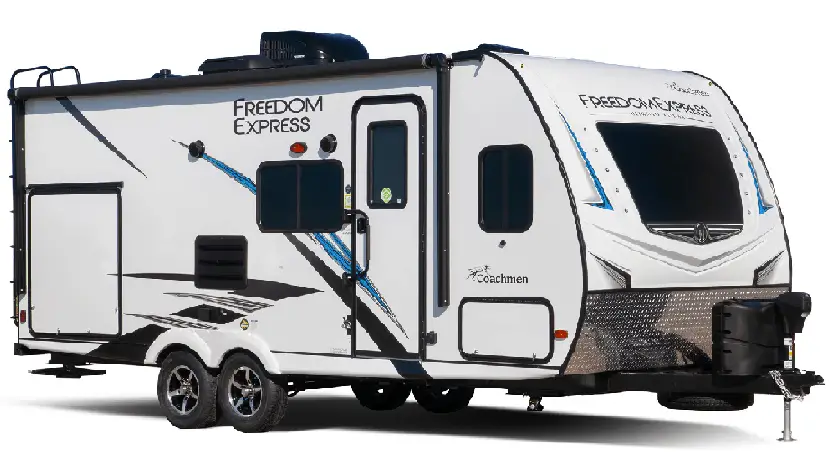 Coachmen Freedom Express 195 RBS is yet another ultra-lite, affordable travel trailer with lots of unique features that will impress you.
This trailer comes with extra features that are only available in bigger floorplans. The camper features tons of storage with built-in cabinetry throughout the unit. This makes it a perfect choice if you plan to go camping for an extended period, or you're concerned about limited storage space.
Key Features :
Power awning
Ducted air conditioning
Ducted furnace
Back up camera prep
Solar prep
Ultra light travel trailer with multiple floor plans to choose from
Length varies from 18 feet to 28 feet
Solid construction that provides great insulation for winter cold
One of the unique features of this layout plan is the hideaway queen Murphy bed in a slide behind the sofa.
This does not consume any of the space in the main living area hence makes the camper roomy. The sofa has a high –quality and cozy feel, with theatre-style seating for two. Across the sofa is a fantastic entertainment center with a pop-up TV that is both stylish and space-saving.
In front of the camper is an ample U-shaped dining space that is huge enough for meals and game nights. A big window behind the dinette allows you to have incredible views as you relax and enjoy your meal.
In case you require an extra sleeping space, the dinette easily converts into a spacious bed for two. The bathroom is also sufficiently big with a toilet, shower, and sinks. A nice touch of stylish and beautiful herringbone pattern in the shower cannot go unnoticed.
In the kitchen, everything that you require to prepare meals during your adventures is available. It has a spacious double sink featuring an elegant faucet.
A stovetop oven, a fridge, and a microwave complete this extensive kitchen. Above the kitchen is a great storage space for your food and kitchen items. The last feature that you will surely love about this Freedom Express trailer is an outdoor kitchen and a pantry that you will enjoy using.
10. Braxton Creek
If you want a travel trailer with one of the best possible weight-to-length ratios, then the Braxton Creek BX-22QB should be your choice as it can span up to 25'5″ and still maintain the GVWR under 5000 pounds.
This model provides the industry-best huge and 81-inch ceiling height wardrobe in an easy to tow and lightweight trailer.
Immediately you get into the trailer; you will be amazed by the room divider that offers privacy to the front sleeping area.
The charming space features a queen bed, spacious closets, and several windows to allow in the cool evening breeze. The overhead shelves provide you with more space to place your items.
Key Features :
Awesome storage in extendable cabinets
Great headroom for tall people as well
Great bedroom design with modern design wardrobes
entry steps designed nicely and also has assist handle
Provided with roof access ladder
Dometic furnace
LED lights in the interior
Queen bed
Aerodynamic design makes its easy to tow behind a car
This model comes with a bathroom that has abundant counter space and a large tub, which you will rarely find in travel trailers under 5000 pounds. Along with the toilet and sink, the bathroom is comfortable enough for weekend walkaways or extended camping tours.
The BX-22QB makes cooking a breeze. It has a spacious kitchen equipped with a three burner range, pantry, double sink, an oven, a microwave, and a large fridge.
After you get through with your daytime exploration, there is a cozy living space with a comfortable sofa and large dinette to hang out, relax, and sleep. If you like relaxing outdoors, this model includes an automatic sixteen-foot awning that offers excellent shade during the hot afternoons.
Why get a lightweight travel trailer
One of the key things to look in a travel trailer is the weight. There are obvious reasons why one should get a light weight RV. Check out my detailed article on average weight of a travel trailer.
When the RV is to be towed behind a car or truck its more important that it is not exceeding the limits of weight rating. Here are some reasons to get a low weight travel trailer.
Easy To Tow
It may not be easy to tow them behind a car or truck. A heavier trailer means added stress while driving. It also means your car mileage will be reduced. The more weight on a travel trailer means you spend more on your daily expenses.
Restricted Travel
Bigger travel trailer or heavy travel trailer means you are restricted in where you can go. You cant go off roading much with heavier trailer.
Better for Minimalist Life
If you are looking for a minimalist approach to living in RV then having a light weight travel trailer is the way to go. Its a simple approach to follow if you want to live a minimalist life.
More Enjoyment With light weight
You can enjoy a lot more when you own a light weight, smaller RV in general.
Parking Issue : You can avoid the parking hustle when you own a light weight or smaller travel trailer.
Difficulty in Turning
Longer, heavier travel trailer invites unnecessary travel hazards specially while making turns and u turns.
More Maintenance
You need better hitches and towing equipment with a heavier trailer. A lot more maintenance and attention is also needed.
There is no doubt a heavier trailer means more work for you and therefore getting a light weight is a better option.
Car capacity to tow a travel trailer
Before you own a travel trailer its important to find out if your car can tow that trailer successfully or not. With 5000 lbs you should be okay with most SUVs. If you own a small car than make sure you know the car's exact towing capacity.
Below are some of the best cars that can tow travel trailers under 5000 lbs:
Jeep Grand Cherokee : has towing capacity of 6200 lbs
Toyota Sequoia : has towing capacity of 7400 lbs
Nissan Pathfinder : has towing capacity of 6200 lbs
Ford Explorer : has towing capacity of 5000 lbs
Toyota Highlander : has towing capacity of 5000 lbs
GMC Yukon : has towing capacity of 8500 lbs
Travel trailers can also be towed by trucks. Pick up Trucks have much higher towing capacity. Even then make sure you know the trucks ability before using it to pull your 5000 lb travel trailer. Here are some of the popular and capable trucks that can tow 5000 lbs trailers.
Ford F-150 : towing capacity from 4900 to 12,200 lbs
Chevy canyon : towing capacity upto 7000 lbs
Nissan Titan XD : towing capacity upto 12,500 lbs
Ram 150 : towing capacity upto 9290 lbs
Nissan Frontier : towing capacity of upto 6700 lbs
Not sure on which travel trailer to choose?
If you think the features you get in these travel trailers under 5000 lbs aren't good enough then you can expand your search for other categories like under 6000 lbs or 7000 lbs.
Also, if the weight is too much for your car or truck then look for less weighing trailers under 4000 lbs or 3000 lbs. There are several small travel trailers that weigh less.
Understand Trailer Weights
Its important to understand the weight terminology in travel trailers. You should know the towing capacity of your towing vehicle and also all the important weight parameters of your trailer.
GVWR (Gross Vehicle Weight Rating) : This is the maximum loaded weight of the travel trailer. Each travel trailer is given this weight that shouldn't be exceeded. This is basically the most a trailer can weigh as per manufacturer.
Dry Weight : This is the total weight of the RV without any fluids, passenger or added items. Usually when you get the RV from the manufacturer this is the weight that you see. This weight is included all the standard features the RV comes with.
UVW (Unloaded vehicle Weight) : This is the weight of the RV at the manufacturer. This not include standard equipment or cargo.
Tongue weight : This is the weight that comes down on the trailer hitch ball. This is ideally need to be 10-15% of the GTW.
Conclusion
If you own a half-ton vehicle or an SUV and you are seeking to offer a comfortable travel and camping experience to your family or friends, travel trailers under 5000 pounds are the perfect option for you. The above-reviewed travel trailers are some of the best options in the market and will give you a solid base in your search. Purchasing anyone these travel trailers will not get you disappointed.