Last Updated on :
RVs come with the promise of at-home comfort and the lure of open-road adventure, making them a favorite for camping enthusiasts. However, buying your first RV might be an overwhelming process.
Purchasing an RV might seem intimidating, but it doesn't have to be. You just require to be clear about your goals for RV life and adventure. Don't break the bank, instead prioritize good trade-in value with this list of the best RVs for first-timers.
While most people use RV to refer to motorhomes, I have picked the best RV's for first-timers of all types; pop-up camper, motorhome, fifth-wheel trailer, campervan, etc. Here is an exclusive review of the best RVs for first-timers.
What Type of RV Should a First Time Owner Buy? (Towable or Motorhome)
There is nothing better than the pleasure of traveling in an RV. Towing or driving a small home on wheels is a great experience that most individuals are currently seeking. However, when buying an RV, which type is the best for first-timers?
RV Type
Key Things To Know for First Time Buyers
Travel Trailer
Less costly
Higher sleeping capacity (2-8)
Class B Motorhome
Costly
Luxuries and costly
Less Sleeping capacity (2-4)
Class C Motorhome
Less costly and good amenities
Suited for large families
Average built quality
Class A Motorhome
Very Costly
High end luxury fitted with home like amenities
Pop up camper
Cheaper options
Not great insulation
Light weight
Fifth Wheel RV
Better amenities
Larger and bigger sleeping capacity
Costlier
Motorhome RVs are the campers with engines. They provide all the driving and living functions under the same roof without the hassle of towing the trailer. The popular types of motorhome RVs include; campervans, Class A motorhomes, Class B motorhomes, and Class C motorhomes.
Class A is the big and luxurious buses; Class B is the large vans with slide-outs, while Class C is the ones with pickup truck frame design.
Towable RVs are travel trailers that need a tow vehicle to move from one place to the other. The size of the car or truck required depends on the weight and size of the towable RV.
You can always choose from the five towable RVs available; travel trailers, fifth–wheel, truck camper's sport-utility trailers, and pop-up campers.
Driving a motorhome is more comfortable for first-timers as the living area, and engine are in a single-vehicle, particularly those not used to maneuver and turn with a vehicle in tow.
On the other hand, towable RVs are cheaper, and the lack of an engine means you don't have any trouble to worry about.
Once you get to the destination, you can unhitch the travel trailer and explore the surrounding with the tow vehicle. Overall, both types have their pros and cons, and any can be great for first-timers depending on their preference.
Important Things to Consider (For First Time Buyer) Before Buying
Before you go out looking to purchase an RV, there are essential factors you should consider. These include;
Type
The first thing to consider is the type of RV you are looking for, motorized or towable. If you choose on a towable RV, you will have various choices, including; Pop-ups, folding camper, travel trailers, fifth-wheel, expandable, or Toy Hauler. If you go for a motorized RV, you can choose a camper van, motorhome class A, B, or C.
Price
Like purchasing any other commodity, you require a fixed budget on how much you are comfortable spending on an RV. This will also go a long way in narrowing down your available options.
RVs come with different built-quality, which is often reflected by the price. You can choose from different frames, including steel, aluminum, or a combination. For a tight budget, you can opt for lower quality RV mainly if you will just be using it once in a while; a quality RV may be suitable for those with frequent needs.
However, regardless of the quality, you should always maintain a safe budget.
Usability
As earlier stated, it is important to consider how often you will be using your RV. Are you planning to live in your RV or take the family for several weekend vacations during the summer? If you are traveling for months during your camping adventure, you will need a quality RV that can withstand that type of travel.
Floor plans
RVs come with different floor plans; hence it's always essential to conduct some research. Floor plans usually have four main sections in all RVs; kitchen area, living area, bath area, and sleeping area.
You should hence consider the number of people the living room will be accommodating, how many people the kitchen will be cooking for, how many people need to sleep depending on the sleeping space, and the shape and size of the bathroom. Small RVs can sleep 1-6 people, while larger RVs can sleep up to 12 people.
Storage
Another significant factor to consider is the amount of storage space available on the RV, particularly if you live in it. How many people are you taking with you for camping? Can your cooking utensils fit, how much clothing can you store? Are you traveling with pets? Is there a vacuum room if required?
Amenities
When you travel for days you will want that home like amenities, specially if you have family/kids with you. Things like air conditioner, furnace, refrigerator make your life much for easier and comfortable.
Bathroom, shower inside an RV will allow you to travel with more freedom. Some small RV types like pop up camper, teardrop trailers do not come with bathroom. Also, compact small travel trailers are also built without bathroom.
Have a close look at all the features and amenities the RV provides and then only select it. Obviously, more features you want, more will be the cost of the RV. Therefore, have a perfect balance between what features you want and how much you want to spend.
Best RVs to Buy For First Time Buyers or Newbies
Lets see some of the best RVs newbies can buy. Here, i have included RV's from different types like travel trailers, motorhomes, pop up campers and fifth wheel. As we already saw, there are different things that come into play for individuals to select a type of RV. If you are comfortable with towing then you can either go for travel trailer, pop up camper or fifth wheel.
Choosing between these too is again dependent on things like whether you own a truck or a smaller car that can tow limited capacity. Fifth wheels can be towed by trucks only, you can't use car for towing them.
Similarly, in case of motorhomes, if you want it for large family then Class C is a better option. Class B are easy to drive but are mostly suitable for couple or small family with one kid.
Getting a class A motorhome means you have to shell out more than 100K but you get good luxury with large sleeping capacity.
Here are 7 best RV's for first timers.
1. Jayco Jay Sport Camping Trailer
At the top of our list is the Jayco Sport Camping trailer. You probably begin to understand why if you walk through the various campgrounds in the summertime.
| Type | Price | Weight | Sleeping Capacity | Length |
| --- | --- | --- | --- | --- |
| Pop up camper | $10,820 – $ 17,891 | 1570 -1895 lbs | 5 | 8'6″ |
This intuitive and low-profile, easy-to-use pop-up design makes it among the best RVs for first-timers who don't want to fill their home parking space or empty their wallets.
While it does not include many motorhomes and fifth-wheels comfort features, it is more compact, maneuverable, affordable, and fuel-efficient. This Pop-up RV is tight, smart, and can sleep four to seven people comfortably depending on the floor plan.
The floor plans range from 11' to 18' in length. The pop-out bedrooms feature removable privacy panels. Even more, the swing-galley kitchen with a carry-out stove, a sink, and cabinets makes cooking easy.
2. American Coach Patriot
While its price is on the high end, the Coach Patriot is an exceptional RV for first-timers. It is topnotch for first-timers when trading in for bigger RVs. As a class B campervan, it is easy to drive or park, similar to a minivan. This makes it perfect as a hobby vehicle of choice for families.
| Type | Price | Sleeping Capacity | Length | Height |
| --- | --- | --- | --- | --- |
| Class B Motorhome | $247,715 | 2 | 24 feet | 9'8″ |
This campervan is ideal for individuals and couples who require to participate in van life and do not want to design the van from scratch themselves.
This American Coach Patriot has been built on a Mercedes-Sprinter van chassis with a stunning and customizable interior.
The campervan sleeps two adults comfortably and up to four with a push, but you can customize it with different floor plans. Similar to most Class B RVs, this camper features stability control and front airbags.
The campervan has become popular in social media celebrity movements for its sleek appearance and performance. It also performs considerably well when it comes to boondocking.
3. KZ Sportsmen Classic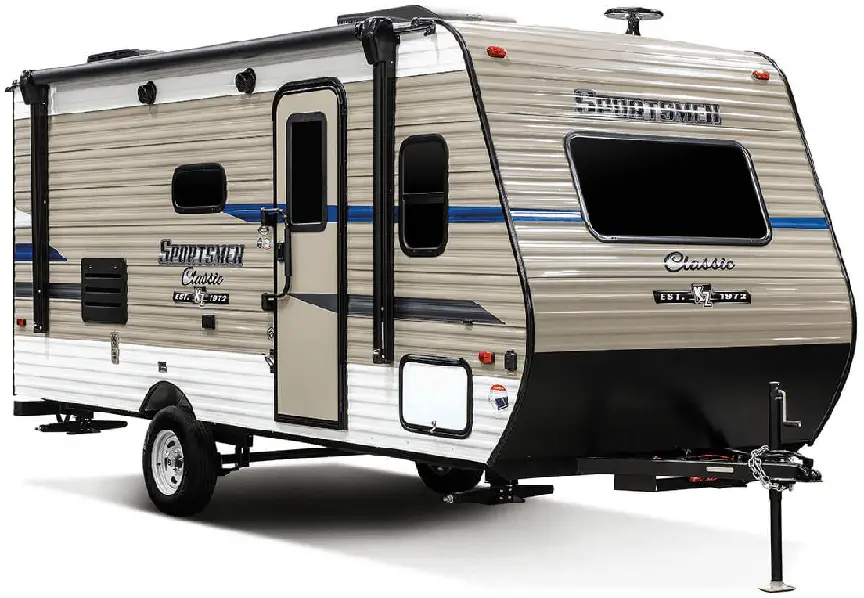 Another excellent RV for beginners is the KZ Sportsmen Classic, an ultralight and budget-friendly travel trailer packed with features to ensure you enjoy your camping adventure.
| Type | Price | Sleeping Capacity | Weight | Length |
| --- | --- | --- | --- | --- |
| Travel Trailer | $22,776 | 2-8 people based on floor plan | 1770 – 3430 lbs | 19′ to 23′ |
It comes with ideal floor plans ranging from 23 feet 2 inches to 18 feet 11 inches in length. With a weight of 2790 to 3400 pounds, this makes it one of the lightest travel trailers that you can easily tow, even with an SUV, minivan, or any other small vehicle.
This travel trailer's standard features include; a spacious sleeping area, extra USB outlets, sufficient storage, and a full-size shower. The smallest floor plan provides an outdoor kitchen.
Other floor plans offer pass-through storage for additional camping equipment such as bikes and more. With lots of lightweight and easy options to choose from, this KZ Sportsmen Classic is highly rated among the best first-timers travel trailers.
4. The Crossroads Volante Fifth Wheel RV
If you are searching for an affordable, spacious, and comfortable Rving option for family or group camping, the Crossroads Volante is the best option.
| Type | Price | Weight | Length | Sleeping Capacity |
| --- | --- | --- | --- | --- |
| Fifth Wheel RV | $61,174 | 5538 – 7696 lbs | 27 to 31 feet | 4 -10 |
This model sleeps up to ten people with a dimension of 12 feet tall and 30.5 feet long. A master suite is located at the opposite end of the fifth-wheel from the bunk beds, ideal for parents' privacy.
Even better, this fifth wheel model comes with durable and elegant stainless steel appliances. The full bathroom, U-shaped kitchen table, tri fold sofa, and flat-screen television completes its luxurious interior. The Crossroads Volante weighs 7,838 lbs. making it compatible with lots of muscle trucks.
To take care of the needs of camping enthusiasts, this fifth-wheel is well designed for dry camping. It has a 51-gallon freshwater together with a 51-gallon grey water tank and a 78-gallon black water tank.
This makes it perfect for people who love boondocking and want to explore various state parks, national parks, and national forests. As an affordable, camping-ready RV option, it is perfect for first-timers who want comfort for their large families or group and don't want to break their banks.
5. Jayco Hummingbird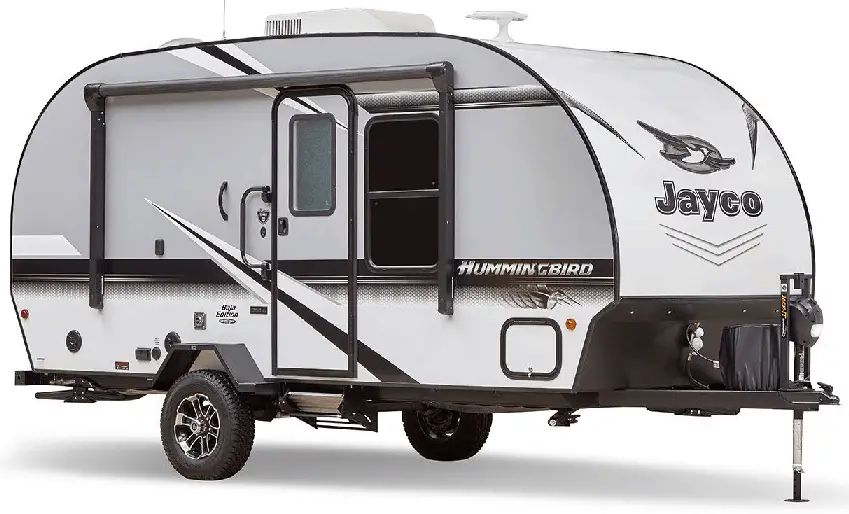 Yet another best RV for beginners from Jayco, the Jayco Hummingbird. This is one of their lightweight collections ranging from 2000 to 3950 pounds. This means that most of them can be towed with a minivan or an SUV. It has floor plans that run anywhere from 13 to 20 feet in length, depending on your needs.
| Type | Price | Weight | Sleeping Capacity | Length |
| --- | --- | --- | --- | --- |
| Travel Trailer | $17,234 | 1570 to 3095 lbs | 3-4 | 13′ to 21′ |
The kitchen has all the features you need to prepare a tasty meal while you hit the road. It is well furnished with a two-burner stove, fridge, microwave, and storage ready for cooking. Also, it has a bathroom covering all the bases, including a toilet, a shower, a sink, and an underneath storage. A large linen closet in the bathroom is an additional of its rare features to find in other travel trailers.
This trailer comes with a large dinette in the living room ideal for relaxing after an exhausting day of exploring. The dinette can also change into additional sleeping space for two, with the overhead storing room overhead the dinette being ideal for games, flashlights, and other things.
The sleeping area features a convenient queen-sized bed, edged with two windows to let in cool breezes as you relax, and an above your head storage to keep your possessions. The Jayco Hummingbird is one of the best beginner travel trailers for campers who love hitting dirt roads.
6. Coachmen Apex Nano
Last but not least is the Coachmen Apex Nano 15T, the lightest and smallest travel trailer in the Apex line. This trailer has been designed with small families and adventure travelers in mind.
| Type | Price | Weight | Sleeping Capacity | Length |
| --- | --- | --- | --- | --- |
| Travel Trailer | $30,000 to $33,000 | 2860 to 3948 lbs | 5 | 18'7″ to 23'5″ |
With a dry weight of 2862 pounds and a length of 18 feet, 7 inches, this travel trailer is easily towed by minivans, half-ton trucks, and SUVs with a towing capacity of 4,000 pounds and above.
The Coachmen Apex Nano 15T layout has twin rear bunk beds and a front sofa bench that changes into a 60-by-80 inches bed. The kitchen comes with everything you need to prepare a delicious meal on the road. It includes an under-mount sink, a fridge, a stovetop, and a built-in microwave.
The highlight feature of this travel trailer is a fold-out camp kitchen for cooking outdoors. More so, this travel trailer has a rear bathroom that features a shower, a dry tub, a skylight for additional natural light, and a toilet.
What makes this Coachmen model great for first-timers is that it can be outfitted with additional off-the-grid features, including dual LP tank capacity for extended camping time, solar panels, a front bike rack, all-terrain tires, and a toy lock cable system.
7. Newmar Dutch Star motorhome
Newmar is among the most reputable RV companies, and the Dutch Star model is one to beat. If you are thinking of spending significant camping time or are traveling with many people, the comfort, size, and technology of this Class A motorhome will make your camping experience more enjoyable. Although it takes some skill to park and drive, it is easier than other comparative motorhomes.
| Type | Price | Sleeping Capacity | Length | Height |
| --- | --- | --- | --- | --- |
| Class A Motorhome | $404,971 | 7 | 37 – 43 feet | 13'1″ |
This Newmar Dutch star is large enough for a couple or a small-sized family with kids to live in during the camping adventure. It is a rear-engine 450 –horsepower diesel pusher with floor plans ranging from 37′ to 43′ that sleep 4-5 individuals. A half-bath and a full bath easily house a small family.
The superb interior features wooden cabinets with a range of finishes, a Bose sound system, a 4k flat-screen television, and comfortable furniture. Even better, a Cummins Onan generator offers convenient power.
For a Class A motorhome, this model is relatively affordable, making it a perfect option for first-timers who want good trade-in value.
Should You Buy Used Instead?
The best advantage of purchasing a used RV is the price. Like cars, RVs' cost starts to depreciate as soon as it is bought; hence, used models are a cheaper alternative.
While it is common to hear stories from individuals purchasing that the new RV has issues after issues, owners of used RVs have already taken care of any factory problems. Even better, owners sometimes might have already paid for upgrades to their RVs after purchasing new, meaning used models are often more and better-furniture than new ones.
On the other hand, there are some disadvantages of buying a used RV.
You may get a great RV at an affordable price, but you might not be sure whether it is being sold due to mechanical problems.
The owner might have traded it because of various mechanical issues.
It is hence advisable to always ensure you find a reputable and honest dealer for any RV transaction. If you are a first buyer and you are not sure of the RV type you want, it may be better to begin by buying a used RV.
Renting an RV before buying
I'll tell you one more secrete on how to choose the best RV as a first time buyer. Rent different RV types, models for few weeks. Try different types and see how it works out for you. Buying an RV is a big investment and you are going to use it for long term so why not try out before buying.
Renting an RV has become very popular and people rent out their RV on platforms like RV Share or outdoorsy. So, why not take advantage of this and decide on that hundred thousand dollar buy that way. Salesman will always talk positives about the RV's they want to sell.
Conclusion
I hope this guide will help you buy the best RV that is perfect for your needs. If you are considering an RV for the first time, the best bet is to explore the different models at RV shows and dealerships and rent one or two to test drive the type you think you prefer. Nevertheless, buying any of the above-reviewed RVs will not get you disappointed. But, remember to put all the discussed factors into consideration.