Last Updated on :
A significant percentage of households in the US own a recreational vehicle which shows how popular camping has become.
However, if you already have a car, getting a travel trailer might be a more affordable option than purchasing an RV.
If you are looking for a small, reliable and quality travel trailer, then iCamp Elite and Scamp trailer are 2 great options to choose. A lot of people want to compare between these 2 and decide.
Comparing iCamp Elite Vs Scamp
In this article, I have done an exclusive iCamp Elite vs. Scamp comparison to help you choose the model with everything you will need when on the road.
Dimensions
The iCamp Elite has a length of 14 feet. This makes it a compact but good size camper that you don't need a heavy-duty truck to drag into your camping ground. You can easily pull it with a light truck or even a passenger car.
On the other hand, Scamp trailers are available in 13′, 16′, and 19′ versions. Unlike Scamp, iCamp Elite does not provide different trailer models as you can only choose the standard 14′ model.
Although you will have more versatility when considering the 16′ and 19′ Scamp models, iCamp Elite can still be a great option for couples or an entire family often on the road.
Weight
The iCamp Elite rounded silhouette trailer is lightweight, weighing about 2900 pounds dry.
It has a high gloss laminated fiberglass skin that makes the trailer lightweight. It is comfortable and aerodynamic for even the smaller vehicles to tow comfortably. Similar to the iCamp Elite, the classic scamp trailer is lightweight and easy to tow.
The different Scamp models have a varying weight that ranges from 1600 lbs. to 3000 lbs. This means that both these travel campers are small and lightweight trailers easy to pull with small vehicles.
To be specific, below are the different scamp trailers and their dry weight.
| | |
| --- | --- |
| 13′ Standard | 1200-1500 lbs |
| 13′ Deluxe | 1300-1600 lbs |
| 16′ Standard | 1750-2000 lbs |
| 16′ Deluxe | 2200-2600 lbs |
| 19′ Standard | 2000-2400 lbs |
| 19′ Deluxe | 2400-2900 |
Space
Naturally, not everyone will be impressed with the small amount of space in the 14′ iCamp Elite. Still, for those that don't require a lot of free room, the number of amenities available in the travel trailer is significantly impressive.
At 14 feet long, it is easy to maneuver. It has a dimension of 5 feet high by 11 inches tall and about 6 feet wide. This gives it plenty of room to move about comfortably.
The smallest 13′ Scamp model also comes with plenty of space. Inside, it measures 6 feet high, 3 inches tall, and about 6.5′ feet wide. This camper can sleep two to three comfortably.
If you need more space, you should consider the Scamp 16 ft. or 19 ft. trailer that features more storage and counters space, easy to set up with shower and toilet options.
These models are a few feet longer than the Scamp 13′ or iCamp Elite 14′ and full of possibilities. Depending on the layout, they can sleep up to six people.
Features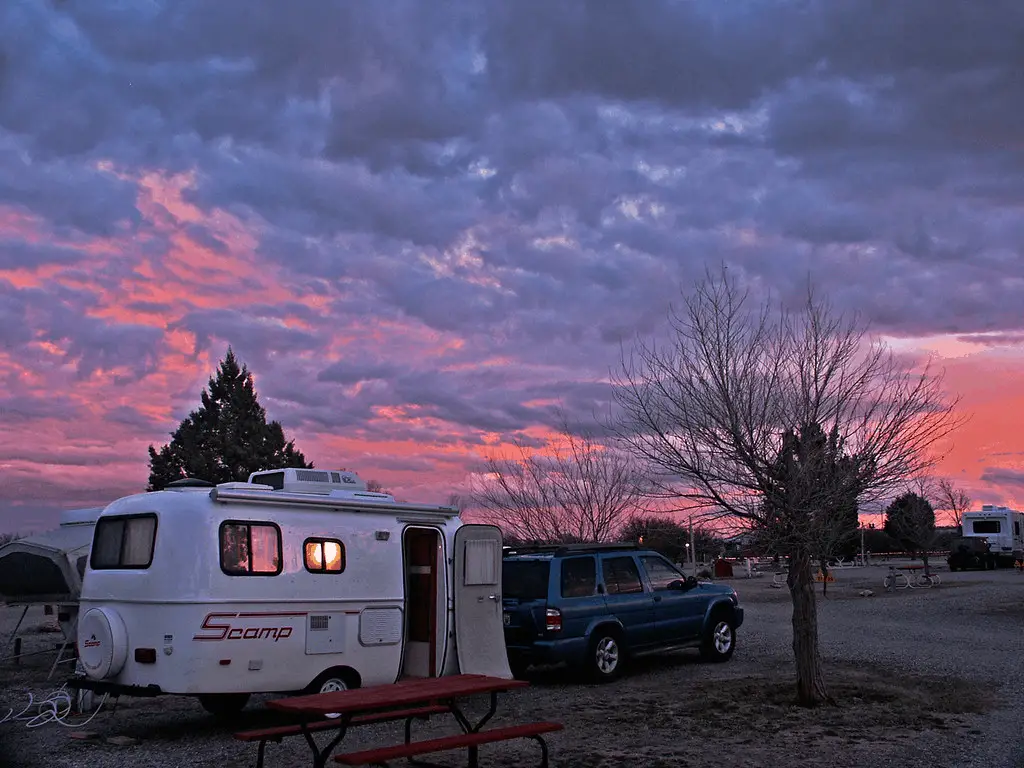 The iCamp Elite and Scamp models consist of a standard set of features, although the features can vary depending on the trailer size and model.
Scamp trailers has following set of key features;
Clothes closet
12V lighting
Fiberglass construction
Two burner propane stove
Fiberglass construction
Rear side cabinets and a cabinet above the sink
Curtains
Porchlight
Silverware drawer
iCamp Elite model comes with the following standard key features;
Fiberglass construction
Porchlight
3-way refrigerator
Overhead cabinets
LP smoke detector
Safety chains
Wardrobe
Hot water heater dinette/bed with adjustable table
All Scamp models and iCamp Elite come with standard features essential for your camping needs. With the iCamp Elite model, you can add optional features, including; flat-screen TV, DVD video / Audio System, Spare tire, Apple iPod connection, and 30ft water inlet hose to ensure you are maximally entertained.
However, the iCamp Elite trailer is better equipped than the Scamp, making it a better option for all camping enthusiasts.
Water Storage Capacity
Water storage capacity is essential for camping and is a significant feature to consider when you go out to shop for a camper.
The iCamp Elite comes with a tank that can store about 15 gallons of water which is a decent amount unless you want to take showers a lot of time.
On the other hand, the Scamp models have a freshwater capacity of 12 gallons which is relatively sufficient but lesser than the iCamp Elite model.
Built quality
Both these travel trailers have been made from lightweight materials with aerodynamic designs that offer excellent wind resistance. ICamp Elite is an entirely laminated travel trailer. Its body has been reinforced with aluminum frames with high gloss fiberglass skin laminated over structural Styrofoam.
For easy care and luxury, the inner walls are covered with wallpaper. The camper furniture is also high-quality curved with a style and efficient space usage.
On the other hand, Scamp models are made of rigid shell fiberglass, making them secure in any camping application and lightweight enough.
Towing
Lightweight construction and aerodynamic design are preferred for low fuel consumption and easy towing. When you go out to choose a camping trailer, you want one that you can easily tow with your vehicle.
ICamp Elite and 13′ Scamp trailer are amazingly lightweight, making it towable with almost every car. Due to the lightweight and aerodynamic design, your vehicle will consume fewer fuels than towing the larger 16′ and 19′ Scamp trailer models.
However, generally, any of these models have perfect maneuverability, which will make it easy for you to get to any camping site.
Kitchen /bathroom
If you want a small camper with a wet bathroom, both the iCamp Lite and Scamp models have a wet bath. The iCamp lite model features a spacey one-piece modular bathroom with a toilet and shower.
Although the 13′ Scamp model does not provide a fancy kitchen, it provides all you need and gives you a well-designed space that feels cozy. The different scamp model layouts offer a bathroom area whose size depends on the trailer's length.
In general, both iCamp Elite and Scamp models are good to go in terms of kitchen and bathroom. But of course, the 16 ft. and 19ft Scamp models provide a more spacious kitchen/bathroom than the 13ft Scamp and iCamp lite model.
Sleeping capacity and comfort
The iCamp Elite camper is one of the smallest trailers to include a built-in toilet and shower. For it to fit as much as it does, some sacrifices needed to be made, of course.
The dinette converts into a bed and vice-versa; hence you cannot have the bed and dinette available at the same time.
You can convert the dining table into a large double bed ideal for two to three people for the scamp standard model. If you require more sleeping space, you can change the sofa into bunk beds.
Layouts and options
The Scamp and iCamp Elite model layouts are not the same because the model's size determines the appliances or features the trailer will have. For the 13′ Scamp, you can choose between two layout types, one for a front sofa that converts into bunk beds or a complete bathroom.
The iCamp Elite model and the Scamp trailers have tables and sofas that convert to beds. The only exception is the 19′ Scamp model that features loft queen-size beds.
Generally, with both trailer models having different layouts, it is essential to check the design of the model you are considering to ensure that the kitchen counter or lavatory is included.
Price
Scamp does not release their travel trailers prices, and you must contact the manufacturer to find the specific cost of the model you want. More so, there are only two ways of picking up a new Scamp trailer because the manufacturer can either deliver it to you personally or visit their factory in Backus, Minnesota.
The company makes delivery throughout the continental United States, with the shipping fees varying depending on how far you are from Minnesota. Additionally, the 13′, 16′ and 19′ prices vary, ranging from $11,500 to $23000.
Similar to Scamp models, the price of iCamp Elite varies depending on the add-ons you choose. It can be misleading to give you a fixed set amount.
However, the price varies from $10,000 to $13000, with the biggest pricing determiner being the amenities included. Although the price range for iCamp Elite is similar to the standard 13′ Scamp model, the iCamp Elite is less expensive than a 16′ or 19′ Scamp trailer.
iCamp Elite
Pros
Lightweight and very maneuverable
Low-maintenance and durable design
Budget-friendly
Marine toilet
Cons
Available in only two bright color packages; blue and orange
Scamp
Pros
Towable by small cars
It has models that have different layouts
All the scamp trailers come with 1.9 cubic foot refrigerators
19 feet travel options are available
Cons
The 13′ standard option only comes with basic appliances
The delivery costs vary from state to state
Choose based on these things
Choosing a RV, specially a travel trailer can become overwhelming because there are so many options. You will find people speaking different things and it becomes a whole lot more difficult.
Anyways, the purpose of this article is to help you decide between these 2 trailers. So, what parameters are you going to use to decide?
Let me put forward the important things to consider wheel choosing the trailer. You can use these parameter to decide between these 2.
Weight
Towing a camper may seem like an easy thing but believe me it can get tough if you are new. In addition, if your travel involves going through narrow, curvy roads then be sure you are extra cautious. Weight of the trailer plays an important role in towing the trailer.
Additionally, when you already have car you are ought to get a trailer that weighs within your car's limit. Every car is rated to tow a certain limit and you cannot just exceed that.
Therefore, pay close attention to the dry weight and other important weight parameters like GVWR, GCW and CCC.
Space
Your camper is a home on road and to be able to live comfortably you need that space. Buying an RV is a big investment and you need to plan ahead. Do not buy something that will fall short of space in a year or so.
Also, when you camp in RV, you end up having a lot things inside it and the space can quickly look not enough.
Just have close look on how things are organized inside the trailer. A lot depends on your lifestyle and how you organize your items inside the camper.
Features and amenities
Smaller campers will not have amenities you get in a big motorhome or fifth wheel. Have comparable expectations and do look for features that are possible in the RV.
Layout options
Having options to choose from multiple layout can help you decide the right RV. Choosing right layout is critical.
Built quality
Not all campers are made same. Having a better quality camper is important else you will end up spending every year on things like leakage in roof, floor and walls. Though travel trailers don't have engine of their own there are ton of things that can go wrong.
Floor, roof of the trailer can make you pay for hundreds and thousands of dollar if their quality isn't great.
Price
Paying the right price is important and nobody ignores that. Some campers are built nicely and are organized so well that you can pay a little higher. But, make sure you don't end up paying more than you should. Buying at right time and right place can get you discounts.
What your other smaller camper options
Do not like either of these, icamp elite and scamp campers? Do not worry there are ton of other smaller campers that you can choose based on your needs.
Here is a list of small campers in no particular order.
Happier camper
Airstream basecamp
Forest River R-Pod
Winnebago Micro Minnie
Jayco Jay sport
Casita Spirit
Jayco Hummingbird
In addition, check the linked article if you are specifically looking for small campers with bathroom.
The verdict
Which travel trailer has more to offer, iCamp Elite or Scamp?
Both iCamp Elite and Scamp trailers comprise standard sets of features that come with all models, even though optional features are available regardless of the model you want to purchase. However, the standard 14′ iCamp Elite model provides a better and broader range of options and appliances. More so, the iCamp Elite travel camper comes with a two-year structural and appliance warranty, unlike the one-year warranty on the Scamp campers. This is the reason why we recommend selecting an iCamp Elite over Scamp, as you get more value for a similar or even lesser price.