Last Updated on :
The decision to purchase an RV or camper is rarely a casual one. Therefore you need to think twice before spending those several thousand dollars. In this article, we will see 9 reasons why not to buy 5th wheel RV.
It may signal the beginning of summer road trips and family staycations, but adventures in a trailer don't come without appropriate planning and hard work.
As the popularity of luxury fifth wheel RVs has soared, so too has the number of road accidents involving these big trailers.
There are lots of fantastic reasons to own a fifth wheel RV. These large trailers are very spacious, and provide a much better weight distribution, diverse layouts and more usable storage than almost any other type of RV trailer on the market.
They're also no joke when it comes to size and weight. Some National Park camping spots ban them from making reservations because they pose a risk to overhanging trees.
That is why today's article is all about why you should never buy a 5th wheel RV.
I love them – no, really – but I also like these trailers much better when they're driven by people who recognize the risks and respect their limitations. Keep reading to find out if that's you.
What Is a 5th Wheel RV Trailer?
Fifth wheel RVs are very large 'live in' trailers normally used for road trips and overnight excursions. However, they are also suitable for full time living and can be used as static properties in some areas of the country.
While full time 5th wheels tend to be bigger and sturdier, all varieties are sizable and require a truck for towing.
One distinct feature of a 5th wheel RV is its characteristic in-box hitch. It's known as a fifth wheel coupling, and it helps to increase safety by maintaining an optimum weight balance during towing.
It's the same connection seen on some tractor trailer trucks, so you know it's tough and designed to work hard.
How are they different from other towable RVs?
Travel trailers and pop up campers can be towed using a car or truck but fifth wheel specifically needs a truck for towing. The front part of the fifth wheel RV hangs over the truck bed which also means truck bed storage is not available.
While the benefits of using a fifth wheel RV are pretty obvious – lots more space, increased comfort and guaranteed access to key facilities – they're very big vehicles and you should be sure you can handle one before splashing the cash.
Lets now see 9 different points to avoid fifth wheel RVs and go for different type of RV instead.
1. The Price Tag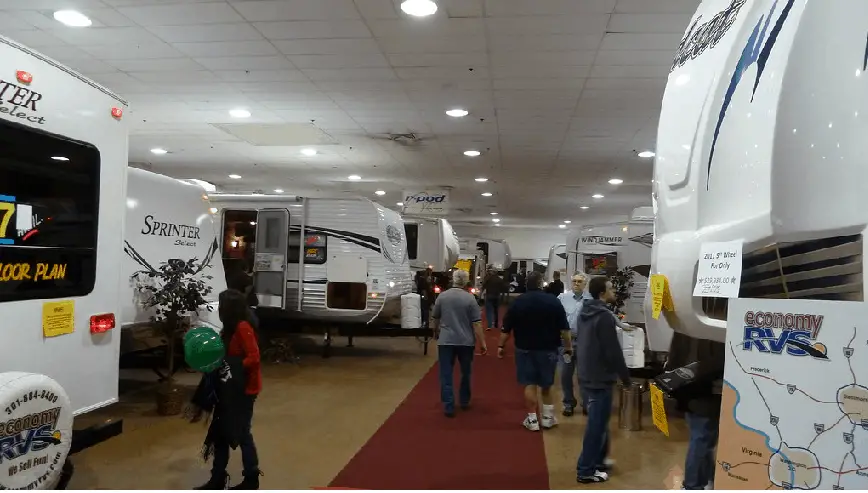 The first disadvantage of fifth wheel RV is their cost, especially if you compare it with other towable RVs.
On average, you're looking at spending somewhere around $65,000 for a reliable, high quality fifth wheel RV trailer. They can sometimes be purchased for less.
There are some smaller models on the market with more modest price tags closer to $20,000. The most luxurious models cost upwards of $80,000, so most families end up spending close to that $65,000 figure.
That's without factoring in the cost of a truck that's powerful enough to tow the mighty beast. This is a common mistake that ends up costing some families much more than anticipated.
Some are forced to buy new trucks after purchasing a fifth wheel and later realizing they don't have the necessary towing capabilities.

At this point, when you're buying a truck and a fifth wheel RV, you're probably spending the same amount needed for a fully drivable Class A motorhome. Consider this when you're checking out fifth wheels.
To Give you an idea here are some of the best and popular fifth wheel RVs with their prices and other info.
| Fifth Wheel RV Name | Price (MSRP) | Length | Sleep Capacity |
| --- | --- | --- | --- |
| Keystone Fuzion | $97,000 | 44 feet | Up to 8 people |
| Jayco Pinnacle | $97,350 | 41 feet | Up to 8 people |
| Forest River cardinal | $52,990 | 36 feet | Up to 6 people |
| Grand Design Solitude | $57,900 | 37 feet | Up to 4 people |
| Keystone Laredo | $43,000 | 42 feet | Up to 10 peolple |
Expenses
Its not only about the upfront cost, you also have to look at the expenses to keep up with this huge RV.
First, the insurance cost.
A 5th wheel insurance cost comes to around $800 to $950 per year and this can go to around $1100 if its a more luxurious one.
Next is the maintenance cost. As long you are in warranty, most of the things would be covered. But, after that you will have to shell out yearly for maintenance.
Roof, floor and the appliances do need maintenance. Winterization and storage too costs significantly.
The rule is simple with RV expenses. The more bigger your RV more is the cost. More luxurious is the RV more is the amount to keep up with it.
What about the resale value or depreciation?
As with other RVs as well, 5th wheels depreciate a lot. In fact, they loose their value a lot more than other RV types.
5 years down the line and the values drops down by almost 40%. Used fifth wheel aren't as popular as travel trailers or class B RVs.
On average fifth wheels last around 12-15 years which is generally less compared to motorhomes and travel trailers.
Do you have the right type of tow truck for it? It is a cost efficient option? Could you get a better deal for your cash?
Here is an example of the calculations needed to ensure a truck can tow a fifth wheel. To be deemed safe, the following weight tests must be true:
Tow Truck's Maximum Trailer Rating > Trailer's GVWR (gross vehicle weight rating)
Tow Truck's Maximum Payload (GVWR – curb weight) > Trailer Tongue Weight (fifth wheel = 15 to 25% of GVWR) + Tow Truck's Cargo (luggage, passengers, etc).
Tow Truck's Reserve Axle Capacity – Rear (gross axle rear rating – curb weight rear axle) > Trailer Tongue Weight (fifth wheel = 15 to 25% of GVWR) + Tow Truck's Cargo (luggage, passengers, etc).
Alongside your truck's maximum towing capacity, there's another weight that needs to be considered. This is the trailer's Cargo Carrying Capacity (CCC).
It's an important part of determining how much extra weight you can add to the RV. Here is the calculation for determining CCC:
CCC = GVWR – unloaded vehicle weight – full fresh tank water weight – full LP gas weight.
If you're unsure about any of these numbers, the first place to look is your manufacturer's booklet. Some RVs come with an interior sticker that lists some of their most important dimensions and statistics.
2. Limited Camping Options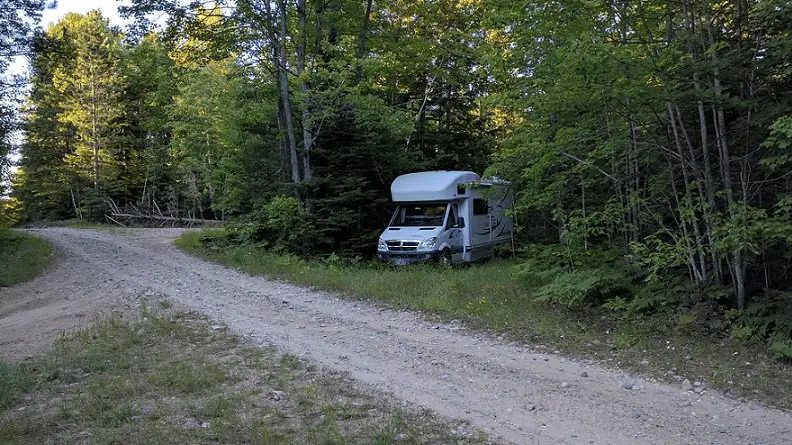 It's an irony that fifth wheel RVs – made to provide all of the luxuries of home while out on the road – cannot be used in a lot of National Park campgrounds.
There's no blanket ban, but families are certainly taking a risk if they drive to a state or national park camping location without checking its rules first.
Unfortunately, fifth wheel RVs are considered a bit of a nuisance in some protected areas because their height puts them at risk of collisions with overhanging trees and their weight causes damage to vulnerable soils and plants.
They're also just too long for some campgrounds. It's why many parks have rules regulating their movement that do not permit overnight stays.
If your primary reason for purchasing an RV is getting out to see natural landscapes, a fifth wheel is probably not the best choice.
Smaller is Better
Consider something smaller that will fit among the campers, excursion vehicles and park tourers. If you're determined to explore in a fifth wheel RV, remember to pack a saw. You'll be glad of it when you get tangled in a low hanging tree.
And always check the campground's rules before embarking. There's nothing worse than showing up at a spot, then finding out you're not allowed to stay.
3. Not Much Gas for Your Cash
Prospective fifth wheel owners should think about kissing their wallets goodbye. Fifth wheel towing is notoriously tough on the MPGs.
It's fair to say no RV performs efficiently when it comes to gas mileage, so you can only imagine the thirst of the biggest trailers.
On an average with fifth wheel the mpg of the truck will be around 12-15 miles per gallon.
Average miles per gallon depends on a variety of factors including power of the tow truck, distance driven and number of passengers.
For this reason, it's hard to give an approximate figure but it's not uncommon for fifth wheel drivers to average single digits.
Again, it's not a hard and fast rule. Some owners do report slightly higher levels of fuel efficiency, but you shouldn't expect this to be a cheap hobby. Opt for a smaller RV if you're concerned about fuel costs.
4. Driving Maneuvers to Make Your Head Spin
It's not just national park campgrounds you need to worry about. Driving anywhere but the highway can be dicey when you're towing something this long and heavy.
There's nothing stopping you purchasing a fifth wheel RV even if you're a pretty inexperienced motorist, however, I strongly discourage this.
Challenging Length
The length of fifth wheel RVs make them a big challenge to turn and park in most spots. It's difficult, sometimes impossible, to find suitable parking spaces in small towns which is why touring families must plan every drive.
Simple stops for gas and restroom facilities can quickly turn into farce. It's important to be aware of the trailer's limitations before you purchase one.
Boondocking or dry camping is not easy with large RVs. Most fifth wheels are lengthy and that makes them less suited for such adventures.
You better book a slot at a campground and camp for longer duration with fifth wheels.
Do not buy 5th wheel RV if you get intimidated by long trailers behind your tow vehicle.
Average Weight
Fifth wheel are heavier than travel trailers, on average they weigh between 12,000 lbs to 15,000 lbs. Thus, you will also need truck that is capable of pulling that much weight.
Here are some popular fifth wheels and their weight.
| Fifth Wheel | Dry Weight | GVWR | Hitch Weight |
| --- | --- | --- | --- |
| Keystone Montana | 11,935 lbs | 16,380 lbs | 2,385 lbs |
| Jayco Eagle | 7,915 lbs | 9,995 lbs | 1,450 lbs |
| Grand Design Solitude | 13,950 lbs | 16,800 lbs | 2,800 lbs |
| Winnebago Minnie Plus | 6,620 lbs | 9,995 lbs | 760 lbs |
| Jayco North Point | 14,040 lbs | 16,750 lbs | 2,885 lbs |
5. Limited Access on Travel Days
Some fifth wheel RVs use sophisticated solutions to provide surprising amounts of interior space and storage. Often, the living spaces are only accessible if the trailer's slides are out.
This can cause problems for families spending long hours out on the road without instant access to their cooking facilities and sleeping areas.
The point is, it's not always as easy as you think to park up, jump in the trailer and throw a snack together in your mobile kitchen.
And when you've paid upwards of $40,000 for it, limitations like this can be very frustrating.
It's not a reason to reject the prospect of a fifth wheel RV, particularly if it's always been a dream, but it's something to consider. All towable RVs offer limited access while driving.
The fifth wheel may be especially restrictive depending on your preferred activities during excursions. Always test a trailer's functionalities when the slides are in.
6. Say Goodbye to Truck Bed Storage
Fifth wheel RV trailers are more stable than RV trailers that use other types of hitch. Their design places more weight between the axles of the tow truck which brings the centre mass forward and makes the whole thing a lot more secure and evenly balanced.
The downside is that you're left with very little storage in the truck, if any at all.
Depending on the nature of your excursion, it could be a big problem. Think about the difficulties of heading out on a mountain biking or ATV adventure.
Where are the mountain bikes going to go if your trailer is taking up all the room? There might be enough space for a few small items, but you're going to struggle to squeeze a kayak in there, for example.
7. Off-roading Is Rarely An Option
Keen offroaders and boondockers should consider the fifth wheel's capabilities before purchasing one.
These big and bulky trailers are not made for off-roading and rarely fare well when taken away from the straight and narrow.
They can be extremely treacherous off-road in icy conditions and should never really be pushed to these limits, certainly not by anybody but the most experienced drivers.

Towing a 12,000 lb vehicle down an uneven dirt road can quickly turn into trouble. You can get caught in overhanging tree branches. Trailers of this size have even been known to tip over during particularly tight turns on unsuitable terrain.
It doesn't need to be a serious incident or accident to end in drama. You could scratch the outside of your RV and cause damage by squeezing down a narrow track.
In some ways, fifth wheel RVs are more stable than smaller, less evenly balanced versions.
They do need to be on the road though. Always stay aware of your trailer's dimensions so you're not trying to take it places it cannot go.
This issue with 5th wheel trailer can limit you on where you can go camping for your next trip.
8. Uneven Air Conditioning
One of the next problems with 5th wheel is uneven cooling with AC.
The size of fifth wheel RVs causes them to respond a little differently to environmental conditions than smaller, more compact travel trailers.
This rarely causes major problems, however, owners warn of a much hotter upper level in summer months.
The tall ceilings and additional space over the truck bed increase the RV's total square footage and warrant more robust cooling.
Space is space, so there's only so much you can do beyond adding extra fans. Just be aware that a fifth wheel trailer is likely to feel hotter upstairs than downstairs.
It's cozy in winter, but it can make elevated spaces uncomfortable on hot days.
9. A Heavy, Hefty Tow Receiver
Your fifth wheel RV won't just take up storage space when it's roaming out on the road. It requires the use of a heavy, cumbersome tow hitch that's no fun to lug around.
This hunk of steel is removable, so you can put it in storage when it's not in use. It doesn't need to stay attached to your truck bed.
The problem is removing the hitch can be quite a fussy process. Talk to long time fifth wheel owners and you'll find plenty who eventually gave up on the idea.
They just leave the tow receiver in the bed and accept a loss of storage space.
If not 5th Wheel then what?
In this article, we saw several cons of fifth wheel but that is not the only case. There are several pros of fifth wheels over other RVs.
Yes, 5th wheels can be a problem due to various reasons we saw above but does that mean you shouldn't buy an RV at all? No, not at all.
In fact, you can go ahead with fifth wheel itself if any of the above reasons don't bother you. Also, with time and experience these points can in fact mean nothing to you.
But, if these limitations do matter to you then consider buying other RV types as below. You have multiple options where-in you can get smaller, lighter and even less expensive RV.
1. Small Travel trailer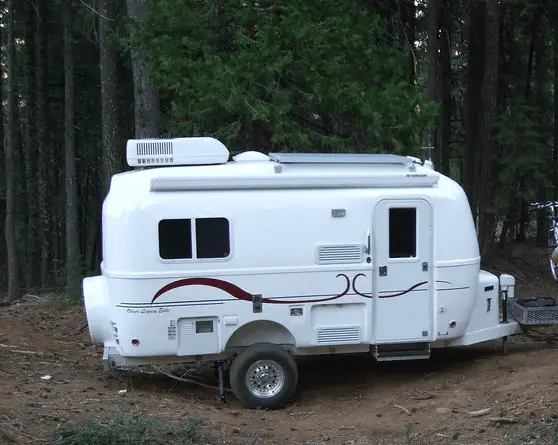 Consider buying a small travel trailer that can be easily towed by a small car or minivan. Travel trailers are almost similar to 5th wheel except that they can be towed by both car and trucks.
These type of towable RVs are in fact the most popular ones in the US. There is a huge demand for these and that's why you get abundance of options, layout models and brands.
They weighs anywhere between 2500 lbs to 7500 lbs. They cost way less than fifth wheels. On average they cost between $18,000 to $45,000.
The cost depends on factors like features, brand and layout. A used travel trailer can be a best deal and you can buy it at less than $5000.
2. Pop up camper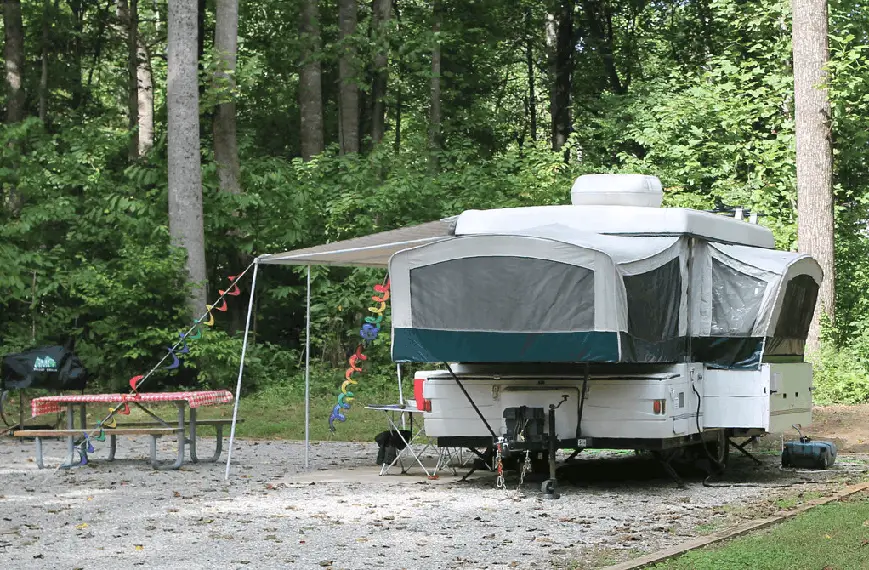 Pop up campers are modest forms of RV. They are nothing in comparison to fifth wheels per say.
But, if you are looking to experience RV lifestyle at bare minimum cost and don't want hassle of towing and storage then these campers are the one for you.
Pop up can fold while traveling and then you can expand them at the campground. With minimum features and amenities they are suited for those who can adjust and live with such limitations.
3. Motorhomes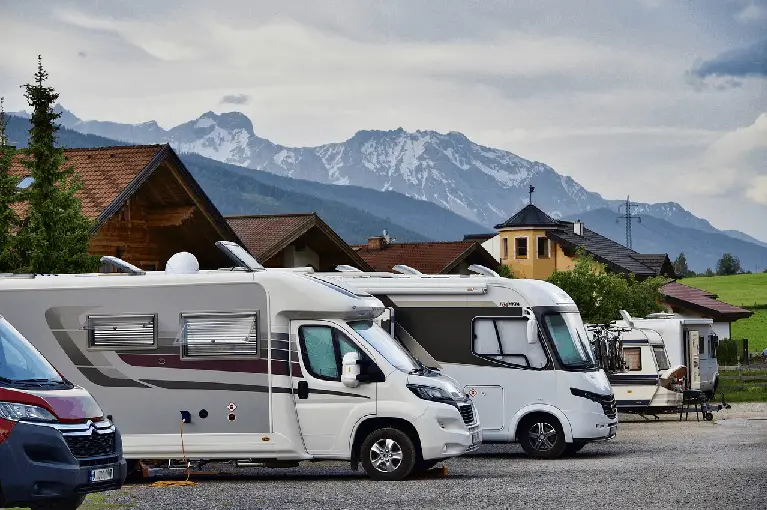 From class B to class A you have 3 options. Class C are in the middle of the 3. Class A are the costlier and also include loads of features.
If you want a modest motorhome then camper conversion van or class B is the best option.
All of these RV types cost a lot more though. If you want luxury but don't to tow the RV then motorhome is the best option for you.
Is fifth wheel better than motorhome? If you compare space and luxury at a price then yes, I would say fifth wheels are better. Motorhomes have their own advantages like you don't have to worry about towing.
4. Truck camper
Own a truck and want to take it with your RV? If yes, then truck camper or pop up truck camper can be a good option for you.
These campers sit on the back of the truck and you can take them off whenever needed.
Its easy to get them off the truck with automatic tie downs. These are popular among couples and solo campers. They cost between $15,000 to $35,000 and provide decent features.
Who should buy fifth wheel?
If you are looking for a luxury RV at less than around $75,000 and want enough space for a big family then fifth wheel are right for you. If you have been RVing in a travel trailer and now see it limiting then fifth wheel is the right type of RV to upgrade to.
One of the key benefits of fifth wheels is, they provide good space and have higher sleeping capacity. Because they are long in length, they come with multiple slide outs which increases the space.
Are fifth wheel easy to tow?
Honest answer to this question is, no! They are not easy to tow specially for new RVers.
If you don't have prior experience towing trailers then fifth wheel can be intimidating. Because they weigh so much and have mammoth size it can be too much for a inexperienced driver.
But, with experience, things can become easier and you wont be intimidated once you get hold of it. Things like turning, making u turns can be difficult and will need better judgment as a new RVer.
You need to be aware of issues like fifth wheel swaying and get professional help if needed.
Have You Considered Renting a Fifth Wheel RV?
If you understand their limitations and quirks and you're still keen to purchase a fifth wheel trailer, consider renting one first. It's worth checking out rental options in your local area because hiring is a much smaller commitment.
It's a wonderful way to explore the unique way a fifth wheel RV feels and handles before investing.
Most importantly, you can determine whether the extra time it takes to turn, the restrictions on camping and parking and the not insubstantial gas expenses are worth it for a truly luxury home on the road.
Conclusion
This has been an article about the downsides of fifth wheel RVs primarily because they're approached with an air of recklessness sometimes. I don't hate fifth wheels – they can be remarkable investments – but they do come with serious responsibilities.
If you are about to shop for a RV then do compare all the Pros and Cons of 5th wheel before deciding.
Make sure you're clued up on the basics before you treat yourself to the luxury RV of your dreams.