Last Updated on :
Renting a small RV comes with tons of advantages compared to the larger ones. The simplicity of small RVs is great for several reasons, including optimal accessibility, better gas mileage, and the ease-of-use, among other benefits.
It is completely worth-it to rent an RV if you do not wish to own one and want to enjoy the camping only for few days.
But with so many options to choose from, picking the right small RV for your of-the-road needs might prove to be overwhelming. So, this comprehensive small RV rental guide is here to lift some weight off your shoulders.
Here, you'll learn more about the different types of small RVs that are available for renting, and ascertain the best type to suit your needs.
Lets understand all thing you should know before you rent a small RV.
Different Types of Small RVs to Rent
As you may know, there are several types of small RVs that are out there for rental purposes. But choosing the right fit for your needs requires you to have some in-depth knowledge on all the types available.
Additionally, you also need to ascertain your needs to find the perfect match for the best traveling experience. These many options come in different sizes, shapes, and footprints to accommodated designated traveling needs.
So, let's look at the different small RV types that you can rent.
Pop-Up camper Trailers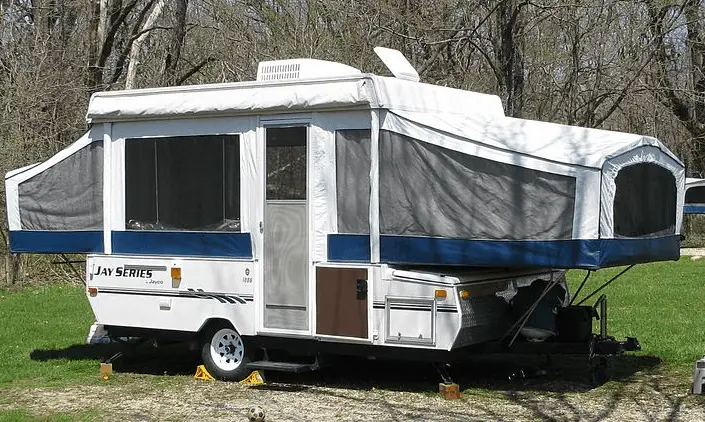 With pop-up trailers, you can enjoy a decent amount of interior space as you travel light. This is made possible by this trailer's minimalistic design that features expandable canvas walls. The pop-up trailers do require some setting up on arriving to your destination, but the process isn't too complicated to handle.
The setting up procedure is what will get this trailer's tent portion to expand, a process that the newer models feature an automatic setup system to make it quick and easy.
This type of small RV combines the ease of movement made possible by their lightweight nature, while giving you enough room for travel living.
Note that it's highly unlikely to find a pop-up trailer with an in-built bathroom due to their minimalist design. So, you'll need to think of an alternative solution when nature calls.
A pop up camper can fit in 4 to 6 people on average.
Class B Motorhome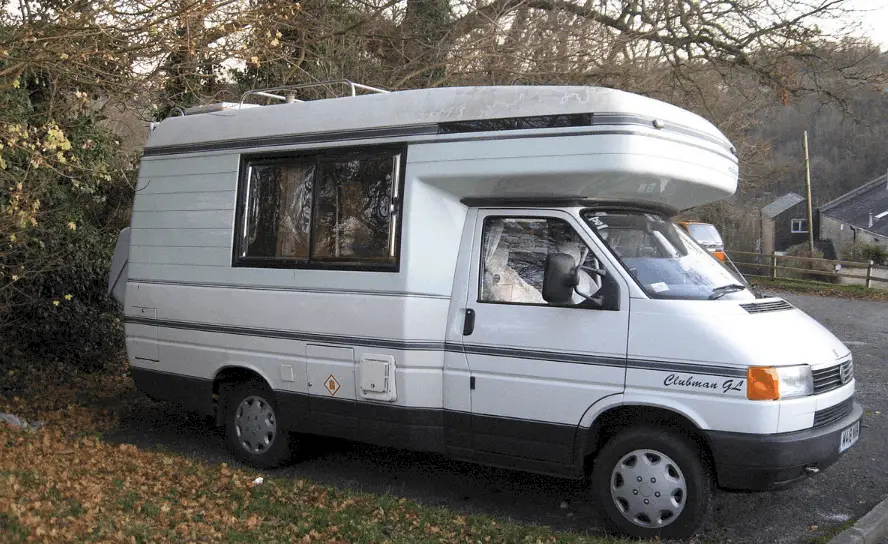 Class B is the smallest motorhome you can rent. This is a great choice for renting as it is very compact and easy to drive.
Class B is the best Drivable RV you can rent.
These are great alternatives or scale-downs from the full-size motorhomes. With these small RV rental types, you can enjoy your traveling experience in the most sizeable way possible. The exterior design of this type of small RV is much similar to that of a full-size motorhome.
On the inside, the class B RVs is a true definition of a mini-moving home with different accommodation facilities. These facilities include a complete kitchen, a living space, and a bathroom.
But, because of limited space in class B motorhomes, both the shower and toilet are combined in a single setting and the space is referred to as the wet bathroom.
The living space as well isn't too spacious and only accommodates needed movement in the rig. Besides that, the class B RV is easier to drive and parking it isn't usually a hassle thanks to its smaller size.
And although the storage space on this motorhome might also be limited, it certainly performs as a good small RV when used according to its purpose.
For class b motorhome, expect to pay around $1400 to $2000 per week. This is great option if you want to rent it for longer duration like a month or more.
So, next time when you think to rent a small motorhome, class B it should be!
It is possible to rent out RVs for longer duration of month or more on platforms like RVshare or outdoorsy. If you compare a hotel stay cost and RV rental cost, RVs tend to be cheaper as compared to hotels. It does depend on few factors though. But, overall on average RVs are much more affordable as compared to hotels.
RVs can't be leased like a car or truck but one can rent them for longer durations if needed. It is possible to rent an RV for a month or even longer based on the availability.
Pros of Class B Motorhomes
Good drivability
Easy to maneuver and park
Comfortable in every way
Enhances campsite selection due to their small size
Bathroom, shower and toilet are present in most models
Cons of Class B Motorhomes
Tight space
A bit expensive than other options
Floor plans are limited
Limited storage
Teardrop Trailers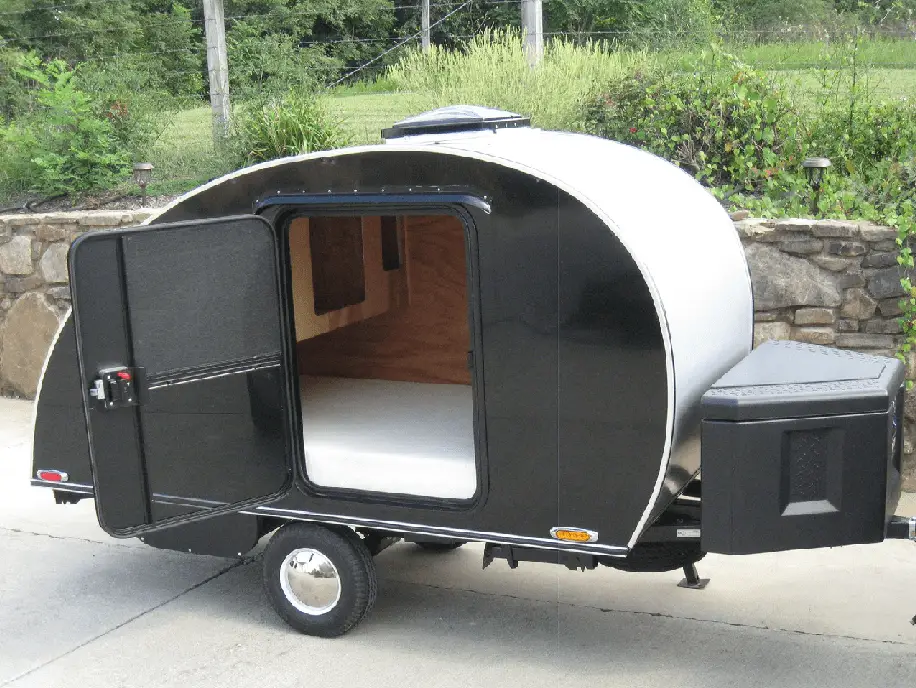 Like the name suggests, these types of small RVs features a minimalistic design in the shape of a teardrop. The space on this motorhomes is very limited, offering only a bed inside. However, some teardrop trailers do come with an external fold-out kitchen, but that's just about it.
The teardrop trailers aren't designed for a comprehensive off-the road adventure because they aren't fully featured for such functionality. However, they are some of the best options available if you are looking to have a brief weekend getaway.
Moreover, this micro camper can be hauled by a small SUV and even a strong sedan might actually drag this motorhome around quite nicely.
It's affordable, portable, and convenient for a good camping experience. Teardrop campers are one of the smallest hard sided pull behind RV to rent.
Pros of Teardrop Trailers
Compact and easy for storage
Highly towable
Affordable
Works better than a tent
Works with add-ons as well
Cons of Teardrop Trailers
Too small
Storage is limited
Lacks a bathroom
Lacks an indoor kitchen
Truck Campers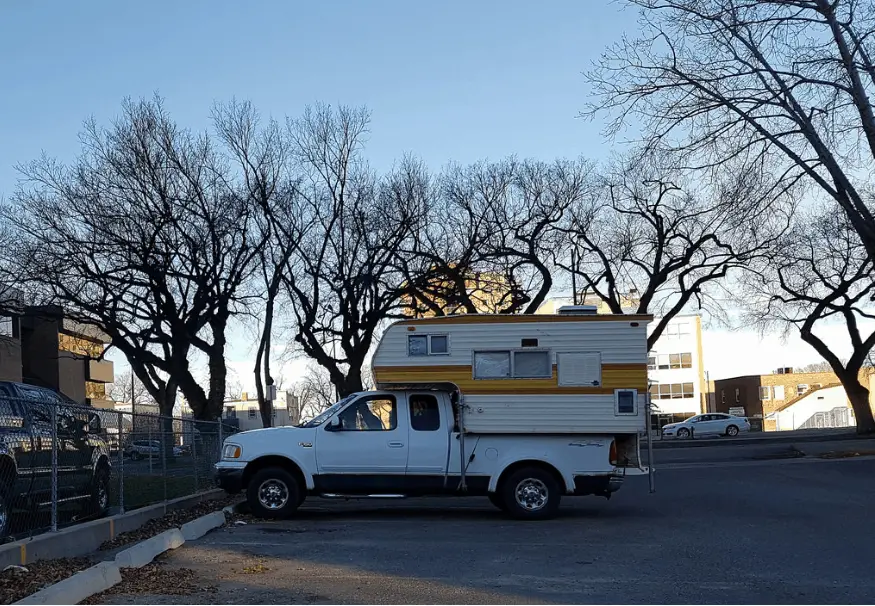 Truck campers are simply campers placed on top of a pick-up truck's bed, hence the name. They might not come with many amenities but the truck campers are bigger and more convenient than teardrop trailers.
With truck campers, two people can sit and sleep comfortably without inconveniencing each other.
And although not all, some truck campers lack the toilet and shower spaces, and some even lack a kitchen. Truck campers are great alternatives for people who want something bigger than a teardrop trailer, but don't want to drag along a full-size trailer behind them.
Truck campers are great for 2 persons looking for a comforting RV vacation.
Like other small RV options, renting it is an affordable approach to making sure you enjoy a nice weekend off the road getaway experience.
Pros of Truck Campers
Highly portable
Easy maintenance
Affordable to rent
Cons of Truck Campers
Limited space
Some are too heavy
A bit hard to maneuver
Small Travel Trailers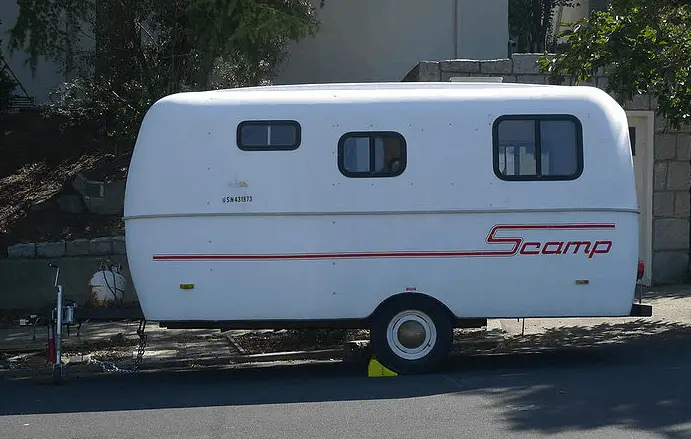 Travel trailers are the most popular pull behind type of RVs that people rent. Their size and amenities makes them ideal for renting.
The travel trailers come in two variations, which include the bumper pulls and the fifth wheels. The bumper pulls are the ones with a minimalistic design, which fit perfectly as small RV options compared to their larger brothers the fifth wheels trailers.
The bumper pulls can be attached to the rear hitch of your vehicle for towing. Note that some travel trailers are a bit too heavy for a family sedan to tow, hence requiring the services of a pick-up truck to do the job. Travel trailers are perfect small RV options for families or a group of 2-6 people and they come including some of the most needed amenities.
Among these amenities is a bathroom with a shower, kitchen, and a dinette for optimal accommodation. But keep in mind that travel trailers come with different features depending on their designs. So, always search for something that can adequately accommodate your needs before going with your pick.
Travel trailers too are great for long term rental. Expect to pay around $3000 to $4000 for a rental of one month. Longer RV rental cost are slightly less as compared to shorter ones.
It is not uncommon for people to rent RVs for six months or even more upto an year.
Pros of Travel Trailers
Home on the road
Very affordable compared to other options
Motivation for travel
Good option for different campers
Cons of Travel Trailers
More weight
Towing issues due to length and weight
Motorcycle campers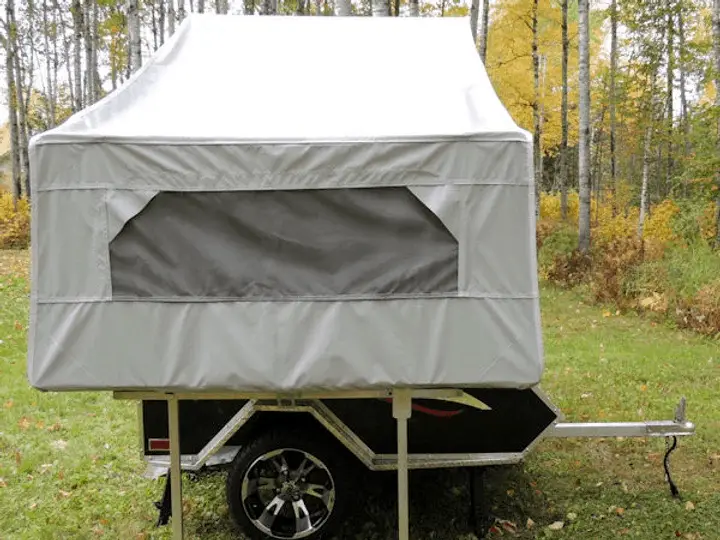 Motorcycle pop up campers are the smallest type of RV that one can rent. These type of RVs could be hard to find on renting platforms though. These campers are basically tent plus trailers that can be easily towed using a motorcycle. If you love riding then this type of campers is right for you.
When in folded state these are like a box which stores the canvas that would go on top of the trailer. They do not have any amenities except for sleeping space and an area to place camping chair or a pole holding dining platform.
These are modest type of campers that would cost very little for renting.
Small RV Rental Prices
One thing you should know is that small RVs usually mean budget-friendly motorhomes. However, the pricing on each type of small does vary depending on the features included and size among other factors.
Renting a small RV can cost you anything between $50 to $200 per night. This turns out to be around $350 to $1400 per week and $1500 to $6000 per month. Renting cost can reduce slightly when you rent an RV for Longer duration.
Lets look at different types of small RVs cost to rent per night.
Pop-Up Trailer/Camper – $50 – $100 per night
Class B Motorhomes – $100 – $200 per night
Track Camper – $800 – $200 per night
Travel Trailer – $50 – $125 per night
As you've seen, different types means different prices but the binding factor is that all of them are quite affordable compared to renting a full-size RV.
Where to Rent a Small RV
There are quote a number of online websites that rent out RV's. But, your options to rent a small tiny RV could be few. Nevertheless there are options that you can try.
Local RV Renters
You can survey your local neighborhood and look for an RV dealership that rents out RVs. There, you can look for the one that suits your needs adequately and agree on a price together.
Private Owner Rentals
With this approach, you can find private RV owners renting their motorhomes in either Facebook or the Craigslist marketplace. You can also find them directly with the help of a referral and agree on the renting terms.
Major RV Rental Companies
This platform gives you multiple options and you can choose the best option by assessing customer reviews, company reputation, and customer services, among other approaches. Some of these companies include below:
RVShare
Outdoorsy
Cruise America
You can also find RV rental dealers or smaller RV renting companies on Yelp or Tripadvisor.
Peer to Peer Small RV Rentals
If the three options detailed above won't suit you, then you can always opt for the web-based directory peer to peer RV rental option. Here, you go online and search for your preferred small RV and enter the necessary details concerning the rental needs.
Afterward, the web-based peer will handle everything between you and the RV owner including pricing, insurance, and roadside help, among other essential needs. They basically bridge the gap between you and the RV owner.
Why rent a small RV?
Here are some reason why renting a small RV is better than a big lengthy rig. Small does not mean less luxury or less amenities. Some of the small class B motorhomes or travel trailers can include all the luxuries you may need. Lets see the other reasons.
Small RVs are easy to maneuver
RVs can be lengthy but with length comes the stress of driving or towing them. A towable RV longer than 20 feet can be extremely hard for those who don't have prior experience of towing. Travel trailer or fifth wheels can be as long as 35 feet or even more. Maneuvering such mammoth RVs can be tricky and hard to execute.
A small travel trailers on the other hand is a best option if you are new or not regular in towing. Having a small RV behind your car means you can go to places that are less accessible.
Having a teardrop trailer or small pop up camper will allow you to go boondocking in regions that are deep inside. Overall your travel wont be stressful and you will enjoy the drive.
Some of the smallest RVs in-fact are so low weight that you wont even know that there is a trailer behind.
Easy accessibility
If you rent a small motorhome then you will have easy accessibility to things you want. A small interior means you can reach to any of the interior region easily. Want to make a quick coffee? Or access the bathroom? Its easy to manage such things when your RV is small specially for 2 or 3 people.
Small RVs are easy to park
Lengthy RVs are not welcomed at parking lots. With a small RV you can go to almost any parking lot. Also, backing is easy when your RV is short. Bigger RVs always have difficult time adjusting to the parking slots.
Welcomed in almost all campground
Campground have length limitations and when your RV is lengthy you may not be allowed. With small RVs you don't have to worry about this limitation. Most campgrounds do have other limitations for RVs that are not hard sided though.
Will small RV be good for family?
Most of the RV types that we saw above are suited for families. Except for teardrop trailer or motorcycle camper, other RVs can fit in 3-5 people based on model you choose. Class B motorhomes are a perfect RV for a family of 2-5 people. Travel trailers too offer great sleeping space and are equipped with all necessary amenities.
Because they offer such advantages, a lot of people choose small RVs for full timing as well.
Best Small RV Types for Family Camping
Camping out as a family is an unmatched and enjoyable experience. You get a chance to bond outside the norm where your minds are clear from the tight and busy work and school schedules. It's a time to unwind and learn more about each other's interest while basking in nature's most beautiful offerings.
So, it's only right that you chose a small RV that can adequately add positives to your outdoor experience. And while there are a lot options as explained above, those for family camping are mostly limited, but they are available. So, what types of small RVs are fit for family camping?
Travel Trailers – Because this type comes in multiple shapes and sizes, you can easily find one as a family to suit your needs.
Pop-Up Campers – Depending on the size and model, pop-up campers can accommodate 2-6 people, which is a good number for a family interested in a small RV for a weekend getaway.
Best Small RV Types for a Couple
For a couple looking to spend a good weekend or holiday away in the outdoors, a small RV can certainly accommodate them. Staying in the outdoors together will further enhance their bond and add enjoyment to their experience.
However, this is only viable with the best contributing amenities included, which in this case is a small RV. Because they are only two people, a couple doesn't require something too big for them to chew. So, what type of small RV would be the best option for couples seeking an off-road experience?
Let's have a look below:
Class B Motorhomes – These are also known as camper vans and they are the smallest of the motorhome family. The class B motorhomes resemble a cargo van, but inside them is a different scenario. The camper van is basically a home on wheels, featuring some amazing and well-thought amenities such as a dinette, small kitchen and even a queen-size bed. Some even have a small bathroom space, making them a perfect option for a couple on the road.
Best Small RV Types for Solo Campers
Travelling alone doesn't usually need you to have plenty behind your back. Therefore, you only need the necessary amenities and you'll be on your way. This is one of the reasons why small RVs have become a force to be reckoned with.
Knowing that you can travel alone for long distances inside a home is a true adventure for any camping enthusiast. And according to the list of small RV types explained above, you can certainly pick out the best motorhome for your off-road experience.
But because we are here to help, here are some amazing small RV options for solo campers.
Teardrop Trailers – This is definitely the top-contender in the list of best mini RVs for solo campers. The teardrop trailer carries just enough of the needed amenities for a solo motorhome.
Travel Trailers – As explained earlier, these come in different shapes and sizes. Therefore, you can find the best option to suit your off-road needs as a solo camper.
Best Small RV Types for Boondocking
Boondocking is a great way to unwind and enjoy leisure time with the best that nature can give. It's an experience like no other with a chance to get out and actually let nature marvel you with different aesthetics. So, why not choose an RV that can further enhance this experience, both during the day and at night.
Below are two best small RV options that can adequately enhance the boondocking experience.
Campervans – Other than being great options for couples, campervans can also accommodate the needs of boondockers looking to have a good off-road experience. The built-in amenities are essential for aiding campers on their off the grid activities and this type will certainly deliver according to its purpose.
Pop-Up Campers – These feature expendable tent walls that would best suit folks who are looking to add more tenting space on their boondocking experience. It upgrades the camping experience with its pop-out capability to give boondockers a great night's rest. It's also highly portable and can accommodate 2-6 people, depending on the size and design.
Rugged Teardrop camper : A teardrop camper that is made for off grid camping can be a great RV for your off grid boondocking trip. These campers are small, not so wide which makes them easy to tow through narrow, gravel roads. Also, since they are hard sided and also have sufficient storage you can go camping at secluded paces as well.
Tips For Renting Small RV or camper
So, ready to book your next RV rental? Hold on! Here are some important tips before going ahead with the rental.
1. Makes sure you are booking well in advance.
Getting the right type of RV near your location may not always be possible. On top of that if you are looking for a specific type then be sure to book it well in advance. Trying to book an RV just a week before your vacation may not always be possible specially when its summer.
2. Insure the RV
Not insuring the RV will be your biggest mistake. Even minor damages can be costly. Also, accidents can occur which may not only damage your RV but also other vehicles. Make sure you have enough coverage for collisions, comprehensive coverage and also medical coverages. Get roadside assistance if you plan to travel longer distances and for longer duration. 24/7 assistance is a must if you plan to travel.
3. Compare before you rent
Make sure you browse through several options before finalizing the RV. It is always better to compare to see what better deals you can get. This is a must specially when you will be renting it for a month or more.
4. Check what all amenities you get
A small RV does not mean you have to compromise on the amenities or features. Do check all the amenities you are getting in the camper. If you are going to be boondocking then make sure you will have good power sources like generator, batteries, solar kit and propane.
With small RVs the amenities will be less and hence prioritize what you want and accordingly go for the RV. Decide based on whether you are okay with small fridge or you need a big regular size refrigerator? What is sleeping capacity and comfort of the bed size? Kitchen is outdoor or indoor, check if it has shower/bathroom depending on your needs.
Check if there is awning, an awning can give you shade and also keep the RV cool.
Conclusion
Renting a small can be you best decision that will help you enjoy the vacation in a better manner. Deciding on the type of RV is important. If you have not towed or driven an RV previously, Class B Motorhome should be your first choice.