Boondocking is when you go out RVing without full hookups. You wont have water hookup or electricity hookup and also no sewer hookup. Its a way of RVing that takes you closer to the nature.
This is a great way to RV but it also needs some special preparations. And therefore, there are a lot of mistakes you can make. You will mature as you do it more often and that will help you enjoy more.
In this article, lets check out the RV boondocking mistakes to avoid.
1. Going Without Proper Research
This is a mistake that can destroy your camping experience. Make a point to do all the research before finalizing on the location. There are tons of resources out on the internet that can help you fully understand the place.
Read reviews or take help from others who may have already visited the place. Its always better to know each and everything about he site.
Know about its safety, nearby places you can go for urgent grocery shopping. Get the details about whether the place has bears or other wild animals.
Understand about its normal weather, humidity and temperatures. Such a information can be extremely helpful if the location is far away from your home.
Doing this research upfront will save you from camping time headaches. With the internet, it has become way more easy to do the research. So, do not make this mistake of going without knowing the place.
2. Leaving Your Traces Back
A thing you should avoid is not keep any traces behind. Keep the place as it was before you arrived. Make sure you take all your trash with you. Same goes with the tanks. Do not empty your grey tanks at the site.
We always make sure that everything is cleaned and put together as it was. Just think about how you would feel if people did keep their stuff back for you to see.
Take a careful look around before leaving. Do not throw paper plates or any other items that could fly with wind.
Have a trash can to collect anything and everything. This can happen specially when you have kids. Take a special care to make sure things are not scattered and left behind.
3. Disturbing Other RVers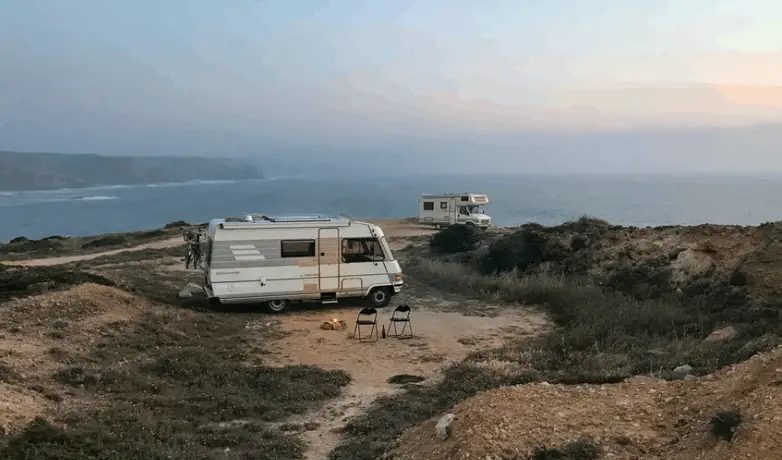 Some boondocking or dry camping sites are popular and you would find many people camping around.
In such cases, make sure you aren't disturbing them. This can include playing loud music, running a loud generator at night and all other sorts of things that can disturb the people around.
Do camp and enjoy the nature and surrounding, but make sure you are not bothering someone's peace.
Things like doing repairs that can generate large noise should also be avoided. You could connect with people camping around but if someone doesn't not want to do than avoid it.
Most people however do want to connect with each other and you will normally find people friendly in most sites. At-least we have found some great people boondocking who connect and share.
4. Ignoring Weather Forecast
Weather can destroy you camping experience. A heavy rain can fill you pop up canvas with water. Heavy winds can break down the awning. Even a good motorhome can start leaking when it pours heavily.
Snow can accumulate over the roof. Similarly, a heat wave can make it hard even with air conditioner. RV life isn't easy when the weather is harsh. And, with such conditions if you are boondkocking then things will only be worse.
Make sure you check on weather for next few days before hitting the road. Having a radio to listen to the weather update will also help.
If you are camping for long days then you have to keep up with the new information coming in. Whatever the case, keep yourself updated for weather and plan accordingly.
5. Taking Security and Safety For Granted
Safety is utmost important when going boondocking. Make sure you are aware of the place and its surrounding safety.
Its better to go to a place you are totally aware. Visit places that people normally go to. Having a dog can be an added security.
Avoid going to places that are isolated. Once you reach the place observe for any irregularities and then do the setup. Share the location with your family member if possible.
6. Not Packing Easy-To-Make Meals
I cant tell you how many times have we missed those easy to cook meals while boondocking. Pack some quick and easy to prepare meals specially if you have kids onboard.
Pack some crackers, crisps and other packed food items. Don't open them until you really need them.
If you are camping in a small pop up or truck camper then having a small microwave will also help. Having a portable grill also helps with which you can enjoy a grilled food.
7. Going Boondocking The Very First Time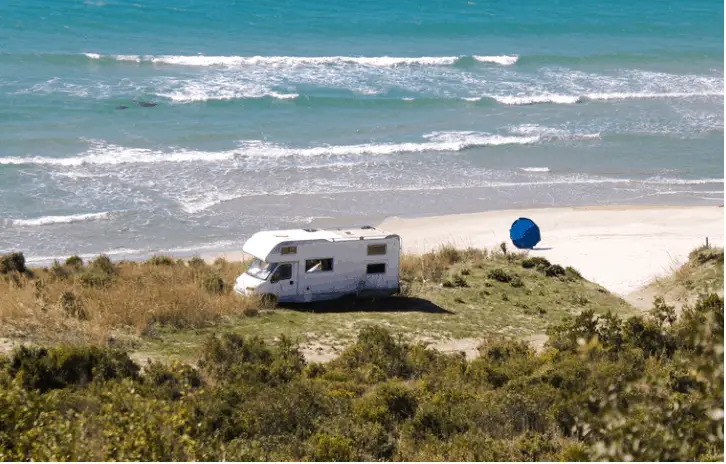 Boondocking is fun and you will enjoy it the most. But, understand that you wont have hookups at the site.
If you are new to RVing then avoid going boondocking the very first time or first few times. Try camping in a full hookup campground first.
Dry camping can turn out to be tough if you don't have the idea of how things work. Get yourself accustomed to the RVing life first and then go off-grid boondocking.
I cant tell you how much we have struggled with our RV initially. Even with full hook up connection things can be hard in the beginning.
So, go to the nearby campground if you are new initially and start boondocking after that.
8. Not Having Checklists
To remain organized, keep things proper in place and not to miss important items, its much necessary that you have a full checklist. Prepare checklist and follow it while packing for the trip.
You can have multiple checklists. Have a checklist for packing up that you can use while leaving the spot. Improve you checklists as you mature with your camping.
I cant tell you how many things you will miss or pack extra if you don't follow a proper printed checklist.
Since you will be spending good amount of time away from a normal community its utmost necessary to have everything that you need or else you will have either a cut short camping or will have to travel back.
Some of the checklists that we have include, kitchen checklist, RV setup checklist, Packing back, Other items checklist. We keep updating our checklist. You will also end up doing same. Things you pack also changes according to when-and-where you are camping.
9. Spending Most Of The Time Inside The RV
The real reason to go boondocking is to enjoy the outdoors and surrounding. So, do go out and don't just relax inside your camper. When you take your big class C or modern class b RV out, you may find it more comfortable. But, the idea of dry camping will be defeated.
Extended your awning and set up the external grill out there. Place the chairs and hang a hammock. Your camping experience will be enhanced when you actually do all this.
10. Not Having Proper Heating Or Cooling Ability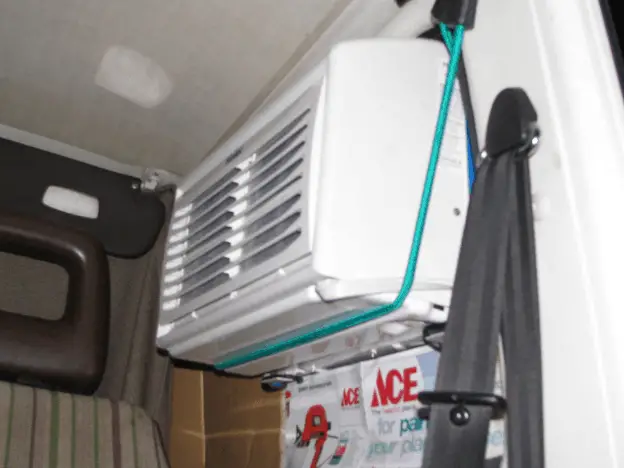 Going camping during hot weather or very cold weather can turn out to be very bad if you don't have good cooling or heating in your RV.
Specially, cold nights can be unbearable if your rv isn't great in insulation. This happens specially with pop up campers or tent trailer that don't have great insulation.
Make sure you have proper arrangement if you are expecting temperatures that will be very low or very high. Try insulating the RV if it isn't. Make sure you have a space heater or furnace and a working air conditioner. Here are some great ideas and tips to insulate your RV or camper.
11. Not Leveling Your RV
Leveling an RV is more important while you are boondocking. The spot will not be as flat as you would find inside a campground. And therefore it becomes more critical that you have the leveling blocks or jacks for this.
An un-leveled RV will not allow you to sleep. Your kids will roll down the floor. The refrigerator may malfunction if the RV isn't leveled. Make sure you get the blocks and do the leveling as accurately as possible. Here is your guide that takes you through everything you need to know about RV leveling.
12. Not Conserving Water
Your stay at the boondocking site will depend on how much water you can conserve. Since you wont have the hookup connection your only source will be the fresh water tank. Make sure you utilize the water in best possible way.
You can try different things to do this. Get paper plates instead of getting hard dishes if possible. This will save water that will be sued for washing the dishes.
Install a oxygen shower head to save water. Avoid taking long showers, do dishes after you clean them up.
It can definitely save some water. We clean the dishes and wash them all at once and avoid doing one by one. This way water is not wasted. Also, you should know the exact water capacity of your RV.
13. Overstaying At The Camping Spot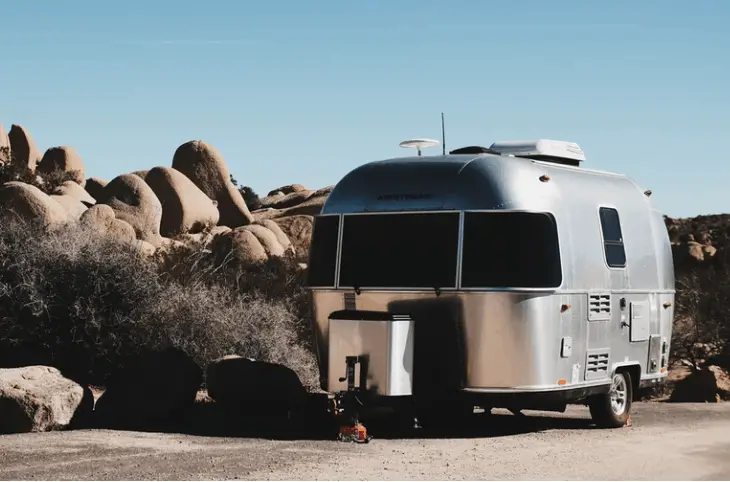 Dry camping or boondocking spots will have a days limit on how much you can stay there. In most cases, we have seen it to be 14 days or so. Do check on this information before you plan for more.
Boondocking, however will not allow you to stay longer as you will run out of many things including water. That is a different case. In case, the spot has lower day limit then you have to leave before the limit is hit.
Most people boondock for 3-5 days and some can also stay put till 10-14 days. Its upto your RVs water capacity and your ability to conserve power and water.
Read : Do's and Don'ts of RV camping
14. Packing Too Much
Taking items that you wont use will only be overhead. Boondocking needs to be planned in much better way than campground camping.
Even though its true that you wont have much options once you reach the place, its always better to pack only whats needed.
Do not stock your RV with hard dishes that you can avoid and use paper dishes. Clothes, appliances, other items that will be used very less should be left behind. Most people boondock with small RVs or travel trailers and with those, your storage options are limited.
There are some great and easy ways to reduce the weight inside your RV.
15. Not Fully Charging The Battery Before Leaving From Home
Conserving the power while dry camping is necessary. Your ability to conserve the power will decide how much duration you can camp. One of the mistakes that you can do, is to go boondocking without charging your battery fully.
Even though you may have a generator to it get charged, its only better to charge it on shore power at home. Generator can be noisy and also, it will take many hours to get it fully charged.
Having solar panel can be helpful. Using solar isn't difficult once you understand the basics, check out how you can keep your camper batteries charged using solar.
But, even with these options you shouldn't be heading out with half charged battery. We have done this mistake and had to face issue due to no power for our much needed appliances. Things can get worse specially if the battery charge isn't available at night time.
16. Keeping The Awning Extended When Its Windy
Awnings do provide good shade. They keep the RV cool. But, a broken awning at the camping site can be worse thing. Awnings can get damaged and tear off with high wind. Always make sure you retract it if you are moving away from the RV.
Even while you are inside the RV, make sure it is retracted when its windy. Keep a close eye on weather to avoid such scenarios.
Specially, if you are going away with your truck or car for sight seeing, make sure you just put it back. You don't want an additional task of repairing the broken awning fabric. The fabric used on awning may not be great and result in flapping with wind.
17. Making New Paths When Already Present
This is not a mistake as such but one should follow this as a best practice. Do not create new paths on the ground if there are already created. Your responsibility is to preserve the nature. So, if the site has roads that are created then travel through those roads.
Most of you will be visiting the places that are already used for camping and in such scenario you should find the paths that are already created.
18. Not Setting Up The RV At Already Camped Spot
Again, just like the previous point on paths, if you see someone had already camped at a location, then make a point to stay at the same location.
You can find some hints like campfire stone circles or some other hints like leveling marks. Doing so will always help preserve the nature. This can also be beneficial in terms of setting up RV. The area can be clean and better for parking the RV.
19. Relying Too Much On Generator
Generator can help you in emergency. Its a power source that will keep your appliances running. But, be cautious and do not be too much dependent on it. Have some other power sources like solar or propane.
Read : Beginners Guide For Using Solar In RV
Generator is not only noisy but also it may not be efficient always. It can break down too. So, just have multiple power sources and also conserve as much power as possible.
20. Parking Under A Tree
If you own a small pop up camper or even a travel trailer, parking under a tree can be harmful. Even though you will get some good shade, there is possibility of a branch falling down that can cause damage.
A leaky roof is something everyone want to avoid. So, make a point to park the RV that isn't seeing a branch on top of it. Specifically, in high wind or stormy rain you should always park the RV away from trees.
21. Not Checking Tire Pressure
The last thing you want during your RVing travel is a flat tire or a blow out. One of the most common reasons of tire blow out is insufficient inflation of the tires. Make a point to measure the tire pressure before you leave from the house.
Also, if the journey is longer then take breaks in between to check on tires. Your RV tire can get damaged while traveling specially if the roads aren't that great. Keep a check on tires and inflate them properly.
22. Not Carrying Repair Or Maintenance Tools And Spare Tire
Basic repair tools and equipment is a must when you are camping in a remote region with no access to repair shops.
Have a checklist that includes your complete maintenance took kit. You may need various things to repair your RV in case it breaks down.
Have a basic set of tools like screw drivers, drill, tapes, sealants, vacuum to name a few. You will be in best position to know whats needed. If you don't like to or don't know how to repair basic thing in RV then you should avoid boondocking in remote places.
At some places you may not even get proper mobile network and things can get worse with that.
If its a travel trailer or pop up then make sure you have your car repair equipment. Make sure you are carrying spare tire as well. You have to be prepared for such incidents, always. Not being prepared is a great mistake, i must say.
23. Not Enjoying
Think about Why are you there in first place. Its a time you want to enjoy and have a good time with your family or friends. So, do that.
Do not stress yourself up even if a thing or two goes wrong. Most things wont be perfect specially when you are new to RVing or boondocking.
In most cases, when you just start, the setup itself can take much longer. It may look like a lot of work than enjoying. We have felt the same way when our RV was new. But, you need to relax and take it step by step.
Spend time outside of the RV, go closer to the nature and have some relaxing hours.
In Conclusion
I am sure these tips or mistake to avoid will help you a lot. If you are new, you should always check with other RVers to know how you can be better and avoid these mistakes. Again, have some great time and enjoy your stay.