Pop up camper are economical way of RVing. You can either go for a tent trailer pop up or a hard sided Aliner or a-frame camper.
These can be easily towed and weigh very little. We have had some amazing experience boondocking in our pop up.
In this article, i will share some of the easy tips and tricks one can follow to make the pop up camping journey more enriching and easy.
Pop up Camper Set Up Tips
Getting your camper setup done can be an easy thing to mess up. Having a proper set routine for this can make rest of your camping stay easy.
Its your experience that will mostly teach you. Not all of us are same and therefore, you may find your own way of setting it up. Anyways, let me walk you through some of the tips that one should follow while doing the setup at the campsite.
Get More Space With Awning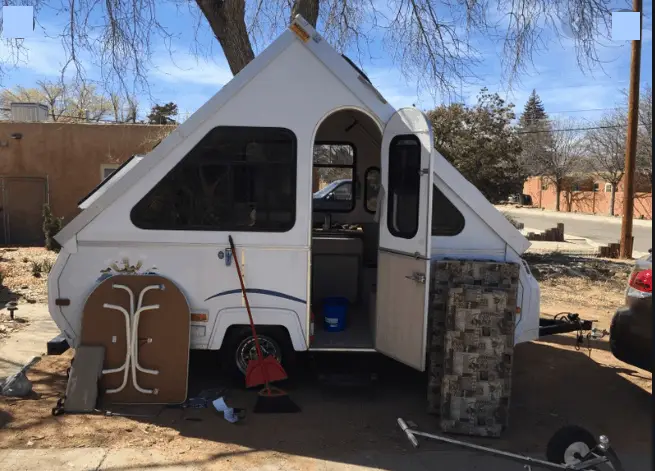 An awning added to you pop up camper is as good as your interior. It gives you space to move around, relax and sit.
Awnings increase your camping space and helps to do all the setup outside. Their interior are very compact and doing the setup inside is tough unless you have a bigger sized camper.
Especially, when you are family with kid, awning space will make things much easier for you. You can place your chairs under, get a fold-able table and place everything on it. The shade that you get with awning will also help cool the camper interior.
Read : Know the tent trailers before camping
Awning definitely will make a great difference in terms of how much space you get for camping. Staying inside the tent trailer all the time can be difficult, specially when its not so cold outside, it can be tough inside with the temperature.
Install Screen Room For Protection
Adding a screen room with your awning can be an icing on the cake. When the weather is pleasant you can really do this setup and enjoy more.
This is like literally adding a new room to your camper. With a screen room you can keep insects outs, it can protect against the weather and also give you some privacy.
It also helps in protecting you from direct sunlight and rain. Even though we have never used these, we have seen people camping with screen rooms and believe me it does make a lot of difference.
Even though such setup can be difficult in the starting , you can master it and make it hassle free. Its little bit pricey to go with, but can make a difference if you are not thinking of upgrading the RV in itself.
Add Gizomos To Roof
Making use of pop up gizmos can be great.They are additional protection to your otherwise thin canvas.
With pop up camper gizmos, you will be able to keep it cool during summer and preserve the heat when its cool outside. They help in reflecting the heat from outside and provides insulation during winter.
It will definitely give yo more cozy feeling in an otherwise fragile pop up camper. A normal pop up tent trailer isn't hard apart from the roof and the floor.The walls aren't that great and putting in on gizmos really makes a difference.
Level the camper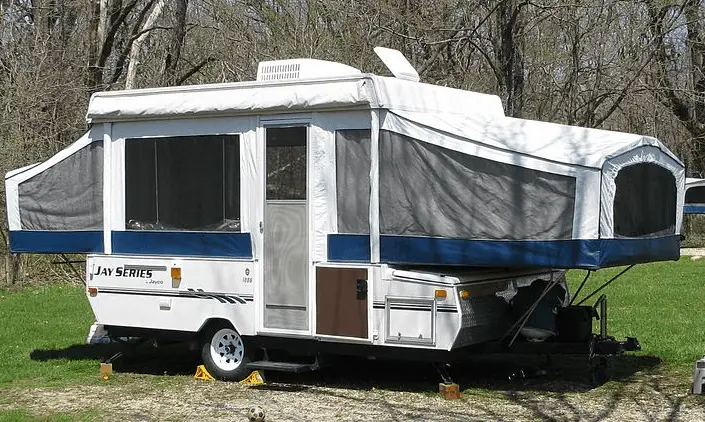 Leveling your tent trailer is an important step in the setup at the camping location. Make use of leveling blocks that stack up together to increase the width as required.
People also use metal leveler or wooden ones, but we normally go for standard plastic of lego types that stack up together. They are hard and bright in color, this makes them really great for usage. You don't forget them while leaving as they are quickly identifiable.
Other thing that i would recommend is to get a surface that's leveled in first place. This will help you level the camper easily without much efforts.
Some people have this question, why do you even level the camper? An un-leveled camper will make things hard for you.
You don't want things rolling down the camper, cooking will be difficult and you will have hard time sleeping. Refrigerator too can malfunction in an un-leveled RV.
Get Monitor for Voltage Fluctuation
Install a voltage meter to check on voltage fluctuations. While you are at the campground, you can get the voltage surge or drop in the voltage that can damage your appliances.
So, its better to have some kind of mechanism to check on it. Get a voltage AC line meter and check it for any fluctuation.
Zip The Windows And Pop Up When Not Around
If you are going away from the camper make sure you zip it up carefully before leaving. Even though the weather was bright and shinny you never know.
A storm or heavy rain will get it flooded. Just check on weather before you step aside. Same goes with the awning as well. Make sure you retract it if you are not around the camper. Awning can get damaged with gusty winds.
Get Foldable Tables And Chairs
Getting fold-bale chairs and table for outside setup will be a nice idea. We use around 3-4 chairs that are super in terms of storage and they fold and can be stacked against each other and they go inside our storage.
Same is with the tables. They fold and stack. Getting such furniture can be a real advantage when you do the outside setup. It really makes a difference as your overall space is limited with the tent trailer.
Read : Find out all the essentials you need for tent trailers
Unlike other RVs where in you get big living space, your outside setup is your living space when it comes to tent trailer or A-Liner.
Once you buy a pop up make sure you get all these things as it will enhance your overall camping experience.
Look For Items That Are Collapsible
Getting items that fold or collapse is the way to go when you go camping in your tent trailer. Specially, with items that you want to carry for other outdoor activities like hiking or cycling, make sure you check out on such items.
Like for example, If you are bicycle enthusiast and don't want to keep your bicycle at home, make sure you get the right bicycle in first place. Fold-able bicycles are great for carrying anywhere.
They fold almost 1/4th and can be carried easily with your bike rack. We carry two with our camper and place them on our rack at the front part of the tent trailer. Same goes with any other outdoor items you want to carry. Look for something that can possibly fold and is light weight. Bicycle is just an example to give you.
Avoid Parking Pop Up Under Trees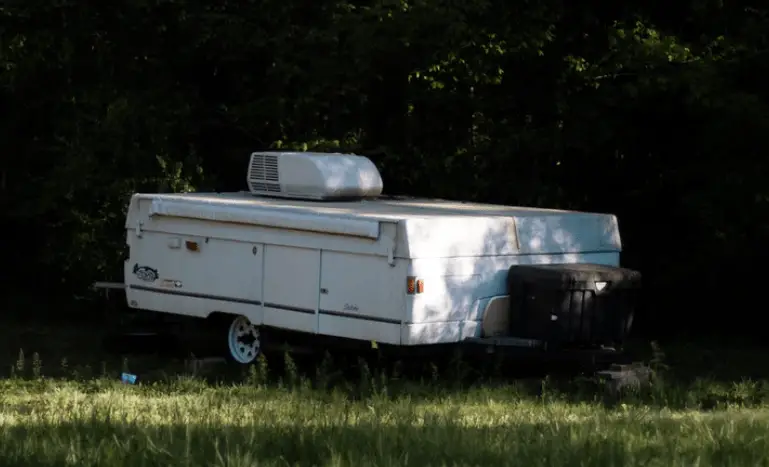 Parking under a tree is both an advantage and disadvantage. If you are getting a space under a big tree with branches that can possibly fall down, then avoid that space.
The tree branches, leaves can cause harm to your tent trailer roof. The canvas can get dirty with bird dropping and leaves. Even tough shade can be great in keeping it cool, select the space carefully to avoid other damages to the canvas.
Get Space Heater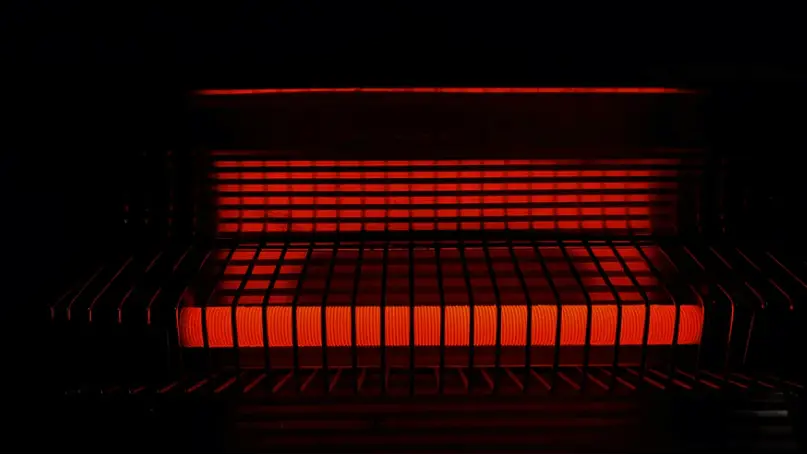 Using a space heater can work great for your camper. When you don't have a furnace or other heating source a small space heater can keep you warm in winter cold.
Most pop up tent trailers aren't that great in insulation though. Since pop up camper wont have a inbuilt heating appliance its upto you how you want to do it.
Space heaters are portable, convenient and also do not cost much. With pop up camping you want to go economical and space heater can work well for them.
You will also need extension cord to connect it to the power. Few other option to heat your pop up include using electric blankets or pads.
Insulating your camper with gizmos or other material can make a lot of difference in the way heat is preserved. In very high cold regions people also use skirting.
Don't Go Boondocking The Very First Time
Do not go boondocking or dry camping when its your very first time. Try camping in and around the area where you live.
Look for campgrounds with full hookup. I cant tell you how much we mismanaged when we went camping for the very first time. We went dry camping for the very first time and had to cut it short due to all the things that went wrong.
After the very first trip we decided to stick to the full hookup campground thereon and then later as we matured we started with the boondocking.
Storage Tips
Storage is limited with pop up campers and a lot of depends on how you utilize it. Even thought eh storage is limited one can make use of various items to make it count. Here are some great tips that we follow to make sure limited storage isn't coming in our way.
Use Crates For Storage
We use crates that can be folded when not in use. Normally, we use 2-3 such crates. One for keeping food items, one for other small items that are needed often.
The last one we use as a trash collector. We also use trash cans but we use crate for collecting solid items.
The crates can be of great help in keeping things properly organized. Also, since they fold, its not utilizing extra space. We do the setup outside the camper at the campground.
Use Hanging Shelves For Storage
They have storage that's under your bed or sink or dinette. That's really hard to access every time. Also, you don't get permanent storage at the higher level, since that part is going to collapse down while folding.
Therefore, we use shelves that can be hanged up there while doing the setup. Get such hanging shelves as it makes your life much easier. Specially, when you have kids with you, you don't want to be struggling with such minor arrangements.
Pack Whats Needed
I cant tell you how many people simply pack things that they do not use often. A great idea is to have a packing list ready before you start packing the items. Keep clothes, cookware that you need or can't use at the camping place.
We normally leave hard cookwares when we know we can't be using them. And, sometimes we pack both the soft dishes, and hard dishes and try to use both as per the need arrives.
Paper dishes can be great to avoid the use water for washing. Getting minimum bowls and dishes is another thing we pay attention to. When you can be okay with using single mixing bowl, why pack extra.
Make Use of portable grey tank
Pop up campers don't have high tank capacity and therefore having you portable grey tank can be great to keep up with time.
Grey tank can fill fast if you camp longer and therefor having a portable one with handle can make it easier.
You just plug it and when its full, empty it at the emptying place at the campground. This will help you worry less about tank feeling up fast. You don't want to be moving your camping if it fills up.
Conserve Water While Camping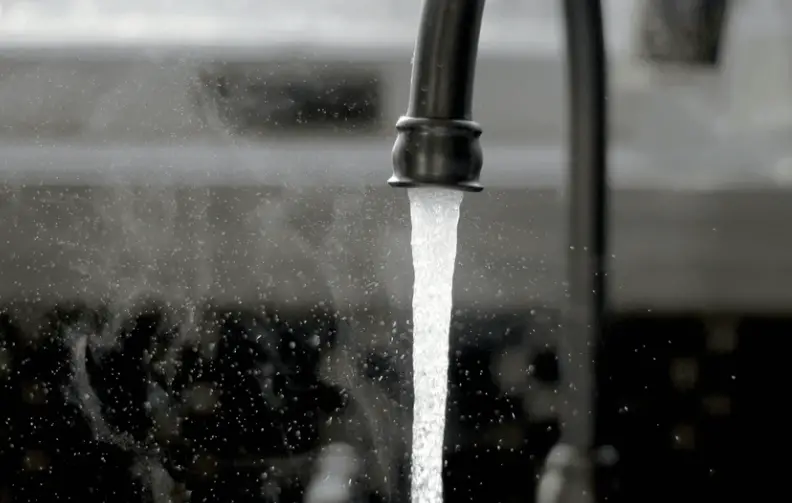 How do you camp longer? Simple! Conserve water. The more efforts you make in saving water while camping, more time you will be comfortable camping out there.
Since the pop up don't come with big tanks, saving water is the best thing to do. If you are camping with connection then you don't have to worry but if you are boondocking or dry camping then this applies.
Conserve Power
When you are dry camping with your camper make sure you make all the efforts to conserve the power. The better your power and water consumption is, longer will be your stay. Getting a big generator may not wise with small pop up therefore go for solar if possible.
Solar panels can be used to trickle charge the batteries. Solar panels setup can be done in less than $200 or so.
Kitchen/Meals Tips
You don't get full kitchen with pop up camper. Your space is limited and therefore having an outside setup can help a lot. Getting some mini appliances is another thing we often do, it helps a lot. Lets check out all the tips.
Get A Small Microwave
A small microwave can be of great help when you don't have a big oven or a full cooking set up.
It can be used to quickly heat a burger or a sandwich. I cant tell you how much we have used this appliance to get the meal ready in 2-5 minutes. Specially, when you go out camping on a weekend, you don't want to prepare full meal every-time out there.
When you have that frozen food inside the freezer, you just take it out and put it inside the microwave.
I am not going pop up camping without having my small little microwave being there. It can really be your saver specially when you have kids with you.
However, you wont be able to use it when you don't have electricity in the camper. So, be sure to take it out if you will be camping without the supply.
Get Outside Gas Grill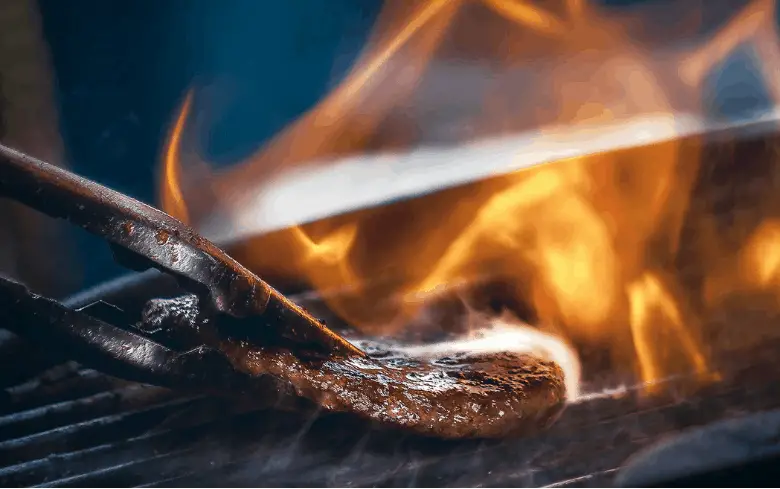 Just like a microwave, outdoor portable grill can be your meal maker for the day. Its just the right kind of meal maker you need when you don't really have full meal making items and stove.
You get awesome portable grills from Weber and other companies that are lightweight and great for grilling.
Another thing i like about portable grill is, it takes minimum space for storage. And that's what you want with pop up camper space limitations.
Get A Toaster
We use toaster for making cookies and also some toasts. It is upto you how you make use of a toaster. We have found it to be particular helpful with kids to quickly get a toast ready for morning breakfast. Again, it wont take much space and its your quick help appliance.
Get Portable Coffee maker
If you love coffee, then getting a small portable coffee maker will make your day. Again, it wont take much space and if you like sipping in on coffee everyday then get one and store inside the camper.
Since the kitchen wont be what you normally have at home, its wise to have these little appliances to make things easy and quick.
Get Food Cooler
A pop up camper will have small refrigerator that may not be enough to pack everything inside.
You can add a small food storage cooler that can be used to keep the food cool and fresh. You will get quite a few options in this.
Just get a one that fits your needs. Normally, what we do is, we carry it empty and fill it at a grocery store with foods that need to be cooled. And then, take it out when camping at the campground. It can be really helpful in keeping things cool and easy to access every time you need.
Minimize Food That Can Perish Quickly
Since you don't have better refrigeration with pop up, its always better to minimize the perishable foods.
Also, if you go camping for short times you don't want to clean the camper every time. Keeping the perishable foods inside will lead to attracting ants, insects, plus the odor.
Reducing such foods will make things easy for your camping trips. Get foods that you can prepare quickly and serve easily.
Maintenance Tips
Even though these campers are small and cost less you cant ignore their maintenance. Its a small RV but still you need to winterize it, clean its canvas and make sure everything is in place. Here are my tips for their maintenance.
Avoid Silicone Product For Treating Canvas
Pop up tent trailer canvas is made waterproof by treating it with special products. When you clean the canvas there is possibility that its waterproofing may be lost.
You have to treat the canvas after cleaning to make sure its waterproofing capability remains intact. For this purpose, you have to make use of mild petroleum products and avoid silicone as it can destroy the water replacement capability of the canvas.
If you have any doubts on how to go about this, then make sure you consult your service man or repair shop professional.
A camper roof or walls that loose waterproofing will make it hard to dry if it gets wet due to rain. With wet canvas that isn't drying you will hard time packing it down.
A wet canvas will cause molds, and canvas will go bad.
Dry Canvas completely Before Putting It Down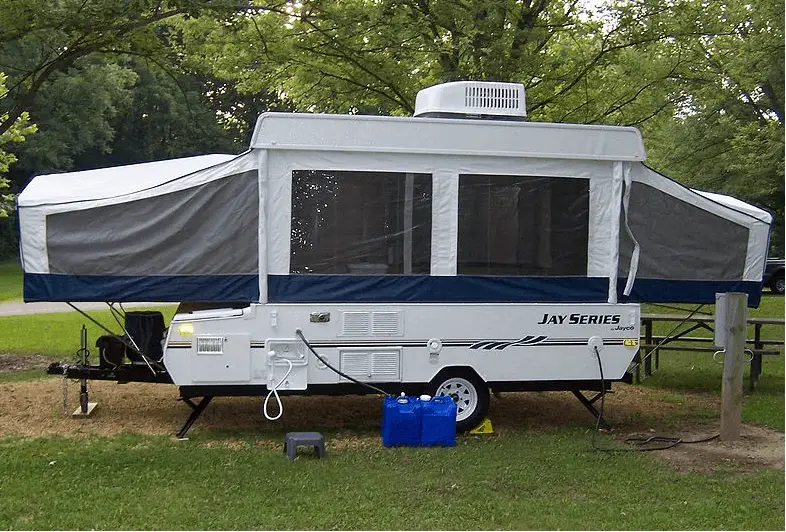 Do not ever get the canvas rolling down for storage if its still wet. Doing so will destroy the canvas and cause issues that will reduce its life.
If you are cleaning it then make sure it dries completely in the sun. Also, if the rain poured on it then make sure it stays up until it dries completely. This is a common mistake people make specially when they do not know about or they are just careless about it.
Use Mild Detergents Or Soaps For Cleaning Canvas
The pop up tent trailer canvas is sensitive and need to be cleaned with only mild products like detergent or soaps.
Try using what is recommended by manufacturer, you will find products specially made for canvas. If you want to go for home made then go for a mild one only. A harsh detergent can damage it and the canvas will loose its ability to repel water.
Replace Tires When Old
Tent trailer tires are small in comparison to a standard TT or a fifth wheel. But, still you have to be careful with them.
In most cases, the tires can last around 4-6 years on an average. Get them replaced when the time comes.
Check on them before you start the travel. If the tires don't have much tread left on them then go ahead and get them replaced. You definitely don't want to get stopped in the middle of the travel when the tires fail.
Use Vinegar To Remove Mildew And Mold From Canvas
Mold and mildew can be very bad on the canvas of the pop up. You can use vinegar by mixing it with water and then using scrubber or brush to clean the canvas to get rid of mold.
Make sure you do not do this harshly as otherwise you will end up destroying the canvas.
Tow carefully : Allow more time for breaking
Yes, towing a pop up tent trailer can be easy as compared to travel trailer or fifth wheel but still you need to be careful. Specially, when you are doing ti for the first few times, make sure you are careful while breaking.
It will take some time to stop the trailer. Give some time for breaking, drive slowly and take time to make turns and backing. Practice backing before you head out for your very first camping trip.
Make Use Of roof Fan For Pushing Hot Air Outside
Pop up tent trailer can get very hot. Installing air conditioner on them can also be little hard. Even with AC, the cooling may not work great as the insulation isn't that great. Find out how warm are these campers.
In such a scenario having a roof vent fan can actually work wonders. It will push the hot air outside. You can keep it on for longer time as it wont consume much power. With this when you enter the camper you wont fee the heat.
In Conclusion
We have had some amazing trips with our camper. These RVs are an amazing asset to have. They help you go dry camping and go closer to the nature. Having a proper setup can make your life much easier and more enjoyable. Happy camping.