Last Updated on :
So, you have this confusion. Fifth wheel or not fifth wheel. A neighbor of yours just bought that long and very nice fifth wheel, and you too want to go for one.
But, then you see the price and look for options. And then, travel trailers flashes through your mind. Mostly because of their cost. They look similar, both need to be towed then why not opt for a low cost travel trailer.
A fifth wheel although more costly, can be a suitable match for many people. A travel trailer can quickly become a thing that you may want to replace with fifth wheel. But, for some travel trailer works out  great.
A lot of people opt for travel trailers due to the initial cost advantage. A point to point comparison is all you need to do. Both have their own pros and cons, its upto individual to decode what suits them better.
Here is a quick table summary for travel trailer vs fifth wheel comparison.
| | | |
| --- | --- | --- |
| Feature | Travel Trailer | Fifth Wheel |
| Cost | $12,000 to $40,000 on average | $28,000 to $85,000 on average |
| Space | Limited | Better Space |
| Maneuverability | Little difficult | Easier |
| Privacy | Not so great | Better privacy |
| Head-space | Smaller | Great head space |
| Storage | Limited | More storage |
| Length | 13 to 35 feet on average | 22 to 40 feet on average |
| Weight | 1000 lbs to 8500 lbs on average | 2000 lbs to 16,500 lbs on average |
| Full Time living | Not a very great option | Better option than travel trailer |
| Towing | Car or Truck | Truck needed |
| Backing up | Little harder | Comparatively Easier |
| Seating | Full in car | With truck its reduced |
| Maintenance | Easier | More maintenance |
| Fuel Economy | Better | Low |
| Amenities | limited | Better equipped |
| Ridding inside | not allowed | May be allowed in some states |
| Cooling | Normal | Can have Uneven cooling |
| Comfort | Not so great | More comfortable |
| Pets | Difficulties | Easier |
| Boondocking | Easier | Tough |
| Hookup | Not so easy | Easier |
| Bathroom | mostly 1 | Can have multiple |
| Slide out | None or Limited | multiple slide-outs |
1. Fifth wheels are costly as compared to travel trailers
Travel trailers are less in cost as compared to fifth wheels. Fifth wheels need special construction as they are built to fit on the truck bed little above. It needs implementation that is little difficult.
On an average if you see, a travel trailer would cost you around $12,000 to $40,000. But, mostly popular ones will be in the range of around $ 25,000.
Fifth wheels on the other hand come at an average price, that could be in the range of $28,000 to $85,000. Now, that is more although both are almost similar.
Higher prices in 5th wheel are little difficult to explain but there are advantages with fifth wheel that could be the reason why they are priced higher. We will see all those advantages below.
2. Fifth wheels give more space than travel trailers
Another factor to compare between fifth wheel vs travel trailer is space. Fifth wheel give more space and are better options for those who have bigger families. A travel trailer on an average will be lesser in space and thus does not suit, if a family is bigger.
A couple with 3 or more kids would definitely want to avoid an average travel trailer. A larger travel trailer can be an option, but better go with a fifth wheel or other rv's like class C or class A . A good thing with fifth wheel is that you would get good space at moderate prices in comparison to bigger class C or class A.
Fifth wheel are also seen to be more better designed to have that space for you. Travel trailer are little bit traditional and may not utilize space properly. You will always find exceptions to this, but on an average this is the case.
Many times couple who do not have kids opt for smaller travel trailer and then regret for not opting for bigger fifth wheel. Not always you want to replace a RV in 4-5 years, and if that is the case then fifth wheel should be considered over travel trailer.
3. Maneuverability is better in case of 5th wheels
Another difference between fifth wheel and travel trailer is ability to manure. Fifth wheel are better when you compare for maneuverability. Specially during  backing , travel trailer can be a pain. It is because a 5th wheel kind of more closer to the driver cabin and almost as if you are connected to it directly.
It makes a lot of difference and can be a good point for opting fifth wheel rather than travel trailer. You will find people who have no issues with travel trailer backing or moving around easily. Could be because when you are used to something, you just do it like anything. A person towing travel trailer for years would be more comfortable than a one who just started driving a camper trailer.
4. If you want Privacy in bedroom then go for fifth wheels
If you are kind of family that need space, privacy then travel trailer is not the thing for you. A fifth wheel, will give you better option to split the bedroom, that's great. A bedroom with proper privacy is not always possible in travel trailer.
Even then, if you have kids then a splitting room could be a better thing always. Many families find this as a very significant factor when they compare travel trailer and fifth wheel. Master bedroom with this kind of facility takes over travel trailers. Also, when you have kids, the kids would love that they have their own small room.
5. Ceiling headspace is little better with fifth wheels
Fifth wheels provide great head space and its a good thing to have. If you or your family member or friend who would be with you for camping are taller than this is a good valid point to differentiate. A good head space always means you have more and better air circulation within you camper.
A smaller head space may at times become an issue. With more space, its always good and it feels more fresh, specially at night times. A tall ceiling is always a good thing not only in rv's but also in cars and homes.
6. Fifth wheels provide more storage
With fifth wheel you not only get more living space but also more space for storage. While camping, having good storage area is critical for many people and thus, fifth wheels could be their types. A travel trailer on the other hand is little less taller and thus, tend to give lesser space for storage. This advantage of fifth wheel over travel trailer can be significant when you go for camping for longer period of time or you travel too often.
Fifth wheels seem to be more compact and have better utilized designed and hence, make great use of whatever available. This is also one reason why they are priced higher then camper trailers. Fifth wheel gives a larger cavity storage and can accommodate bigger things which may not be possible with travel trailers.
They are designed taller and hence, that makes it possible to have that larger space, also you will see that the bedrooms are normally little higher where in the headroom height is less (but that should be okay for most people as we normally use bedroom for sleeping) and that space is used for storage. They are designed as multi level, that is, bedroom is little higher then normal flooring.
7. Fifth wheels have overall length advantage
Next is the length comparison between the trailer and fifth wheel. A fifth wheel on an average has length between 22 feet to 40 feet. While a travel trailer on an average is around 13 feet to 35 feet long. A fifth wheel is constructed in such a way that its part lies above the towing truck which means overall length of the combination (towing vehicle and the fifth wheel) is less as compared to the combination of towing car plus the trailer.
This overall length can be a good factor that affects the whole driving experience. As, a larger overall length can be a problem during turning or backing up. Also, if the overall length is long then getting parking space in campsite can be tough and thus, fifth wheel stands an advantage over this point.
8. Travel trailers are light weight, fifth wheels are heavier
Weight of a travel trailer or fifth is a significant factor to consider since both are to towed using other vehicle. A fifth wheel is heavier than a similar length travel trailer and thus, can be a negative thing. Most moderate sized fifth wheel however, can be easily towed and shouldn't be a problem.
However, a 35 feet long fifth wheel as compared to same length travel trailer makes a difference. Weight is critical since a truck or car may not be good enough to pull that much weight. Plus, you also have license requirement needs when a certain weight limit is crossed. This disadvantage of fifth wheel cannot be overlooked because your truck is supposed to tow it.
On an average a travel trailer weighs between 1000 lbs to 8500 lbs. A fifth wheel on the other hand on an average weighs between 2000 lbs to 16500 lbs.
9. There are towing vehicle restrictions with fifth wheel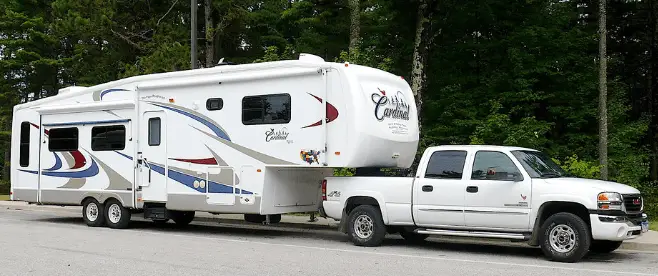 Fifth wheel needs truck to tow it, and should be compatible with it. A travel trailer can be towed using any car and needs no special arrangements. A truck towing the fifth wheel means you have less seats in the towing vehicle. This is one of the factors to decide between travel trailer and fifth wheel.
A car towing travel trailer will give you more seating capacity. If you are a big family then fifth wheel could be a put off for you because of this restriction. With fifth wheel, you are bound to have only specific towing vehicles but with travel trailer you have the freedom of choosing the car or vehicle and or also use any existing car to tow it.
10. Backing up in case of travel trailer is little difficult
Backing up in fifth wheel can be easier as compared to travel trailers. Specially, for those who are new. Unless you have clear idea how the trailer is moving, it can be worse. Fifth wheels have reduced length plus almost hover over your towing vehicle which gives a little of edge.
Both, travel trailer and fifth wheel need to be towed with great care and you should avoid high speeds. Both of them respond a little late when backing up and thus you need to be very careful and should not rush. Moving ahead little longer than needed can be a good thing to do for both.
11. Fifth wheel allows more accommodation but seating in towing vehicle is reduced
A fifth wheel allows for more space, bigger master bedroom, good head space but has limitation of towing vehicle seating space. This may not be suitable for bigger family. But, they also allow for traveling inside them in some states. So, it depends on this two factors. While camping, it will accommodate larger family but while traveling it depends whether the state allows for travel behind or not. In travel trailer, it is not allowed to be inside while moving on road.
12. Fifth wheel need more maintenance
Well, fifth wheel gives so many great things packed inside them but, they can be a pain for maintenance. Especially if the fifth wheel has become a little older. With so many slide outs and moving parts, this is expected.
A schedule maintenance will be needed in both travel trailer as well as fifth wheels but at times you will need more repair , replacements in fifth wheels. What this means, is not only fifth wheels are costly initially but also costly to maintain.
A repair or replacement at a repairer will definitely be costly. On an average a repair dealer can charge you around $100-$150 per hour, and with a not so big repairer it can be less upto 50-60 dollars per hour. But, you definitely need to be more careful with fifth wheel and do regular maintenance and not avoid it.
13. Fuel economy is better in travel trailers
Fifth wheel are little low on mileage when you compare them with travel trailer. But, this may not be true to all. A lot depends on the driving condition around as well. A windy conditions may reduce the fifth wheel miles per gallon as well. But, overall a heavier fifth wheel tends to give little lesser than an average travel trailer would give. As it is, an rv in general gives less mileage and you definitely don't want it to reduce further.
14. Amenities are better with fifth wheels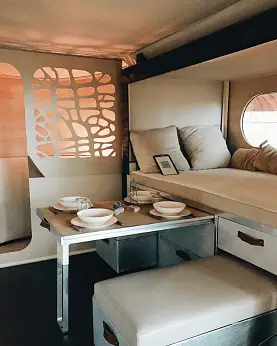 One reason why you should go for fifth wheel rather than travel trailer is the amenities. Fifth wheel are better equipped with amenities, larger size and better options in amenities as compared to travel trailers. You obliviously pay more for that, but yes; they will give you an option to have more things packed inside. Its also because you want to have light weight travel trailers and thus, you cannot have everything inside it.
A fifth wheel larger in size makes it possible to have good features, that are almost as good as a class C rv or even class A rv. But, as you go on adding features, it will also shoot the price and that could be strain on your budget.
15. Carrying ATV or dirt bike with a fifth wheel is not possible
If you want to bring in things like a dirt bike or an ATV then it is not possible with fifth wheel as the space of the towing vehicle is not available. With travel trailer you can have that in the truck bed. Thus, if you have any plans of doing this then make sure you go for travel trailer rather than fifth wheel. With fifth wheel, you will need toy hauler to bring a ATV or dirt bike.
16. Can ride inside a moving fifth wheel
You cannot ride inside a travel trailer anywhere in the united states. But, in a fifth wheel it is possible. One can ride inside a fifth wheel while it is being towed. This is allowed in some states and not in all. But, doing this can be bad and should always be avoided even though it may be legal. Riding inside a fifth wheel while traveling you cannot connect directly with the driver and that could be very bad in a crash.
17. Uneven cooling and heating problems in Fifth wheel
Fifth wheels in general seem to have problems with temperature controls. A multi level structure, hovering of its some part over truck bed, all these things add to the issue. An uneven cooling at different region inside fifth wheel is seen and that can be bad. It also puts pressure on air conditioner, increasing the power utilization.
Heating also is similar, with uneven heating around different areas inside the fifth wheel. The overall area in fifth wheel is segmented with levels. A master bedroom little higher than normal area causes this issue. A travel trailer normally is at same level and there is no multi leveling, this makes sure the cooling and heating remain constant every where.
18. Multiple Bathroom possible with fifth wheels
With fifth wheel you can have multiple bedrooms, also one can convert a single bigger bedroom into 2 using splitting curtains. This can be great for family with 2 or more kids. Travel trailers are mostly with single bedroom and also not an option to convert it.
19. Comfort and Flexibility in case of fifth wheel
Fifth wheels are overall more comfortable and provide for flexibility. Travel trailers are good, but do not provide for more flexibility and comfort and you need to utilize things which come with it. A family camping in a fifth wheel will generally be much happier than a family camping in a travel trailer.
A good space for living, bigger bedroom, slide outs make a fifth wheel better for a comfortable life. A couple with 2 or more kids would definitely prefer a fifth wheel rather than a travel trailer. With fifth wheel you will also get king sized bed floor plans. A number of such floor plan are available in case of fifth wheel but you would'nt find many such plans in case of travel trailers.
20. Camping along with pets is easier if you have fifth wheel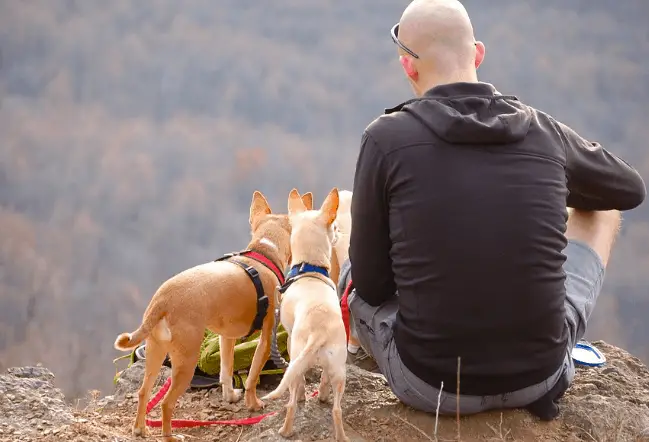 If you have pets then fifth wheel can be good for carrying them. Overall space, ceiling height and multilevel structure works well if you have pets with you. With travel trailers this can get tough. Although one can ride in fifth wheel, its better to have your pets with you all the time while traveling.
21. Storage in towing vehicle is a plus for travel trailers
A truck bed in case of fifth wheel is occupied and thus your towing vehicle storage is gone. You can use that storage in case of travel trailers as travel trailer start after the vehicle ends. This can be a negative point as storage is precious when you head out for camping. A truck's storage can be much and you don't want to miss on that.
22. Boondocking is tough with fifth wheel
Travel trailer are much better when you drive off the road. A dirty road, campsite muddy road can be tough for fifth wheel. While travel trailer do well under those conditions. Also, fifth wheel are taller which makes it difficult to drive in between through trees. A campsite with muddy roads and grass filled paths can become a tough road for fifth wheels.
23. Hookup is easier in case of fifth wheels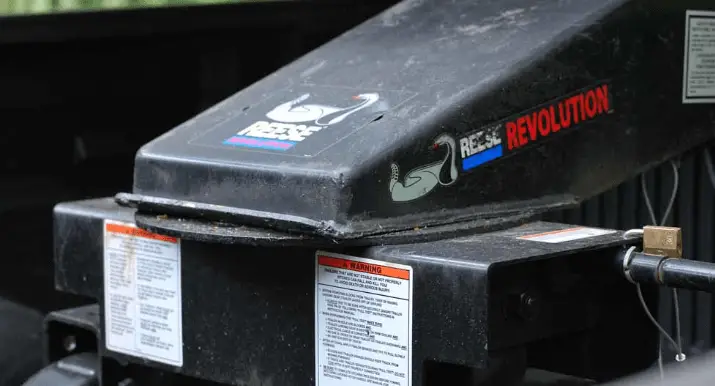 Its easier to hookup a fifth wheel then a travel trailer. Overall, a well designed fifth wheel are much easier and conformable to hookup at campgrounds. When you hit the camping road and reach the campsite, all you want is start enjoying and with fifth wheel at you hands , easier hookup is all you need.
Travel trailer can become a pain, especially if you are at a campsite that you never visited earlier. Also, while leaving the campsite it becomes easier to do the unhooking. A full time rving can also be better with fifth wheel rather than a travel trailer.
24. Multiple bathroom possible with fifth wheels
You can have the luxury of 2 bathrooms with fifth wheels. This is not possible in case of travel trailers. At times, when the family is bigger having 2 bathroom can be very nice. Its a luxury option and will come with an extra cost. There may be travel trailers that come with 2 bathroom but not so often, also it will be at the cost of other designated area in the trailer. And, you don't want second bathroom at the cost of bedroom or kitchen. Fifth wheels are better designed and better finished and better utilized overall.
25. Better design and utilization with slide outs in case of fifth wheel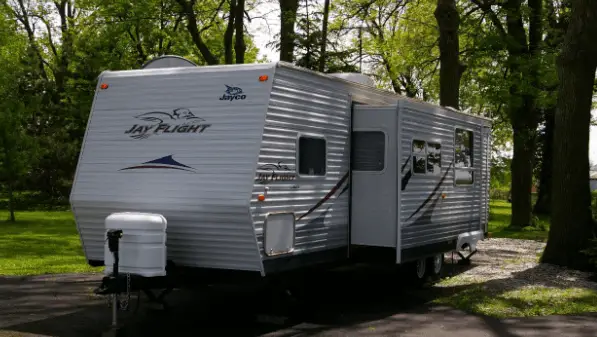 A fifth wheel is nicely designed mostly and gives an option of slide outs that can be 3-4 in numbers. This greatly improves the space while camping and makes a great difference. Travel trailer also provide for slide outs but not these many. You will have 1 or 2 or even 3 slide outs but that increases the weight. Most of the times, travel trailer do not have these slide out as the weight increases. With heavy weight, the travel trailer becomes tough to tow and hence the slide out at minimum is the best thing.
Conclusion
Fifth wheel wins on more points as compared to travel trailer. It however should not mean that you always go for a fifth wheel. A less costly travel trailer can also be a preferred one for couples who want to spend less.
Also, a travel trailer can be good for families who want to utilize seats in the towing vehicle. Fifth wheel gives better comfort and good utilization of space. You may want to think twice about your towing vehicle in case of fifth wheels.
Maintenance cost is also a major factor with 5th wheels if you don't want to spend too much.If you need better privacy then fifth wheel is for you.
A better thing to do here would be to prioritize all things and see if fifth wheel satisfies them all, and same with travel trailer. All factors may not be important, but better to think of the future and take the decision. Its a investment for years and you need to go ahead with consideration of future usage. Buying a second hand or used fifth wheel or travel trailer can also be an option, if you are not quite sure. With travel trailer you get lots of options in used ones.