Last Updated on :
If you are planning to buy the right recreational vehicle, it is quite obvious that you will come across many choices and options.
However, unless you are focused, informed and knowledgeable, it is quite obvious that you will end up making the wrong choice. However, those who do some research and seek the right information may have reasons to believe that the Winnebago Revel RV could be a right choice if you are looking for class B type camper van.
It has many interesting features and therefore in this article we will go through a comprehensive review of this RV.
I hope it will help readers to make an informed choice
Winnebago REVEL – Review
Let us get started by having a look at the main features, functions and specifications that perhaps may set the Winnebago Revel RV apart from the rest of the crowd.
To begin with The Winnebago Revel is one of its sorts because it is the first 4×4 Mercedes Recreational Vehicle that has been built keeping in mind the specific needs and requirements of its clients.
There are many end users who believe that this RV could be a new trend setter for those who love to live outdoors. It is packed with a number of features and we are happy to have a look at some of the most important features and functionalities for the benefit of our readers.
I am more than confident that it will help readers to make up their mind based on facts instead of hearsays and opinions.
SLEEPING CAPACITY
Let us get started by having a look at the seating capacity. It has been designed to sleep four people.
This in itself is a big breakthrough given the fact that there are many such RVs from reputed manufacturers that can accommodate only 2 persons.
Hence, many users are of the opinion that this recreational vehicle could be the perfect home away from home. It could be one of the best solution for friends and buddies who are keen on boon docking and literally going free for a few days, weeks or even months
PRICE
There is a saying that good things do not come cheap. There is also one more saying that says if you pay peanuts, you get only monkeys. Hence, there is no denying the fact that the Winnebago Revel RV is an expensive make and model. It may not be suitable for those who are looking for a RV within a shoestring budget.
The price for winnebago revel starts $185,838. Hence, it could be comparable to some big names like the Pleasure-Way Ascent and a few others belonging to the same category.
MODELS
When it comes to certain specifications, features, size and other such factors, there is only a model of Winnebago Revel RV, though there could be other smaller models.
However, these are comparable to other models of various other competitors' brands. Hence it may not be the right thing to compare this with other models. As far as the model is concerned, it is named as 4×4 Revel.
It is built on the Sprinter Chassis of Mercedes Benz. Those who know a few things about Mercedes Benz would certainly agree that the Sprinter Chassis is famous for many things and it has a proven time tested history.
LAYOUT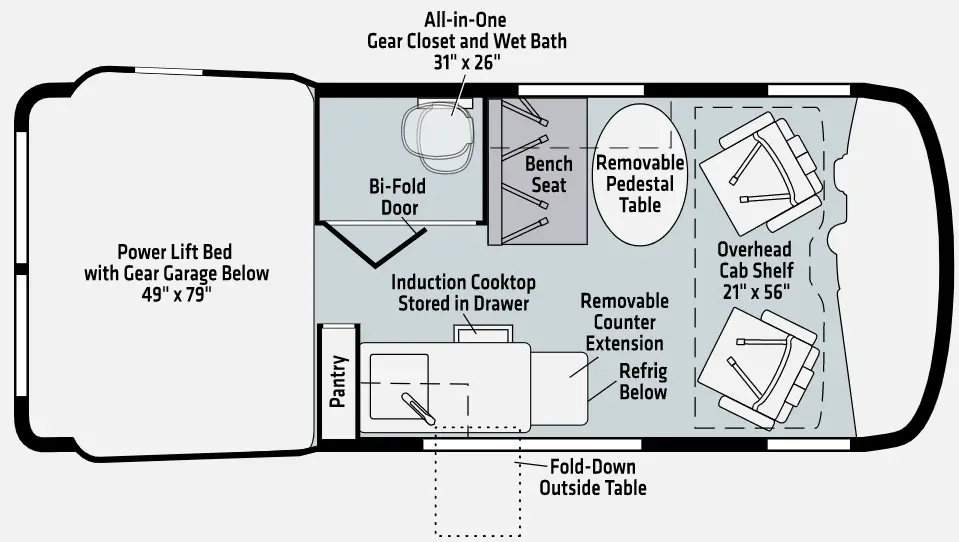 Let us have a brief look at the most important layouts that are obviously looked into when somebody is planning to invest in a Recreational Vehicle.
DIMENSIONS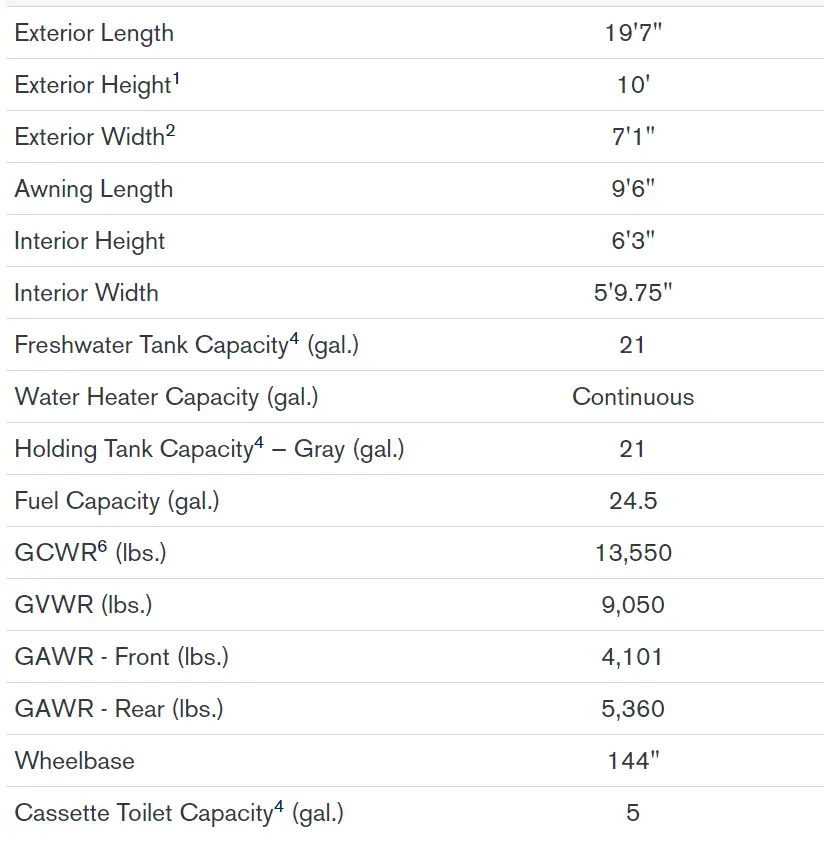 It has an overall length of around 19 feet and 7 inches.
The exterior width is around 7 feet and 1 inches.
The height of the interior is comfortable at 6 feet 3 inches.
OTHER MEASUREMENTS
It comes with a wheelbase of 144 inches.
The Odometer size is 22
You will love the torque of 325 feet lbs.
The front axle weight bearing capacity is 3970 lbs.
The rear axle weight bearing capacity is 5360 lbs.
The hitch weight of 5000 lbs is quite impressive.
Gross weight is approximately 8550 lbs.
It can handle a cargo weight of around 1360 lbs.
You can store fresh water of 21 gallons.
The grey water capacity is around 21 gallons
Black water capacity is around 5 gallons
The tire size is 17 inches
It also has a 17500 BTU furnace
It runs on BF Goodrich all-terrain tires
EXTRAS
First aid kit 3/4
Electronic stability control
3/4 high beam assist.
3/4 emergency flashlight
3/4 steering wheel (leather wrapped)
3/4 diesel burner offers continuous hot water supply.
DOES IT HAVE A BATHROOM
Yes, the Winnebago Revel RV also comes with a separate and private bathroom and therefore when it comes to taking bath or attending to nature's calls, you will find it quite convenient.
The bathroom has been constructed intelligently. It provides enough space for a full-grown adult to use it and at the same time care has been taken to avoid wastage of precious space.
DOES IT HAVE A GENERATOR?
The latest models of this Revel RV comes with a 2000 watt inverter. This is powered by dual batteries (lithium-ion. It is capable of providing 3,200 watt hours of powerful energy.
The backup inverter power is capable of running the air conditioner and also the refrigerator. The customers therefore do not require a generator, or there is no need for the unit to be powered to shore power.
It is quite obvious that the entire system is user friendly and moving to backup power can be done within a few minutes and even those who do not have the right experience and expertise will be able to do it quite well.
OTHER IMPORTANT FEATURES & SPECIFICATIONS
The new modifications and changes that have been brought about in the Winnebago Revel RV have certainly found favor with scores of quality and comfort conscious customers who are ready to pay for the value for money that it offers.
You can avoid those nightmarish DIY stuff for creating a living area outside the vehicle. You also can avoid spending big money to make changes to your RV so that it becomes self-contained.
It has some amazing inbuilt features that makes it possible to spend a night or two or perhaps even more if you are able to replenish supplies that are required for a group of four.
According to many users, it is considered to be one of the best for those who love bush-land living and also for those who are enthusiastic climbers and backcountry lovers.
Whether it is the low torque, the increased ride heights, or the safe and sophisticated braking system, there are reasons to believe that the changes have been made to this car with quite a bit of thinking, foresight and commonsense. It is in fact a robust four wheeler that is capable of negotiating the most challenging terrain with ease.
It also comes with a sprinter that is well-balanced and can tackle paved roads quite easily.
The stunning living space, without any doubt is the biggest takeaway as far as this recreational vehicle is concerned. The rear bedroom is homely, and the dining table has multiple functions and can be converted into an extra sleeping space. The toilet and bathroom system is also quite scientifically designed.
According to many reviews from the Winnebago Revel RV could be a good candidate for being one of the most complete and total all weather products. Here are some important specifications that are worth mentioning:
SAFETY FEATURE
When you are moving around in some difficult terrains in RVs with family members, the safety attributes have to be carefully considered.
This particular RV is famous for some advanced safety systems. It has a unique blind spot monitoring and other features for safer lane keeping.
This goes a long way in increasing awareness and helps the driver to make changes safely speedily and efficiently. This reduces the scope of sideswipe accidents quite significantly.
Users are also quite upbeat about the control system when it comes to hill-descents. This also helps in increasing the control and safety of the vehicle when it is moving down-hill at reasonably high speeds.
The engine also is another big takeaway. The Mercedes Benz 3.0L V6 turbo diesel engine is a beast and can easily generate around 188 horsepower.
It also boasts of a stunning torque that can easily lap up rocky two tracks as you move with your family and friends.
WHEELS & VARIOUS OTHER RIDE FEATURES
The wheels are also tough, and are capable of handling off-road driving where the road conditions are extreme and punishing to say the least.
The tire is quite versatile and they offer smooth sailing apart from being silent. The option of activating 4 wheel drive when negotiating tough upward climb is also a feature that is worth mentioning. The high quality and muscular stabilizers are also worth mentioning.
As mentioned above it can easily accommodate four members and therefore many have reasons to call it a complete home away from home.
This has been made possible because of the power lift wide bed that is sized four feet by four feet. The dining table also can double up as a sleeping bed during the night. The beds have been designed to reduce mattress sag and other such problems often associated with many recreational vehicles.
OVERALL REVIEW OF THE RV
When we take into account various features described above and also after considering the various customer reviews, it would not be out of place to mention that the Winnebago Revel RV is a good buy.
Yes, it is priced high, but never in the history of RVs have good quality vehicles come with low price tags. Here is some useful feedback based on actual reviews from customers.
Most of the customers are quite happy with this product. A buyer for example, is ready to call this RV a great investment.
It is perfectly suited for those who are looking for 4×4 living. Let us bear in mind that there are very few RVs that can accommodate four persons. At best three, while two persons is the norm amongst most RV manufacturers.
Customers also feel that this could be the best option for those memorable fishing trips and also for those regular camping ventures to some tough and demanding locations.
However, there are some customers who are not entirely happy with the overall size of the RV. They believe that the space indoors is a bit cramped. But this should be seen in the light of the fact that it is capable of accommodating 4 people.
COMPARISON WITH OTHER RVS
Many people often compare the airstream interstate with the Winnebago Revel camper van and they believe that both of them have some comparable features.
However, in terms of price, the Airstream Interstate is higher and this is where Winnebago Revel RV scores better.
While both Winnebago Boldt and Revel are Class B camper vehicles. Boldt may be energy efficient and consume less fuel.
But when it comes to carrying capacity, sturdiness, safety, ability to negotiate tough off-road conditions, it is quite obvious that the Revel RV is a better option and in terms of price too it could be a better choice.
Whether it is overall length, interior space, exterior width or interior width, it is quite obvious that Winnebago Revel RV is a much better option when compared to Solis.
However, the Solis has some takeaways and these include exterior shower station, and the all-season insulation is perhaps better than Revel RV. The fiberglass pop top for sleeping is again more user friendly and more comfortable according to some customers.
It also could be more fuel efficient but only for those who are ready to sacrifice comfort, safety and other attributes just for a few dollars of gasoline cost.
The same is the case with various other brands of Winnebago and also other manufacturers. When we do a feature to feature and specification to specification comparison, the Revel RV would most probably outscore most other equivalent vans in the market today. But, you must be ready to pay for it because of the simple reason that good things come with a big price tag attached to it.
SUMMARY
When we have a look at the features, specifications, customer feedback and other such attributes, there are enough reasons to believe that the Winnebago Revel RV is a product that has stood the test of time. It is the right van for those who have four members ready to spend a few days outdoors. It has all the benefits and comfort attributes to make such demanding trips memorable and worth-remembering in more ways than one.