Last Updated on :
Selling an used RV is definitely a tougher task at least tougher than buying an new one.
You have been using the camper for years and then you think of moving on with it or think of upgrading it with a better new one.
Or the RV is eating into your wallet for its maintenance.
The storage fees, maintenance costs of RV are the leading reasons why many RVs remain idle or unused every year.
No matter what reasons you have, it can get frustrating if you don't get the seller within time and for your desired price.
People face many difficulties right from finding the right price to getting the right customer. For Rv owners it can become confusing whether to sell it by themselves or go for a RV dealer.
The obvious reason being the profit sharing that is needed when going through a dealer or consignment.
Selling an used camper or travel trailer is not as simple as putting up an ad and then sell it to your desired price. You will have to do few tasks before you even ask for that price especially, if you have used the RV for years.
Considering all this hassles, a RV owner could be in a fix and a little bit worried as to how he would get away with such a sizable vehicle which he either don't need or need cash to make up for that new buy.
Used RV market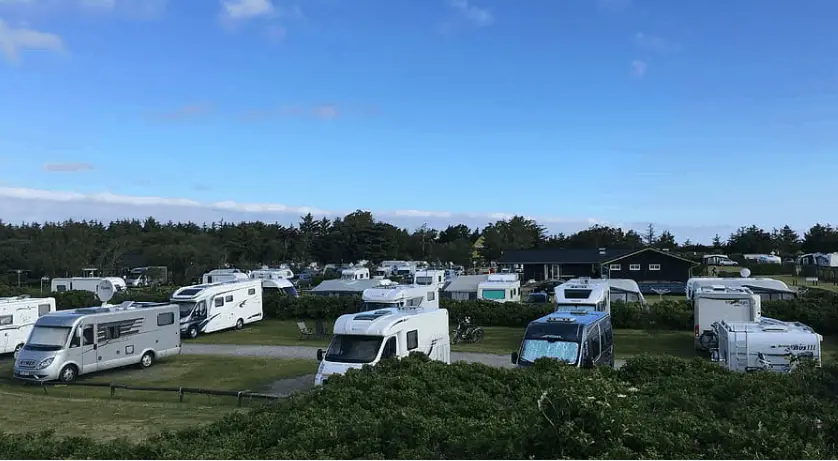 One positive aspect however is that the market for used RV is not bad.
A lot of people go for used RV's as the depreciation of RV value is too a significant factor not to consider. And thus, a lot of people tend to go for second hand or used RV's.
A seller can take advantage from this fact and sell the camper or travel trailer with less hassle.
Enough on why one would sell an RV or how difficult it is to get your camper or travel trailer sold. Lets see how one can sell an rv in real world. There are various options that one can put into action to sell off that old camper or travel trailer or RV.
Its important to know how much your RV is worth. Here is a complete guide to determine RV's worth.
Selling an RV would need a planned strategy, you also need to decide on whether you can give that time yourself in handling the queries that end buyer may have. Or you want to let go some money and let handle the selling of your RV by some person or middle man.
So, whats the best way to sell that old fifth wheel camper or a travel trailer fast? Lets find out,
Sell the RV yourself
The best option and the one that is used extensively by many people is to sell the RV online. This is by far the best way to sell RV by owner himself. You can click pictures of your camper or travel trailer and then proceed with selling your RV online.
You can create a classified ad and sell on some of the popular online selling websites like ebay, RV trader, you can also try selling an RV on craigslist and many other websites. There are lots of other online websites that will be ready to help you in selling the RV.
You need to prepare a good detailed ad about your RV and sign up with these websites. Putting up a classified on a website in itself will need your careful attention as selling online is an art.
You will have lots of online sellers at your disposal but its up to you how you get your ad posted. Good pictures of your RV, detailed specifications, and many other aspects that will ultimately decide whether your ad will get you any real seller or not. Some of the other elements that you need to give special attention includes :
Mention why you are selling your RV
Mention all specifications in detail.
Include model, year,

Mileage of your RV

in the ad
All in all a honest ad will definitely get you a buyer quickly.
Some of the RV selling websites that you can visit :
craiglist.com
rvclassified.com
ebay.com
rvonline.com
rvtrader.com
You will find countless websites for this, don't put ads on all as managing this will become an issue. Putting ads on many may not give you an end buyer quickly; but a better ad with proper detailing will definitely meet you with your RV's next owner for sure.
Make Use Of Social Media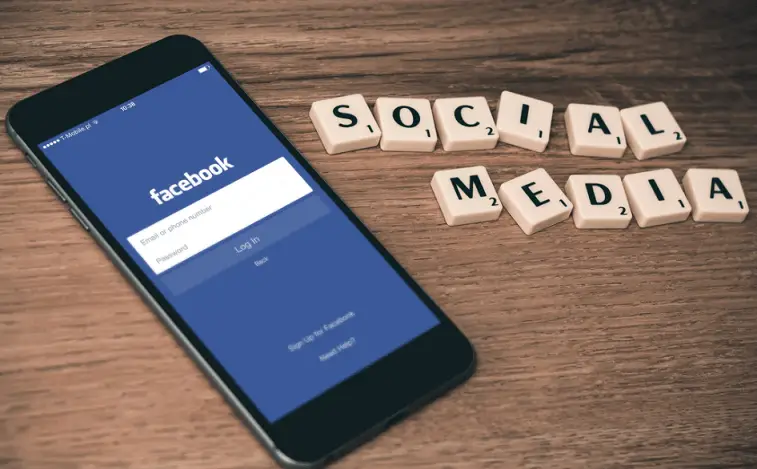 Social media like Facebook, WhatsApp groups, twitter can also be used to post your ads and spread the word. Facebook groups for selling used RV's is most likely to give you potential buyer.One of the advantages of selling the RV yourself is that you will bypass other middle men commission.
Sell locally : Some of the other ways by which you can sell your RV or camper is doing it locally. Parking your RV in good location with traffic, camping ground, RV parks and putting in on a board of "for Sale" can also be one way.
You can also post an ad on local magazines, newspaper or other print media to get to the buyer.
RV communities or clubs : Spreading the word among friends and RV communities can also get you closer to the potential buyer. You can also post in RV or camper forums and connect with people who may be interested in buying.
Sell or keep your RV in consignment with a dealer
If you don't have the time to deal with possible buyers and answer their countless questions and queries then you can opt for a dealer and go for a consignment. But, this will mean you will have to sacrifice on some money that comes from selling your RV.
There are many factors when consignment is done with a dealer. This however has many advantages.
They generally have broader network
You will have greater chance of selling your RV as the dealers will normally have good exposure to interested people. They will have targeted people visiting them for RV's.
Your RV may gets its seller much faster than if you had tried it on your own
With consignment you need not worry about handling calls, queries from buyers
Keeping the RV in consignment will also mean you will get lesser price for your RV as you will have to pay some percentage commission to the dealer.
You may probably want to think about this well in advance before finalizing the price of your RV. And may be fix the rate little higher than what you would have kept if you had sold it yourself.
This again may not be completely in your hand as you will have to deal with them and get the price finalized. You will have to check on rv consignment fees. They will vary for different dealers which normally should be upto 15% or even more.
While the RV is in consignment you are still the owner but you may not use it or even sell it somewhere else.
While the RV is in dealers hand with a consignment, it will still mean that you will be the owner of the RV. But it will remain with dealer until it gets sold. You can also take rv consignment insurance while the RV resides with the dealer. This is good idea as the control of the RV will be someone else's hand and you don't want to risk it.
You can find lots of rv consignment dealers online. But you need to carefully read their agreement before you hand over the RV.
If you have an ongoing loan for the RV then you need to check with the bank and the dealer on understanding the process.
While you are selling the RV via a dealer keep in mind how the prices get calculated. Knowing about RV depreciation can help a lot. Whether its a class A rv or a fifth wheel or any other towable rv like travel trailer or pop up tent trailer, all of them depreciate heavily.
Getting rid of very old camper or trailer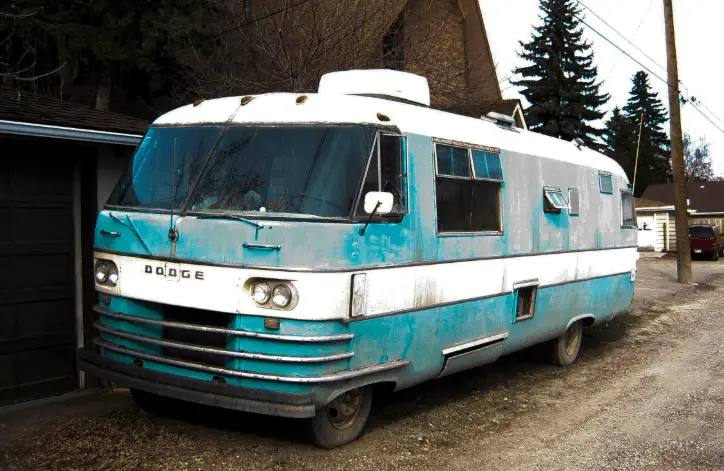 Campers or RV's in general have very long life. People use their RV's for as many as 25 years or even more. At times, the RV becomes so old that you hardly can sell it to anyone. An unused RV can quickly become a space problem for you and also house for unwanted pests and rodents.
When you have such a big vehicle that you neither can use or sell for any money, so what do you do? well, lets explore the option on how one can get rid of an old unusable RV or camper.
Giving it away to a known hunter or a fisherman. It can be used as a shed during hunting or fishing.
Donate the camper. While not all organizations will be ready to accept such old campers. But, check if any charities can accept it. Donating it to charities can help in tax deductions as well.
Check on forums or communities if anyone is interested. Just put out a post, may be someone is looking for such an old camper.
Hand it over to scrap or junk dealer for money. A

RV is a big vehicle

and has lots of metal that can sold to scrap.
Read : Getting rid of a very old camper trailer
Quick tips for selling the old RV
Selling used or old RV can be tough if you are not prepared. Following below tips can really help you sell the RV fast and also make right money in return.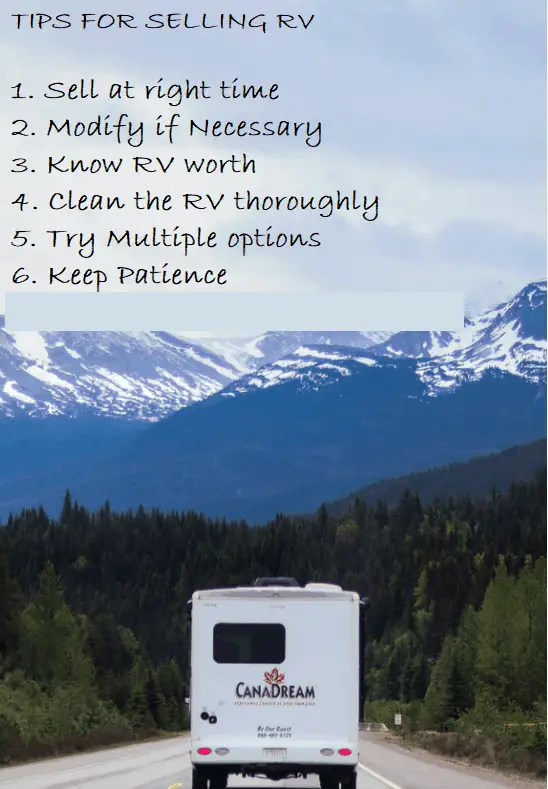 Selling at right time : Make sure you are selling the RV at right time of the year. Most people are willing to buy if they get a good deal. Mostly people are interested in buying just before the season is starting. That is before summer or after the winter is over. This can help you get more potential buyers and getting a good price is possible.
Do the necessary modifications : Doing few changes or modification to your RV can get you good price. You need to spend a little more to get that high price. It could be anything like painting the RV or replacing an old appliance inside. These smaller changes can give you higher returns.
Get accurate RV worth : Understanding the RV depreciation and knowing the right RV worth is important before putting out an ad or approaching a dealer. Try going through

nadaguides

to check how much your RV is worth.
Clean the RV : A clean RV or camper will make sure the potential RV buyer will not be discouraged in the first look itself.
Try multiple options : Don't just stick to single way of selling. Try all possible options, this will help in getting correct price and you don't have to regret later.
Keep patience : Don't just sell at whatever price you are getting. After you have the right worth amount with you try to make sure you get that amount.
Reach out to RV community: being a part RV community can help in finding the right customer. Try reaching your friends in RV community or clubs to check if anyone is currently searching for a used camper.