Last Updated on :
In this article, lets find out what RV is best for boondocking. What makes an RV good for Boondocking?
As an experienced RV owner you already know what the term boondocking means. But, for those who are new to the RV way of life, boondocking is simply using your RV without hook ups. It is also called dry camping, free camping or in Europe, wild camping. Check out the complete boondocking guide for beginners.
What type of RV for boondocking or dry camping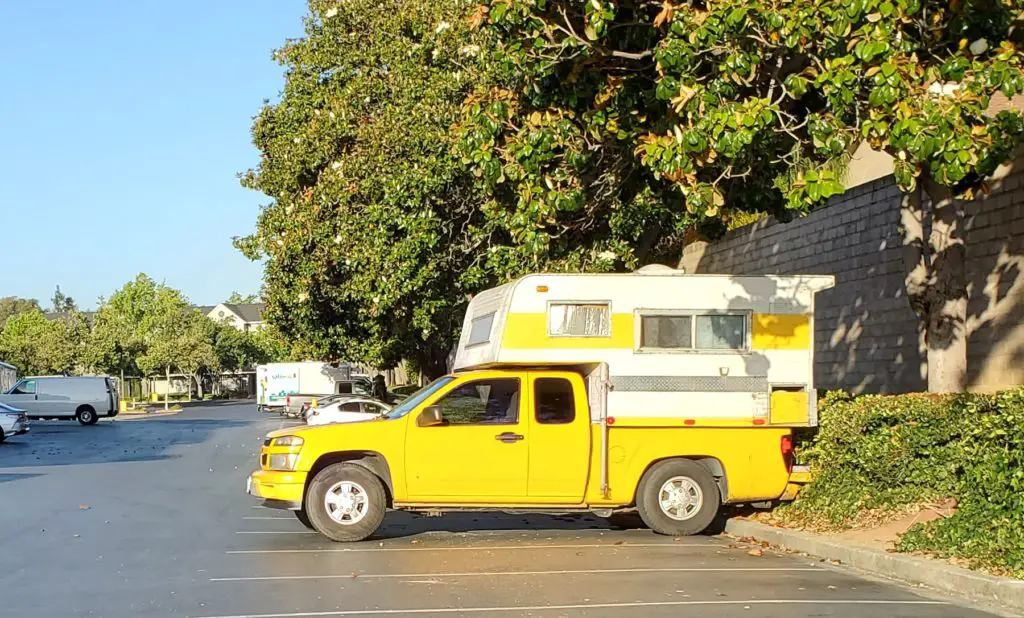 The type of RV you need when you go out boondocking is the smaller bumper pull RV trailer. There are a lot of reasons for this selection. First, they are easier to pull and maneuver into tight spaces. Second, they are easier to repair or maintain as well as clean. Plus, they have a higher ground clearance.
Keeping your costs low makes boondocking more enjoyable.
Truck Camper : Having said this, truck camper too are a favorite among people when it comes to boondocking. They are easy to maneuver, very compact and also detachable. But, the problem with them is; they do not have much living space.
Also, if the weather isn't that great then you may not be very comfortable inside them. The overall insulation can be a problem.
Apart from small living space their storage capacity is also less. The water holding capacity makes it difficult to boondock for long. You can check this post for understanding how is it like living inside them in winter.
Pop Up Tent Trailer : Same goes with pop up camper as well. They will not provide much living space and the storage too is limited. Both of these campers are great if you are into minimalist approach though.
The reason why i give more points to small travel trailer is because they will give you considerable space for living as well as storage.
You May Also Like : Can you go winter camping in pop up camper
Class B Motorhome : Small motorhomes like class B or class C too can be good options. Class B van conversion may also be limited with the water tank capacity but they are great for off grid.
For solo campers, who want to go boondocking or dry camping, truck camper is a much better vehicle. For small family with 1 or 2 kid, a compact travel trailer or class B fits perfectly.
Some best suited RVs for boondocking
If you are not partial to the small bumper pull trailers or already own a 5th wheeler, then that is the best suited RV option when it comes to boondocking.
In spite of the disadvantages, less maneuverability, lower ground clearance and hard to pull through sandy ground, there are some advantages to using this RV option.
First, you have more living space. That means a lot when you are boondocking with small kids or teenagers. Second, your batteries are better and should last longer. Third, you have larger waste and water bins to keep you comfortable all the time you are camping.
Best class B RV for boondocking
A class B RV is basically a van packed full of living amenities that help make your camping time better than if you were in a tent. These are easier rigs to drive, maneuver and do not take as much fuel as their larger counterparts.
If you are going the Class B RV route, the best one may be the Airstream Interstate Grand Tour. The reason for that is because Airstream has been making RV travel trailers for generations. They know what you need.
Another reason is they build their Class B on a Mercedes Sprinter 2500 chassis. It is first class all the way.
Best small travel trailer for boondocking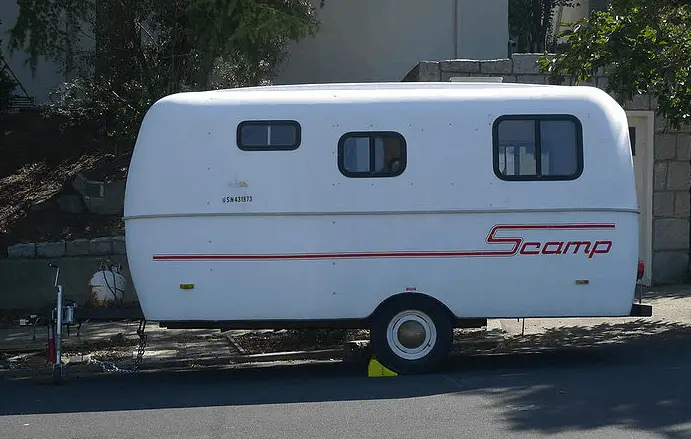 For this category it is best to stick with a manufacturer that knows everything about boondocking and camping in general. The Airstream Nest may not be as cheap as you like but it is filled with modern technology that helps you relax and enjoy nature.
With its Bluetooth controlled lights, AC, heating and 2 way fridge you are set for the easy life. Then inside you have the Italian Light Ply cabinetry to make you feel right at home.
Then Airstream trailers hold their value and you can recoup more of your purchase price than if you bought other brands. Similar to NEST, Airstream Basecamp too is a great option. But, as I said Airstream do cost a little more.
Lets check out some other options apart from Airstream. Here are some of the other small travel trailer suited for boondocking.
1. Winnebago Micro Minnie
This 19 feet long trailer is a compact one that also packs in good features. Its affordable and a perfect fit for small family. There are multiple plans that you can chose from.
It is fitted with standard kitchen appliances like microwave, dinette. Among other features a good bathroom and a king size mattress is included.
2. Scamp Trailer
Scamp trailer company was established in 1975 and has been making trailers since then. This 13 foot trailer is a perfect RV for a couple or a family with 1 kid. Its small and better for boondocking.
Another thing is, its super easy to tow. There are many plans to choose from and also the length would vary based on that. Their overall built quality is good, they are built on heavy gauge steel, with rust protection and fiberglass body.
3. Forest River R-pod
The forest river R-pod is super easy to tow and yet it packs good features. They provide multiple layouts that you can choose depending on your needs. They range between 18 foot to 22 foot in length.
That's like a perfect length for a boondocking adventure. If you don't want to go for a heavy travel trailer and yet have good storage then go for this one. Overall constriction of this trailer is really good.
There are numerous small travel trailers that one can choose from. A liner or a frame camper are also great. They are fundamentally pop ups though. Some other travel trailers that i like are below.
Escape Trailer
Cricket Camper
Mantis Camper
iCamp Elite
Timberleaf Teardrop Trailers
Its not that you have to necessarily go for smallest of the trailer when planning for boondocking. Mid range travel trailers can also work great.
It depends on the boondocking site you are going. Having small trailer gives you an added advantage of easy accessibility.
What about pop up camper or truck camper?
If it is just the two of you or maybe one child, this option is a fairly good one. While you won't have all the luxuries the Class A to C RVs have you still can enjoy the great outdoors in a pop up camper or truck camper.
The advantage you have using this vehicle is that you can set the camper up at a spot and use the truck for other activities like boating, shopping or sightseeing. Also, you can access more remote areas of the country and really get some privacy
Then going off road is a lot easier than taking a Class A or C RV into the deep wilderness. Sometimes you have to sacrifice luxury for practicality and these RV vehicles are really practical.
What about Class A or Class C Motorhome
Yes you can use those large sized RVs for boondocking. They have the luxury but they also have some drawbacks that make them less convenient than using a Class B or smaller RV.
One drawback is that it is harder to get parts for the Class A and these larger RVs do not go everywhere a smaller model can. Another drawback is that they cost more to operate. Not just in fuel but in dump fees and other expenses.
With these vehicles you have the luxury and you can stand up in them without fear of hitting your head. But when it comes to using an RV outside a resort or RV park, Class A and Cs are not the best choice to make.
Choosing an RV for boondocking
The first criteria you need to factor into your decision is your destination. You pick the destination according to the activities you want to do. Not all RVs can make it to all wilderness locations.
Power Supply
Next, make sure the RV has the power supply you need to make it through without having to break camp and recharge your batteries.
With no electricity hookup you are reliant on battery or generator for power source. Here are the different type of batteries one can choose for RV.
Propane can also power your furnace or refrigerator. Your RV should be good enough to carry all these power sources.
Solar is another power source that's an absolutely best option when it comes to boondocking.
Having an RV that can easily allow for solar installation at the top of the roof will be ideal. If you will be carrying generator then its storage also need to be taken into account. Generators also weigh considerably, so that's an added weight.
Storage
Third, make sure the RV has enough storage space for your supplies. You do not want to be caught short.
Having more storage will allow you to pack more items. You can pack meals, appliances or clothing for extended boondocking days.
Also, if you love going outdoor more often or like enjoying outdoor sport then you can pack the gear needed for that. We often go kayaking whenever we get the chance, so we carry our kayak.
Similarly, if you love climbing or backpacking or any other activity then make sure you have good storage in the RV.
Water Capacity
How much water you carry will decide how many days you can stay boodocking. Water tank capacity depends on the type of RV you have. Check out how much water RVs store on an average.
A truck camper or a pop up tent trailer wont give you much capacity. Same goes with class B RV. So, while deciding on the type of RV do check on their tank capacity.
Its not that you will be stuck with whatever tank capacity you have, you can always carry a portable tank if you need. We carry bottled water for drinking purpose all the time.
Remember, you also need water for dishes, bathing or shower. Not all of us are same in utilizing water. So, decide how much water you would need to say 2-3 days. Decide how long you would be boondocking generally and plan accordingly.
Conserving water during boondocking is a must otherwise no matter how much water you carry it wont be sufficient. Not saving water is one of the common mistakes that RVers make while boondocking.
Holding Tank Capacity
Finally, check the holding and waste tanks. Make sure they are large enough to handle your needs without making frequent trips to the dumping station or water refill outlets.
Number of People
How many would be boondocking in the RV is another important factor to consider. For larger family, a truck camper isn't the best choice nor a pop up camper. You need to look at how many the RV sleeps. A fifth wheel or larger travel trailer would be suitable for bigger family.
So, before you jump and buy that small travel trailer make sure you have enough sleeping space inside it.
What season are you going to camp
RVing in winter is much different as compared to summer. You need to be prepared for winter. What type of RV you have has a lot to do with your preparation.
A class A motorhome is much more solid to keep you comfortable without much efforts in winter. On the other hand, a truck camper will need much more preparation and insulation.
Even in summer, extreme heat will need a good air conditioner. Pop up camper with very less insulation do not provide better air conditioning. In fact they may not even have an air conditioner.
Read : Using Air conditioning with pop up camper
So, irresepctive of summer or winter, keep this point in mind while choosing the rv.
Your Budget
This is obviously something that will be back of your mind. Truck camper or pop up can be bought in less amounts. Travel trailer or class B motorhome would cost you much more. Whether you want to go used or brand new has a lot to do with this as well.
Brand new travel trailer can cost you more than $20K while a used one can be bought in less than half the price.
What you need for boondocking in an RV
You will need extra water. The built in tanks may hold enough for normal RV activities but having extra water around is always a smart move. Bring larger extra water storage jugs filled with water along.
Solar batteries will provide extra power and they are easy to recharge when you are well away from civilization. Also make sure to have an extra 12 volt battery along for the ride.
Cooking facilities are a must and most RVs have a small kitchen inside. But if you like to cook outdoors a good portable propane cook stove on hand is safer than building a fire.
Staying connected is important. That means you need a good wifi device and connection to make sure you can get help when you need it.
A good heat source is always needed. You never know when the temperatures will drop and being prepared is the intelligent move to make.
In Conclusion
The best RV for boondocking will be the one that fits your preferences, lifestyle and boondocking needs. Finding the right one does not mean keeping up with the Joneses but finding one that saves you money and is very practical without sacrificing comfort or other needs.