Last Updated on :
It's easy to overlook small camping trailers, thinking that they may not offer the amenities larger trailers would, especially the bathroom!
Not so fast!
You'll be surprised that even the smallest of trailers can fit a bathroom. This means, besides being easy to travel with, these units guarantee countless advantages that would certainly exceed your expectations.
If that's hard to believe, be sure to check out the following bathroom-equipped small camping trailers!
Why get a camper with a bathroom
Having a bathroom in your camper will solve a lot of problems. You don't have to depend on a campground bathroom. Not having this facility inside your RV when the nature calls will restrict a lot on how you travel.
You kind of will restrict yourself specially if you are traveling with female or kids. Having such a facility will set you free and you can always go the distance you always wanted to.
Bathroom Issues you have to deal
Even then there are several small RVs that simply don't have bathroom inside them.
The main reason why this happens is because having a bathroom inside the RV calls for a design restrictions. Your space is taken away and the RV cost also increases.
Not all need bathroom in their RV as well and these RV's are made for them.
Why would someone not need a bathroom or toiler inside the RV? isn't it illogical?
Well, having a bathroom/toilet in camper is not same as having it in your home. There is a difference. Big difference.
You cannot just flush the toilet in RV. The waste would be collected inside a tank called as black tank. Yes, now you get it.
The waste remains with you on the RV and some people simply cant deal with such stuff. Though with cassette style toilets things can remain pretty clean and easy, you never know when the things can turn out wrong and messy.
Also, there is a chance of odor to deal with. These things can be dealt with as long as you are ready to do it.
I know there are a lot of questions in your mind on how things work with bathroom, toilet in campers. How often you would be emptying the tanks and what capacity do the black tank have. And where to empty that bathroom waste from black tank?
Before we see all these things let me walk you through some of the best small campers with toilet and shower.
Best 13 Small Camping Trailers with Bathrooms
Here is a list of camper trailers that stand tall when you look at their length, features, ability to provide you bathroom facility and yet remain less costly.
1. Forest River r-pod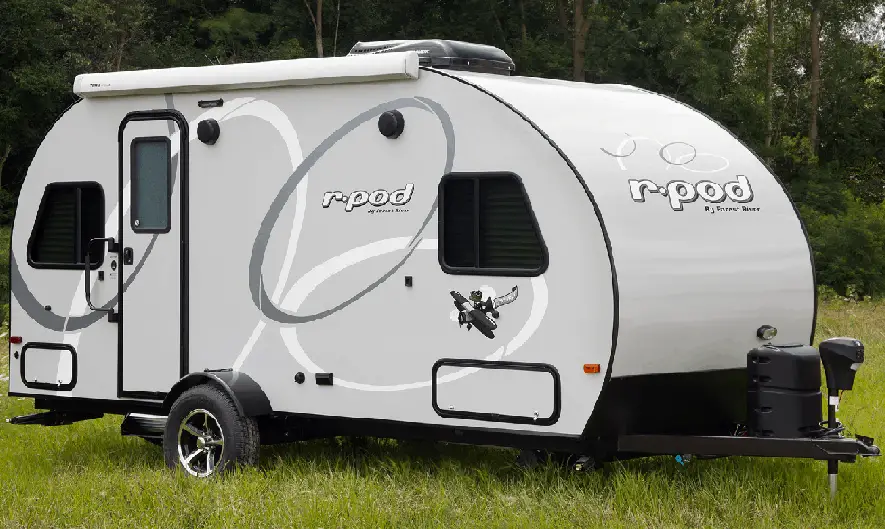 R-pod travel trailer is one of the best in its category. This small fiberglass made travel trailer has unique construction that has really good quality. It uses Azdel in it making which is a combination of fiberglass and polypropylene. Also, it makes use of aluminum for framing.
| MSRP | Black Tank Capacity | Gray Tank Capacity | Dry Weight |
| --- | --- | --- | --- |
| MSRP cost between $19,500 to $35,428 | 30 gallons | 30 gallons | 2497 lbs |
It is a lightweight trailer that can be towed using a mid size SUV. Main reason why R-Pod is so popular is because it offer lot of features despite its size. The space gets bigger due to the slide out added on this travel trailer.
Also, due to it aerodynamic design the towing is quite easy and it puts less pressure on the towing vehicle's mpg.
Key Specifications:
Exterior Length: 20′ 0″
Hitch Weight: 332 lb.
Exterior Height: 9′ 7″
Exterior Width: 96″
Awning Size: Opt. (R-dome or 10′)
The Forest River r-pod 180 is the perfect small camping trailer for any couple! The unit boasts an open concept design that facilitates cross-ventilation while providing a large, dry bath layout.
R-pod 180 ranks among the few small trailers with a slide-out which is pretty amazing considering its overall lightweight. The slide-out helps open up the floor space.
You'll love the front RV queen bed that gives a generous sleeping space. And you can easily convert the 24″ by 75″ booth dinette to your child's sleeping spot.
Their price varies based on layout and can be between $20,000 to $35,000, which explains the quality construction, spacious rear full bath, and LED TV for movie nights!
Main Features:
Rear Bath
RV Queen bed
Pass-through storage
Front Windshield
Pantry/Wardrobe
2. Jayco Jay sport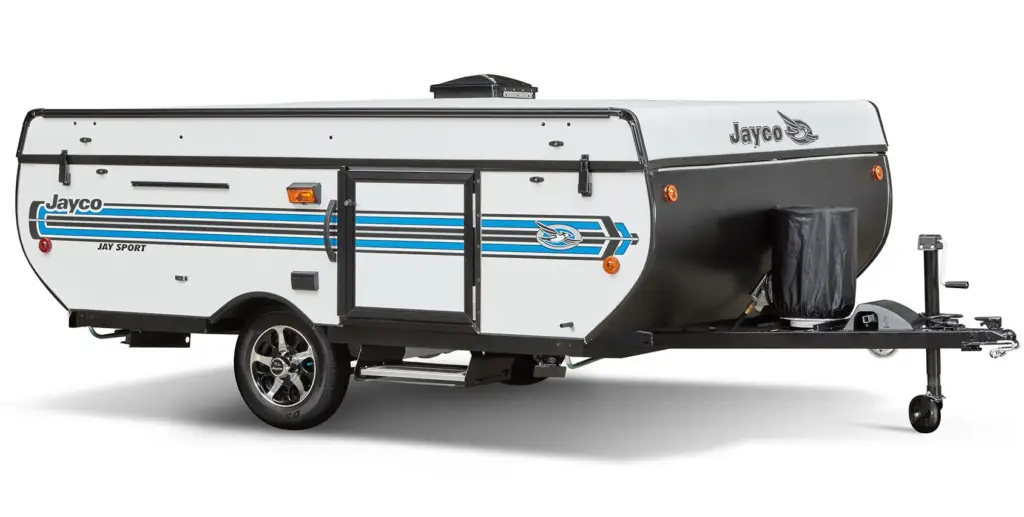 Jayco is a very popular and trusted brand that has several RVs to choose from. Jayco jaysport their popular pop up camper model due to its several features and great design.
| MSRP | Black Tank Capacity | Dry Weight |
| --- | --- | --- |
| Contact Manufacturer | 5 Gallons | 1570 lbs |
It is given 5 year warranty for its floor, lift system, tent and roof. This will definitely give you more confidence in using this pop up camper specially if you are new in the RV world.
Its canvas, tent is water repellent and also protects it from mildew. This will keep you worry free while its raining outside. Tents that aren't water resistant makes it very hard to camp.
Jaysport is given a optional screen room that will increase your overall camping space. The steps at the door, one piece door for access, vinyl tinted windows and number of features inside makes this camper a great option for a small family.
The bed section of the camper can handle upto 1050 lbs.
Key Specifications:
Dry Weight of 1570 lbs.
Hitch Weight of 285 lbs.
Length when closed of 4.9 ft.
Width of 7.08 ft.
Sleeps up to 8 people
Jayco Jay Sport comes with all your essential camping needs, including a 5-gallon cassette toilet and outdoor shower. It is sold at $17,046.
The unit's lightweight and compact nature spares you the unnecessary weight of integrating black and grey water storage tanks.
Using it on most light-duty pickup trucks or SUVs allows you to see over the roof. It's a reliable popup trailer when you're towing it and also gives you the feel of a travel trailer on setting it up.
With a sofa, queen-sized sleeping area, and convertible dinette, the camper will comfortably accommodate up to 8 people.
Main Features:
Two-burner stovetop
A fair amount of countertop space
Toilet/shower combo available
Sleeps up to 8 people
Spacious dinette slide and jackknife sofa
3. Casita Spirit Deluxe Trailer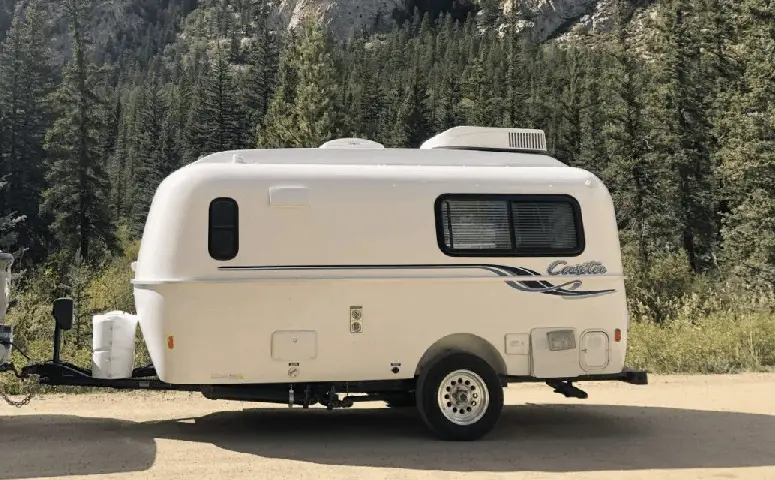 Deluxe Spirit is one of Casita's smallest models. Though small, the trailer offers an on-board shower and toilet, giving you 100% convenience as you trail through the rough roads.
| MSRP | Black Tank Capacity | Gray Tank Capacity | Dry Weight |
| --- | --- | --- | --- |
| $23,996 | 15 Gallons | 25 Gallons | 2480 lbs |
Key Specifications:
Dry weight: 2,480lbs
Overall Length: 17′
Overall Width: 6'8″
Interior Height: 6'2″
Overall Height: 8'11"
Besides the bathroom, this 16-foot Spirit is well-equipped with a full kitchen. Both the large and small dinettes can become beds, offering sleeping space for up to 3 people.
The trailer is built with durable, leak-proof construction materials that will last for many years. The robust construction also makes Deluxe Spirit withstand all the harshness of a camping environment.
It goes at a price tag of $23,989 and could be a great choice for a family on the go!
Main Features:
Durable, lightweight construction
On-board shower and toilet
Insulated interior
Spacious seating features
Large screened windows
4. KZ Spree Escape Mini
KZ Spree Escape Mini is another ultra-lightweight small camping trailer that comes in five different floor plans. It is built for fun and would be a great pick for a family's day out!
| MSRP | Black Tank Capacity | Gray Tank Capacity | Dry Weight |
| --- | --- | --- | --- |
| $29,978 | 24 Gallons | 32 Gallons | 2880 lbs |
Key Specifications:
Weight: 2,850 lbs
Length: 20'9
Width: 96″
Slideouts: 1
Exterior Width: 90''
Depending on the model you're choosing, you'll get a tight "sh*t, shower, and shave" bathroom type bathroom.
Unlike other units, this trailer has a shower and toilet in the same room. However, the manufacturer also offers larger models with a full bathroom, featuring a separate toilet and shower.
It is also packed with standards like a high-quality queen bed, solid entry steps, LED lights, and power awning features.
Main Features:
Queen bed
Flip-up solid entry steps
LED lights and power awning
Flip-up solid entry steps
LED lights and power awning
5. Jayco Hummingbird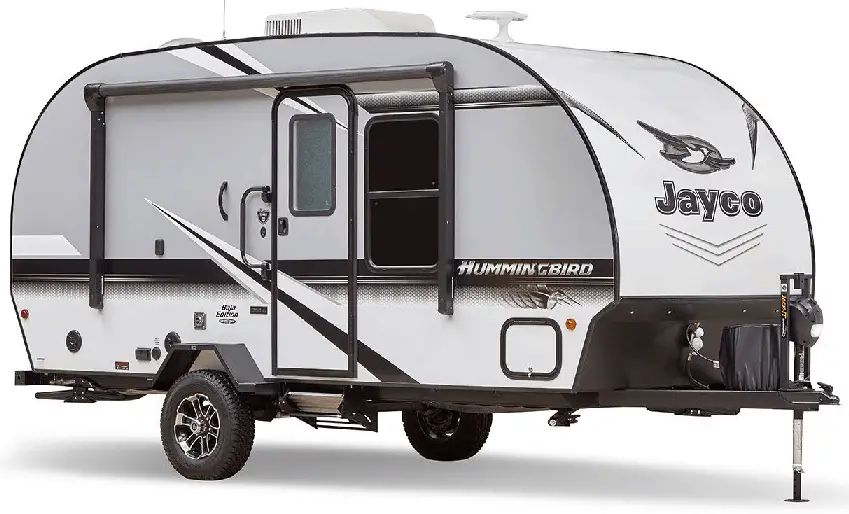 Jayco Hummingbird has a rear dry bath for users who enjoy the convenience of the traditional bathrooms that aren't necessarily wet baths.
| MSRP | Black Tank Capacity | Gray Tank Capacity | Dry Weight |
| --- | --- | --- | --- |
| $27,290 | 25.4 Gallons | 25.4 Gallons | 2845 lbs |
Key Specifications
Dry Hitch Weight (lbs): 160
Unloaded Vehicle Weight (lbs): 1,570
Exterior Length: 12′ 11″
Exterior Width: 6′ 8″
Interior Height (living area): 4′ 5″
Inside the camping trailer is an elegant kitchenette to prepare your meals. Together with a convertible dining area, the permanent bed will offer enough sleeping space for 3-5 people.
Its curved camper design includes a flat-screen TV, an outdoor grill, and a slide-out feature for a roomier space. But even with all these features, Hummingbird still ranks among the ultralight campers.
It is built using legendary construction methods that guarantee durability and longevity.
Main Features:
Goodyear 15″ mud radial tires
Dexter rubber-torsion axle
Reinforced steel wheel wells
2-way 12V/110V LED TV
Underbelly has an AstroFoil insulation layer
6. Airstream basecamp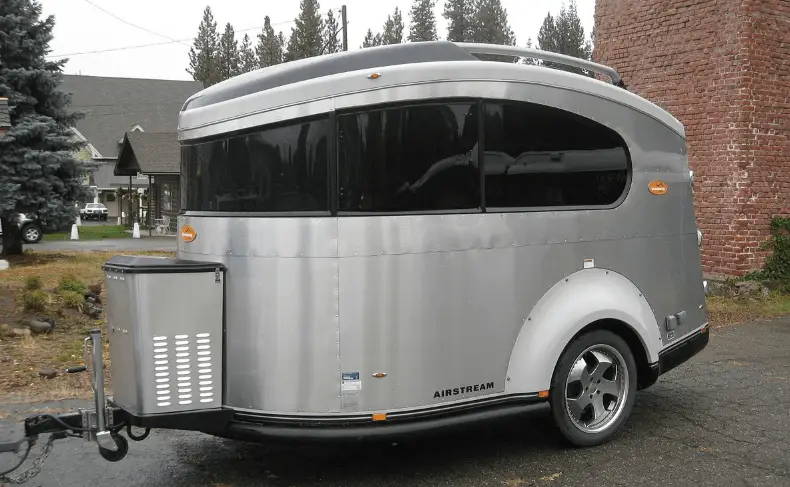 There is a reason why people love airstream so much. Their long brand history and the built quality is admired by the RV community. Though they cost a little higher than average travel trailer they are totally worth the cost. People who use airstream boast about their features and durability.
The Airstream basecamp trailer allows you to use the pass-through bathroom wall and create your outdoor shower. With the wet bath, kitchen, and convertible lounge, it strips down your camper life to the basics, carrying all the necessary amenities.
| MSRP | Black Tank Capacity | Gray Tank Capacity | Dry Weight |
| --- | --- | --- | --- |
| $36,900 | 21 Gallons | 28 Gallons | 2600 lbs |
Key Specifications:
Exterior Length: 16 ft. 3 in.
Exterior Width: 7 ft.
Sleeping Capacity: 2 people
Unit Base Weight (with LP & Batteries): 2,650
Maximum Trailer Capacity (GVWR) (lbs.): 3,500
It is tough and has the ideal rugged look to transport you to whatever rugged environment. Plus, its departure angle and large wheels help you tackle t more off-roads with confidence.
You can tow it with a variety of mid-size SUVs. And so, stop worrying about making changes before heading out for an adventure.
All considered Airstream basecamp would be the most suitable small camping trailer with a bathroom.
Main Features:
7 different bench configurations
A large rear hatch door
Convertible table area
Two benches and a seat
Departure angle and large wheels
7. Winnebago's Micro Minnie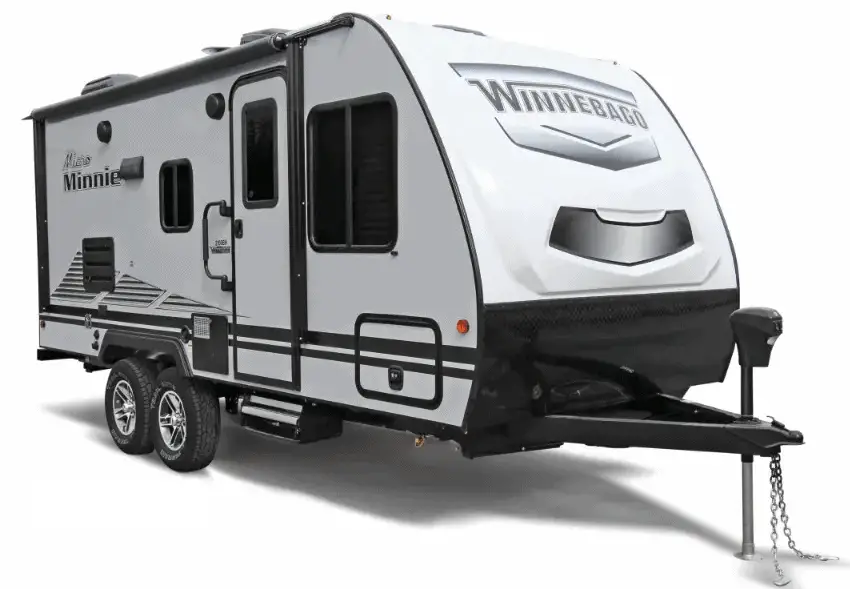 Winnebago's Micro Minnie has a full bath option, including a toilet, shower, and sink – without compromising much of the floor space. It is compact enough to sit in the tightest campsite.
| MSRP | Black Tank Capacity | Gray Tank Capacity | Dry Weight |
| --- | --- | --- | --- |
| $22,172 | 25 Gallons | 25 Gallons | 3360 lbs |
Key Specifications:
Dry Weight of 3360 lbs.
Hitch Weight of 300 lbs.
GVWR of 7,000 lbs.
Length of 19.17 ft.
Width of 7 ft.
It's thoughtfully engineered and designed to accommodate many amenities. A hitch weight of 300-pound makes it easily towable by a light-duty pickup truck or full-size SUV.
The lovely wood décor and other styling cues make your interior space warm and welcoming. Its kitchen has a 3-burner stove and an air conditioning system. Your stay will comfortably cool, even in summer.
This affordable camper is a great option if you are looking for a family RV or want to go boodocking often.
Main Benefits:
Includes a toilet and a shower
Sleeps up to 4 people
Queen size bed and convertible sofa bed
3-burner stove
An air conditioning system
8. Lance 1575 Travel Trailer
Lance 1575 Travel Trailer has a small dry bath, including a tub for the pets b or kids. The shower features a slide bar to adjust the showerhead for varying heights. The bar also offers a firm grip when getting out or in the bathtub.
| MSRP | Black Tank Capacity | Gray Tank Capacity | Dry Weight |
| --- | --- | --- | --- |
| $32,316 | 26 Gallons | 26 Gallons | 2775 lbs |
Key Specifications:
Gross Dry Weight 2775 Lbs.
Hitch Dry Weight 245 Lbs.
Floor Length 15'9"
Overall Length 20'5"
Interior Height 78"
The model comes with a dinette slide-out that creates even more living space. Its LED lighting and exterior speakers will make your living area sparkle.
Compared to most units on this list, Lance 1575 travel trailer seems to be roomier. With large skylights and windows in the bath and living spaces, this trailer feels larger than most similar-sized trailers.
Main Benefits:
Dry bath
Large skylights and windows
Dinette slide-out
LED lighting and exterior speakers
Slide bar
9. nuCamp TAB 400 Teardrop Camper
The TAB 400 Teardrop Camper has an iconic design and ranks among the largest and most spacious teardrop campers. So, you'll have more space than you were expecting!
| MSRP | Black Tank Capacity | Gray Tank Capacity | Dry Weight |
| --- | --- | --- | --- |
| $45,900 | 12 Gallons | 18 Gallons | 2876 lbs |
Key Specifications:
Length: 18′ 3″
Height: 8′ 8″
Width: 7' 6"
Dry Weight: up to 2876 lbs
Sleeps: 3 people
It is an excellent choice for those who love longer-period adventures. Inside is the spacious wet bath, queen-sized sleep area, roomy kitchen, plenty of storage options, and a convertible dinette. All these features make the TAB 400 your home away from home!
The sleeping capacity accommodates up to 3 people, hence suitable for a young family (Couple and their kid). With an overall dry weight of up to 2876, you can easily tow this camping trailer by small tow vehicles.
Main Features:
Spacious wet bath
Queen size sleep area
Roomy kitchen
Plenty of storage options
Convertible dinette
10. Little Guy Max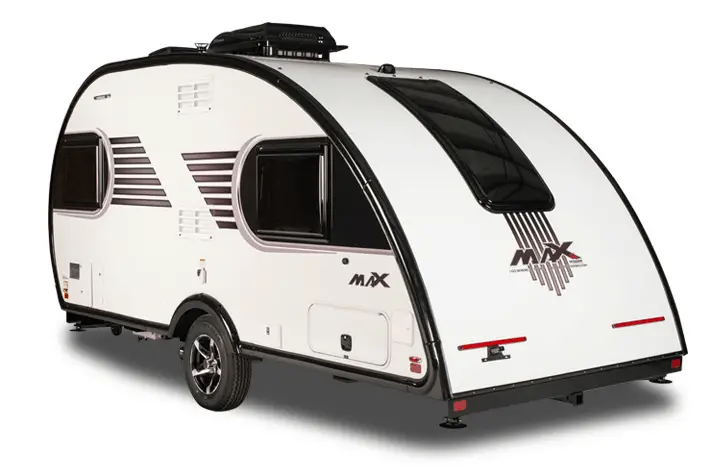 Little Guy Max has a smaller built construction but feels bigger on the inside. Its water heater, grey water storage, and shower are set up to allow 2 people per day to wash up. You also get a cassette toilet that saves a significant amount of space.
| MSRP | Black Tank Capacity | Gray Tank Capacity | Dry Weight |
| --- | --- | --- | --- |
| $30,900 | 9 Gallons | 25-30 Gallons | 3010 lbs |
Key Specifications
Dry Weight of 3010 lbs.
Hitch Weight of 310 lbs.
Length of 17.17 ft.
Width of 6.75 ft.
Sleeps up to 2 people
A hitch weight of 280-pounds and a dry weight of 1,993 lbs allows towing by both full-size SUVs and mid-size SUVs. And since it is narrow, you will not struggle to reverse the trailer. Take advantage of this feature and pack the trailer on tight campsites or narrow RV park spots.
The living space will hold the dinette during the day and offer seating space for up to 4 people. Convert the dinette area at night and create a comfortable sleeping space.
The wide footprint leaves you sufficient exterior space to spread out.
Main Features:
The bathroom includes a cassette toilet and a shower
2-burner stove and a single-basin sink
A compact electric refrigerator.
16,000 BTU furnace
13,500 BTU air conditioner
11. Happier Camper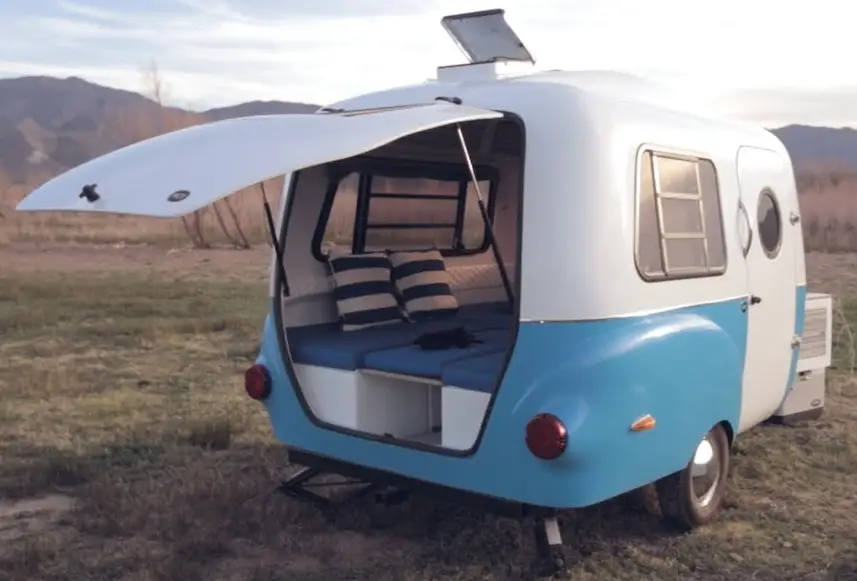 Happier Camper is the compact go-anywhere trailer to consider if you're interested in an ultralight pick. This machine doesn't sacrifice versatility or comfort. It is optimized to offer flexibility and relaxation on the road.
| MSRP | Black Tank Capacity | Gray Tank Capacity | Dry Weight |
| --- | --- | --- | --- |
| $49,950 | 17 Gallons | 17 Gallons | 1800 lbs |
Key Specifications
Dry Weight: 1800 lbs
Exterior Height: 8′
Overall Length: 17′
Inside Width: 6′ 5″
Inside Height: 6′ 5″
It boasts an all-new design that gives a semi-modular interior, which includes a fully integrated bathroom! With 2 dedicated living spaces and a kitchenette, the trailer offers much more than campers in its class.
You're investing in a trailer that offers versatility, longevity, and lightness in a compact package. Using Adaptiv™ technology, you can customise it into a dining area, office, lounge space, or sleeping quarters.
Main Features:
Uses Adaptiv technology
Full kitchenette and bathroom options
Semi-modular interior
High-quality fiberglass construction
Robust power system, solar-ready
12. iCamp Elite
iCamp Elite is equipped with many classic trailer amenities. Best of all, the trailer has a spacey one-piece modular bathroom with a toilet and shower. It is among the smallest RVs with a toilet and shower built-in.
| MSRP | Black Tank Capacity | Gray Tank Capacity | Dry Weight |
| --- | --- | --- | --- |
| Contact Dealer. Generally $10,000 + | 6 Gallons | 14 Gallons | 2366 lbs |
Key Specifications:
Dry Weight: 2366 lb
Length: 14'
Width: 6'8
Capacity: 2-3 people
4-layer laminated floor
The attractive and low-maintenance design gives the RV a modernistic look. The interior is light and will give you a retro whimsy that you can't get enough of. The stylish design will bring a contemporary lifestyle to anyone who loves outdoor life.
The dinette converts to a bed to accommodate 2-3 people. As a bonus, the unit has a fridge and an oven and fridge, rare features for a micro camper like this one. And the interior walls have elegant wallpaper decors for luxury.
Main Features:
Dinette with adjustable table
Modular fiberglassfibreglass
Tap/shower H/C water Tap
Interior 110v AC power outlets
Fibreglass exterior wall
13. Scamp Trailer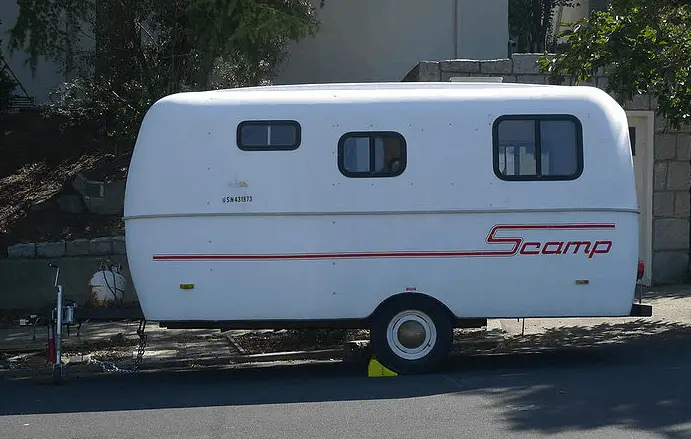 The Scamp Trailer offers several layouts, including a bathroom. It is a lightweight unit that guarantees a convenient, fun camping experience. A 13 ft scamp may cost $11,500, but the larger models are priced higher.
| MSRP | Black Tank Capacity | Gray Tank Capacity | Dry Weight |
| --- | --- | --- | --- |
| $23,000 | NA | NA | 1750 to 2000 lbs |
Key Specifications:
Dry Weight: 1750-2000 lbs
Length: 16′
Width: 6'8
Its lightweight, hard shell fibreglass is durable and will not break any soon. And like many other Scamp models, this trailer is easy to tow and manoeuvre by minivans, small cars, SUVs, and even trucks.
They come in different sizes, which include 13′ standard trailers, 13′ Deluxe trailers, 16′ standard trailers, 16′ Deluxe trailers, 19′ standard trailers, and 19′ Deluxe trailers.
Main Benefits:
Lightweight design
Durable hard-shell fiberglass
It offers several layouts, including a bathroom
Unique aerodynamic design
More options in Small RVs with bathroom
Are these 13 the only options? Definitely not. There are several other small campers and also small motorhomes that have bathroom. Some can even have multiple.
Below are some of the other options to consider in no particular order.
Airstream Sport 22FB Travel Trailer
Black tank capacity of 18 gallons
Sleeps 4 people
Weighs 3643 lbs
Sonic Lite SL150 VRK
Price : $27,150
Black tank capacity of 30 gallons
Lance Travel Trailer 1575 Travel Trailer
Black tank capacity f 26 gallons
Riverside Retro 135
Price : $18,100
Black tank capacity of 17 gallons
Forest River Wolf Pup
Dry weight of 3097 lbs
Sleep upto 5 people
Trailmanor 2518 Series
Dry weight of 2600 lbs
Can sleep upto 6 people
Vintage Cruiser 17 SCD
Price :$24,350
Black Tank capacity of 33 gallons
Homegrown timberline camper
Indoor shower with wet bath
Composting toilet
4350 lbs of Dry weight
Contact manufacturer for price
Bigfoot RV
Weighs 3105 lbs
Can sleep 3 people
Barefoot Trailer
Weight: 2500 lbs
Has wet bath
Can sleep upto 4 people
Prolite Classic
Sleeps 3 people
Has dry weight of 2470 lbs
Using RV toilet – cons
There are few issues t deal with while using a toilet inside your RV. Some of these issues we already saw in the beginning of this article like dealing with dumping the waste, and odor.
These are minor issues as long as you are okay dealing with that. But in some cases it can become very tough.
Imagine leakage somewhere in the unit. Just imagine what it can do. If you are full time living then you will be dealing with urgent fix.
Dumping the waste into the station can also lead to accidents. Hose may end up spilling things out. Clogging can also happen inside the unit.
Storing the hose used for black tank will also need proper storage.
While dumping the waste make sure yo are turning on the black tank valve first and then the gray tank. This will allow the solid waste to come out if any left inside the hose.
Using wrong tissue can also clog the toilet. Make sure you always use specially made RV toilet paper that can easily dissolve. Overall using RV bathroom does require you to be careful and take care of few things.
Size of black tank
How often you have to dump the toilet waste will depend on the size of the black tank available in your camper. Black tank sizes can vary based on the type of RV and its size.
Small travel trailers can have black tanks with capacity ranging between 8 gallons to 30 gallons. Some travel trailers that accommodate more people can have bigger than 35 gallons as well.
Campervans, class B motorhomes also come with toilets and the black tank capacity with them can be around 15 gallons to 40 gallons.
Fifth wheels and class c motorhomes are known for having largest black tanks which means you can go without worrying about dumping the bathroom waste for longer. Class C on average have black tanks bigger than 30 gallon and can be as large as 80 gallon. Fifth wheel too can have large black tanks in the range between 40 to 85 gallons.
Class A motorhomes have moderate sized black tanks between 25 to 55 gallons.
How often to dump the waste
So there you go. You have a basic idea on how big these tanks can be. To know how often you have to dump it, just keep 1 thing in mind. Its always a good idea to dump the waste when its full.
With modern and new campers the black tanks come with sensors that can indicate when the tank is full. These sensors will indicate different levels and with this, you can plan accordingly.
Another thing, not all campers have these sensors. If you own a low end , low cost camper then you may end up having to look inside the tank to confirm if its full. That's kind of tough, isn't it? But then, its your choice, if you don't want to deal with it that way then go for a better camper instead.
Gray tanks too have indicator sensor.
Such sensors may also malfunction and therefore you need to keep them in good condition. Check this technique that helps fix such sensors.
Next is, how do you empty the tanks? For dumping the gray and black tank waste you need to make use of black tank hose that will connect from the outside of camper and the he other end will obviously go into the duping site.
There will be 2 valves generally, 1 for gray and the other for black tank. Once you have made sure the connection is proper, open the black tank valve and let it flow into the dumping site.
RV campgrounds normally have the dumping facility or you can also find such sites at different location through US. You may have to pay small fee to get the facility and in campground it can be free as well. You can simply search for RV dumping station near me on google and you will find nearest stations.
Can i put portable toilet in camper
In case you ended up buying a camper that didn't had the toilet and now if you are winder if you could put a portable toilet then the answer is yes.
You cant use a normal home toilet into an RV, that logical isn't it?
You can always get a portable toilet and install it in your camper. But as you may have already guessed it not that easy and simply because you are dealing with the waste you don't really wan to deal wit. isn't it?
There are mainly 4 different type of portable toilets that you can use with campers.
Dry flush toilets
Bucket toilet
Porta-potty
Folding toilets
Check out this article on different best portable toilets for campers and how to use them.
Summary
Don't overlook small camping trailers! As we've seen in this review, you can still find your preferred trailer with a bathroom without sacrificing quality, durability, convenience and overall construction.
All the best for your purchase!