Last Updated on :
RV Slide out do add the much needed space in your camper. But, there is one question that pop ups every time you see someone use a support for their slide out at the campground. This is the question, "How much weight can a RV slide out handle?"
On an average RV slide out can handle a weight between 600 lbs to 1400 lbs. The weight capacity usually also varies on where the slide is located (rear or front). Also, high end RVs will have much higher capacity that can be greater than 4000 lbs.
All Slide outs are not created equal and therefore applying the same capacity to all the slides will not be correct.
A lot also depends on the where the slide is located. A rear end slide with half bed going into the slide may not be holding up great. A slide with dinette or sofa in the front end will be having more capacity.
The technicians that i have spoken to, have always said that you wont be hitting the weight limit with slide before hitting the RV GVWR. That explains a lot i guess. If you are very much overload then that's problem with your entire RV and not only the slide out.
It is not a good idea to max out the weight limit of your RV slide-out for safety purposes. Also, even the jacks that are holding the slide in place can take a good beating if you put too much weight on it.
Storage in Slide Out : The normal call on storage inside the slide area is to keep it to minimum. Don't overloaded it but a 50-100 pounds shouldn't be an issue though. Another thing is to never move the slide when people are inside the RV.
Keeping the weight to minimum is the way to go if you don't want that motor burnout at the last minute of travel.
Whats With This Weight Capacity Question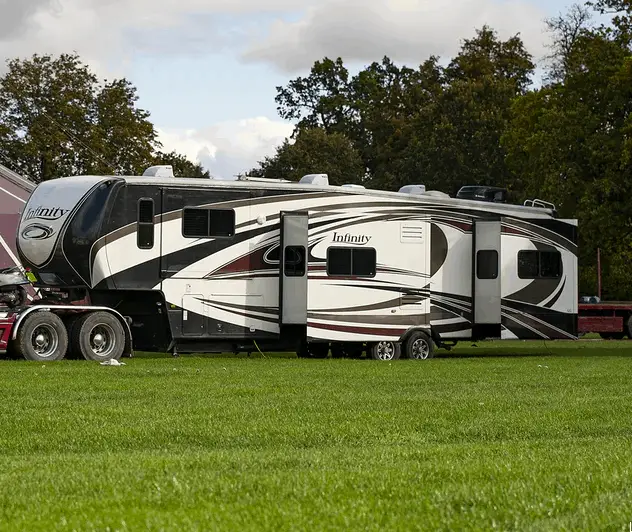 The reason why so many people have this question is because they do not find this information easily (specially when the RV is bought as used).
How many times have i seen that people go through their manuals and yet don't find the load limit information. I am sure this may not be true with all, but yes at times people do find it difficult to locate the information. And that's the same reason you may be here? right?
In case you want the accurate weight limit and you cant find out on the manual, do call the dealer to get the information. If dealer also does not have it then they can get you the information via engineer on the manufacturing side or the factory rep. It may take couple of days or more but you should finally get the answer.
I hope you have the answer by now.
Anyways continue reading this article as its not only about finding the exact weight limit. Imagine you have the limit rating with you but still you wont be seeing the load that's been exerted every-time right? Therefore its helpful to keep note of some things and act accordingly.
But, having the exact weight rating of the slide out will definitely help. After all you never know if your slide is rated for 500 lbs and you try getting in dinette weighing 300 lbs and also make 5 people weighing 1000 lbs go their.
High Capacity Slide Outs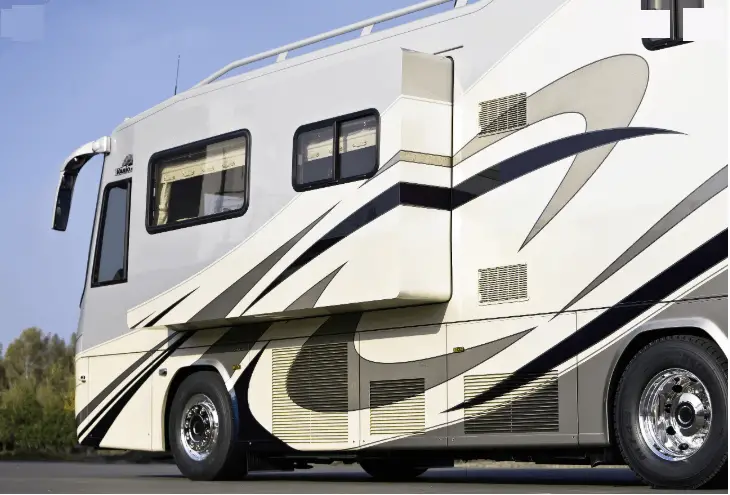 The weight holding capacities of some travel trailer can be as high as 5000 lbs or even more. Have seen 4 or even 5 proper adults being accommodated in single slide out.
Bigger slide out manufacturers like lippert or venture manufacturing say that they their hydraulic slide out system are quite capable of holding between 1000 lbs to 4000 lbs. Do note that static load capacity is higher as compared to dynamic load tension.
Here again you need to keep in mind that you don't operate the slide puts when they have full load on them. Its obvious one but people take things for granted. Manufacturers also specify the same.
Speaking about high capacity slide outs here's one quick story.
You will find RV owners saying they never had problems but their RV may be the one with high capacity slide out. Their story may not really apply to you.
Just the other month i came across this guy who said he had replaced the sofa with a better heavier one and also had storage under it. He was able to store lot of things that probably weighed much and was still doing great. He never had any problems in slide out opening or traveling. Now, that's the story with that guy. That kind of got me thinking on this topic as well.
Also,the entire story isn't with the furniture in itself, its also with the occupant. The more people stay in their higher will be the load exerted.
Read : Can You Use regular furniture in RV
Slide out support or stabilizers
Slide out supports are meant for providing the support for slides when they extend, You need to manual add this support. A lot of people have varying thoughts on this. And there is great chance that you too thought about same and starting looking for weight limits on your RV slide out.
There are people who advocate and stress to have the support or stabilizer under the slide out and equally others who just think that its a waste t have them.
The stabilizers are claimed to be protecting the slide outs from bending and making the slide put operation tougher.
Don't be surprised when i say both the type of people are correct in their sense. And this is because not all of us equal. We have different ways of living in ours RVs.
Some people may be heavy and may not be comfortable with stepping in the slide out portion without support. And that's complete okay. The stabilizers wont do any harm other than giving you that extra support and safety.
Even then not many people complain of slide out bending when the stabilizer wasn't there.
Another thing to keep a very strict note is that if the slide out is damaged with stabilizers ON then you may not get the warranty benefits. So, just be sure on this and confirm the insurance policy.
Maintenance is Key
RV Slide outs do give you that extra space. Its an luxury to have in your travel trailer or motorhome. Full time campers need the slide out more than any other seasonal RVers out there. Overall slide outs do give you home like feeling.
Check out all the pros and cons of RV slide out.
There are more pros to slide outs than their cons. I am sure many of you who already have the slide outs will agree to this.
But, as they say with every good thing there can be some efforts that you need to put in. Maintenance of the RV slide out is necessary to avoid malfunctioning at an unexpected time at the campground. Lets have quick look at what you will need to do.
Read : RV Slide Out Maintenance Tips
Periodic lubrication
The mechanism of slide-out needs dry lube or light grease to maintain lubrication, which includes all moving parts of the RV slide out.
Seal inspection
Any seal that gets damaged will allow moisture and even air into your RV, there are seals on four sides hence, frequent inspection of these seals is a must.
Slide out leaks are one of the most causes of water damage in RV. Checking for such leaks and fixing isn't hard. Here is a step by step guide for same.
Examine all metallic components
By doing so, you can check for any weathering and keep all moving components of the RV slide-out free from dust and dirt build-up.
Inspect the Roof
You should also check the slide roof cover for holes or tears. Keeping it clean from dust and debris is also recommended.
Noises
Always beware of noises from the slide-out motors when in operation. There must be some mechanism that needs cleaning or need some form of maintenance.
Have your RV slide-out checked by technicians yearly
A professional can ensure proper operation of your RV slide-out mechanism and make some adjustments as needed. Technician can inspect the hydraulic lines, lubricate components, and maintain RV jacks. They will be able to confirm that everything is in perfect condition for your next travel or camping trip.
In Conclusion :
RV Slide-out work out great as they expand and give you that precious space. Making use of slide out without exceeding their limits is the way to go. Regular maintenance is an obvious thing you should follow too.