Last Updated on :
RVing is fun and a great outdoor activity that you can do. A lot of people go rving in summer. Many people also opt for full timing in RV's. As a new RVer when you are about to start with this journey the obvious question is which RV is good for me?
There are two type of RVs, Motorhomes and towables. Motorhomes have their own engine while towables need to be towed using a car or truck.
There are 3 main type of motorhomes :
Class A Motorhome
Class C Motorhome
Class B Motorhome
In towables you get below options :
Fifth wheel
Travel Trailer
Pop up camper
Apart from these there are also de-mountable  RV's or truck campers that can be loaded and unloaded from a truck bed.
RV
Briefly Explained
Class A Motorhome
Very lengthy. Can be 45 feet or even more in length.
They are very costly.
Very luxurious, includes lots of amenities.
Can easily tow car behind .
Class C Motorhome
Little less in lengths (25-30 feet) as compared to class A.
Almost similar to class A and costs little less.
They too can tow cars behind them
Good amenities but not as luxurious as class A
Class B Motorhome
Mid sized RV option with less lengths of around 20 feet
Not much space and amenities
Parking is easier due to smaller size
Good fuel economy
Fifth Wheel
Need truck to tow and front part hangs over the truck bed
Weighs around 8000 to 15,000 lbs
Average length around 25 – 38 feet
Amenities and space is better
They are costliest than travel trailers
Travel Trailer
Needs car or truck to tow them
Less costly RV with decent amenities
On average length is between 15 to 30 feet
On an average weighs around 8000 lbs to 12000 lbs
Pop up camper
Modest forms of RV with very less space
Average length is around 8 to 12 feet
Average weight around 800 lbs to 3500 lbs
Packs Minimal amenities
Truck Camper
RV that can be detached or attached to a truck bed
Isn't suitable for large family
Need a good truck to carry it
Hard sided RV unlike pop up camper
So, whats the best RV type? There are lots of different types available but it all depends on what is going to be your need. An experienced Rver may not go for a pop up camper but for a person just starting pop up can be great.
So, it all depends on who you are, and what you expect from the RV. In this post lets explore different types of RV's and their pros and cons.
Travel trailer pros and cons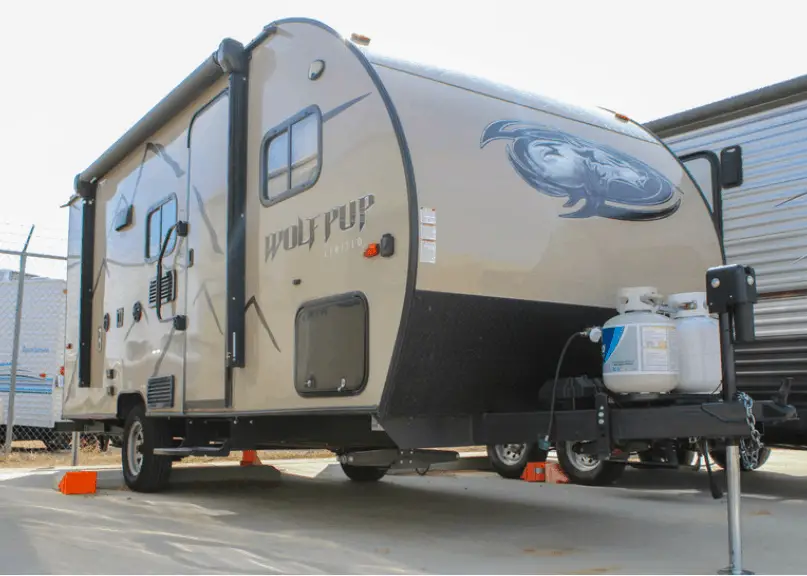 pros :
Travel trailers do not have engine attached so overall space utilization is better as compared to motorhomes. With motorhomes you have engine and cabin attached which makes the overall space utilization reduced.
Travel trailers are available in abundance in the market so you can get layout, size, length as per your needs very easily.

Travel Trailers as compared to fifth wheel

can be towed easily and with whatever car you have unless it's a very big trailer. You don't really need a truck to tow it like how it's with fifth wheels. They are hard-sided unlike popup campers and you can RV inside them during winter as well.
They cost less as compared to fifth wheels or class A motorhome, you can buy a used travel trailer in $5000 or even less. On an average a travel trailer costs around $15000 to $45000. But, obviously it depends on what kind of trailer you buy but mostly the popular trailers would be falling in this range.
Travel trailer insurance is much less as compared to a full fledged motorhome like class A and also less if you compare it with fifth wheel. You may have to pay around $200 to $700 per year for insurance in case of travel trailer and same for a fifth wheel or a class a motorhome can be almost twice or at least 1.5 times of what you pay for a travel trailer.
Depreciation in RV's in general is high but if we compare travel trailer depreciation with other RV's like class A or Class C or fifth wheel it's little bit less. Overall it may not be an bigger advantage but if you compare it with other RV's then definitely it is a point.
Cons:
Travel trailers need to be towed using a car and thus they come with all the disadvantages related to towing behind a car. As a driver you need to be more conscious while driving the car and there will be instability associated because of towing.
Before starting the journey or parking the trailer you need to spend some time in getting the hitch connected. This is unlike motorhomes where in you can simply start the journey. You may also face different issues related to hitch. Getting your trailer hitched to car need proper arrangements and should be properly connected.
One of the major

disadvantages with travel trailers

is that you cannot travel inside it while you are on the road because in most States this is not allowed and is also not safe. So with this kind of restriction even if you have a big travel trailer you will have to travel in a car or truck with which your pulling.
Travel trailers even though hard sided may not give great insulation as compared to motorhomes.
Class C Motorhome pros and cons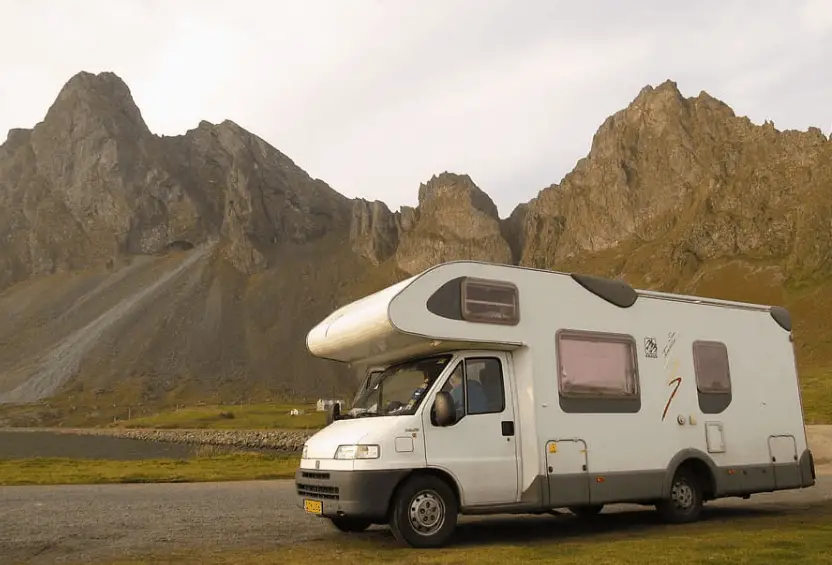 Class C motorhomes are easy to drive , they are like medium sized truck. They are smaller compared to class A motorhome and if you have been driving small truck then you should be okay handling them. Having a largest version of class c motorhome can however become difficult to maneuver. Backing up, taking u turns is obviously difficult with bigger lengths. The radius of turning increases with larger lengths.
With

class c motorhome

the engine/ driver cabin is attached to your living area so you can travel inside them unlike travel trailers or even fifth wheel where it is not allowed. So, this gives a major advantage to access almost all the things while travelling. Imagine sipping in on a cup of coffee while traveling.
Class c motorhomes are considered to be safer as compared to bigger class A motorhomes because of their cockpit construction.
Class c motorhomes can also tow car behind them. so if you have any requirements of having car while camping then you can always pull it behind your class c RV. What kind of car it can tow totally depends on the capability of your RV. In most cases you should be able to figure out what weight it can tow through manufacturer provided documents or label inside it.
Cons:
Class C motorhomes are costly as compared to smaller travel trailers.
Storage for class c motorhomes will be larger and you cannot really park/store it in your backyard or your normal car garage. C class motorhomes larger than 20 feet or 30 feet is always going to need a proper storage space.
Space in case of class c motorhomes may not be great if you are looking for something which will provide for lot of family members. Since the engine and the cabin will be attached to your whole RV the space is reduced if you compare it with a bigger travel trailer. Even if you go for the biggest Class C motorhome it may not be that great if you are looking for RV for a big family.
Class A Motorhome pros and cons
You will find lots of RV brands, sizes, lengths and layouts. But, the most important thing for you as an Rver will be to look for RV that will suit your lifestyle. Class A RV's are mammoth, they can intimidate you and thus be thoughtful when going for them. Good idea is to experience a modest RV first and then go upgrade in few years as you mature as an Rver.
They provide you best possible space for Rving. Among all the all the types they will give you space that no other RV can provide. A full fledged kitchen, a big living area with appliances fully packed and usable furniture that can give you the most comfortable experience. It is going to be luxury on road for you.
You can have amenities right from a bigger refrigerator to a washing machine to anything and Everything that's really possible.
Class A will provide you massive storage space.
With class A RV you can get best layouts possible according to your lifestyle.
They can easily tow any kind of car behind them may it be a SUV or a bigger sedan.
Cons:
Storage space for class a RV is going to be huge. You really need custom made garage which can really fit it in. Storage for such huge and luxurious RV's can cost you thousands and lac of dollars and has to be done properly otherwise it may lose its value very quickly.
Bigger the vehicle bigger is going to be the insurance that you will pay. A higher cost RV will need higher per month insurance premiums. You may have to pay thousands of dollars per year to ensure your class A RV is protected. It depends on what kind of package or what all things are included in your insurance but even with minimum coverage it is going to be thousands of dollars for you per year basis.
They have very high depreciation if you compare compare it with other RV's as well. The moment you get that class A RV on road, the value starts to drop. Its a luxury RV costing you so many thousand dollars but it loses its value very quickly. Newer models keep hitting the market and therefore older models lose their value even if they are in perfect condition.
With all the amenities, space and luxury that you get you obviously are going to pay much much more than other RV's like Class C or fifth wheels. Class A can cost you thousands of dollars and depends on what all amenities and layout you are going to buy.
With class A motorhomes the day-in day-out maintenance may not be required but if you had to take you RV to a professional it is going to cost you much more per hour basis. Luxury motorhome is definitely going to cost you much even for smaller maintenance.
Moving such a huge vehicle on road is going to be tough but if you are driving the class a motorhome on bigger Highway then it is going to be easy for you. Getting your class a motorhome through narrow roads or city roads will be difficult because of the mammoth size. A 40 feet length, 12 feet width and similar height is way much for narrow roads.
Class B Motorhome pros and cons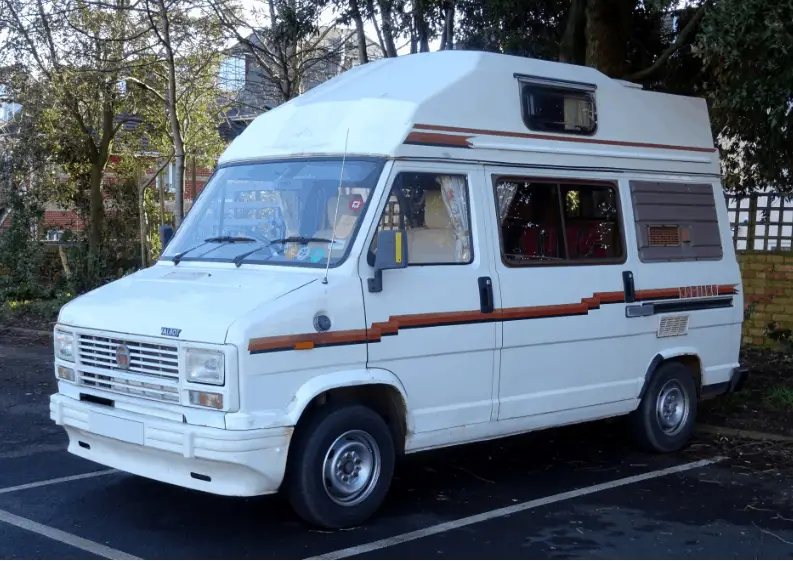 Class B motorhomes

are smallest among the bigger class A and class C motorhomes. They provide very little space for Rving, so if you are a big family then class B will not be an option for you unless you are couple or solo RVer.
They will provide you minimum amenities with compact kitchen or sleeping area which will not give you a great comfort. You can have a big class B motorhome but then again they will cost higher in which case it may be better to go for a class c or a bigger travel trailer instead.
Small compact class B motorhomes will be easier to maneuver and go from places to places. You don't really have to be stressed out while you are driving a class B motorhome. A little bigger than your normal car or a small truck, class B motorhomes are easy to drive and travel from places to places. Boondocking could be possible with class B motorhomes as they are very small in size.
They will cost minimum for insurance as well as for maintenance. Insurance cost or even routine maintenance for RV's is an important factor for those who do full timing in campers.
Towing a car behind class B motorhome may not be possible and those of you who have any requirement of having a separate car with you then it is going to be difficult with class b. Having a separate car with class B motorhome may hardly be needed though because you could travel with your RV itself whenever you want to go. It totally depends on how big your class b RV is but in most cases you should be able to go places where a normal car would go.
Fifth wheel pros and cons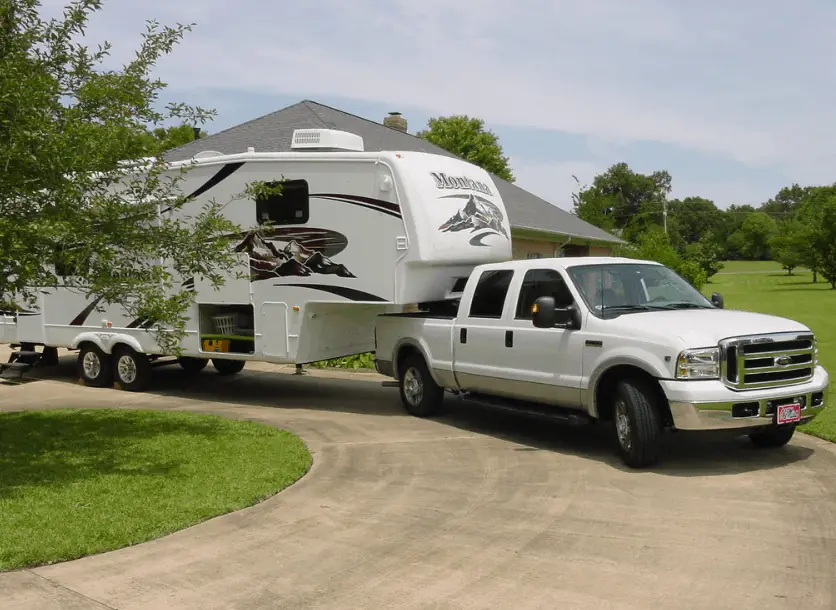 Fifth wheels

are easier to tow when you compare them with travel trailers. Travel trailer can be unstable at times but fifth wheel provide better towing ability. But, if you are opting for larger length then the maneuverability will be tough.
They are less costly as compared to class A motorhomes.
Overall storage space and living space inside a fifth wheel is larger as compared to travel trailer or even motorhomes. With motorhomes the driver cabin or cockpit is attached which reduces the space.
They are more luxurious as compared to travel trailers and also accommodate better amenities.
Cons:
They need a truck to tow them and a regular car may not be used to tow them. The starting part of the fifth wheel hovers over the bed of the truck. This reduces the seating capacity of the towing vehicle.
Hitching a fifth wheel to a truck needs practice and is little more work. But the connection is more stable and towing is easier.
You cannot travel inside a fifth wheel similar to a travel trailer. That means you need to be inside the towing vehicle only and whenever you need anything from the storage or want to access the appliance you need to stop.
Tent trailer or pop up camper pros and cons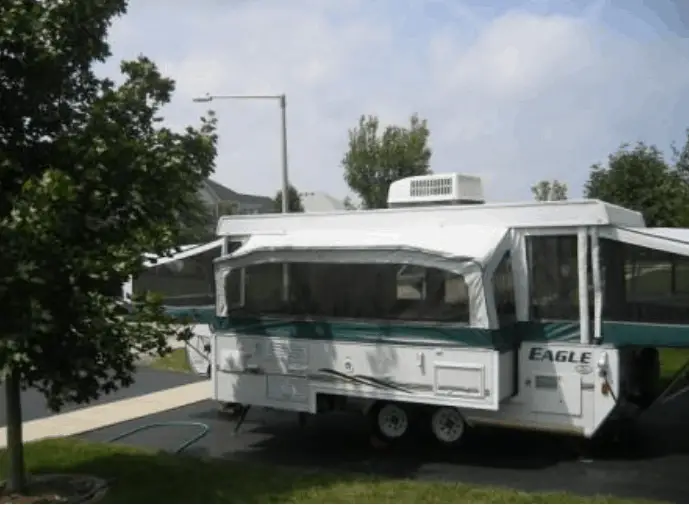 They cost very less as compared to all other types of RV's. Popup camper is the basic form of RV which can be bought in less than 5000 Dollars. Their cost really makes them RV's that most people own as their first one.
They are perfect for boondocking as they are very smaller in size and can be easily towed by any kind of car. Towing behind car is always a difficult thing especial when the weight is on higher side.
They can be easily stored unlike other bigger RV's. They are very smaller in size and thus can be accommodated easily inside a normal garage or even in front of your house.
Their insurance cost is very minimal and also the maintenance cost is very less.
Cons:
Pop up campers

do not provide many amenities and you have to have things that are basic. Overall its very basic form of rving experience.
Very less space and you need to adjust when rving inside it. They may not even include kitchen or bathroom.
They are not suitable for winter camping as they are not hard sided trailers. The canvas used on them may not protect against the cold temperature and winds.
Pop up camper canvas used may not fully waterproof and thus waterproofing or replacement may need from time to time.
Truck camper pros and cons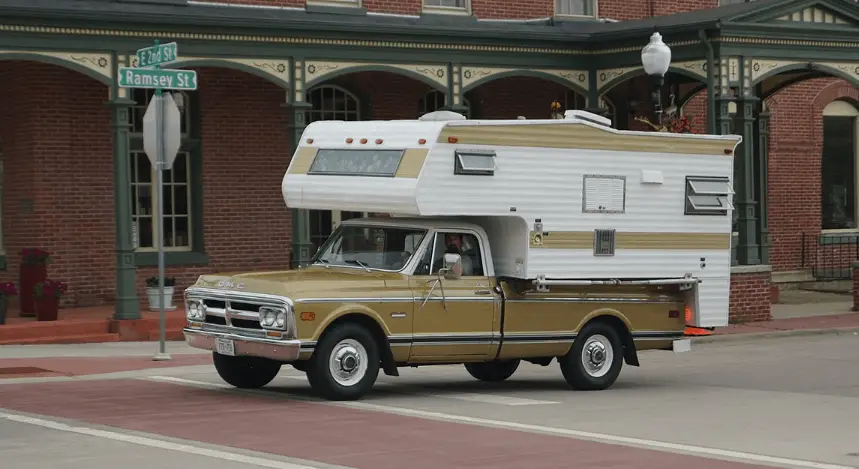 They are compact and easy to drive. Other RV's like class a motorhome or travel trailer need larger storage space, parking needed is also larger. But truck camper are very smaller and are little bigger then normal trucks.
They are very less costly and can be bought with minimum investment. This makes your investment risk free as with other RV's the cost is high and any misjudgment may mean you end up selling it for very less amount later.
Truck campers are great when it comes to boondocking or dry camping.
They weigh very less and hence are economical in terms of fuel consumption
Cons:
They cannot tow car behind them. You may not need separate car though.
Truck campers provide minimum amenities and may not include bathroom or full kitchen inside them.
They are not suited for a bigger family and if you have kids then better look for a bigger RV.
There wont be any Storage issues with truck campers as they can be stored in smaller spaces or garages.