Last Updated on :
A truck camper is way different from other types of RV's.
An RV that is carried over the bed of the truck is qualified as a truck camper.
Its smaller in size and can be taken to places where a normal or bigger RV cannot be taken. Truck campers have been in america since a very long time and they have gone through much transition.
With new model of RV's coming out every year is it really worth it to own a truck camper?
Lets find out by discussing pros and cons of truck campers and compare them with other camper types.
| | |
| --- | --- |
| Pros of Truck Camper | Cons of Truck Camper |
| Economical, Compact and Easy to drive | Space limitations |
| Boondocking Friendly | Overall aren't really cheap |
| Maintenance is easy and less costly | Can be heavy for truck base |
| Storing is easy | Limited amenities |
| Can use truck separately | Aren't suitable for big family |
| Less expensive insurance | |
| Easy parking | |
| Modification is easy | |
| Less depreciation | |
Advantages or pros of Truck camper
Lets compare truck campers with bigger RV's like class C , class B.
1. Truck campers are compact, easy to drive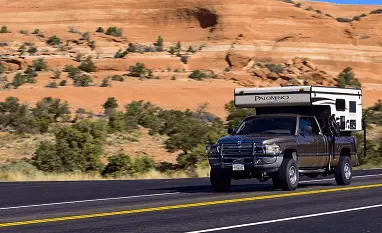 Truck campers are smaller in size which makes them easy for driving. They are really compact, and are mostly built on trucks. So you don't have to really tow anything unlike travel trailers or fifth wheel.
Why this is an advantage is because most Rv's are bigger in size which makes them difficult to drive.
For example if you have driven a class A RV or a bigger fifth wheel you know how it feels like. They are intimidating to drive especially for new drivers.
But, with truck campers you can be little bit relaxed. Both men and women enjoy driving truck campers. Because they are smaller in size even the turning radius reduces very much which is not the case with other types of RV's. Backing up or taking U-turn can also be easy because of the smaller size.
Overall a compact RV is what a new Rvers looks for. So, if you are a new comer into RV community or are looking to buy a new RV or Camper then truck Camper is something that you should really check out first.

While a normal travel trailer or class C RV comes in lengths of 20 feet to 30 feet or higher, truck camper's are not so big, they are usually between 12 to 20 feet or even smaller sometimes. Even if you compare the weight they are not as heavy as a normal RV would be they are much less in weight.
2. Boondocking friendly
Boondocking or dry camping is something that a lot of people do and if you are one of those then you should be looking to get a RV that's smaller in size and truck Camper is a perfect fit for boondocking.
Campsites are great for camping with your bigger class A RV or a luxurious fifth wheel but if you are looking to enjoy nature then having a smaller RV is a better option. Going through muddy roads or narrow roads is always difficult for a wide RV and that's when truck Camper comes good.
So, if your main purpose with the new camper or RV that you are planning to buy is dry camping then surely look for truck Camper.
Traveling in a truck camper can be deeply satisfying if you love off-roading and adventure. Its a different experience if you compare it with other RV types. If you have driven truck previously you will find it heavy with camper on the base.
3. Maintenance is easy and less costly
One thing with most RV's is that you need a lot of maintenance and care. Bigger the vehicle more is the maintenance needed in general.
Specially, if you own an old RV or you bought a used one then you would need considerable maintenance.
Truck campers in general need less maintenance, this is also because they are smaller/compact in size. Their compactness makes it easy for you to maintain it.
4. Storing is not a pain
One reason why people don't want to own that big RV is because it needs bigger space for storage and if you don't really have that much space then you have to rent it out. Renting a storage space is also costly. So, if you are really not looking to spend that much money then having smaller camper like truck Camper is great.
Read : How big garage door is needed for RVs
You can simply Park it inside a garage that you normally use for your car. It may need little bigger door but in most cases you should be able to get it accommodated. Storing the RV is really important during winter season and also during summer Seasons if you are not using it.
With truck campers you can lift the Camper from the truck and use the truck separately as well. That's another advantage with them. This provide for better storage as well as you can separate the two and store the Camper in your normal storage space.
5. Can use truck separately for other activities
As we already saw in point above you can really separate the Camper from the truck. And this, apart from storing the Camper gives lots of other advantages as well.
You can use your truck for other activities when you are not really camping. That's a great advantage at home. Even when you are camping if you can remove the Camper from the truck, you can use truck for accessing areas nearby the Campsite.
6. Insurance is cheaper
Another great advantage with truck camper is that the cost is very little for insurance. In most cases the truck that is used to carry the Camper will be insured. The camper in most States is also considered as cargo so you don't really have to pay much for your Camper insurance.
Because most of the states do not even consider the Camper that is placed on the truck as RV you are also not supposed to pay other RV related fees or registration fees.
But, you definitely have to check with the state laws for this. Most of the states do consider the campers placed on truck as cargo.
Read more about what do RV insurance normally covers in my previous post.
7. Parking is easy and requires less space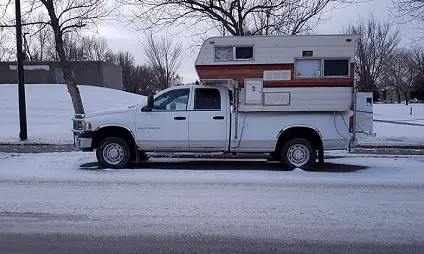 Parking a big RV in a normal parking area is always going to be tough, you have to book lot of car parking slots if you want to park it. Same is not the case with truck camper as it's going to be normal truck that's carrying the Camper so you can really manage with single or double car parking slots.
Imagine you want to go to a Walmart store with your RV, it's going to be very difficult for you to park that RV in the normal parking area. But with truck camper you can simply go to any such location and make use of normal parking slots and do whatever shopping you want to do.
Read : Where to park RV overnight
8. Modification is easy
Modifying a normal class C or class A RV which have attached engine can be difficult but same is not with truck campers. If you feel like the Camper is smaller then you can simply go and buy that bigger camper and replace the original one.
If you feel the camper has become old then you go to that camper manufacturing shop and just buy another one and replace it straight away.
So that's the advantage you get with truck campers. The campers placed on truck bed can really be removed which gives you that freedom of modifying or replacing it depending on your needs.
9. They are economical
Bigger RV's not only cost higher but they are also higher on fuel cost. A towed travel trailer or class A motorhome gives very less in terms of miles per gallon.
This is because of the simple fact that they are larger in size. They are heavy in weight and thus obviously more fuel is needed for travelling that every mile on road.
Truck Campers are economical in terms of fuel consumption because of their compactness and smaller size.
You can get anything between 12 to 15 miles or even higher miles per gallon. Considering the lifestyle that you will be able to achieve with truck camper and economical factor, truck Campers is definitely worth it.
10. Depreciation is less
Truck campers depreciate much less if you compare it with other RV's like travel trailers or fifth Wheels on even class A or class C.
If you see a normal RV depreciation in say 5 years you will see they almost lose more than 40% of their value. So with such high depreciation in normal Rv's, truck campers are great to own if your requirements aren't that high.
Disadvantages of truck campers
Truck campers even though provide so many pros may not fit your bill or requirements. Lets check out why.
1. Space is less
No doubt truck campers provide so many advantages in terms of compactness or easy driving but this comes because of a compromise and that is space.
You are really Limited in terms of space with truck campers. And they may not be suited for families who are larger in number or friends who want to camp together are more in number. Interiors of truck campers and other RV will have huge differences. So, if you have used other RV types then it may not impress you.
So if you really consider comparing truck campers with other RV's is like fifth wheels or travel trailers or class A or class c RV they are almost like homes on roads. They give you numerous amenities and appliances using which you can really live inside 365 days a year.
A lot of people usually do full timing in motorhomes. Truck campers on the other hand are very much basic and may not be used for full timing unless you are really looking to compromise on some of the amenities. Thus living in a truck camper may not everyone's cup of coffee. Space in a rv is a key point and truck campers have it as a limitation.
2. They may not really be cheap overall
Even though truck campers may not include many amenities or appliances but still they may not come very cheap. Unlike a pop-up Camper or tent trailer, in truck campers you have an engine attached. This makes them little better as compared to popup campers but in terms of space that's almost similar.
Even though they are so small and do not include many amenities their cost may not be very less. You may end up still paying higher amount that may not be closer to a good travel trailer or fifth wheel.
But still you are spending a good amount so you really need to think twice before making this as a long term purchase. Getting the best truck camper at times may cost you more then what you expected.
3. Can be heavy for the base truck
A bigger Camper placed on your normal truck could be heavy and you really need to have a truck that is solid enough to hold that much weight on top of it. Having said that truck campers are economical but that's an comparison with other RV's.
When you compare it with a normal truck it's obviously going to be more in terms of fuel consumption. So if you are really looking at truck camper as a full-fledged RV then you are economical but if you compare it with a truck then you are putting in more weight so you are actually reducing the miles per gallon of the truck.
4. Limited amenities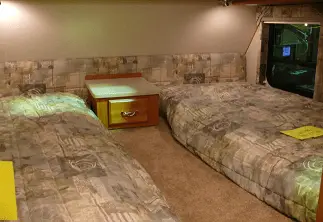 This one is obvious, you are talking about a small 10 to 15 feet long truck camper thus you really cannot have lot of amenities packed in.
Small sleeping area and kitchen is all you can get inside a small truck Camper. A bigger truck Camper can include other amenities but it's always going to be Limited and you cannot really compare it with other bigger RV's. If your amenities needs are bigger then try to avoid truck campers.
Truck camper vs the class B Motorhome
If you were in a fix to choose between these two optiosn then just be sure on belo points:
how many people would be RVing
whats your budget
what kind of comfort you are looking for
The reason why you should answer these questions is because truck camper wont be suitbale for large family even though class B too arent suitbale for many people. But, still class would do better to accomodate more people and better space.
Class B costs a lot of money depending on what model you buy. They are also given good amenities. Overall truck campers are suitable if you want to go off-roading at very less expenses. You will also need proper storage for class B.
Here is the full post comparing class b and truck camper.
I wouldn't even compare truck camper vs other big motorhomes like class C or even class A.
But, that's my way of thinking, it may be different for others. Find out why some people wouldn't even go beyond truck campers in the video below.
They are mammoth and amenities are similar to what you get at home. Even travel trailers and fifth wheel are much better in terms of space,amenities and comfort.
Read : Truck camper vs Travel Trailers
Truck camper vs pop up camper
This is something you can compare with each others. Pop up campers are similar in size.
You need to tow pop up campers where as truck camper are placed on top of truck base, so that gives better driving capability for truck campers.
Pop up campers can give you slight advantage in terms of space and room. Setting up pop up camper will need little more efforts. Truck camper will more cozy than pop ups, that is insulation is better as pop up will have canvas roof that will not great in insulation.
Some of the most favorite and best truck campers include below:
Host Mammoth 11.6 : 11 foot luxurious truck camper.
Northern Lite 8-11 truck camper
Hallmark Ute 8.5 : 8 feet long quality truck camper
Outfitter Apex 8 truck camper is an awesome option
There are lots of manufacturers that make awesome truck campers.
Having gone through all the pros, cons and comparison, what do you think? Are they safe? Should you go for truck camper or just avoid it? Let me know through comments.